This site started in June 2008 and continues to grow. With time it will provide as much information about the village and surrounding area as one might anicipate people will want to know.
In fact we welcome suggestions on content. Please use the contact us page for any contributions.
We have a Places of Local Interest page and a Hallmark archive - the latter is our village magazine and the later versions are in full colour. We have pages for all the village clubs, with an expanding history section, and for our advertisers.
We have published a house name directory which we are updating.
So if you need something to do or someone to do something, its all here.
Village news and all the Club events will be ever changing features so if you have nothing to do or want to plan ahead, check here first.

If you become aware of someone just moved into the Villages please e-mail: Mike Piercy. Names are not essential, just the address.
We have a comprehensive Welcome Pack delivered by Mike, full of local information which all new visitors have been pleased to receive. We also feel, and hope they do too, that this is a wonderful gesture.
Lacey Green Stores
Lacey Green Stores
in the Millennium Hall.
Now in its 7th year.
Open Monday to Friday from 08.30 to 12 noon.
The shop now includes a click and collect library service.
Not a library member - Join here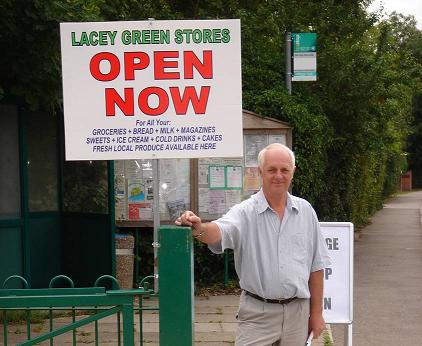 Order a Book:
Instructions: You can change 'Anywhere' to Author, Title or Subject and then enter details to search.
OK will produce a list of books. Click in the tiny box alongside a book to select it.
At the very top or bottom of the list click on Reserve Selections and then enter your library card details
Click OK and then on Change pick-up location.
The shop has a computer for you to use if you don't and they will guide you through the process. You also return your book to the shop.
Shopping
We hope you are making use of the Store. It is well stocked with items that are most needed on a day to day basis and prices are competitive. There is something for every one ranging from pet food to sweets, washing powder to biscuits.
If you think other items should be stocked, please let us know and we will do our best to include them.
We do not sell alcohol and cigarettes as these pose a security risk but most other non-perishable items are on display.
The shop is run by a team of volunteers under the control of the Lacey Green Community Planning Group and is also supported by the Village Hall Committee. We can always use more volunteers, so if you would like to help please e-mail: Angela Roberts
School Year 6 or older can join at the Village Hall
Click Application form , print, complete and bring with you to join the Youth Club.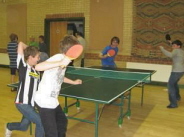 Please help support your Youth Club volunteer leaders by coming early to setup and clear away occasionally.
Dates of Youth Club meetings
7.30 - 9pm
May 11, 25
Jun 8, 22
Jul 6, 20
Aug 3, 17, 31

Membership is £5 plus £2 per session and there is a tuck shop.
NB Unless you notify us, four consecutive absences will mean rejoining, as we assume you have left.
Buckinghamshire Children and Young People's Trust
Family Information Service
YOUNG PEOPLE: Have your say.
What do you want from your youth club?
What do you like?
What don't you like?
What would you change and how?
Use the Email below.
EQUIPMENT: We are always looking for kit for young people to entertain themselves. Have you anything sitting in the garage or loft you don't use and we can? Please use our e-mail below - need to be local.
Please email us at: Youth