An extract of the original 1831 census is shown below and clearly defines the hamlet and the heads of each household.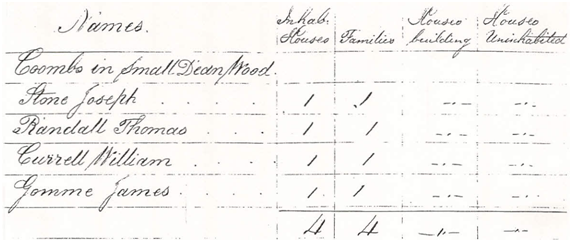 By 1841 a few additional details were recorded, but it is not until 1851 that more information can be gained from the census returns. There were four separate families residing at Coombs:
William Currell, a widower of 86, living with his married daughter, Rhoda Dormer, aged 50, a lace maker, and her husband Henry 48, a sawyer. William is recorded as an agricultural labourer.
Next door was Daniel Currell, ag. lab., aged 45, his wife Catherine 40, lace maker, and their six children: John 19 and William 17 both employed on the land; Daniel 10 as a scholar, and the youngest children Jabez 8, Sarah 5 and Richard 3.
Then came John Williams 30 and wife Elizabeth 30 - again employed as agricultural labourer and lace maker respectively. They had four children: Caroline 9, Joseph 6, Fanny 3 and baby Ellen. This family was later to experience four bereavements within a short space of time, which will be referred to later.
James Gomme a 60 year old widower resided in the fourth cottage with his 25 year old unmarried son Jabez - like their male neighbours, with the exception of Henry Dormer, a sawyer, they were farm workers.
Census Returns for 1861 to 1891 record the Coombs' properties still occupied by four separate families, their occupations much as before - agricultural labouring and most of the women were lace makers. One exception in 1871 to farming was a John Gomme who worked as an engineer in the iron foundry.
By 1881 a James Welter and wife Ruth (both aged 36) had moved to Coombs. They were still living there when the 1911 census was taken: both employed in the same occupations as thirty years earlier - James, a farm labourer and Ruth a lace maker.
A name long associated with Coombs, stretching back to William in the late 1700's, was that of Currell. A Daniel Currell and his family were there from 1841 to 1861 and in 1891 another generation was resident in the hamlet, namely George Currell aged 33, ag.lab., with his wife and four children.
Also in 1891 widow and lace maker Ann Harvey proudly recorded in the occupation column of the census return that her 14 year old daughter, Katie was Monitor in Loosley Row School.
Living next door to Ann was a James Harvey with his wife and daughter. James was employed as a railway navvy - a sign that other jobs were gradually drawing men away from farm work. His 15 year old daughter, Emily was a lace beader.