Lacey Green
Windmill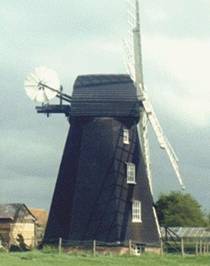 As environmentally friendly as you can get.
The oldest surviving smock mill in the country is right here in the village. Recently painted by a dedicated team of volunteers you might not appreciate its age.
It still works although not too frequently, after all it is old. You can see how it all works through a conducted tour. Its clever how they even use the wind to raise the sacks of wheat to the top floor where the process begins.
Pedestrian access is alongside the Whip Inn in Main Road - please park in Pink Road.
For more information and opening hours visit the Windmill website
Maize Maze

Can you work out what this is? Another clue is that it is a seasonal event.
I'm sure you know what a maze is and this is just that but this one is different every year because it is cut out in a field of, well you know what.
Designed for the family there are other accompanying activities and its open for the Summer school holidays. There are numerous direction signs from anywhere near the village.
Note: Crops can fail so check its open via the link on this page
Horse Rest Home
Although you can walk through at any time if you stick to the public footpath, you will miss the opportunity to visit the stables and get the background of each horse - some are famous and most kids love getting close to the horses. It's open 2-4pm daily.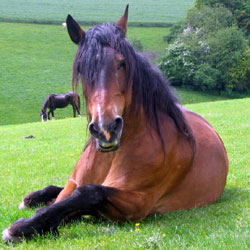 The Horse Trust is a charity, originally established back in 1886 to help the working horses in London. It now caters for the retirement needs of over 100 horses, donkeys and ponies.
---
---
Loosley Row
Gommes' Forge
Although strictly speaking a commercial enterprise it was a feature of the village up until 2019. You can still see some interesting metal sculptures outside.
John Gomme was the first proprietor - it had to be a Gomme otherwise it wouldn't be Gommes' Forge would it.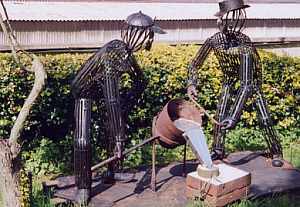 Its history is not precise but it is known to have been working around 1850. Sixteen persons with, in most cases, ever rarer skills were employed - smiths, iron founders, pattern makers, wheelwrights, carpenters, farriers and a millwright.
Its in Foundry Lane surprising as that may be. Take Loosley Hill opposite the Whip Inn and carry on straight down
Now a new development at Grandma's house!!! in the garden of the house on the other side of the road has some very interesting features such as a crockery tree
and a ground level house - what's that? -- Go take a look.
---
---
Nearby
White Leaf Cross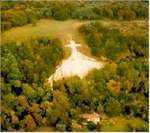 Appeared mysteriously in the chalk hillside in the early 1700's. It can be seen from your car approaching Princes Risborough from Thame. Although it can be seen from the A4010 it is not a good idea from a car as you will only get a fleeting glimpse and it means taking your eye off the road.
It is surrounded by stone age sites - see if you can spot the Neolithic burial mound and the remains of the WWI practice trenches - yes I know they aren't stone age.
There is an incredible view from an easily reachable clearing above the Cross. (Car park with short, level walk .) The viewing point did have several informative picture boards about the history of the area but regretably these have now been removed. (Note you can't see the Cross from here)
From Princes Risborough town centre roundabout take Brimmers Road. At the hill top turn left along Kop Hill Road and at the T junction turn left into Peters Lane - car park just on your right.
Or
From Monks Risborough take Peters Lane. As it levels at the hill top look for car park on your left.
.
Steam railway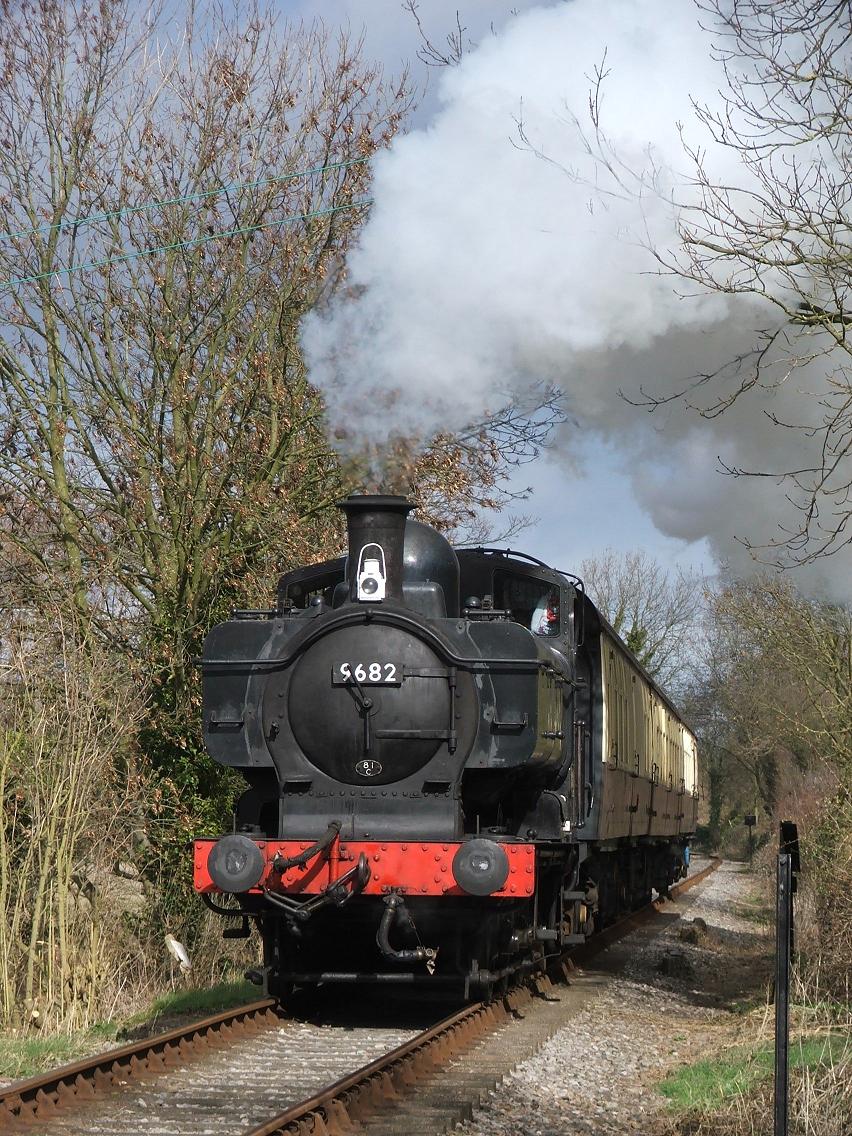 Take a look at our past.
You can't understand the passion people had for these trains without experiencing them for yourself. Noise and smoke that you don't get with modern trains make these heavyweights far more interesting.
There were different designs which were recognisable and many had exciting names.
The railway at Chinnor is situated in Station Road just off the B4009. The M40 is 3 miles away, leave at junction 6, or follow the signs from Princes Risborough 4 miles further along the B4009. Once in Chinnor follow the brown tourist signs to the railway.
Tiggywinkles Wildlife Hospital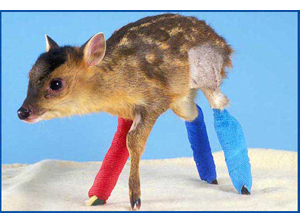 The World's Busiest Wildlife Hospital, it has a visitor centre where you can see deer, badgers, hedgehogs and other wildlife including reptiles and amphibians.
Tiggywinkles treats free over 10,000 animal casualties every year and is open 24/7 every day to receive injured animals.
Other visitors, i.e. you and me, have to check the website for visiting hours.
Interesting and educational.
&nbsp
Grims Ditch
Grim's Ditch is not unique to Bucks as the word Grim had its own meaning in Anglo-Saxon times and has been applied to similar structures in different parts of the country.
Named after the Nordic god Grim their purpose is unclear as they were constructed around 2000 BC but various suggestions relate to boundaries rather than defence although they may have been a link between hill forts, perhaps an early trench.
In The Chilterns there are a number of these ancient linear earthworks varying in width and depth a section of which runs from Lacey Green to Hampden. Another part defines the northern boundary of Cholesbury-&-St Leonards Parish running from The Lee across The Hale, through Hastoe and towards Wigginton. Sections run between Pitstone and Ivinghoe to the Northeast, and beyond this there is a further section at Nuffield in Oxfordshire. The largest section remaining on the Ridgeway is from Mongewell to Nuffield, however there are many parts off the Ridgeway.
To find it go to the bus stop next to the Whip Inn in Main Rd. Take the Chiltern Way North West past the Windmill to Parslows Hillock. It runs in both directions from there - South back to Kiln Lane or on past Redlands End. (Beware, it can get very muddy). For a planned walk - click on the link in the right column (bottom of page on phone).
The Black Hedge
The Black Hedge is 14 miles long and one of the oldest recorded boundaries in England. It was first identified in a Charter of 904 AD - 'blacan hegcean'.
It described a Saxon Estate that is now the parish of Monks Risborough. It included the parishes of Longwick, Kimble, Lacey Green and Hampden.
It is not so easy to find as bits are missing and behold, it isn't actually black. You can see parts of it along the same route as The Grims Ditch walk mentioned above.
There is a current project by the Local Heritage Initiative to reinstate it to its former glory but the site gives little information on locations.
Chiltern Way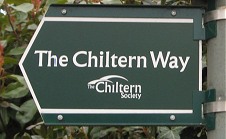 Chiltern Way map
A signposted walk around and through the Chiltern Hills with some spectacular views.
It passes through Loosley Row and Lacey Green and you can access it by the bus stop next to the Whip Inn. Whichever way you go, you will return to the same place but beware, it will take several days to go right round so you need to plan. Someone said its shorter if you take the uphill anti-clockwise route.
Icknield Way Trail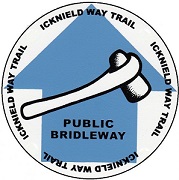 This under construction route has 25 miles completed taking you from Bledlow to the start of the 'oldest road in Britain' - the Icknield Way Path. The latter actually starts at Ivinghoe Beacon, going all the way to East Anglia and it was ancient when the Romans arrived.
The trail is suitable for walkers, riders and cyclists.
You can access it at the end of Woodway or just past Marks and Spencers in Princes Risborough.
The Ridgeway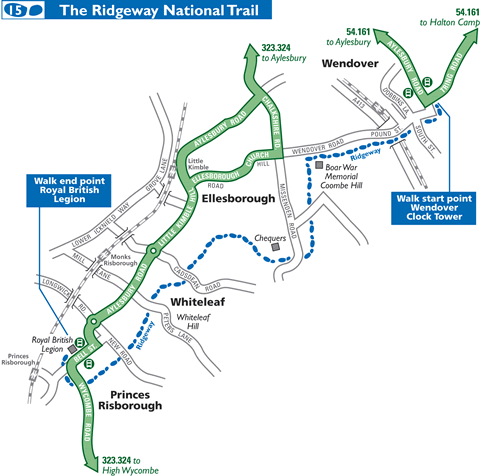 7 miles of steep hill trails passing The Boer War monument at the summit of the Chilterns, Chequers, Giles Wood and Kop Hill.
Phoenix Way(Cycling)

What happened to all those disused railways? National cycle route 57 uses the old GWR railway line to Thame from Princes Risborough. No other road vehicles and, it may be useful to note, that trains can't cope with steep inclines.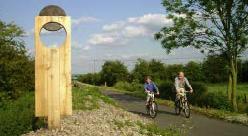 Having said that, you can go on to Oxford or the opposite way to Chesham, the latter being just a bit more hilly. And you should have gone that way from Risborough shouldn't you? Now you have to go all the way back.
&nbsp
Chiltern's Cycleway

The Chilterns Cycleway is a 170 mile circular cycle route through the Chilterns Area of Outstanding Natural Beauty, taking in the best of Chilterns scenery. The route is mainly on-road and is signposted throughout. For a detailed map go to the Chiltern Society
Be warned it is hilly and I mean hilly and not designed for speed but to take your time and enjoy the scenery. The roads chosen are to avoid traffic and are usually narrow with some high hedges which can conceal your presence. Use the side of the road that gives you and them the best chance of seeing each other. You also have the advantage of hearing them coming so don't fill your ears with earphones.
Access is from New Road at Small Dean Lane or the other way is Slad Lane onto Flowers Bottom.