Air Chief Marshal Arthur Harris, 1st Baronet
Stationed at Bomber Command, Walters Ash, WW2
Research note: Born 1892, being inspired by stories of Southern Rhodesia, he ducked out of boarding school aged 17 and in 1910 emigrated to Umtali, S. Rhodesia, eventually establishing his own farm. Being in the bush at the time, he only learned about WW1 a month after it was declared.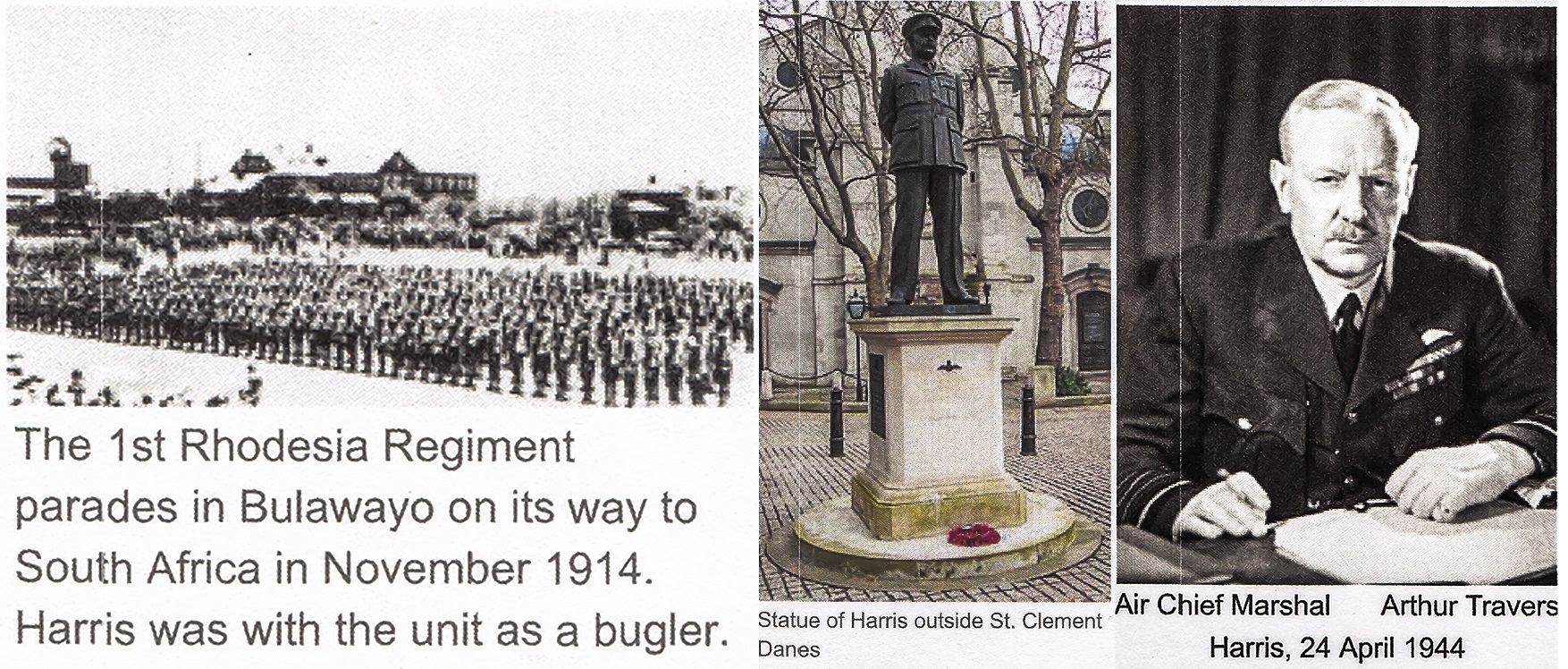 WW1
1914 joined 1st Rhodesian Army Regiment serving with South African forces in South West Africa, where Germany was inflicting heavy bombing.
1915 sailed for England with 300 South African volunteers. he applied for the cavalry and Royal Artillery with no luck but was accepted for the Royal Flying Corps, Nov 1915. after learning to fly he was a Second Lieutenant.
1917 Flight Commander on home front and in France.
1918 Nov. Awarded the Air Force Cross for distinguished service.
Post WW1
1916 Married to Barbara Money, now with a child, Harris, who now thought himself a Rhodesian, decided to stay in England and remained in the newly formed RAF.
1920 Commander Raf Digby No 3 Flying Training School; followed by North West frontier troubles in India and bombing uprisings in Mesopotamia, (under British occupation) and Persia.
1922 May, he offered his resignation, wanting to go back to Rhodesia, but was persuaded to stay.
1923 he helped devise area bombing in Iraq
1924 Air Commanding, First Post-War Heavy Bomber Squadron, No 58, developing night training.
1927 June awarded Order of the British Empire
1927 July promoted Wing Commander of a flying-boat squadron also developing night flying operation techniques
1933 June promoted to Group Captain
1934-1937 Deputy Director of Plans in the Air Ministry, with postings to Middle East Command, Egypt as Senior Staff Officer. Also helped Southern Rhodesia set up its own air force.
1937 July promoted to Air Commodore.
1938 Air Commanding No 4 Bomber Group. Went on purchasing mission in USA. Officer Commanding The RAF in Palestine and Trans-Jourdan.
1939 July promoted to Air Vice Marshall and with others pressured for large strategic bombers.
WW2
1939 Sep. Command No 5 Group.
1940 Nov. Deputy Chief of Air Staff.
1942 Feb. Appointed Commander-In-Chief of Bomber Command. June, appointed Knight Commander of the Order of the Bath. The war cabinet passed "The Area Bombing Directive" which advocated the area bombing of German cities. Harris was directed to carry out this task; it became an important part of the total war waged against Germany. Maybe because it was not wholly endorsed by all in Government, including Churchill, who considered the policy distasteful. It appears that the general public were not told the full extent of the targets and official statements maintained they were only industrial and economic with civilian casualties being unintentional but unavoidable. Harris urged the Government to be more honest with the public, although he himself did believe in the area bombing policy.
1944 Feb. awarded Russian Order of Surorov, First Class. Aug. promoted Air Chief Marshall.
1945 Jan. awarded American Legion of Merit. Jun. awarded Polish Order of Polonia Restituta, First Class. Advanced to Knight Grand Cross of the Order of the Bath. Nov. appointed Knight Grand Cross, Southern Cross of Brazil.
1946 Jun. awarded Distinguished Service Medal by the USA.
1946 Sep. retired.
Bomber Command's crews were eligible for the Air Crew Europe Star, France Star and Germany Star, but because the late bombing of Dresden was considered by many unnecessary, they were denied a separate campaign medal. In protest at this snub to his men, Harris refused a Peerage in 1946. He was the sole Commander-in-Chief not to become a Peer.
Post WW2
1948 Harris moved to South Africa to manage the South African Marine Corporation from 1946 to 1953 when he then returned to live in England.
1953 Feb. Winston Churchill, once again Prime Minister, insisted he accept a Baronetcy.
Air Chief Marshall Sir Hugh Pughe Lloyd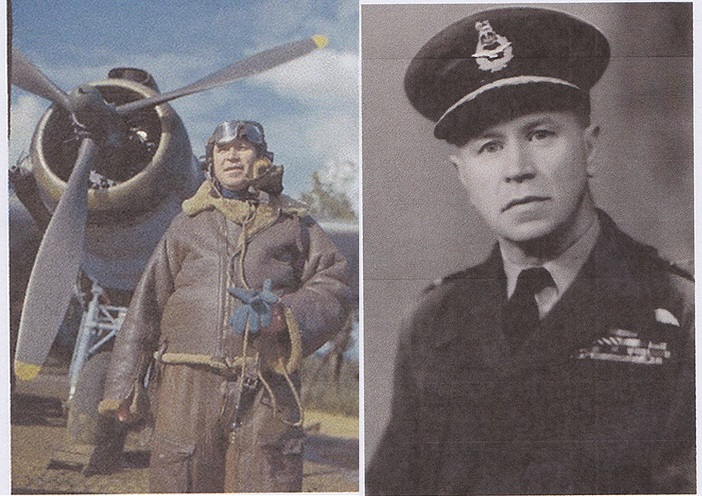 Research note: It was reported that Hugh Pughe did not
abide by the book, and proved extremely successful during his tenure as AOC, Malta. He seemed to have an eye for selecting the right people. At one point he commissioned a Sergeant Pilot, who rose to become Air Marshall. He believed in improvisation and would support his subordinates to the hilt".
1915 Royal Engineer Sapper
1917 Royal Flying Corps (Royal Flying Corps Became RAF In April 1918)
1918 Jan Pilot No.52 Squadron. Reconnaissance/Attack over France
1918 Sep Flight Commander No.52 Squadron
1924 Flight Commander No 16 Squadron 1939 Group Captain, Officer Commanding RAF Marham 1940 Senior Air Staff Officer, HQ No.2 Group. (See file re 2 Group)
1941 Air Officer Commanding RAF Mediterranean/ Air HQ Malta
1942 Jul Air Officer Commanding (Naval Co-Operation) Group
1942 Jul Senior Air Staff Officer. Hq Middle East Command
1943 May Air Officer Commanding North-West African Coastal Air
1943 Dec Air Officer Commanding, Mediterranean Allied Coastal
1945 Nov Commander Designate, Tiger Force (Heavy Bombers Against Japan). Force Never Implemented After Atomic Bomb On Hiroshima Ended War.
1945 Dec Senior Instructor, Imperial Defence College
1949 Commander in Chief, Air Command Far East (Far East Air Force)
1950 Air Officer Commander in Chief, Bomber Command.
1953 Retired .
Honours And Awards
1918 Jun Military Cross
1918 Sep Croix De Guerre
1919 Feb Distinguished Flying Cross
1936 May Mentioned in Despatches
1941 Sep Commander of the British Empire (CBE)
1942 Jan Companion of the Order Of The Bath
1942 Jul Knight of the British Empire (KBE)
1944 Legion D'Honeur
1944 Legion Merit, USA
1951 Jun Knight Commander Order of the Bath
1953 Jun Grand Knight Cross Order of The British Empire
Air Vice Marshal Leslie William Cannon
Retired To "Cairndale" Main Road, Lacey Green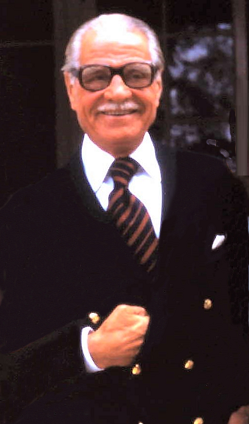 1920 Joined RAF, Boy Mechanic, No 2 Technical Training, Cranwell
1932 Engineering Officer, RAF Cranwell
1932 Engineering Officer, HQ RAF India
1935 Flight Commander, No.60 Squadron
1937 Officer Commanding,No.5 Squadron, North West Frontier,India
1938 Admin/Personnel Staff, HQ Training Command
1939 Staff, Directorate of Operations (Home)
1940 Wing Commander, Eng. Staff Officer, HQ Bomber Command
1941 Chief Technical Officer, HQ No 21 Group
1942 Officer Commanding, RAF Watton
1943 Mar Deputy S.A.S.O. HQ No 83 Composite Group
1943 Nov Officer Commanding No 138 Wing
1943 Dec SOA, HQ No. 2 Group
1944 AOA, HQ No. 2 Group
1946 Group Captain, AOC, No. 2 Group
1948 Assistant Commandant, RAF Staff College, Andover
1949 Air Commodore, Director of Organisation (Establishment)
1951-55 Acting Air Vice Marshal, C-in-C, Royal Pakistan Airforce 1953 Made Air Vice Marshal
1955 Director-General Of Organisation
He continued to fly on operations as Officer Commanding, Watton and AOA, 2 Group with both the RAF and USAAF, for which he was awarded the US Silver Star.
He represented the RAF in athletics, boxing and pistol shooting.
On retiring from the RAF, he returned to the Indian sub-continent as senior representative of Rolls Royce Ltd.
He was the first apprentice to attain the rank of Air Vice Marshal.
Honoured 1952 Companion of The Order of The Bath
Honoured 1945 CBE (Commander of The Order of The British Empire)
Mentioned In Despatches, Feb 1938, Sep 1941, Jan 1945, Jan 1946.
Group Captain Donald Osborne Finlay
Retired to "Chippins", Main Road, Lacey Green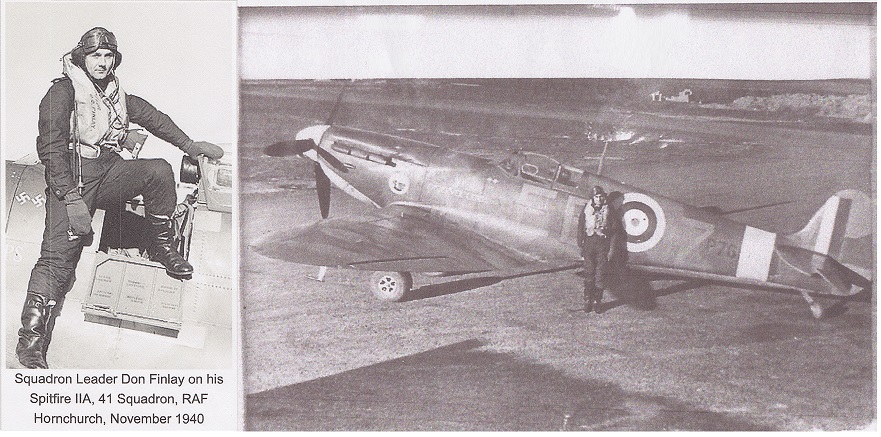 Research note: "Don" Finlay was best known to the public as an all round athlete competing in long jump, shot put and javelin, but most remembered as a hurdler. He competed in the Olympics in 1932, 1936 and 1948 when he was Captain of the British team and chosen to take the "Olympic Oath". In 1934 he won Gold at the Empire Games and competing in 1950 (aged 41) he still finished 5th.
1935 joined RAF
1936 School Aeronautical Engineering
1939 Commanding Officer RAF Hornchurch, (Battle of Britain Spitfires)
1940 Aug shot down and wounded
1940 Sep Officer Commanding 41 Squadron
1941 promoted Wing Commander, Engineering Officer 11 Group
1942 Commanded No 608 Squadron (Lockheed Hudsons in Middle-East )
1943 Dec-Jul 1944 Group Captain, Senior Air Staff Officer, 210 Group
1945 Officer Commanding 906 Wing in Burma
Post war Senior Technical Training Officer, Halton
1959 Retired 1966 Motor accident in which he became paralysed. The family moved to Lacey Green for a few years but he could not settle.
1970 Died
Honours and Awards
1942 Jun Distinguished Flying Cross. His victory tally flying fighters was 4, with 2 shared, 3 destroyed, with 1 shared, damaged.
1944 Sep Air Force Cross
Memorials
Stained glass window in RAF Acklington chapel.
Replica Tornado at RAF Coningsby.
Replica Spitfire at entrance to RAF High Wycombe at Walters Ash gymnasium, RAF Halton.
Squadron Leader John Granville Dean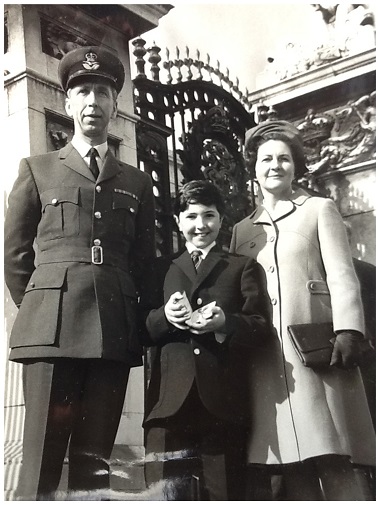 Lived "Griston",Goodacres Lane, Lacey Green and known locally as 'Dixie'
1936 Joined RAF. Trained as Electronics Engineer at RAF Halton
WW2
Postings around the Mediterranean
Post War
1949 Married Edith at Mansfield. (Edith was a nurse in London)
1953-55 RAF Base near Newark
1956-59 RAF Binbrook, (Bomber squadrons)
1959-61 RAF Jever, Germany. Signals Officer. Research Note: It was at RAF Jever that Dixie met Bob Barcelon, who also retired to Lacey Green.
1961-63 RAF Watton, Norfolk, Signals Development Squadron.
1963-65 RAF Wyton, Cambs. 51 Squadron. Research Note: It was only following the end of the Cold War that the signals intelligence role of the squadron was publicly recognized.
1965-68 RAF Watton, 360 Squadron, Joint Electronic Warfare Trials and Training Force
1969-73 Strike Command, Electronic Warfare. Research Note: During the years 1963- 73, Dixie's work was top secret and he and Edith were restricted where they could travel for their own security. He was awarded the MBE for the work he did at this time.
Post retirement from RAF
1976 John and Edith Dean moved to Lacey Green
He then worked for Trend Communications, High Wycombe.
1984 Died aged 61.
Clive Adams, RAF
Lived 'Summer Hayes', Main Road, Lacey Green, 1930/40's
Imperial Airlines was formed in 1924 at the request and support of the Government by merging 3 airlines. The brief was to establish flying routes worldwide to transport mail, facilitate settlement, contact and trade around the Empire, being faster than the slow shipping routes then used.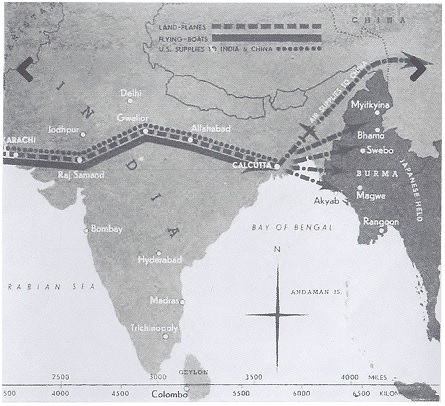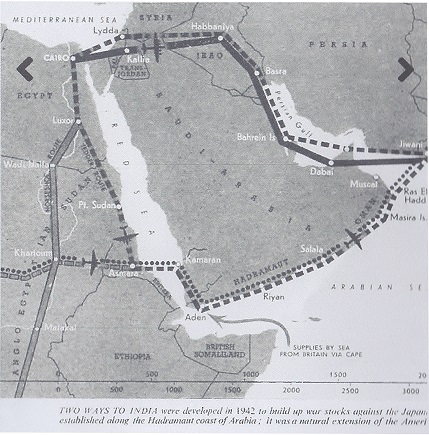 Based at Croydon Airport, South of London, local services were discontinued. Alan Cobham researched routes to South Africa, Australia and India, for which he was knighted. It merged with BOAC in 1939. All airlines were nationalized during WW2, run by RAF.
1939 Aug Clive Adams, Station Superintendent, was asked to survey Poole Harbour as a possible wartime base for Imperial Airways.
1942 RAF take over Poole Harbour Airport, renaming it RAF Hamworthy.
By 1941 the established route to India and the Far East had become unusable because of the war, but Bases in India were in urgent need of supplies in the fight against Japan.
1941 Clive Adams was flown out to Salala, Southern Saudi Arabia, in charge of a party to develop a new route. The terrain was difficult, but in October a tented camp was set up in a coconut grove on the beach. A kitchen and bathroom was built out of palm leaves and the first Radio Station was installed in a tent. The completed route was opened up in 1942. It was one of the most difficult routes in the world to organize on the ground.
Throughout WW2, the RAF, Tata, Indian Airlines and China National Aviation Corporation (CNAC), Chinese Airlines worked this route. They were involved in its development, carried the vital supplies and rescued refugees from Burma. Tata serviced RAF planes and equipment. After the fall of Burma CNAC based its headquarters in India for the remainder of the war.
Research note: Information taken from "Merchant Airmen", by the Air Ministry. Account of British Civil Aviation, 1939-44.
Clive Adams also worked in America for 2 years, letting 'Summer Hayes' to a Russian woman and her daughter Natasha, while he was away.
After the war he returned to BOAC, with which Imperial Airways had been merged. (The Government did not want competition between airlines on these worldwide routes).
RAF Sgt Reginald "Reg" Charles Bolt,
Retired to Foundry Lane, Loosley Row
1939 enlisted in the RAF in Lincolnshire, age 18 . (He had been about to go to University, but enlisted so that he could choose which service to join).
1939 basic training at Cardington in Beds. (He did not want to become an officer, preferring to be "hands-on".) Special training in radar. Secrecy was uppermost.
WW2
Electrical Airborne Radar, (in aircraft). Postings around the Mediterranean.
Post war
University, graduating in engineering and worked in the Liverpool area.
1953 married Joan Day; Lived Bromley, Kent.
2003 retired to Loosley Row.
Group Captain Reginald Charles Jordan
Lived at "Chippins", Main Road, Lacey Green
Joined the Royal Australian Air Force

WW2
Served in RAF 126 Squadron.
1941-1942, squadron defending Malta
1943 Malta based, supporting campaign in Italy.
1943 Killed. Commemorated on the Malta Memorial, Panel S.
Group Captain Edgar Harrington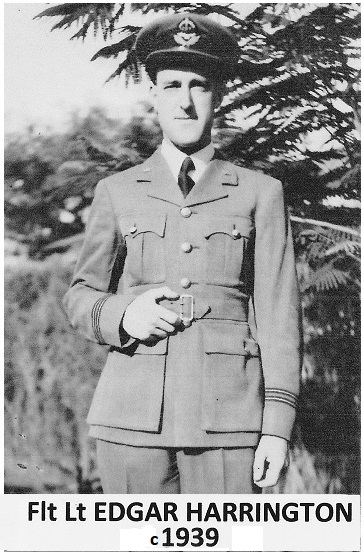 Retired to "Pencarrow" Lower Road, Loosley Row
Edgar Harrington initially worked for the RAF as a civilian Instructor and was then Commissioned into the Technical Training Branch. He was to have been posted to India, but following the outbreak of war was posted to Southern Rhodesia.
1941 Rhodesia Air Training Group Initial Training Wing (ITW) Hillside, Bulawayq. No 23 Service Flying School (SFTS), RAF Heany
1943 RAF Cranwell
1949 RAF Yatesbury No 2 Radio School
1950 Joint Service School For Linguists (JSSL) JSSL trained about 5,000 National Servicemen as Russian translators and interpreters to meet the needs of Britain's Intelligence Operations. Edgar Harrington was one of those who set up the school and was it's first Principal. He was stationed at Air Ministry and later at Walker Lines, Bodmin, Cornwall.
1955 Air Ministry, London
1958 HQ Far East Airforce, RAF Changi, Singapore. Command Education Officer
I960 RAF Rudloe Manor
1966 HQ Bomber Command, Walters Ash. Last Command Education Officer
1969 took early retirement when Bomber Command was merged into Strike Command.
1999 Died.
Wing Commander Sir Geoffrey Hirst Bateman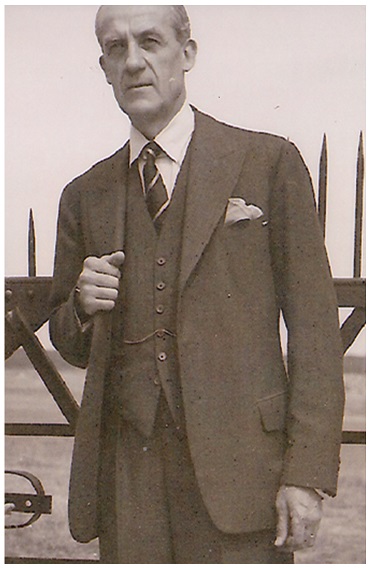 Lived At "Grymsdyke", Main Road, Lacey Green, after WW2
Geoffrey Bateman was a distinguished ENT (ear, nose and throat) surgeon at St. Thomas's, London.
1931 He married Margaret Turner. (They had 3 sons, Christopher, Robert and Nigel and 1 daughter, Susan.)
1939 He had been appointed onto the St. Thomas's consultant staff
Military career
Pre 1939 RAF Military Reserve
1939 called for active service, promoted to Wing Commander
Post War
Returned to St. Thomas's, where the experience gained in organisation and improvisation during his service years was invaluable as he worked to improve the service and training at the hospital. He aquired a considerable reputation in his field and his department became reknowned for its training.
1959-1964 Hon.Secretary of Council of Otolaryngology, becoming...
1970-1971 President
1961-1978 edited Journal of Laryngology
1966-1971 Consultant Adviser to the Dept. of Health and the Army
His administative experience during the war stood him in good stead as a member of St. Thomas's rebuilding committee.
1971 He performed the "Topping Out" ceremony
1971 Retired
1972 Knighted for his services to St. Thomas's and Laryngology
1998 Died
Flying Officer John Lawson Tempest "Timmy"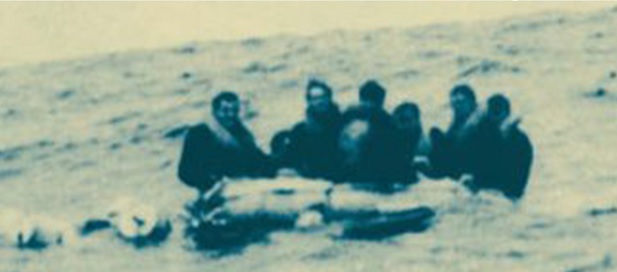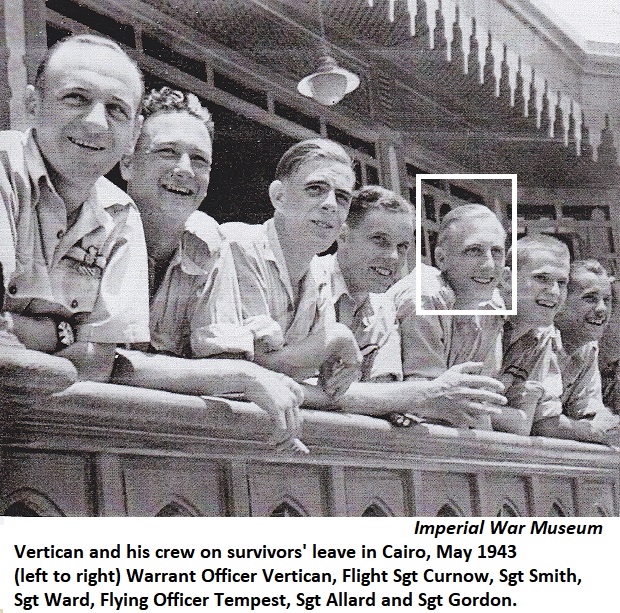 Lived 'Virginia Cottage', Main Road, Lacey Green
Joined RAF Volentary Reserve.
Basic Training
WW2
Navigator in bombers over France
1943 Based nr. Misrata, North-West Libya (recently taken from the Italians). Timmy was navigator in a crew of seven, under Pilot Micky Vertigan.
Research Note:
From the book 'Down in the Drink'.
On a night bombing mission to cut off roads converging on Tunis in order to finally push the German Afrika Korps out of Africa, they took off from Misrata, in a Halifax. A "freakishly" hot air temperature, caused the 4 engines to fail, one by one. They put down in the Mediterranean, where they escaped into their dinghy, Timmy Tempest only able to estimate their position. They drifted ashore on the eleventh morning onto a desolate coast. Weak from lack of water and food and very sunburnt they were rescued by local, (friendly) Arabs.
Awarded DFC (Distinguished Flying Cross)
No further information. Can you help? Email: History Group
First Officer Freydis Sharland, nee Leaf. ATA, RAF.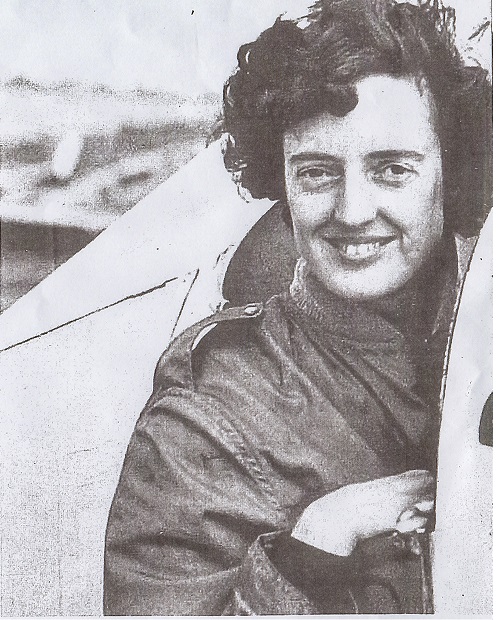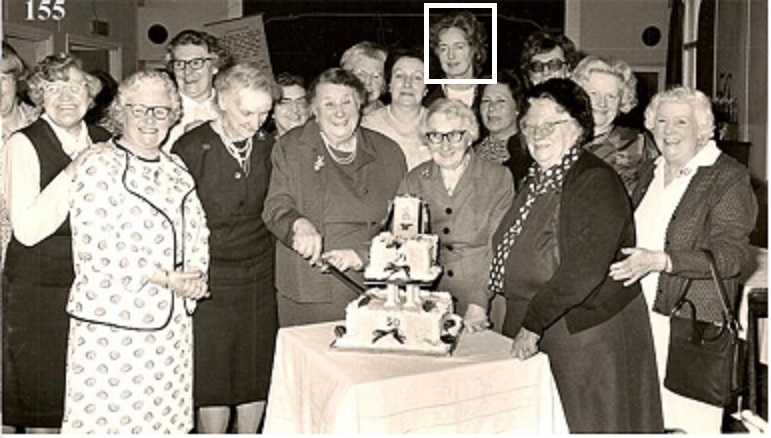 Lived Tyler's Field, Little Wardrobes Lane Loosley Row, post war
Freydis was born in Cambridge in 1920, the daughter of Catherine and Charles Leaf, a noted Meteorologist and Archaeologist, also Olympic yachting gold medalist, 1936. Both father and Freydis were fascinated with flying and so in 1937 both joined her brother learning to fly. All civilian flying ceased with the outbreak of WW2, 1939.
Service career
1939 volunteer in Military Hospital, Colchester. Applied for the Air Transport Auxiliary, but her 4 hours, 40 minutes solo flying was not enough to qualify.
1942 running out of people with more experience than her, she was at last given a flight test for the ATA, (established to deliver new planes to RAF bases across Britain and later also to mainland Europe and the Mediterranean, the pilots flying solo). 1943 Feb accepted into the Air Transport Auxiliary.
Training started on simple single engine planes, then single engine and twin engine fighters followed by heavier single and twin engine bombers, eventually also 4-engine bombers. No navigational aids were supplied, only maps, so clear weather and flying low was necessary in order to see the ground, looking for railway lines, lakes and other landmarks.
The planes were unarmed. They had no radio communication. The ATA death rate was 1 in 10. Freydis Leaf had started in the ATA having had a total of 26 hours, 10 minutes flying experience. When she left at end of Oct 1945 she had flown 607 hours, 25 minutes and had flown 38 different types of aircraft.
Post WW2
Freydis won her full RAF wings but never took up her uniform. She continued her flying career as a freelance commercial pilot.
1953 she delivered to the Pakistan Air Force, a Hawker Tempest V (one of the biggest and fastest of the last generation of piston-engine RAF fighters). The 4,000 mile solo journey involved 3 stops at Nicosia, Baghdad and Bahrain before reaching Karachi. (on arrival, being a woman, she was denied access to the Officers Mess.)
Research note Although unlikely that they met in 1953, Air Vice Marshall William "Bill" Cannon, then Commander-in-Chief of The Royal Pakistan Air Force, may well have ordered the purchase of this plane. In the 1960's both the Sharland's and Cannon's were living here in Loosley Row and Lacey Green.
1954 1st female British air racing champion, flying a "Hawk Major" The annual air racing championship consisted of 8 venues and 16 races, the planes being handicapped. It is cumulative, the maximum points for each race being 100 on a sliding scale.
1955 Freydis met and married Tim Sharland. They met on a liner when she was going to visit her brother in South Africa. They farmed for a few years in Northern Rhodesia before coming to Loosley Row to farm. She had a break from flying while they reared their family.
1955 founder and first chairman of the newly established British Women Pilots Association. Officer of Women's Junior Air Corps, Girls Venture Corps and on the GVC panel.
1980 retired. She then bought a microlight and carried on flying into her seventies.
2008 awarded, with other veterans, the ATA Service Medal.
1st Officer ATA Amy Johnson, CBE.
1937-38 lived at "Monks Staithe", Church Lane, Princes Risborough.
Research note: This is not our Church Lane but the one in Risborough. The only excuse for including Amy here is that she liked to ride up to Woodbine Farm to get milk).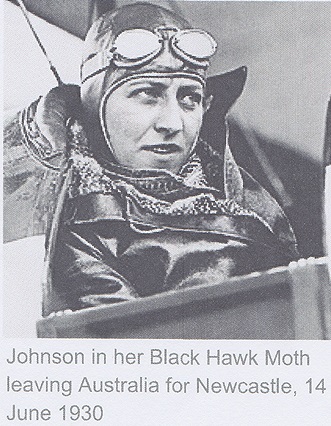 Born in Yorkshire, with a B.A at Sheffield University, she started work in London. She took up flying as a hobby, gaining her Pilot's "A" License in July 1929. She also obtained a Ground Engineer's License, the first woman to do so.
Funded by her father and Lord Wakefield, she bought a De Havilland "Gypsy Moth".
1930 She became the first woman pilot to fly solo from England to Australia so winning the Harmon Trophy. She was awarded the CBE. 1931 She obtained a De Havilland 80 "Puss Moth" and with co-pilot Jack Humphries became the first to fly from London to Moscow in one day, approx. 1,760 miles in 21 hours. They continued across Siberia and on to Tokyo, creating a record time from Britain to Japan. 1932 She married pilot Jim Mollison. She proceeded to set a solo record for a flight from London to Cape Town, South Africa, breaking her husband's record.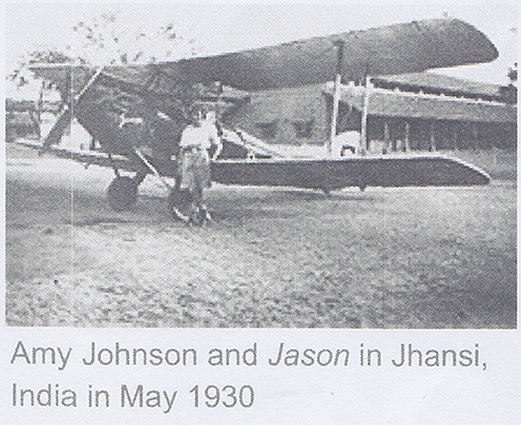 1933 Amy and Jim broke many records flying as a duo.
1933, nonstop South Wales to New York, USA. They were injured when crash landing in Connecticut, after running out of fuel. On recovering they were given a ticker tape parade down Wall Street.
1934 Record flight Britain to India.
1936 Amy's last solo record breaking flight, regaining her Britain to South Africa record. 1938 She divorced Morrison and reverted to her maiden name.
WW2 1940 Amy Johnson joined the newly formed Air Transport Auxiliary, transporting new planes around Britain. She rose to First Officer.
1941 Jan Flying in adverse weather, she reportedly lost her way and ran out of fuel (ATA pilots had no navigational aids, only maps). Unofficial reports stated that she had been hit by friendly fire after giving the wrong signals, but this was never verified. She bailed out - her aircraft crashed into the Thames Estuary. Her body was never found. Memorial service St. Martin in the Fields. She is commemorated on the Air Forces Memorial at Runnymede.
Brian Lunn
Lived 'Chegwyn' Main Road, Lacey Green
WW2
1939 joined the RAF; Brian was colour-blind so was unable to fly. When it was realized he was an accountanthis by profession he was posted for the duration into the Pay Masters office.
Wilfred Brown, RAF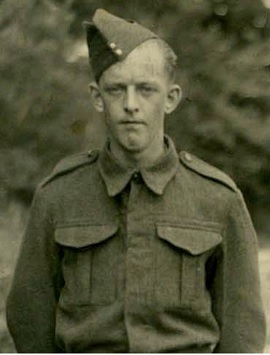 Lived at "The Crown", Church Lane, Lacey Green
WW2
Called-up into the RAF, he spent most of the war in India. He was taken ill when his body stopped sweating in the heat. In order to save his life he was sent to high altitude Kashmir to recover.
Research Note: Wilf had told Barry Macey what a beautiful place Kashmir was and that his recovery time was the best days of his life.
Sergeant Len Macey, RAF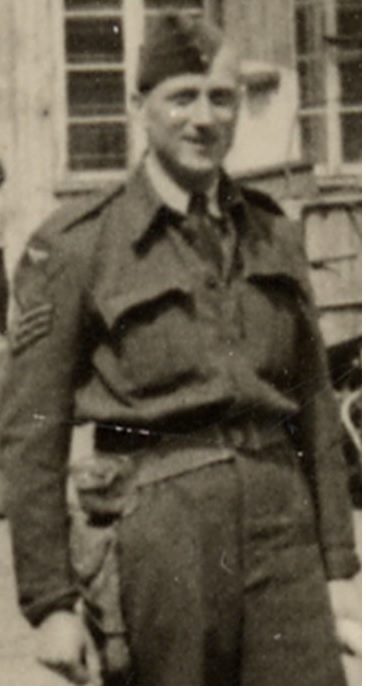 Lived at "The Crown" Church Lane, Lacey Green
WW2
Called-up into the RAF, He served in the RAF police.
1944 Jun Shipped to Europe D-Day + 10 (June 16th )
He was seconded to the Canadian Air Force, which was very actively involved in the major events of that time.
Post War
He spent some years in Germany, returning the country to some kind of normality.
Harold Leonard "Nibby" Rixon RAF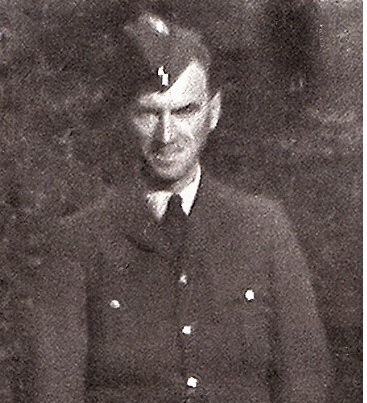 Lived 'Pond Cottage, Main Road, Lacey Green
1942 joined RAF, after service in Princes Risborough Fire Brigade.
Basic training at RAF Cardington, Bedfordshire.
Posted to Air Defence Base near Yarmouth because he was too old to train for air crew, (nearly 40).
Posted to RAF Harwell
Posted TO RAF High Wycombe, based at Walters Ash, the Headquarters of Bomber Command, (Just a field away from his home in Lacey Green). He now found it difficult to maintain the fitness required in the service and spent the remainder of the war, working there on maintenance of buildings and the market garden that produced food for the base.
Wing Commander Alan Oakeshott
Lived Naphill
Research note: Alan Oakeshot is included here because it was he who suggested that the new HQ for Bomber Command should be built at Walters Ash.
Awarded the DFC (Distinguished Flying Cross)
1942 Jul Died. Crashed in sea during raid over Germany
Squadron Leader William Bernard Frederick
Lived "Mandara", Main Road, Lacey Green
1917 Joined Royal Flying Corps (Became RAF in 1918)
1919 Pilot Officer
1923 Flying Officer
Late 1930's Retired from RAF
Circa 1938/9, he and his wife, Laura Matilda moved to the newly built house in Lacey Green, which they named "Mandara", a Hindu word meaning "Lantern of Peace"
1939 William Bernard Frederick, RAF, Retired, was granted a Commission in Class (CC) as Flight Lieutenant
1941 Died aged 54
His name is on the WW2 War Memorial in St. John's Church.
Andrew Oliver, RAF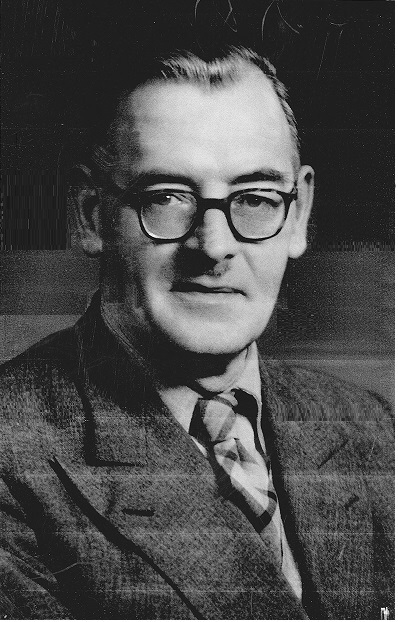 Post WW2, "White House Farm","Tor Cottage","Pondside" Lacey Green
Andrew Oliver worked for the firm of Walter Baker, High Wycombe, which, by 1939 had become an acknowledged leader in plywood and veneer products. Andrew was Works Manager.
WW2
1939. Drafted into RAF and posted to Royal Aircraft Establishment, Farnborough to work on research projects.
Just weeks later, he was demobbed from the RAF with instructions to report directly to Lord Beaverbrook, the Minister for Aircraft Production. He was called upon to establish premises for making plywood for the planes and gliders in High Wycombe. (The specialist plywood manufacturer in East London having been bombed out). Specialist equipment, from across the country was put at his disposal.
Andrew also assisted directly in some wooden aircraft development. He worked many hours at Salisbury Hall, developing the prototype De Haviland 98 Mosquito.
Appointed by Air Chief Marshall,"Bomber" Harris, Commander-In-Chief of Bomber Command, Walter's Ash, Andrew flew to inspect every wooden aircraft that crashed in Britain, to check if the timber or glues were at fault. He flew from the grass runway on Stocken Farm, Lacey Green. (Built in order for Harris to get to Northolt to confer with President Eisenhower). The plane was kept in a guarded, "blister" hanger there.
Post War.
Keeping the factory running throughout the war had been very stressful. Additional girls had been sent to work there from the bombed London factory, not very happily. There were 3 shifts a day and Andrew had been there at the start of every one. He kept going throughout the war, but then had a nervous breakdown that kept him in hospital for several months. (In 2018 this would probably be more acceptably called a "stress disorder".) He found the therapy involving farm pursuits beneficial and decided to move out to the country, moving to "Sunnybank", now White House Farm, Lacey Green.
He went back the Baker's factory at High Wycombe, now doing civilian work again. He retired in 1964.
He was a master-craftsman in marquetry, but "hid his light under a bushel" so to speak. Few would have seen the priceless antiques sent from abroad that he repaired. He made and gave to St. John's Church, Lacey Green, the cross that is carried at the services. It is simple but beautiful.
Sergeant Ivor William Kelloway, RAF
Lived at "The Haven" Main Road, Lacey Green, post WW2
Ivor Kelloway decided the RAF was the career for him when, aged 14, on holiday near the prime Naval Port of Portland, he witnessed an air battle when some Swordfish took on some German bombers.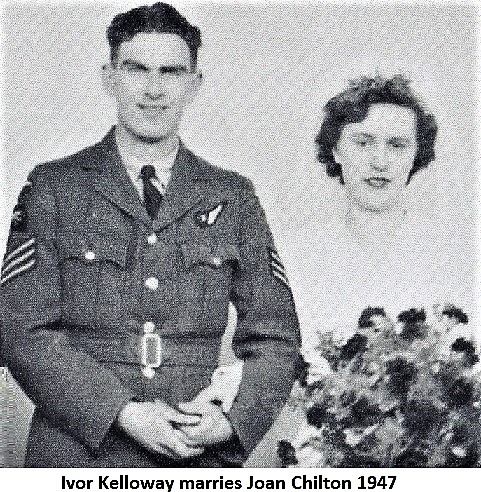 WW2
1941, aged 16, he joined the Air Training Corps. A keen sportsman, he played cricket for Somerset and football for Yeovil, albeit because many of the first teams had been called up.
1943 Sep called up, (being a member of ATC) ironically to report to Lords (the home of cricket in London). Training followed in a number of venues. One in East Anglia using F.I.D.O. In which fuel was set alight alongside the runways to disperse the fog. More training at 617 Squadron, (of Dam Busters Fame), at that time hunting the German battleship "Tirpitz".
Cranwell followed where he trained to be a navigator in Mosquitoes. One training flight ended up overshooting the runway and his back was hurt. It was the day of the RAF football cup, he was patched up and declared fit but, while heading in the winning goal the goalie knocked him flying. He came round in hospital, where he was kept for six weeks.
Back to Cranwell, where he was obliged to start again from scratch on a different course, this time for signalling. Next, Blackpool for a course on movement control.
1944 Late. Posted to Bomber Command, Walter's Ash, Ivor Kelloway was responsible for physical education and organising fixtures for all types of sports and looking after the personal fixtures of all Bomber Command aircrews.
After V.E. Day the RAF allowed youths like Ivor one day a week to try out a civilian workplace. Having a friend at Mill End School, High Wycombe, Ivor went there.
1945 Spring. Frank Chilton, Stalwart of Lacey Green Sports Club, hearing there was a good cricketer at Bomber Command, cycled over to the base to invite him to come and play.
Post War
1946 Summer. Spent flying to airfields that were closing down, removing any equipment worth keeping and playing cricket for the RAF. At King George V Docks, Glasgow, to keep control of RAF equipment and also the kit of deceased airmen.
1947 Feb (a Winter of record snow) Ivor Kelloway, from Somerset, married Joan, the daughter of Frank and Elsie Chilton, of Lacey Green. Ivor never lost his enthusiasm for sport and was for many years a school headmaster in High Wycombe.
1947 Mar posted to Swindon as R.T.O.(Rail Transport Offcer), to assist service personal travelling by rail.
Ivor had applied for a place at St. Luke's College, Exeter for a two year course for teachers. The RAF agreed to his discharge and also agreed sponsorship for him.
Bill Cleaver, Meteorologist, RAF
Lived Woodfield, Lacey Green
The Meteorological Office started in 1854 as a department of the Board of Trade. It became part of the Ministry of Defense after WW1, based at the Air Ministry. Because of the need for information for aviation, many of its observation and data collection points are on RAF airfields.
WW2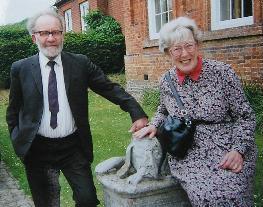 1941 Bill Cleaver joined the "MET" Office. He had postings not only with the RAF but also the Navy and the Army, travelling to Libya, Egypt, South Africa, Germany among others. A keen rugby player, he spoke of playing in Tripoli, Alexandria and the UK as far north as Stornaway.
After a post at the RAF Navigation School in Suffolk, and two tours in Germany he was offered a post at Strike Command, Walters Ash. (Strike Command was formed in 1968 at Walters Ash, by the merger of Bomber Command and Fighter Command).
Post War
Bill and his wife, Madeline, (married 1958) then settled in Lacey Green.
For many years Bill wrote a regular report for the village magazine "Hallmark" about the weather.
Harry Church, BEM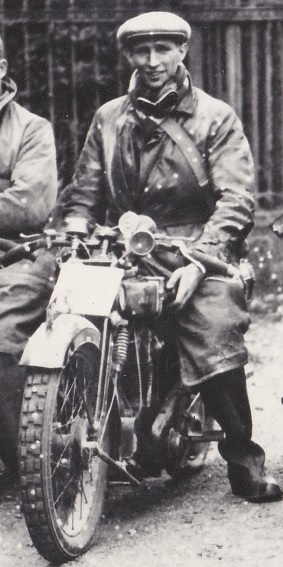 Lived "Linden Lea" Westlands Road Lacey Green
Research note: Harry is almost certainly best known for his dedicated work for the Villages, serving 28 years on the Parish Council and 25 years on High Wycombe Rural District Council.
WW2
1939 Joined the Air Ministry Staff at Bomber Command. Harry was not in the RAF.
1939-1945 at Bomber Command on 24 hours call-out as Maintenance Engineer, throughout most of the war years. For his services he was awarded the BEM, (British Empire Medal).
Civilian Life.
Came to Lacey Green when very young child,
1937 married Kathleen Brown.
1980 died, still in Lacey Green. His great love as a young man was in motor cycling, rallying and competitions, Captain of his team in Bucks Motor Cycling Club. He played football and cricket for Lacey Green.
Group Captain Denis Croucher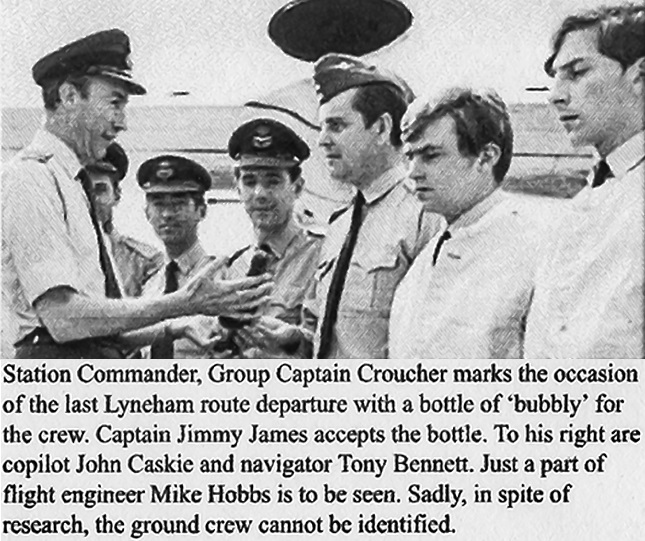 Lived Chiltern Edge, Main Road, Lacey Green
WW2
1941 joined the RAF aged 17 Trained as a Navigator
Active Service in Far East, India and Burma
Post War
1947 Demobbed.
1947 Joined B.O.A.C.
1948 Married Gwendoline Marshall at Chatham, Kent
1949 Rejoined the RAF
1970 Group Captain, Station Commander, RAF Lyneham
1973 He moved to Lacey Green with his wife and daughters Beverly and Rosalind.
1976 Retired
2012 Moved to Cockermouth, Cumbria, to be near family
2016 Nov died
Vic Southon, RAF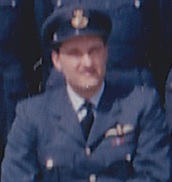 Lived "Beggars Roost" Foundry Lane, Loosley Row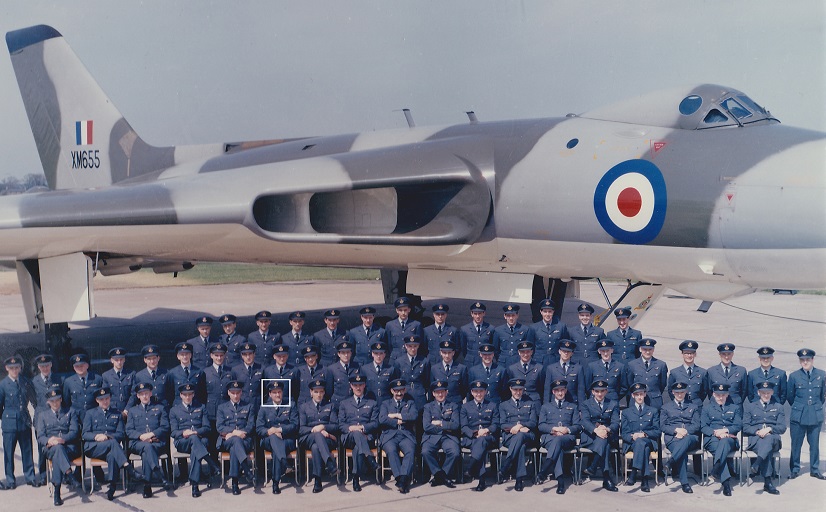 Post War
1949 Joined RAF, Basic Training. Trained as Radio Technician.
1951 Cranwell, Officer training as a Pilot. Posted to Egypt, flying fighter Gloster Meteors
Several postings followed in the UK in Cold War.
UK postings flying Javelins, (Replaced the Meteor 1956)
Posted to Bomber Squadron, flying Vulcans (but his heart remained in Fighter Command)
Training on Bloodhound Missiles at RAF Scampton, may have influenced him to leave the RAF in order to be able to continue "hands on" flying - his great love.
Post RAF
1967 Having obtained his Airline Transport Pilots License he joined British Airways, flying Boeing 707's, VC10's and 747's Worldwide. Having to retire aged 55, he then became one of Richard Branson's original pilots for Virgin Atlantic, until his retirement.
2017 Dec He died aged 88.
Air Commodore Robert "Bob" Barcelon
Lived "Windyridge",Main Road, Lacey Green
1952 Joined RAF, Cranwell. Attained the rank of Senior Flight Cadet.
1955 Appointed to a permanent Commission
1957-58. Pilot no 111 Squadron, flying "Hunter F6"
Research Note: Bob Barcelon was one of the pilots who performed at Farnborough Air Show in 1958 with the "Black Arrows", (the forerunner of the Red Arrows). On that occasion a formation of 22 Hunter aircraft completed a loop-the loop, a feat never since accomplished (See Wikipedia). Bob flew in the central position, exactly behind the leader.. The previous year he had prevented a disaster. Just as the team had started their display, he spotted an 'Auster' light aircraft in their flight path. He called a warning over the radio, causing them to carry out an impromptu bomb burst (Split off out of the formation).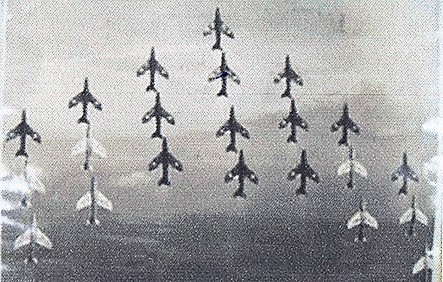 Flight Commander:
1974 Officer Commanding no 2 Squadron
1972 Attended no 2 course, National Defence College
1974-76 Dec. Officer Commanding no 19 Squadron, RAF Gutersloh, Germany, providing Lightning F2A aircraft on Quick Response Alert.
Research note The squadron moved end of 1976, presenting Bob Barcelon with a silver goblet.
Wing Commander
1977 HQ Strike Command, Tactical Evaluation
Research Note 1977 Bob, with wife Jackie and daughters, Nicola and Ray Louise, rented 'Byways' Goodacres Lane, Lacey Green. Later purchasing 'Windyridge', Main Road, Lacey Green.
1979 Air Attache, Stockholm, Sweden. (An Air Attache is part of a diplomatic mission in a foreign country, representing the chief of his own home air force)
1982 Officer Commanding, RAF Binbrook
1985 Ministry of Defense, London. Staff Officer
Air Commodore
1985 HQ Strike Command, Walters Ash, Operations/Air Defence.
1986/7 Retired from RAF. In 'retirement' he worked for the RAF Benevolent Fund in London for approximately 10 years. He enjoyed painting both in oil and watercolour and exhibited his paintings in Ellesborough, where he played golf.
Air Commodore David Frank Lawrence, CBE, RAF
Lived Woodfield Road, Lacey Green
1957 Apr RAF National Service, as Service Engineer Officer following apprenticeship in Engineering. Basic training for 3 months, Isle of Man, then posted to RAF Wittering. National Service Commission in Engineering branch, RAF.
1957 Jul Posted to RAF Wittering. working on Valiant Bombers. Pilot Officer granted 3 year Short Service Commission.
1958 Jan Mechanical Transport Officer, RAF Cottesmore.
1958 Jul Mechanical Transport Officer, RAF El Adem, Libya. Here David met Joy. (She worked as a civilian for the RAF, her father was serving there. They got engaged and married when they got back to England.)
Granted permanent commission (until 55). Appointed Flight Lieutenant 1961 Armament Trials Officer, RAF Boscombe Down, Aeroplane and Armament Experimental Establishment. a) Trials on the "Lightning" fighter aircraft (The "Lightning" was to become a major factor in David's career). b) As an urgency transferred to Electromagnetic Capatability Trials on range of RAF and RN aircraft. (Required some periods at sea aboard Aircraft Carriers)
Squadron Leader.
1966 Senior Engineering Officer, RAF Binbrook, Air Fighting Development Squadron. (Lightning and Hunter aircraft). Transferred as Officer Commanding Engineering Squadron. 1967 May Senior Engineer Officer, RAF Wattisham, 111 Fighting Squadron. (Lightning aircraft; an operational squadron tasked with air defence of the UK during the "Cold War". (a N.A.T.O. assigned squadron). 1970 Mar Staff Officer, HQ Strike Command, Walters Ash, responsible for Lightening Aircraft, Mechanical Engineering.
Wing Commander.
1973 Officer Commanding Engineering Wing, 226 Operational Conversion Unit (training pilots for Lightning operations) Also responsible for the Battle of Britain Memorial Flight (Air Displays) and re-equipping the station with Jaguars. 1975 Staff Officer, HQ Strike Command, (Air Defense Mechanical Engineering). 1976 Jan Awarded OBE (Order of the British Empire)
Group Captain
1977 Staff Officer Engineering (Lightnings, Phantoms, Ground Radar, Communications), RAF Bentley Priory, HQ 11 Group. 1979 Station Commander, RAF Sealend, No 30 Maintenance Unit. ("deep" servicing and repair of Avionic and Instruments for RAF and RN aircraft.) 1981 Ministry Of Defence Procurement Executive, London. Responsible for engineering on all RAF aircraft, other than new types being introduced. Working with British and American industry.

Air Commodore
1983 Staff Officer, RAF Bampton, HQ Support Command. in charge of training for all ground trades, airmen and civilian. 1986 Staff Officer, RAF Bampton, HQ Support Command, in charge of "deep" servicing of RAF aircraft and equipment. 1987 Awarded CBE (Commander of the Order of the British Empire)
1988 Staff Officer, HQ Strike Command, Walters Ash in charge of Mechanical Engineering
On retiring from the RAF, David became the Senior Curator for 3 dimensional objects (aircraft, uniforms, medals, vehicles, boats, weapons, etc) at the RAF Museum at Hendon.
1998 Retired from Hendon.
Air Commodore K. Bruce Latton

Lived Roundlands, Lacey Green, born New Zealand
1960 Jan, aged 18, joined RAF, Flight cadet, RAF Officer Training College, Cranwell. Was awarded the Air Ministry Prize, the Royal United Institute Award, the Queen's Medal and the Sword of Honour. He also represented the college at rugby.
1962 Appointed to Pilot Officer.
1963 Advanced training at RAF Valley. He became the first trainee pilot to solo and graduate on the Gnat (fighter jet), which had just replaced the Vampire (fighter jet).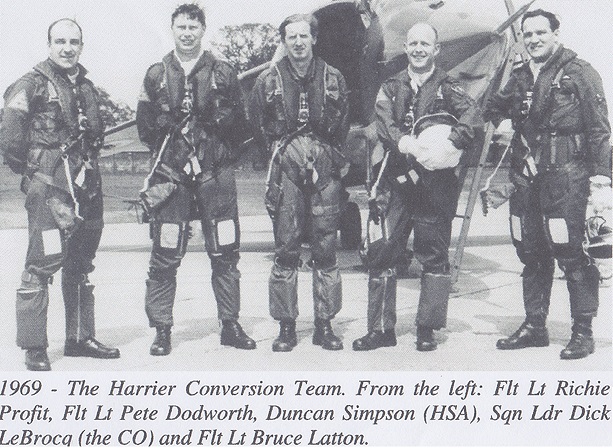 1963 Dec Flight Officer
1965 Jun Flight Lieutenant
1969 Test Pilot (one of 4) for the Harrier Jump Jet.
1971 Jan Squadron Leader
1977 Officer Commanding No. 226 Operational Conversion Unit, Lossiemouth, training pilots for the Sepecat Jaguar.
1979 Jan Wing Commander
1980 Officer, Directorate of Training (Flying), Tornado Joint Operational Training Project.
1983 Deputy Commandant/Officer Commanding Examining Wing, Central Flying School.
1984 Officer Commanding RAF Lossiemouth
1985 Jan Group Captain
1987 Staff, Department CAS.
1989 Air Officer Commanding/Commandant Central Flying School. The Red Arrows were based there at this time.
1990 Jan Air Commodore
1991 Air Staff, HQ Strike Command
1992 Commander British Forces, operation 'Southern Watch'. (Joint task force of USA, UK, Saudi Arabia and France. Monitoring and controlling air space in Southern and South-Central Iraq, following the Gulf War, until the 2003 invasion of Iraq.)
1993 June Air Commodore/Flying Training, HQ RAF Support Command. 1995 Support Command was split in two, becoming Personnel and Training Command and Logistics Command
1994 Jan Retired
Post Retirement
1997-2003 Principal of Oxford Air Training School.
2001 Elected A Warden of the Guild of Air Pilots and Navigators. (part of the regulating body)
2001 Oct 19th Died
Wing Commander Peter Bowen
Lived Bradenham Beeches, Beech Park, Walters Ash (just in Lacey Green Parish)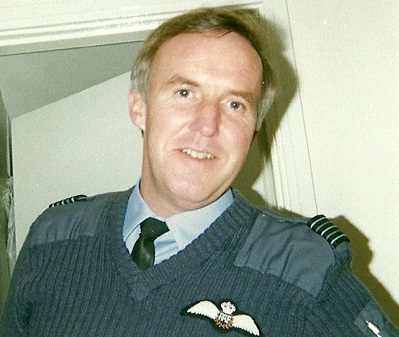 1964 Joined RAF
1965 Acting Pilot Officer
1965-76 Flying Officer, flying "Lightnings".
1976-78 RAF Lossiemouth. An Airborne Early Warning Station, flying Avro Shackleton AEW.2s aircraft. In Dec. 1978, no. 48 Squadron RAF Regiment (non-flying defence unit) also took up residence, equipped with Rapier surface-to-air missiles.
1978 RAF Swinderby, training.
1978-79 Kaduna, Nigeria. A team from RAF in UK were sent to help set up an officers training centre for the Nigerian Air Force.
1980-82 RAF Boulmer, Nr. Alnwick Using advanced radar, fighter controllers were routinely detecting Soviet aircraft and scrambling Quick Reaction Alert aircraft to intercept them. The base was also a search and rescue station.
1982-85 RAF High Wycombe
1985-86 RAF Support and Training Command, Brampton. Station Commander.
Research note: In October 1985 the large, headquarters building was burnt out. Contingencies were implemented, staff being moved into empty family quarters. The rebuilding, which cost 10 million to fix was under the control of the Commander-in-Chief of Support Command. 1986-89 RAF Brampton
1989-91 RAF Episkopi, Cyprus. The base was Joint HQ of Land Forces, Cyprus and Air HQ Middle East. Their main function being to protect and provide vital strategic communication facilities and also this important airspace.
1991-96 RAF Strike Command
1996 Retired
1996 Awarded OBE for services to the RAF
Post Retirement He worked for St.John's Ambulance.
Group Captain Barry J Titchen
Lived Main Road, Lacey Green
1965 Joined RAF
1965 Trained as a Navigator
Flying Appointments:-
On loan to Royal Navy, flying Buccaneer S Mk 1 & 2, from Aircraft-Carrier, strike/attack roles
A Short Tour Flying Canberra Aircraft
4 tours in strike/attack/reconnaissance roles
2 tours in Air Defence, flying Phantom FGR 2 aircraft
1988-90 Officer Commanding 56F Squadron, RAF Wattisham
1994 short conversion course on the Tornado F3.
1994 May-Nov Gioia Del Colle, Italian Air Force Base, RAF Detachment Commander Training, RAF Staff College,Bracknell.
Training, RAF Air Warfare Centre, Cranwell.
Staff Appointments:-
Department of Air Warfare, RAF Cranwell
HQ RAF Strike Command
M.O.D, London, Directorate of Air Force Plans and Programmes in UK.
RAF Bently Priory. HQ 11/18 Group.
1995-97 Officer Commanding, RAF Neatishead (UK Control and Reporting Centre) 1998-2000 Appointed Chief of Staff, Director of Operations at NATO, Combined Air Operations Centre 2, Kalkar, Germany.
Wing Commander Martin Moore
Lives Woodfield, Lacey Green
1969 Joined RAF as Officer Cadet.
1969 Oct Commissioned as Pilot Officer
1970 Training, 25 Maintenance Unit, RAF Hartlebury Flying Officer 1972 Air Movements Course, RAF Brize Norton
1972 Mobility Supply Flight, RAF Thorney Island
1973 Air Movements Officer, RAF Support Unit, Tengar, Singapore, Anzuk, Australia, New Zealand and United Kingdom Force
1976 Officer Commanding, Technical Supply Flight, RAF North Luffenham
Flight Lieutenant
1978 Convoy Commander, Armament Support Unit, RAF Wittering 1980 Instructor Officer Training, Flight Commander, RAF Cranwell. 1982 Supply Central Systems Design, RAF Hendon
Squadron Leader
1986 Officer Commanding Supply and Engineering Squadron, RAF Innsworth 1988 USAS ( Unit Supply Automatic Data Processing System) Wing Systems Design, RAF Stanbridge 1990 Supply Exchange Posting. RAAF (Royal Australian Air Force) base, Sydney, Australia.
Research Note: Martin Explained "I was fortunate to be posted to RAAF Richmond on an 'Exchange Tour'. The purpose was for supply Squadron Leaders to exchange for a 2 year posting, to provide a chance to experience each other's ways of working and perhaps introduce new ideas when back home. In my case this proved very rewarding. Sue and i lived on the base in a house affectionately known as "Poms Palace" We were also given a hectic and enjoyable social life down under).
1992 MOD, London, DLIS, RAF (Directorate Logistics Information Systems)
1994 Logistics Project/Study Duties, Stevenage DLIS(RAF).
Wing Commander
1999 Officer Commanding Usas Wing, RAF Stanbridge.
2004 retired from RAF
Wing Commander James Brudenell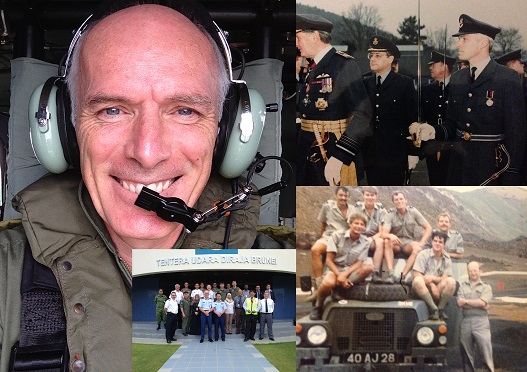 Lived College Farm, Loosley Row, 2002-2009
1977 Joined RAF as Apprentice Technician. (Halton Brat).
1977-1980 RAF Halton, Basic Training.
1980 RAF Lynham, onto Hercules (Transporter) Fleet. Part Of The Team That Converted These Aircraft Into A Tanker Fleet. 1982 & 83. Falklands War
1984 RAF Benson. Depth Maintenance for Wessex Helicopter Fleet
1986 (6 Months) Wideawake Airfield, Ascension Island (Hercules Detachment) 1987 Promoted to Sergeant and posted to RAF Manston, 22 Squadron Search and Rescue,(SAR) As a Wessex Groundcrew Shift Boss. 1989 Manston. Transferred to 202 Squadron, SAR, as a Sea King Shift Boss. (Ground crews were responsible for refueling/maintenance of the aircraft).
1990 Officer Training, RAF College Cranwell.
1991 Flying Officer. Posted To RAF Benson, Officer Commanding, Component Servicing Flight, Technical Support to Wessex Sea King and Hawker Siddeley 125 (Andover) Fleets.
1991 Royal Navy Engineering College, Manadon, further professional training.
1992 RAF Cranwell. further professional training.
1992 Promoted to Flight Lieutenant. Posted to RAF Brize Norton, as Line Officer (Engineering Shift Leader), No 10 Squadron, (VC 10's). 1992/3 Served In Gulf War.
1993 RAF Cranwell. Further professional training.
1993 Technical Training Officer, RAF Halton, Airframe Training Squadron. (AFTS) 1993-1997. Acting Squadron Commander, overseeing the relocation of the AFTS as part of Technical Training School move to RAF Cosford. 1997-2000. Staff Officer, RAF Bently Priory, HQ 11/18 Group, Supporting UK Strategic and Tactical Ground Based Radar Systems. Participated in the Nato Tac tical Evaluation Team.
2000 Promoted to Squadron Leader. Posted to RAF Cosford as Officer Commanding Contract Monitoring Team. Also OC Wrekin Gliding Club.
2002 HQ Strike Command. Responsible for RAF Engineering Policy and particularly NATO interoperability in terms of aeronautical maintenance for RAF aircraft.
2005 RAF Brize Norton. Executive Officer Forward Support Wing, also Officer Commanding Engineering Operations Squadron. 2005 Children in Need concert, Event Manager.
2007 HQ Air Command. Strategic Planner for RAF Fast Jet Fleets and their Bases. Command lead for the provision of Typhoon Air/Ground Crew Training for Bases (Typhoon Availability Systems) Overseas Customers.
2009 Promoted to Wing Commander. HQ Land Command, (Wilton and Andover) Chief of Staff for Ministry of Defence, Joint Explosive Ordinance Disposal and Search Branch. Trained with the Royal Engineers and qualified as a Bomb Disposal Officer. Also chair of the NATO Explosive Ordinance Disposal And Search Interoperability Branch.
2011 HQ Air Command Team Leader responsible for the global delivery of RAF Flight Safety Assurance to the 3-star Deputy Commander (Ops) 2013 Brunei. Seconded To The Brunei Air Force as head of aviation safety. Founded and 1st Chairman of the Civil/Military Brunei Airspace Safety Group.
2015 HQ Air Command. Chief of Staff No1 Group.
2017 Retired.
Post Retirement - James retired to become a local smallholder, stating "40 years served is definitely enough"
Warrant Officer Chris Poole, RAF Police
Lives Main Road, Lacey Green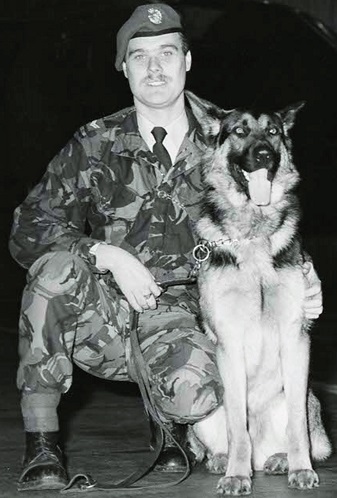 1978 Joined RAF - basic training, RAF Swinderby, driver training, RAF St Athan, basic police and dog handler training, RAF Newton
1979 Scampton. Dog handler at RAF Brawdy Promoted Senior Aircraftsman
1980 RAF Laarbruch, Deployments to Berlin and with various training areas. Team Leader, Station Dog Demonstration Team. Member of RAF Germany Dog Team. Winner of Dog Station Efficiencies. Took part in various dog trials. Promoted Corporal
1983 RAF Honington, initially on basic Police duties before taking over as Manager of the Dog Section.
1986 RAF Newton. Instructor for initial training of Dog Handlers. Also trained dogs for new roles in area search, tracking, firearms and explosives search dogs.
1989 Moved over to be an instructor on initial police trade training. Carried out attachments for support of Fire Service and the Prison Service.
Promoted Sergeant
1991 Attached to Royal Military Police, Chichester to set up training for the newly founded Guard Service.
1993 Attached to the Ministry of Defense Police, MOD Wethersfield, involved with training of Military Guard Service supervisory grades and Ministry of Defense Police.
1997 Promoted Flight Sergeant
1997 HQ Air Command, Computer Security Specialist
1999 Attached to Organization for Security and Co-Operation in Europe (OSCE) on the Kosovo Verificatiob Mission, to Advise On Safe Routes, Liaison and Weapons Verification prior to the OSCE being evacuated.
2002 RAF Brampton. Computer Systems Accreditor, ensuring all measures met both ground and air platforms within his area of responsibility.
2003 Deployed to Quatar and Iraq as SNCO (Senior Non-commissioned Officer) IC (in command) RAFP (RAF Police), to set-up initial RAFP ops at Basrah. HQ Air Command. Computer Accreditor role.
2004 Promoted Warrant Officer
2005 Deployed to Basrah as Warrant Officer for Department of Border Enforcement training team with specific responsibility for ensuring all international measures for Aircraft Security were met to enable civilian flights to operate out of Basrah.
2010 Warrant Officer, RAF Police 7 Squadron.
2011 Joint Services Police Unit, Squadron Warrant Officer, British Forces South Atlantic Isles.
2013 HQ Air Command. Security Advisor.
Research Note: Chris joined the RAF with the specific purpose of being a Dog Handler (for 10 years 1979-1989). He then took up basic Police Duties specialising in Training, before becoming a Computer Security Specialist.
Actively involved in Sport and Adventure Training throughout his career, he led numerous Multi-Day Expeditions, earned RAF Sports Colours for Orienteering and has completed a BA(Hons) and a MSc, thanks to the opportunities offered by the RAF.
Squadron Leader Ian Ward MSc BSc MRAes
Lives Church Lane, Lacey Green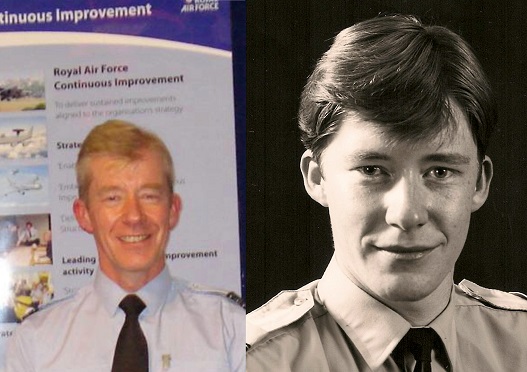 1985 Joined RAF as University Cadet, taking Combined Engineering Studies. Commissioned as Acting Pilot Officer into the Engineer Branch. RAF College Cranwell to complete initial Officer Training followed by basic Aero-Systems Engineering Officer Training.
1985 Junior Engineer Officer, 617 Squadron, RAF Marham, Norfolk, maintaining Tornado GR1
Flight Commander
1987 RAF St. Athan, South Wales. Tornado aircraft fatigue modifiction and major servicing, undertaking deep repair and changes to the aircraft structure.
1988 Secondment to British Aerospace (Saudi Arabia). Chief Engineer, King Abdulaziz Air Base, Dhahran. Tornado 'Organisational Maintenance' supporting the UK Tornado export programme, maintaining Saudi Tornado aircraft and training Saudi technicians.
1990 Gulf War Medal for service in the Gulf following the invasion of Kuwait. Staff Officer, RAF HQ Strike Command. (Former Bomber Command). Responsible for armament role equipment and Air-to-Air Missile Launchers.
1992 M.O.D. London. Department responsible for Weapons Engineering Management, Procurement and Logistics.
1994-1998 Tornado Engineering and Support Authority, to project manage aircraft and equipment upgrades, including conversion of Tornado GR1 to GR4.
Squadron Leader
1998-1999 Officer Commanding, Aircraft Engineering Squadron, RAF Mount Pleasant, Falkland Islands. Responsible for engineering operations and maintenance of all aircraft including Tornado F3, VC10 Hercules, Chinook and Sea King aircraft and helicopters.
1999 Staff Officer in the Logistics Policy and Strategy branch for Air Engineering Policy, including airworthiness, international air engineering interoperability, standardization and health and safety. RAF HQ, Strike Command.
2002 M.O.D. as an advisor on UK defense industry equipment exports.
2004 HQ Air Command (Former Strike Command). Staff Officer as a project manager on the replacement Nimrod Patrol Aircraft programme, pulling together plans for future in-service logistics support.
2006-2009. Officer Commanding, Engineering Operations Squadron and Tornado F3 Force, Logistics and Engineering Staff Officer planning changes and managing the F3 fleet.
2009 HQ Air Command. Joined the Management Consultancy Services and RAF Continuous Improvement Team, supporting change, transformation and continuous improvement across the Royal Air Force.
2012 Retired
Valedictory Certificate - Squadron Leader I Ward MSc BSc MRAes RAF . This certificate recognizes your 31 years distinguished service in the Royal Air Force and is testament to the professional and meritorious commitment that you have rendered to Her Majesty The Queen, the United Kingdom and the Royal Air Force.