.
Countryside Recipes
Lemon Drizzel Cake
Ingredients
6oz caster sugar
6oz butter softened
4 tbsp milk
2 eggs
6oz self raising flour sieved
Grated zest and juice of 1 unwaxed lemon
1 tbsp icing sugar
Method
Cream the butter and sugar together until light in colour and fluffy.
Gradually beat in the eggs and milk.
Fold the flour into the mixture with the grated lemon zest.
Spoon the mixture into a greased and lined 32oz loaf tin.
Bake at 180C (fan oven 160C) for 50-65 minutes until the cake is golden brown and firm, to the touch.
Mix the lemon juice and icing sugar together and pour over the cake as soon as it is removed from the oven.
Allow the glaze to set before removing the cake from the tin.
Set on a wire rack to cool completely.
.
Lemon Tart
Ingredients
8oz Plain Flour
2oz Sugar
½ tsp Salt
2 Egg Yolks, beaten
4oz softened butter
2 Large F.eggs
5oz Ground Almonds
6 Lemons
3 ½ oz Caster Sugar
3 ½ fl. oz Whipping Cream
6 ½ oz Granulated Sugar
Method
For the pastry:
Mix the plain flour, sugar, salt and 2 beaten egg yolks to a sandy consistency
beat in the softened butter to make a dough;
chill for 1 hour then roll out and line a tart tin of approx. "8"-"9" (22cm) diameter

For the filling:
Beat together the large fresh eggs, ground almonds, caster sugar and whipping cream
grate in the rind of 4 lemons and add the juice of two (leaving two untouched lemons and two without their rind)
Put the filling into the pastry case and bake at 180-19OC (350-375F or gas mark 4-5) for about 25 minutes until nicely cooked and browned
Slice the two untouched lemons thinly, discarding the pips.
Put the slices into a pan, cover with water and simmer gently until the peel softens.
Now remove the pith from the other two lemons and also slice thinly, adding these into the pan and continue cooking
Drain the slices
Make a syrup by dissolving the granulated sugar in 3 ½ f1 oz (100ml) water in a shallow pan;
when the liquid is clear, bring to boiling point, then simmer gently for 2- 3 minutes;
slip in the lemon slices and cook for 15 minutes until candied.
Arrange the slices on the tart (those with peel on the outside edge)
the syrup should be thick but, if not, boil down and then brush on a glaze of the lemon slices
.
Almond Shortbread
Ingredients
7oz Plain flour
Pinch of salt
2oz castor sugar + some for dusting
2oz ground almonds
9oz unsalted butter
Method
Preheat oven to 150C.
Sift flour and salt into bowl and mix.
Add ground almonds and castor sugar and mix well.
Rub in butter to mix and gently work until it forms a ball.
Knead and then roll out to a round, a little smaller than a 10in fluted loose bottom tin.
Place mix into tin and press out into flutes.
Bake in centre of oven for 30-35mins until lightly browned.
Remove, dust with caster sugar and allow to cool in tin.
.
Honey & Spice Cake
Ingredients
3oz clear runny honey
1 level tsp ground ginger
1 level tsp ground cinnamon
Quarter level tsp ground cloves
8oz plain flour
3oz golden caster sugar
4oz butter, at room temperature
8 pieces Crystallised Ginger - to decorate
Finely grated zest of 1 small orange
Finely grated zest of 1 small lemon
1 large egg, beaten
1 level tsp bicarbonate of soda
2oz candied peel, finely chopped
6oz icing sugar
1 tbsp lemon juice
Method
Preheat oven to 160C.
Place 3oz of honey into a cup or small basin (weigh basin and add honey).
Place the basin into a saucepan containing barely simmering water and warm the honey.
Sift the spices and flour into a large mixing bowl
Add the sugar and the orange and lemon zest.
Add the butter in small pieces.
Rub butter lightly into the flour, using your fingertips, until the mixture becomes crumbly.
Lightly mix in the beaten egg and the warm honey using a large fork.
In a small basin mix the bicarbonate of soda with 3 tbsp of cold water, stir until dissolved.
Add the basin mix to the cake mixture and beat, quite hard, until smooth and soft.
Stir in the mixed peel and spoon the mixture into a greased lined 8in round tin
Place tin and contents just above centre of oven.
Bake for about 50 minutes or until well risen and springy to the touch
Cool for ten minutes and then turn out onto wire rack to go cold.
Meanwhile sift icing sugar into a bowl and add 2 tbsp hot water and the lemon juice.
Mix to a thin consistency that will coat the back of a spoon (add water to thin if necessary).
Place large plate under wire rack and cake.
Pour icing all over cake allowing to run down sides.
Decorate the top with the ginger.
Can be stored in an airtight tin.
.
Farmhouse Fruit Cake
Ingredients
6oz soft margarine
6oz caster sugar
3oz sultanas
3oz seedless raisins
3oz glace cherries (chopped)
12oz self raising flour
Pinch of salt
1 level tsp mixed spice
3 tbsp milk
3 eggs
Method
Preheat oven to 180C.
Grease an 8" round cake tin and line with lining paper.
Mix the margarine and all dry ingredients in a bowl and add the milk and eggs.
Beat with a wooden spoon until well mixed.
Turn into the prepared tin and level the top.
Bake in the centre of the oven for about 1and a half hours.
Leave to cool in tin for 15 minutes before turning on to a wire rack.
.
Coffee & Walnut Cake
Ingredients
4 tbsp coffee essence
10oz butter, softened
6oz caster sugar
3 medium eggs
6oz self raising flour
3 and a half oz walnuts, ground
6 - 8 walnut halves
8oz icing sugar + some for dusting
Method
Preheat oven to 180C.
Grease, base line and flour two 7" round cake tins.
Place the flour, 6oz butter, sugar, eggs, ground walnuts and half the coffee essence into a bowl.
Beat with a wooden spoon until smooth.
Divide between the two 7in round sandwich tins and spread out to level the surface.
Bake in the centre of the oven for 25-30 minutes or until the cakes are firm to the touch in the centre and spring back when lightly pressed.
Remove from the oven and leave to cool completely.
Beat together the remaining butter, coffee essence and the icing sugar until smooth.
If the mixture is still very thick add 1 tbsp boiling water.
Fill a large piping bag with the mixture.
Using a star-shape piping tube, pipe 6 or 8 swirls on the top of one of the halves of cake
Use the rest of the filling to sandwich the two layers together.
Place a walnut half on top of each swirl of filling.
Dust with a little icing sugar before serving.
.
Five Viennese Tartlets
Ingredients
9oz softened butter
2oz icing sugar sieved
9oz plain flour sieved
A little raspberry jam or red currant jelly
Method
Cream the butter with the icing sugar until it is very soft - this is important otherwise the mixture will prove difficult to pipe.
Gradually work in the flour.
Transfer the mixture to a piping bag fitted with a large star nozzle.
Pipe the mixture into paper cases using a circular motion to give a swirl effect and a slight hollow in the middle.
Put aside to rest for an hour to allow the cakes to become firm.
Bake in the oven at 175C (160C fan oven) for approximately 10-15 minutes or until a light golden colour.
When cold, dredge with sifted icing sugar.
Pipe a bead of jam or jelly in the centre of each cake.
.
Battenburg Cake
Ingredients
4oz soft margarine
4oz caster sugar
2 large eggs
2oz ground rice
4oz self raising flour
Half tsp baking powder
A few drops red food colouring
Three-quarter tablespoons apricot jam
8oz bought almond paste
Method
Pre-heat oven to 120C.
Grease and base line a 7ins shallow cake tin with greased greaseproof paper.
make a wall down the centre of the tin with a double layer of greaseproof to form two compartments.
In a large bowl mix the margarine, sugar, eggs, ground rice, flour, baking powder and almond essence until smooth.
Spoon one half of the mixture into one half of the prepared tin smoothing as neat as possible.
Add a few drops of red food colouring to the remaining mixture to turn it deep pink.
Spoon coloured mixture into the other half of the tin and smooth the surface.
Bake in the pre-heated oven for about 35-40 minutes until the cake is well risen and springy to the touch.
Turn out onto a wire rack covered with a double layer of kitchen paper and leave to cool.
Trim the edges of the cake and cut into four equal strips down the length of the colours.
Gently heat the apricot jam in a small pan and then sieve the jam.
Stick the strips of cake together placing one plain piece next to one coloured piece and vice-verse to get a chequered effect.
You may have to trim the cake again.
Brush the top of assembled cake with apricot jam.
Roll out the almond paste into an oblong, the length and width of the cake.
Invert the cake onto the almond paste and brush the remaining three sides with apricot jam.
Press the almond paste neatly around the cake arranging the join in one bottom corner.
Score the top with a diamond pattern and crimp the edges to decorate.
.
Cheese & Leek Pasties
Ingredients
1 leek, trimmed and thinly sliced
1 potato, peeled and thinly sliced
Half oz butter
1 tbsp vegetable oil
salt and pepper
2oz mature cheddar cheese, grated
12oz shortcrust pastry (Use own recipe)
1 egg, beaten
1 tsp dijon mustard
2 small sprigs thyme, leaves only
Method
Fry the leeks and potatoes in the butter and oil for three minutes.
Add 3 tbsp water, cover and cook for five minutes.
Season and stir in the cheese, thyme and mustard.
Cool slightly.
Pre-heat the oven to 220C (200C fan).
Roll out the pastry to the thickness of a 1 Pound coin.
Using a round cutter, cut out eight 5in circles.
Spoon an eighth of the leek mixture into the centre of each.
Brush a little egg around the edge of half of each circle.
Fold the pastry around the filling in a pastie shape and crimp the edge between your finger and thumb.
Brush with the egg and place on a baking tray.
Bake for 20 minutes until golden.
.
Swiss Roll
Ingredients
4 large eggs
4oz caster sugar, plus extra for sprinkling
4oz self raising flour
4 teaspoons raspberry jam
Method
Lightly butter a 9in x 13in swiss roll tin, line with baking parchment and lightly butter.
Pre-heat the oven to 220C (200C fan).
Put the eggs and sugar into a large bowl.
Whisk together with an electric mixer at high speed until the mixture is pale and thick enough to leave a trail when the whisk is lifted out.
Sift the flour into the egg mixture and fold in gently but thoroughly.
Turn the mixture into the prepared tin and tilt to spread the mixture evenly, particularly into the corners.
Bake in oven for 10 minutes or until the sponge is golden and starting to shrink away from the side of the tin.
Invert the sponge on to a large piece of baking parchment which has been liberally sprinkled with caster sugar.
Peel off the lining paper and trim the edges of the sponge with a sham knife.
Roll up the sponge and the baking parchment together, from one of the short ends.
Leave to stand for 2-3 minutes.
Unroll the sponge and remove the baking parchment.
Spread the sponge with warmed jam and roll up again.
Wrap tightly in baking parchment and leave to cool.
Unwrap, dust with caster sugar.
.
Wholemeal Country Loaf
Ingredients
1 tbsp caster sugar
2 tsp salt
24oz strong wholemeal flour, plus extra for dusting
1oz butter or margarine
Half oz sachet fast-action dried yeast
Half pint (450ml) lukewarm water
sunflower oil for greasing
milk for glazing
cracked wheat for sprinkling
Method
In a mixing bowl rub in the butter and flour with the fingertips.
stir in the sugar, salt and yeast.
Make a well in the middle and add enough water to mix to a soft, quite sticky, dough.
Knead the dough on a lightly floured surface until smooth and elastic, then shape into a round.
Place the dough in a lightly oiled large bowl and cover with oiled cling film.
Leave to rise in a warm place for 1-2 hours or until the dough has doubled in size.
Turn out the dough on to a lightly floured surface and knock back with your fists.
Knead for 2-3 minutes until smooth.
Shape the dough into a round and put it into a lightly oiled 8in cake tin.
Flatten with your hand, then mark into eight wedges with a knife.
Cover loosely with oiled cling film and leave to rise in a warm place for 1-2 hours or until doubled in size.
Pre-heat the oven to 230C.
Brush the loaf with milk and sprinkle with cracked wheat.
Bake in oven at 230C for 20-25 minutes.
Tap the base to see if the loaf is cooked - it should sound hollow.
Leave to cool on a wire rack.
.
Whisky Fruit Loaf
Ingredients
4oz glace cherries- quartered
6oz dark brown sugar
4oz sultanas
4oz raisins
4oz currants
1 egg
3 tbsp whisky
300m1 (10fl oz) hot or cold tea
l0oz self raising flour
Method
If time is short, use hot tea to soak the dried fruit, cherries and sugar for two hours.
otherwise leave the fruit etc. overnight soaking in cold tea.
Add the flour, then the egg and beat with a wooden spoon until thoroughly mixed.
Pour the mixture into a 32oz loaf tin which has been greased and lined
Bake for approx. 90 mins (check after 75 mins) at 180C until a skewer inserted into the centre comes out clean.
While still in the tin, prick the top ot the loaf with a skewer and drizzle the whisky over the hot loaf.
Allow to cool for five minutes or so, then remove and cool on a wire rack.
.
Uncooked Sweet Pickle
Ingredients
1 Lb Cooking Apples (Peeled & Cored)
l Lb Onions
1 Lb Dates (or mixture of rasins & sultanas)
1 Lb Demerara sugar
1 tsp Salt
Half pint Vinegar
1 tsp Dry Mustard
2 tsp Curry Power
Method
Blend apples and fruit & pulse until required texture.
Place in a large bowl, stir in sugar, salt & mustard.
Cover and leave to stand overnight.
Next day, sprinkle curry powder and mix well. (taste and add more curry powder if preferred.)
Put in to jars and leave at least 1 month before using.
.
Carrot and Apple Cake
Ingredients
4oz soft brown sugar
150 ml (quarter pint) vegetable oil
4oz plain wholemeal flour
half tsp bicarbonate of soda
half tsp ground ginger
6oz carrot, grated
2oz sultanas
2 eggs
3oz self-raising flour
2 tsp baking powder
1 tsp mixed spice
1 tsp grated nutmeg
1 dessert apple, peeled, cored and grated
2 tbsp apple juice
Method
Heat the oven to 180 degrees C.
Beat together the sugar and eggs until creamy and frothy.
Gradually beat in the oil.
Mix together the flours, baking powder, bicarbonate of soda and the spices.
Stir in the egg mixture with the carrot, apple and sultanas.
Add the apple juice to give the consistency of a thick batter.
Pour into a greased and base-lined 18cm (7 inch) square tin.
Bake in the oven for 50-60 minutes or until firm and risen; cool on a wire rack.
.
Chocolate Butterscotch Brownies
Ingredients
4oz butter / margerine
6oz soft brown sugar
2 eggs
2oz chopped walnuts
3oz self-raising flour
quarter tsp baking powder
1 and a half oz cocoa powder
Method
Place all ingredients, except nuts, in a mixer bowl.
Beat until well mixed.
Place in a lined and greased 7in square cake tin.
Bake in a moderate oven at 180 degrees C 40 - 50 mins.
Turn out and cool on a wire tray.
Dredge with icing sugar and cut into nine squares.
Place walnut half on each square
.
Pear and Chocolate Flan
Ingredients
2 tbsp cocoa powder
7.5oz plainflour
5.5oz cold unsalted butter
2.75oz icing sugar
pinch of salt
1 egg yolk
Greaseproof paper
Ceramic Baking Beans
4.5oz butter, softened
3.5oz soft dark·brown sugar
2 large eggs
4.5oz ground hazelnuts or almonds
6.5oz dark chocolate
4 good flavoured ripe pears
3 tsp caster sugar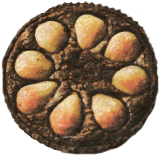 Method
Place a small glass of cold water in the fridge.
Cube the butter and put the cocoa powder, flour and butter into a processor.
Churn until the mixture resembles breadcrumbs.
Add the sugar and salt and churn again.
Now add the egg yolk and process again - the mixture should come together in a ball.
If not use a little chilled water.
Wrap in cling film and put in the fridge for about 40 minutes.
Roll out the pastry on a surface dusted lightly with icing sugar
use the pastry to line a 10in loose-bottomed flan tin.
Put it in the freezer for 20 minutes to firm up and help stop the pastry shrinking during cooking.
Put crumpled greaseproof paper into the tin and fill with Ceramic Baking Beans.
Put in an oven preheated to 200°C and bake for 15 minutes.
Remove and leave to cool.
Turn down the oven to 180°C.
The filling
Beat the butter and brown sugar until soft.
Gradually add the eggs.
Stir in the hazelnuts.
Break-up and melt the chocolate in a bowl set over a pan of simmering water.
When it has cooled a little, stir into the egg and nut mixture.
Pour into the part-cooked pastry case.
Peel, halve and core the pears (may need trimming to fit).
Set them on top of the filling with the small end in the middle
Sprinkle some caster sugar on the pears so that they glaze a little during cooking.
Bake in the oven for 40 to 45 minutes.
Check with your finger that the centre is just set - the flan is ready.
Leave to cool a little before removing it from the tin.
You can sift a light dusting of icing sugar over it
Serve with cream or creme fraiche, warm or at room temperature.
.
Baked Pumpkin, Cashew and Yoghurt Curry
Ingredients
100g whole cashews
1kg pumpkin flesh
1 medium leek
1 tbsp olive oil or butter
3-4 fresh green chillies
1 tbsp grated fresh ginger
1 tbsp cumin seeds, ground
1 handful fresh coriander, chopped
500mls plain yoghurt
200mls cream
large pinch salt
Method
Heat an oven to 150°C/300°F.
roast the cashews for 15 minutes or so until lightly coloured but cooked through.
Peel the pumpkin and chop the flesh into large pieces.
Drop these into boiling water for three minutes until partly cooked.
Slice the leek in half lengthways, wash it well and chop it into thickish slices.
Heat a tbsp of oil or butter in a large wide pan and cook the leeks for three minutes.
Slice the chillies thinly and add them to the leeks with the ginger and cumin.
Cook for one minute more.
Stir gently to combine everything.
Transfer everything to an oven dish and place in the oven at 150°C/300°F.
Cook slowly for 30 to 40 minutes until the pumpkin is tender and yoghurt sauce has become drier.
Pumpkins take on spices beautifully, especially in slow-cooked dishes like this simple curry. Eat the curry with rice or Indian bread for a simple meal but, if you can, make at least one other dish. A tomato-based dish with lots of chillies will give the contrast you need.
The pumpkin is boiled-briefly before baking, partly to speed the cooking but mostly because the warm and slightly softened pumpkin pieces will absorb the spices better.
(Thanks to Dennis Cotter, Paradiso Seasons)
.
Dundee Cake
Ingredients
6oz light muscovado sugar
6oz softened butter
8oz plain flour
4 eggs beaten
1 tsp baking powder
1 tsp mixed spice
2oz ground almonds
grated rind and juice of half a lemon
1lb luxury mixed dried fruit
1oz blanched almonds
Method
Cream butter and sugar together
In another bowl mix flour, baking powder, spice, ground almonds and lemon rind
Gradually mix in alternate spoonfuls of beaten egg and flour mixture until all is added and mixture smooth
Stir in dried fruit and lemon juice
Spoon into a 20cm (8in approx) lined cake tin
Level surface and arrange almonds in a circle
Bake in pre-heated oven at 160°C (325°F) for 1 ¾ - 2 hours until deep brown and a skewer comes out clean
Leave to cool for 15 min. and then turn onto a wire rack to cool
.
Cheese Scone Ring
Ingredients
4oz butter
1 onion chopped
2 eggs 1lb self raising flour
one tablespoon baking powder
2 tablespoons wholegrain mustard
2 teaspoons mustard powder
150ml milk
4oz cheddar cheese grated (1 oz for decoration)
Method
Heat 1 oz of the butter and fry onion until soft
Sift flour, baking powder and mustard powder into a bowl and rub in remaining butter
Stir in the cooked onion and cheese
Beat together the wholegrain mustard, eggs and milk
make a well in the centre of the flour mixture and add enough egg mixture to make a soft dough
Turn onto a floured surface, kneed lightly, form into a long sausage and shape into a ring.
Lift onto a greased baking tray, score the top to mark 10 - 12 divisions
sprinkle with the one ounce of cheese.
Bake for 25 - 30 minutes in a preheated oven, 200C (400 F)
.
Fairings
Ingredients
3 ½ oz plain flour
1 tsp baking powder
½ tsp bicarbonate of soda
½ tsp ground cinnamon
½ tsp ground ginger
¼ - tsp ground allspice
finely grated rind of 1 lemon
2oz butter - diced
2oz castor sugar
2 tsp golden syrup
Method
Mix flour, baking powder and spices, bicarb and lemon rind together in a bowl
Add butter and rub in until it resembles fine breadcrumbs
Stir in sugar, add syrup, then mix with a spoon and then with hands to form a ball
Shape the dough into a log and slice into 12
Roll each into a ball and arrange on 2 baking sheets leaving space for spreading
Cook one sheet at a time in preheated oven, 180C (350F) for 8 - 10 minutes, or until biscuit tops are cracked and golden
Leave to harden for 1-2 mins and transfer to wire rack to cool
.
Milk Plait
Ingredients
1 ½ lb Strong White Flour
1 Teaspoon salt
½ oz fresh yeast or ¼ oz dried yeast
1 teaspoon caster sugar
¾ pint milk
2 oz butter
1 egg
Method
Warm the milk to lukewarm
Cream the yeast and sugar in a basin, add the milk and the well-beaten egg
Put the flour into a bowl, add the salt and mix well
Rub in the butter until evenly mixed
Pour in the yeast mixture and beat to a dough
Leave to rise for 1 ¼ -hours then knock down, divide into two halves and form each half into a plait
Cover and leave to rise again in a warm place for about 30 minutes until doubled in size
Brush over with beaten egg
Bake in the middle of a pre-heated oven at 220C (425F) for about 20 minutes until well risen, browned and it sounds hollow when tapped
.
Twisted Cheese Straws
Ingredients
6 oz Plain Flour
Pinch of Dry Mustard
Pinch of Cayenne Pepper
Pinch of Pepper
l½ oz grated Parmesan (or mixed Parmesan, Gruyere or Cheddar)
Pinch of Salt
3½ oz Butter
Beaten Egg
Method
Set oven to 190C (375F) and line a baking sheet with greaseproof paper
Sift flour into basin with the pinch of salt
Rub butter into the flour with fingertips until resembling breadcrumbs
add the grated cheese and seasonings
Bind the mixture together with enough egg to make a stiff dough
refrigerate for 10 minutes
Roll the paste into a rectangle and cut into strips 9cm x 2cm
Twist each strip two or three times like a barley sugar stick
Bake for 8-10 minutes until a biscuit brown. DISPLAY 12
.
Cherry Madeira Cake
Ingredients
6 oz Butter
6 oz SR Flour
6 oz Caster Sugar
2 tablespoons Apricot Jam (boiled & sieved)
5 oz Glace Cherries (chopped)
2 oz Glace Cherries (halved)
2 oz Ground Almonds
3 Eggs
Method
Grease and line a 7" round cake tin and preheat oven to 160 C
Beat butter and sugar until light and fluffy
gradually add beaten eggs then sift in flour and ground almonds
fold into mixture adding the chopped cherries last
Pour into prepared tin, bake at 160 C for approximately 75-90 minutes.
When removed from oven, leave to cool in tin for 10 minutes before turning out
When cool, brush apricot glaze over top and arrange the halved cherries
Brush over any remaining glaze.
.
White Cottage Loaf
Ingredients
1½lb strong white bread flour
2 tsp salt
½ tsp sugar
¾ pint water
½ oz fresh yeast or ¼ oz dried yeast
Method
Mix flour and salt together in a bowl
Cream the yeast with a little water and sugar; leave until frothy
Make a well in the flour, add yeast, remaining water and mix to a dough
Turn onto a floured surface and knead for 10 minutes until smooth and elastic
Put into a clean bowl, cover with a damp tea towel
Leave to rise for about 1 hour until doubled in size
Turn onto a floured suface, knock back to remove air pockets and knead again for a few minutes
Divide the dough 25:75% and shape the larger piece into a ball
Place on a greased baking sheet
Shape the smaller piece into a ball and place on top of the larger ball
Flour the handle of a wooden spoon and push into the centre of both balls, then pull out again quickly
Cover and leave to rise again in a warm place for about 30 minutes until doubled in size
Bake in the middle of a preheated oven at 220C for about 30 minutes until well risen, browned, and sounding hollow when tapped.
.
Fruit Cake
Ingredients
8 oz self raising flour
4 oz margarine
4 oz caster sugar
2 medium eggs
9oz mixed dried fruit
A little grated orange rind
¼ tsp salt
5 tbsp milk
Method
Preheat the oven to 180C, fan 160C
Cream fat and sugar until light and fluffy
Add grated orange rind
Add one egg, a tbsp of sieved flour, the salt, and mix together
Add the other egg, the remainder of the sieved flour and mix well
Add mixed dried fruit, stir well, then add the milk
Put mixture into a lined 7 or 8 inch round cake tin and smooth over the surface
Bake for approximately one hour
.
Potato Scones
Ingredients
6 oz plain flour
3 level tsp baking powder
2 oz butter
1/2 teaspoon salt
4 oz freshly mashed potato
About 3 tbsp milk
1 oz grated parmesan cheese
Method
Preheat the oven to 220C, fan 200C
Lightly grease two baking sheets
Measure the flour and baking powder into a large bowl
Rub the butter in with your fingertips until the mixture resembles breadcrumbs
Stir in the salt and mashed potato mixing with a fork to prevent the potato forming lumps
Add enough milk to form a soft, but not sticky, dough
Turn the mixture onto a lightly floured work surface and knead very lightly
Roll out to a thickness of about 1/2 inch and cut into rounds using a 2 inch scone cutter
Top each scone with the grated parmesan cheese
Transfer to the baking sheets
Bake for approximately 12 minutes or until well risen and golden brown
.
Jamaican patties
Ingredients
For the filling
2 tbsp. Sunflower oil
2 Garlic cloves, crushed
1 lb Beef Mince
8 oz Chopped Tomatoes
1 Onion, finely chopped
1 Red Chilli
3 tbsp Curry powder
10 tbsp (150ml)Beef stock
For the pastry
1 lb Plain wholemeal flour
1 tsp Salt
7 tbsp Cold Water
2 tbsp Turmeric
8 oz unsalted butter, chilled and cubed
1 egg, beaten to glaze.
Method
Heat the oil in a frying pan, add the onions and fry for a few minutes until softened but not browned
Add the garlic and chilli and cook for 3 minutes
Add the mince and curry powder and cook for 10 minutes, stirring until the meat is browned all over
Add the tomatoes and beef stock and simmer for 20 minutes until the meat is tender and most of the liquid has been absorbed
Allow to cool
To make the pastry, put the flour, turmeric,salt and butter in to a processor, blend for a few seconds until pastry forms in crumbs, alternatively mix together by hand
Add the cold water and blend again until the mixture comes together
Wrap in cling film and chill for ten minutes
Preheat the oven to 220C (fan 180C, gas mark 6).
Cut the pastry in to two and roll out each piece on to some baking parchment
Stamp out in to rounds using a 4" glass, should make about 14-16
Put a generous spoonful of the mince mixture on one side of the pastry round,leaving about ½" around the edge Brush edges with water and fold the pastry over the mince, press the edges together to seal and mark with a fork
Repeat with each patty, cut a couple of holes in the top of each one
Lift on to a greased baking tray, brush with the beaten egg to glaze and bake for 25 minutes until the pastry is golden and the base firm
Meatloaf ½ lb 225g beef mince, ½ lb 225g herby sausages 1½ oz 38g breadcrumbs, 1 small onion, 1 clove garlic, 2tsp mixed chopped herbs ½ tsp mustard powder, ½ tblsp tomato puree, ½ tblsp Worcester sauce, ½ a lightly beaten egg Thoroughly combine all ingredients and place in a greased 1lb tin, cover the top of the tin with oiled greaseproof paper and place in a 1" 25mm water bath in an oven at 160o C 325F for 45 minutes. Remove greaseproof pour off any excess fat and return in the uncovered tin for a further 10 minutes to brown. Turn loaf out onto a rack for cooling being careful in case any more excess fat is present. Beetroot, Squash, Feta & Roasted Garlic Focaccia Style Quick Bread, 500g bread flour, 5 g salt 40g baking powder, good pinch of freshly ground black pepper, 1tbsp chopped thyme, 1tbsp chopped rosemary, 65g softened unsalted butter, 380ml tepid milk, 150g feta cheese roughly cut into small cubes, 150g squash, (butternut or pumpkin ) 150g beetroot cubes partly cooked in the microwave, flesh squeezed from 1 bulb of roasted garlic. Toppings: small sprigs of rosemary, 6 cherry tomatoes cut in half. Sift flour, salt, baking powder and pepper into a large bowl and add the chopped herbs. Add softened butter and rub into the dry ingredients until it resembles breadcrumbs. Make a well in the centre and add milk. Gently mix to form a dough mass but do not over-mix once the dough is almost combined but still has wet and floury patches add the rest of the ingredients except toppings. Do not over-mix or the loaf will be tough. Divide the dough into two and place on baking trays lined with non-stick baking paper. Gently flatten to 3cm thick and dust with white flour. push the halved cherry tomatoes and sprigs of rosemary into the loaf surface cut a deep trellis pattern into the top of each loaf and then leave to rest in a cool place for 15 minutes. Bake for 20-25 minutes at 220oC 425oF until golden brown and hollow sounding when tapped. Cool on a rack and enter one loaf. Coffee Kisses 170g self-raising flour, 85g butter or margarine, 55g sugar, 1 egg yolk or very small whole egg, 1 large tsp liquid coffee ( can be 1tsp instant coffee in boiling water), Icing 55g very soft butter, 120g icing sugar, more if needed, few drops vanilla essence, Mix flour, butter and sugar to breadcrumb texture, add egg and coffee and mix to a firm dough. Preheat oven to 190oC 375F Take teaspoons of mixture and roll into balls, place on baking sheet allowing space to spread and bake for 15 minutes remove and let cool. Put soft butter in a bowl and beat in enough icing sugar to make a thick butter cream icing. Add the vanilla essence. When the cookies are cool, sandwich two together with the icing mix to form one coffee kiss. Display six. Dust with icing sugar. Baked Vanilla Cheesecake 5½ oz 150g melted unsalted butter, 9oz 250g crushed digestive biscuits, 4oz 115g caster sugar, 3tbsp cornflour, 2lb 900g full fat cream cheese at room temp 2 large eggs 4floz 115ml double cream the seeds taken from one vanilla pod or ½ tsp vanilla extract, zest of 1 lemon, zest of 1 orange, Preheat oven to 180oC 350F grease and line a 24cm 9½ inch springform cake tin. Mix the butter and biscuits in a bowl press into the base of the tin and cook for 10 minutes remove from oven and allow to cool. Turn the oven up to 200oC 400oF Combine sugar and cornflour in a bowl add cream cheese and beat until creamy add the eggs and beat well gradually add the cream beating until smooth beat in the vanilla seeds or extract and lemon and orange zest. Scrape onto biscuit base shake level and bake for 40-45 minutes until the top is golden and brown and the filling has set around the edges. Let it cool and remove from tin and place onto a plate to display. Class 30 Victoria Sandwich Cake. 200g caster sugar, 200g softened butter, 4 eggs, beaten, 200g self-raising flour, 1 tsp baking powder, 2 tbsp milk. Filling 100g butter, softened, 140g icing sugar, sifted, drop vanilla extract, 340g jar good-quality raspberry jam, icing sugar, to decorate. Heat oven to 190C/fan 170C/gas 5. Butter two 20cm sandwich tins and line with non-stick baking paper. In a large bowl, beat all the cake ingredients together until you have a smooth, soft batter. Divide the mixture between the tins, smooth the surface with a spatula or the back of a spoon, then bake for about 20 mins until golden and the cake springs back when pressed. Turn onto a cooling rack and leave to cool completely. To make the filling, beat the butter until smooth and creamy, then gradually beat in icing sugar. Beat in vanilla extract if you're using it. Spread the butter cream over the bottom of one of the sponges, top it with jam and sandwich the second sponge on top. Dust with a little icing sugar before serving. Class 31 Cheese Scones 6oz self raising flour, I½ oz butter, 1 teaspoon baking powder, 3oz cheese grated, 2-3 tablespoons milk, ¼ tsp mustard powder, 1 egg, ½ tsp salt. Mix dry ingredients, rub in butter with fingertips. Add most of grated cheese reserving some to put on the top of the scones. Whisk egg, add milk then add to dry ingredients to make a soft dough. Roll out approx. ½" thick and cut into scones with a cutter 2" to 2½" diameter approx. Brush tops with milk and sprinkle with cheese. Bake at 220°C gas mark 6 for 15-20 minutes (show 5) Class 32 Jamaican Patties Filling: 2tbsp sunflower oil, 2 garlic cloves, crushed, 500g beef mince, 227g chopped tomatoes, I onion, finely chopped, I red chill,, 3tbsp cuny powder, I50m1 beef stock. Pastry: 450g plain wholemeal flour, ltsp salt, 7tbsp cold water, 2tbsp turmeric, 225g unsalted butter, chilled and cubed, I egg, beaten to glaze. Heat the oil in a frying pan, add onions and fry until softened but not browned, add the garlic and chilli and cook for 3 minutes. Add the mince and curry powder cook for 10 minutes, stirring until the meat is browned all over. Add the tomatoes and beef stock and simmer for 20 minutes until the meat is tender and most of the liquid has been absorbed. Allow to cool. Mix flour, turmeric, salt and butter until pastry forms in crumbs. Add the cold water and mix until the liquid comes together. Wrap in cling film and chill for 10 minutes. Pre-heat the oven to 220°C gas mark 6 cut the pastry into two and roll out onto baking parchment. Stamp out into rounds using a 10cm cutter or glass. Should make 14-16. Put a generous spoonful of mince mixture on one side of the pastry round, leaving about 1cm, around the edge, brush edges with water and fold the pastry over the mince. Press the edges to seal and mark with a fork, repeat with each patty. Form a couple of holes in the top of each one. Lift onto a greased baking tray, brush with the beaten egg and bake for 25 minutes until the pastry is golden and the base is firm (Show 6) Class 33 Monica's Breakfast Bread ½ kg strong white plain flour, ½ tsp salt, 7g sachets fast action dried yeast, 250ml milk (lukewarm), 7.5g caster sugar, 62.5ml vegetable oil, 1 large egg, 1 egg yolk beaten. Mix flour salt and yeast, pour milk into a separate bowl mix with sugar and oil and beat in egg. Pour the milk mixture over flour and mix to form a soft dough. Turn out and knead on a lightly floured surface for 5 minutes. Return to the bowl cover and leave for 15 minutes. Dust a non stick baking sheet with flour. Knock back the dough and divide into 3 pieces. Cut each piece into a further 3 pieces. Roll or stretch to sausage shapes about 20-25cm long. Pinch the 3 pieces together at one end plait and pinch the other end together. Repeat twice more with the rest of the dough. Shape each plait into a crescent shape place on floured baking sheet and leave to rest for 5 minutes. Preheat the oven to 180°C, gas 4. Brush the crescents with the egg yolk and dredge with extra caster sugar. Bake for 25 minutes until well risen and golden. (Show 2)