.
Loosley Row Stores, lastly known as "A.W.Harvey's"
research to 1982 by Miles Marshall
.
This brick and flint cottage on Lower Road, Loosley Row was built in 1864 for Henry Janes, who in the 1861 census, aged 33, was the publican of "The Spratt". The cottage had a bread oven and grocery shop. There he lived with his wife Mary and their children were born there. By 1881 Henry had built himself a new bakehouse in Lacey Green on the corner of Goodacres Lane. It was demolished in 1976. He let the Loosley Row premises to a grocer, who by coincidence was named Thomas Harvey but unrelated to A.W.Harvey (the name above the shop).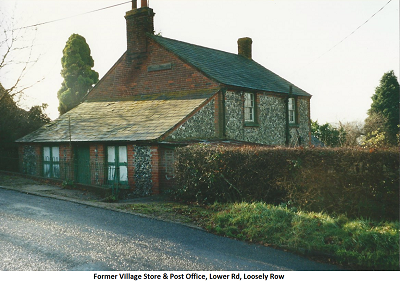 Henry was a keen churchman attending St.John's, Lacey Green but when he died aged only 49 he made a gift of a piece of land to his Loosley Row Baptist customers upon which they built a small brick chapel. He had acquired enough to provide for his son Hezekiah who continued the bakery in Lacey Green, and his two daughters. The Loosley Row property he left to his daughter Annie.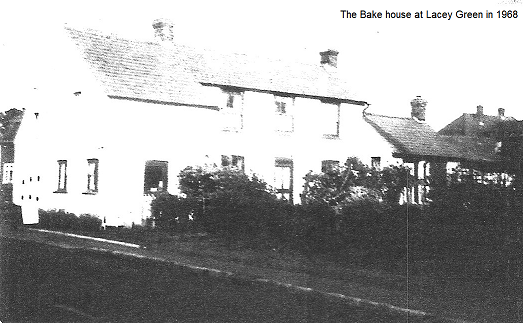 Annie, married to George Floyd with two daughters Daisy and Annie, moved into the shop after giving Mr Harvey notice and waiting some time before he went. They continued with the shop with all the usual groceries and provisions, sweets and tobacco, and they also sold some hardware such as bass brooms, besoms, tea pots and other crockery, coal shovels , needles, cotton and darning wool. Annie paid great attention to the window displays. It became the childrens' duty to dress the windows, turning everything out at regular intervals so that they could be cleaned and polished inside and out. The window nearest the chapel had shelves loaded with rows of large sweet jars. The other window display varied with the season. In spring a large display of garden seeds from John Walkers, nurseryman and seedsman at Thame, for which they had the agency. At Christmas a colourful show of toys and decorations were the attraction.
George developed other enterprises in conjunction with the shop. He kept and fattened pigs and also bought fat pigs for slaughter. Annie Floyd cured the bacon and the hams and ran down the lard, all of which they sold in the shop. He bought a horse and cart and started a coal business, collecting the coal from the goods yard at Princes Risborough and later he bought a second horse and cart, employing Harry Gomme as driver and started a general carrying trade. Every market day he would collect fish and newspapers from High Wycombe and he carried parcels to and from both stations. He undertook outside catering for such functions as the Chapel outings, and Mrs.Thomas, (daughter Annie) recalled serving tea, lemonade, gingerbeer, cakes and buns from tresle tables at Whiteleaf. Always a keen gardener, formerly a gardener to Mr.Forrest of Grymsdyke, living then at Lane Farm, Lacey Green, he was often in demand to judge the allottments at Longwick. He was also secretary to two local slate clubs1 - at the 'Sprat" and the 'Whip'.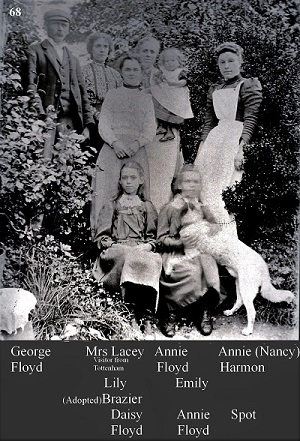 George and Annie had a third daughter Emily and also brought up three orphan girls from about five until fourteen when the vicar of Lacey Green found them employment in Service. They regarded the Floyds as family all their lives.
It was Emily who eventually took over the business. She had married A.W.Harvey in 1930, born at Bryants Bottom but then living with two brothers at Lodge Farm, Saunderton. He moved into the shop but continued working as a builder for White Bros. in High Wycombe until George became ill and Arthur took over the coal and carrying side of the business.
When George died the name of the shop was changed from Floyd's to Harvey's and a post office was added to their other activities in 1945. Emily and her mother Annie still ran the shop. During the war Arthur had to work in an aircraft factory in Princes Risborough. He still delivered the groceries after factory hours but the carrying had to go. After the war he worked at Bomber Command until he retired in 1973, dying in 1980.
In 1935 Arthur and Emily had a daughter Edna who lived and worked at the shop which, with some help from her father, she took over in 1962 when her mother died. She had married Donald J Bailey and they had one son. With both the men working she carried on for eight years but as her father needed more care she decided in 1970 to have a sale and close the shop for good.
1 Slate club - a group of people who save money in a common fund for a specific purpose (usually distributed at Christmas).
.
Grocers Shop In Church Lane, Lacey Green c1861 to c1911
In the census of 1861 Joseph and Jane Floyd had a grocery business in a rented cottage, now called Green Hedges and much extended, in Church Lane, Lacey Green. It had been recently built by William Floyd of Lane Farm (opposite).
In 1868 their daughter Sarah Jane married Jabez Dell who joined them. The following year Jabez purchased the cottage, garden and land from William Floyd.
Joseph, Jane, Sarah Jane and Jabus continued the grocery business together but by 1881 only Jabus and Sarah Jane are listed. 1891 sees Jabus retired but Sarah Jane carries on. From 1901 she calls herself a grocer and tea dealer. She died in 1912 aged 73. It is thought that the shop closed at that time.
.
Toey's Fish & Chips! Main Road, Lacey Green.
There was a grocery business in Lacey Green in the 1930's on the side of the house called 'Crooked Chimney' owned by Arthur Lacey, better known as 'Toey'. It was run by his wife as Toey seems to be remembered as a bit of a wheeler and dealer.
The shop only stocked a few basic things including sweets, for Hickman's Stores, a much bigger enterprise, was not far away.
Toey is best remembered for cooking fish and chips on Friday evening. This was done in a shed out the back although some thought that later he might have had a van. His children would deliver the fish and chips to the villagers who presumably had pre-ordered it.
.
Loosley Row Grocery Store at Hill Croft Dairy, Loosley Hill.
John, known as Jack Lawrence moved with his family to Loosley Row about 1932, leasing a cottage and three and a half acres on which he started a smallholding. With extra rented land he started a small dairy herd, probably in 1934 when water was laid on, as cows need plenty of water.
He started a milk and egg round. Despite Harvey's Stores at the bottom up the Hill he gradually added other items and put a lean-to onto the cottage and opened a shop.
Things continued to prosper and bit by bit he added several more 'rooms' onto the cottage. So much so that men teased him that what he wanted for Christmas must be more nails and another hammer.
Eventually he had a sizeable store selling everything from paraffin, hardware, all groceries and of course his home produced milk and eggs. His delivery round naturally thrived in conjunction with the store.
The shop was largely run by his wife, Mary Ann, with the added assistance firstly of Jean, born 1931 and later of Mary who was born in 1940. They also had a brother Basil who later moved away.
In 1952 Jack became the local sub-postmaster, taking over from Arthur Harvey of Harvey's Stores. He gave up keeping cows and sold his milk round to Wren Davis of Prestwood, leaving him to concentrate on poultry and 'barley-beef 'calves. The shop became known as 'Loosley Row Post Office.'
Mrs Lawrence died in 1963. Jean married and left so it was decided to reduce the shop/post office leaving only one little extension for Mary to run. From now on it only stocked a few useful things including of course eggs, so could hardly be classed as a grocery. In 1970 Jack became ill and Mary was appointed sub-postmistress. Mary continued with her little shop and Post Office until 1997 when she decided to close it.
.
Hickman's Stores, Main Road, Lacey Green.
In 1915 Harold Hickman purchased a cottage (Kia Cottage) with adjoining land on Main Road, Lacey Green. In 1924 he built a house called 'Wembley' on the land. He and his wife Emily ran a grocery 'The Stores' there, living above the shop.
Their nephew Bert Dell had been almost brought-up by them as his father had died young and when they died it was left to Bert in 1965. He ran the shop with his wife May until 1986 when they retired, selling it to Brian Thomas and Barbara June Norris. It was subsequently sold to Derek and Maureen Woodbridge.
Hickman's Stores as it became known was a hub of village life. It was a place to meet people so if you needed a bit of company, think of a reason to go to the shop. It had sold petrol, the pump advertising it at 1/5d a gallon (7p). Years later the pump had to go when such small fuel deliveries were no longer possible and safety laws on the underground tank impinged.
Bert would deliver orders and they looked after their customers. For instance, when a sugar crises arose causing a shortage they made sure they had enough held back for their regulars. They were workaholics, especially May. Bert made sure he took time on Saturdays to attend the Sports Club. They had no children of their own, but their nephews and neices could be found filling shelves, no doubt for a bit of pocket money.
The Woodbridges also sold newspapers and wines and at first all seemed to be going well. But a village store is not necessarily the cheapest place to shop and loyalty is very personal. By the nineteen nineties folk were no longer tied to the villages through lack of transport. About 1996 Tescos opened a store in Princes Risborough. Maybe that was the last straw because about then Lacey Green grocery shop was closed for good; but see the next item....
---
.
Entertainment House
Clive Houghton started a DJ business part-time in 1980, becoming a full time DJ, three nights a week, in 1992. He bought and sold equipment from his mother's home in Flackwell Heath. By 1999 it had grown so much it was time to get a shop. He came to Lacey Green.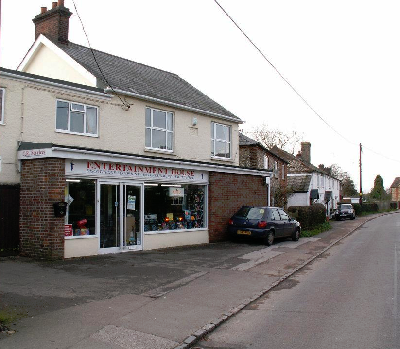 Clive bought the shop that had been built in 1924, then known as Hickman's Stores. It had been empty for three years. He gutted it and refurbished it to a very high standard and Entertainment House was born. It opened in 1999; not a noisy disco venue, but a shop supplying everything electronic needed to lay on an occasion. There were no other shops left in Lacey Green or Loosley Row at the time.
Catering for DJ's, karaoke, presenters, bands, singers, children's entertainers, schools, places of worship, village halls, and even home parties, the business went from strength to strength. Clive admits that little did he know that it would be such a success and take over his life as much as it has. He and his team are always busy, due in no uncertain terms to their commitment and specialist knowledge.
In a survey in 2005 his customers voted it "The best disco shop they had ever seen". ln 2008 it was
the first UK DJ shop to be awarded a full "Bose L 1 Professional Retail Partner" dealership.
With the shop busy he then extended the workshop and added repairs, PAT testing, Installations, refurbishments, exhibition displays, lighting and PA hire to the services provided. They have already accumulated an impressive portfolio of installations.
Now in it's 18th year it is renowned amongst local entertainers for good service, prices and, importantly, high stock levels. The customers pull up outside from far and wide, fifty or sixty miles is nothing in this day and age if you are putting on something that is important to you.
Clive has proved that shops in this village can be a success. He would not be able to rely solely on the local community, although they number amongst his customers. He provides a special service in a specialised market. His shop is unique here in the way it is run.
Clive quickly became part of the village community joining the Residents Association at the outset, becoming their representative on the Village Hall committee. When the two amalgamated as "The Village Hall Committee" Clive soon found himself Chairman, a position he has held for some years.
2017 - see's the shop up for sale, so what next??
.
The First Grocery In Lower Road, Loosley Row
Believed to have been started by Jesse Ward and his wife Ruth (nee Eggleton). In the 1841 census he is listed as a carpenter there and he certainly had a shop where he did general carpentry including making coffins. They had recently moved from Speen with their 4 children. Shortly after that he became a sub-Postmaster combining it with a grocery shop. This was passed on down the family. Jesse to son Alfred, then to his daughter Mary Ann (Polly) and lastly to Polly's husband Henry Allen. These people became the Post masters and mistresses (
see Post Offices
). Alfred's brother John also worked in the business but it would appear that things were not as harmonious as it appeared when John's wife took Alfred to court. The following is the report of the case:
Aylesbury Petty Sessions 26th April 1879


Alfred Ward was charged with having assaulted Mary Ann Ward. She had been sent to the Post Office/shop, Loosley Row for some barley meal and asked for the payment to be taken out of her husband's wages as a carpenter of Mr Ward. He said he would not let her have the pay in money but she might in goods. She was accordingly going to take two pairs of stockings from the shop, having helped herself on former occasions. She put the stockings under her shawl, but the defendant tried to throw her down and tore her hat. In the scuffle, he upset a tub of butter and pushed her headfirst into it, cutting her lip and knuckles. His wife there at the time laughed and told her husband to throw Mary Ann out. He took her by the shoulders, pushed her out of the shop and threw her hat after her.

Cecil Ward aged 14, son of Mary Ann Ward said he saw his mother's lip cut and bleeding.

Sarah Hickman said the complainant had come to her house and had butter all over her clothes.

Sarah Barefoot, a nurse at Loosley Row, attended Mary Ann for 2 days. Doctor Warren was called and ordered hot fomentations and medication.

Charlotte Claydon was in the shop and heard the dispute.
It is not surprising to find that John, Mary Ann and family had moved to High Wycombe by 1881.
Jesse lived to be 80, dying in 1881, Alfred married twice 1st to Jane Maberly (1823-1871) then to Elizabeth Steel, the miller's daughter in 1872. Their daughter Mary Ann (Polly) (1874-? ) married Henry Allen in 1913 when she was 39 and they then ran the business together.
She had met Henry when he came as a visiting evangelist to the area and he had become friendly with the family. He added watches to the goods they sold having a large display in the window all showing the correct time, priced at 1/6d (7.5p) He also acquired second hand books from the libraries which were sold at about 1p.
They gave up the Post Office side of the business in 1945 and it is presumed the shop closed at the same time.
.
Lacey Green Community Stores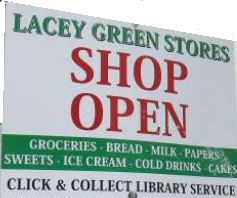 Following long negotiations The Community Planning Group (CPG) successfully opened Lacey Green Community Stores in the village hall in July 2009. The Plunket Foundation agreed that the village needed a village store so it was set up as a pilot scheme for an initial six months.
The Methodist Chapel having closed, the District Council transferred their community obligation to the village hall. The equipment, minor building works and initial stock were paid for using the section 106 monies available via Wycombe District Council.
Staffed by volunteers it opened on Mondays and Thursdays from 8.30am to 1pm. to coincide with the Village Post Office, whilst providing extra security for the postmaster. The average hours staff worked was about 5 to 6 hours every 4 weeks or so. The shop stocked basic foodstuffs and household goods.
One year later Tony Molesworth of the CPG reported:

The stores have now been opened for over a year, twice the length of the pilot period. It is now set to run at least another six months. Initially opening two morning a week it has been opened every weekday morning since November. It is not intended to be profit making in the usual business sense but it is obviously important not to make a loss. What it does do is provide a valuable service to the village.

In the event there was a small net profit. The steering committee intends to use any profit to contribute to village facilities and services whenever practicable.

About 180 items are stocked. There is a regular and building trade.

In January, movement in out of the village was very difficult because of the weather, which demonstrated the benefit of having a shop locally.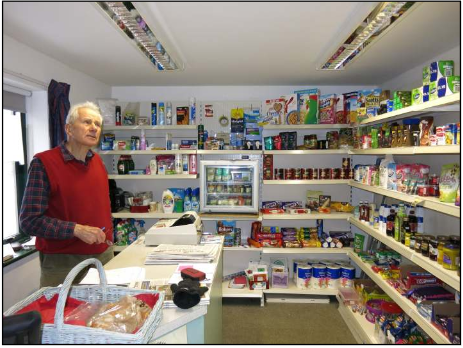 Tony Molesworth gave a short update in April 2014:

"The stores are still going strong. We now supply newspapers, but they must be ordered in advance.

There is a proposal to operate an on-line library book ordering service in Lacey Green as a replacement for the mobile library. It may make use of the stores as a distributing centre, possibly also including an internet terminal. But this is still only at the proposal stage."
In January 2017 Mike Piercy the editor of Hallmark, the local magazine reported on the Shop now in it's 8th year:

The fridge is full of milk and dairy products, local eggs and frozen local Beechdean ice-cream, also the availability of freshly brewed coffee if you cared to stop for a chat.

As the volunteers go first thing to collect the day's newspapers and stock-up they will also get things ordered by you the day before.

The Post Office is still there on Thursdays and some Mondays.

The Click & Collect library is running smoothly. The customer goes on-line to choose books from Bucks Library. These are delivered to the shop for you and you pop them back there. A much greater selection than the old library service.

Currently they have 15-20 shoppers a day. There are a dozen volunteers each doing a few hours per month. They receive "Bucks Volunteers Reward Tokens" that can be swapped for local theatre visits or leisure activities.
This is perhaps the last and remaining shop in the village. We have yet to see what will become of Entertainment House currently up for sale.