1887-1987
By Joan West in conversation with Mabel Janes
Mabel Janes lived at Sunnybank, later to be called White House Farm in Highwood Bottom. Her parents were Boas and Caroline Janes. Boas was recorded as a poultry farmer.
Bounded to the north-east by a private bridleway and Grimsditch, to the south by Highwood Bottom - the old road from Speen to Loosley Row by-passing Lacey Green - and to the North and East by what had been Kings Wood, which was common woodland where people would go to pick up wood after high winds. Recently felled, she remembered people still going there to dig up the chucks (roots) for firewood.
Across the valley at the top of the opposite side was a footpath which ran from Speen to Loosley Row. People walked this path to collect the 'poor money' which was paid out at Loosley Row - 2/6d (12.5p) per week.
Mabel knew Emily Ginger who lived with her sister Ann who kept the Black Horse. Emily was a simple soul. She always curtsied to the big crab apple tree in the back meadow of Stocken Farm because it reminded her of Mr.Brown who had farmed there until 1885.
When William Saunders was farming at Stocken farm Mabel could sometimes hear shouting from Sunnybank, for he had a very loud voice. Life was hard, when asked "What did you're parents do if they had the toothache?" she answered "They just had to lump it."
Extra money was hard to come by. Stone picking in the fields was always welcome for some pin money for the women.
Mabel started school at Loosley Row where the 3 to 7 year olds went. Quite a walk for a three year old from Highwood Bottom. At 7 they moved up to Lacey Green. Minnie Brown, just one year younger was her friend throughout their long lives (See Minnie Brown). By 1904 all ages 3 to 13 were taken at both schools.
It was in 1904 that Mabel became a teacher at Lacey Green, where she was a schoolmistress for 45 years. The school then consisted of two rooms, a small one for the infants and a bigger one for the other grades. She thought there were between 70 - 100 pupils and at times three teachers and a headmaster.
The boys could take the labour exam at 11 years and then take a job, perhaps say, holding the head of a plough horse or such.
Edith Crook, who walked with a stick, (the daughter of John Crook, a superior type who was farm bailiff at Stocken Farm for Mr.Forrest) was a suplimentary teacher.
Connie Redding, daughter of another bailiff impaled her leg on the iron railings at the school.
She remembered Mr.Forrest having a pipeline laid from Stocken Farm down to Grymsdyke to take any overflow from the water tanks at Stocken. He then had a well dug a Grymsdyke. Mabel was told it was 303 feet deep, but when there was a drought, possibly 1893, it was taken down another 48 feet.
During the First world War the Royal Engineers were billeted in the village. They took the small schoolroom and the Home Meadow at Stocken Farm next to the school. The horses were stabled at the farm and exersizes were done in the field. The farm dining room was made into an army hospital and the grain store into their blacksmith`s workshop. Mabel recalled parties at Stocken Farm where I imagine they played cards.
In her old age Mabel lodged in the village and most days, sometimes twice a day, could be seen catching the bus to Risborough or Wycombe to do errands for anyone she was able to. She died just a few days off her 100th birthday.
Circa 1915
More Reminiscences of My Girlhood
By Con Baker - the oldest person in our village. Recorded in 2000, when Con was 91, for Dennis Claydon, our local historian and Parish Councillor.
When I was born in the cottage at Loosley House, my father was the chauffeur there and my mother a nurse maid. I had a very happy childhood there. Dad was driving the only car in the village at the time and I used to run up the back way to the front door. It was really great fun living there, when we used to care-take there. We used to go down this grassy bank on a tin tray down as far as to the tennis court at the bottom of the bank - great fun. There was a plantation we called the Wilderness, and there used to be grapes in the green house which I was never allowed to touch of course.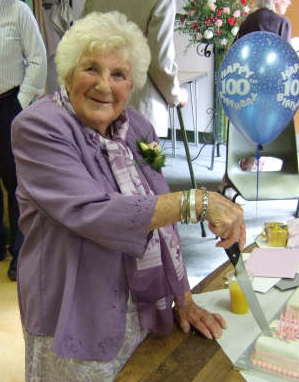 I am going to tell you about the Loosley Row Baptists Sunday School which was very enjoyable. At half past ten we had to be at our class dressed up in our best, after on a Saturday just wearing any old rubbish, so Sunday was the day for dressing up. Off we went to Sunday school and had our names called and put down in the register. You were given a little ticket with a text on it; you collected all these tickets and when you had so many you had a morning hymn book. Then we had a prayer and a hymn, which was nearly always "God sees the little sparrow fall, it meets his tender view". We had that with Mr Lacey playing the violin and another gentleman on the organ. Mr Albert Rixon would take the class of girls and have a reading from the bible and perhaps another prayer. By that time it got round to 12 o'clock, so off we went back home again.
We went home for Sunday dinner, which was quite an event: Roast beef and Yorkshire pudding with horseradish sauce, which my dad always made. It was so hot it made tears come in my eye - after that, apple pie. Then back to Sunday school for quarter to two. Name-call again, then a prayer or hymn. Then the congregation started coming in and we had to sit on the platform and the parson would come. My goodness the sermon went on for hours and hours. But it was only half past three and as a special treat we were allowed out before the parson. Then home for tea and then a walk with my Mum and Dad, sometimes to Speen Farm where my aunt lived and sometimes to Downley Common, where another aunt lived - which was quite a walk.
At school we had the scripture exam. That was always in November, freezing cold, and we used to go in the mornings. The minister used to come from Hamden, I don't know whether on a bicycle or not, but it was always freezing cold and he always had a dewdrop dripping from his nose, which made the children laugh, although we didn't dare let him see us. But woe betide, you didn't stand much chance of getting the Bishop's prize if you went to the Methodists' Sunday School or the Baptists Sunday School, which I went to. It was nearly always the Church children who would win the prize, but I don't know, perhaps some of the other children did win. After the scripture exam, those of us who had bicycles went to Hamden Glade to get chestnuts. The eating ones, which was quite a lot in those days, which was quite fun, but what I remember mostly is the freezing cold - in November!
We got this concert up in the Village Hall. There were a whole lot of us, and the men borrowed the top hats from Mr John Saunders who used them for funerals: we girls wore blue dresses, very very fashionable. Harry Church did the lighting and Cath played the piano. We used to have the rehearsal on Good Friday. Good Friday was a nice day, we used to take a picnic and have real good fun. Easter Monday was the big day, we were all so excited, the village hall was nearly full and we really enjoyed ourselves dressing up and singing. We had a jolly Easter Monday entertaining the people of the village
Just a few words about the foundry at Loosley Row, which has been going for 200 years. My great-great-grandfather started the business and my family has carried on ever since, with my father who ran it for some years and my husband the late Fred Baker. Now we are very lucky and have got Graham and Geoffrey Baker who run the foundry, my daughter Jennifer who runs the office and my grandson Jeremy who is the wrought iron man - what he can't do with a piece of iron nobody can. They still make the most beautiful things. They have just done a piece of commemorative wrought iron work for West Wycombe church on the hill which takes 30 candles. Graham has done some wonderful chandeliers, very large ones really. During the war I used to have to help in the foundry blowing the bellows, melting brass, and I had to help carry the crucibles after casting with the iron. Now it's aluminium casting because they stopped us making iron. After all those years the government or overseas trade stopped us doing iron which was our living but we couldn't afford to have the furnace done so away went our trade. But we're still busy most of the time making things that people want, like weather vanes with owls, ploughs, dogs and horses. At the moment Graham is making a racing car - so we continue. May God bless us and keep us going.
1920's And The Years Beyond
An "Old Boy" Remembers School Years At St John's School
My Name: Douglas Brett
Born: 16 December 1917 Left School: 1931 Aged 14
I was born in Chiswick, London at the end of World War 1. The Zeppelin raids were causing chaos and my mother cared single handedly for my brother Stanley (2 years older than me) myself and my Grandmother who was totally blind and dying of cancer. We moved from London to Naphill when I was a baby largely to escape the air raids. My father had abandoned us, paid no maintenance and severed all contact. I saw him once when I was about 8 years old for a few minutes only. Life was hard and it was 12 years before Mother got a divorce.
I started school at Naphill at the age of 4 for 2or 3 years until we moved to Lacey Green. We lived in a thatched cottage opposite the famous Tennis Courts (now demolished) in Church Lane. Our house had been condemned but the law was not enforced. It was rented from Fred Floyd local farmer. It was very basic. One bedroom, living room and tiny kitchen. There was a public footpath right through our garden and a pond 100 yards away. Because of close proximity to a small farm we were often overrun with rats which ran riot under the thatch and floor boards and there were masses of cockroaches.
Mother obtained the job of Gardener at the Vicarage, a hard and poorly paid job for a woman and my brother Stanley and I started school at St Johns about 1923/4. I must have been 6 or 7 years old. There were only 3 classrooms and 3 teachers, each taking more than one class. Some, I believe had had little formal training. In the Infants class I had my first punishment metered out - I had to stay behind after school finished and write out 50 or 100 lines "I must not talk". After completion teacher asked if I would now tell her what I was talking about. Reluctantly I said "I was asking Miss if you were married". She smiled and sent me home. I was unaware at that early age that the title "Miss" signified an unmarried state.
In many ways life was simpler then. No mains water and electricity, no radio or television, no media hype brain-washing children to demand designer clothes, trainers, etc. and the computer hadn't been invented. In many ways though I think we were more contented with the simple things of life. In the early 20's there were no buses and only 3 or 4 cars in the whole village and many children walked long distances to school. Pocket money was unknown.
Harvest time was a source of great excitement for the boys when the corn was cut and brought to the farm for thrashing. The farm above the school was a favourite haunt and we would stand round in a circle with sticks, and as the sheaths of corn were pitch forked on to the thrashing machine out would tumble numerous rats and mice. These we attacked with great gusto. Sometimes we went in the dinner hour and put a few live mice in our pockets - these we took back to school to release in the classroom in mid-afternoon to the consternation of teacher and the girls who stood squealing on their seats.
Money was short. The recent World War I had left economic depression and the weekly wage was little more that £2. There were only 2 village shops and for clothing, shoes, etc., we walked to Princes Risborough.
Baker's Round - A Baker from Risborough used to deliver bread round the village by pony and trap. He would wait outside when school finished and together we would go round the surrounding villages - Speen Highwood Bottom, Flowers Bottom etc., delivering bread in a big wicker basket. At other time I went to Fred Floyd's Farm Dairy. A large wooden churn was filled with cream which I would turn until converted into butter. Sometimes I delivered milk. We were not so mercenary as today's children and either performed tasks freely or for a few coppers.
The absence of cars meant that the main traffic was from horses and carts. I remember when someone was very ill near the school, straw was spread across the road to muffle the sound of cart wheels. Although no one had private telephones news spread quickly when someone died. The Church was notified and the bell tolled slowly once for each year of the dead person's life.
My mother later became Cook Housekeeper to the Vicar (Rev. Richard Gee) and his wife. They had been Missionaries in India before coming to Lacey Green. It meant early rising especially in winter when it would be quite dark on leaving home. We would stumble round Church Lane, through a small spinney into the Vicarage grounds, our way lit by a candle in a lantern.
On arrival to the Vicarage my first job was to pump water from the well to fill the tank. The range would be lit and when hot enough I would take a long fork and make the toast for the Vicar's breakfast. Mother and I would then go to the dining room, kneel down and join the Vicar for prayers after which I had my own breakfast and then school. We didn't leave the Vicarage until after the evening meal.
Mother's health was not very good and Mrs Gee I believe was largely responsible for persuading her to allow my brother Stanley to go to Dr. Barnardo's Home which caused us considerable anguish. When he was 12 or 13 he came home for 2 or 3 weeks summer holiday and Barnardo's made the shock announcement that on his return to London they would be sending him to Australia. Mother refused to send him back in spite of threats of legal action. Stanley returned briefly to St John's School,
I believe. It is difficult to remember exact dates of 70 odd years ago.
Highlights and Dramas:
Society Wedding - A member of the Carter family from Grimsdyke House was married at St John's Church. The whole village was 'En Fete' and the school closed for the day. Many of the young girls formed a guard of honour as the bridal couple left the church. Each girl had a light dress and carried a basket of rose petals with which to shower the bride and groom. Marquees were set up in the field below Grimsdyke, the band played and refreshments and entertainment provided for the whole village. The revelry continued until the evening.
Severe winter - One winter the snow fall was so great that it filled the roads to the top of the hedgerows and the village was cut off for a week or so before the roads became passable again. We children had great fun walking on top of the hedges.
Firework damage - One Guy Fawkes Night a great friend of mine, Charlie Claydon, was foolishly holding a lighted Thunder Flash in his hand. The explosion damaged his hand and blinded one eye.
Boy's lower leg amputated - Henry Arthur son of Carter's groom, got too close to a farm machine cutting hay. The long blade severed his leg below the knee. He was later fitted with a wooden stump which seemed to do little to impede his mobility.
Epidemics - Seasonal outbreaks of measles, whooping cough, chicken pox, etc were common. Medication was limited and antibiotics hadn't been invented.
Departure - When the Reverend Gee left Lacey Green my family moved with him to Olney, North Bucks for 2 years or so. We then returned to our cottage in Church Lane. By this time Head mistress Grey had retired and succeeded by Mr Aldridge.
At the age of 12 my mother remarried and we left Lacey Green for Naphill. As I only had a further 18 months to go before leaving school I obtained permission to continue at St John's School and I cycled to and from Naphill every day until I left at the age of 14 years.
On leaving school, practically the only employment other than agricultural was in the furniture factories at High Wycombe. I started at Ellis's to learn French Polishing. Work 7.30am- 4.30pm every day. Wage 10 shillings (50p) per week.
I was made redundant at the age of 16 so I left home and moved to London. Most wealthy people had many servants particularly in Mayfair and Belgravia. The large houses often employed 20-30 staff. The hours were long and the pay poor, but board and lodging, laundry and uniform were provided and one could live well. In addition to this my salary was £28 per year. About 1935 I joined the household of Sir Arthur Penn a descendant of William Penn (who colonised Pennsylvania USA) as footman and valet.
Sir Arthur Penn was a great friend of the Duke and Duchess of York (later to become King George VI and Queen Elizabeth (after the abdication of Edward VIII). After their Coronation, Sir Arthur became Equerry to the King and throughout the War years Private Secretary to the Queen (the late Queen Mother). He was also Adjutant to the Grenadier Guards. He had been much decorated in the First World War.
Many of the leading politicians of the day and the inner circle of Palace Courtiers were frequent visitors to the house near Belgrave Square. Before a Palace function some of the guests would come to dinner in their designer long gowns, diamond tiaras and with white ostrich plumes in their hair. The men would be resplendent in their uniforms with medals and Orders and ceremonial swords. The Palace would sometimes send carriages to the house complete with postilion riders behind, to collect the guests and take them on to the Palace. Among the most frequent guests were the Ladies in Waiting, the Duchess of Devonshire (Mistress of the Queen's Robes) Harold Macmillan and his wife, Lady Dorothy, The Duke and Duchess of Buccleuch, Lady Astor, Lord Halifax (Foreign Secretary and former Ambassador to Russia), Lord and Lady Hamilton, etc. On the 80th birthday of Sir Arthur, the Queen came to tea, plus 200 guests throughout the afternoon.
On another occasion during the summer of 1938, the Hertfordshire residence of the Countess of Strathmore (Mother of the Queen Mother), had been leased to Sir Arthur for the summer. The London house was closed and the entire family and staff moved to the country - a welcome break from the London season.
On return to London, before we had unpacked the silver etc during the late afternoon, the telephone rang. I answered it and a voice said 'This is Buckingham Palace, the King will be coming to tea accompanied by 8 gentlemen friends'. Tea was a frantic scramble but somehow accomplished smoothly.
1939 Outbreak of World War II
In January 1940 I joined the Army (RAMC) and was posted to Guildford to an evacuated private boys' school. Facilities were abysmal. A sack of straw on the floor for a bed, no seats or tables so meals were taken standing up. It was a severe winter and we had to break the ice to wash and shave. Dunkirk was in progress and we were drafted to St Luke's Hospital. Train loads of casualties were carried by stretchers to the hospital. Many were terribly burnt and covered in oil after long exposure on the beaches and were wrapped in brown paper sheets. The operating theatre worked round the clock for days. As well as our own troops many of the casualties were Indian, French and Polish.
I was frequently posted to other Units one of which was to the Plastic Surgery Unit at East Grinstead. Many of our Fighter Pilots who had been shot down in flames were patients with horrific burns. Ears and eye lids destroyed which would require years of plastic surgery operations. It was noted that burns victims shot down in the sea for long periods healed better with less skin construction. This lead to the inception of the 'Continuous Saline Bath' treatment. The patients, mostly RAF were immersed in a warm bath of normal saline, temperature thermostatically controlled for periods of up to 24 hours. Mr McIndoe was the eminent Plastic Surgeon whose pioneering work transformed the lives of many casualties and continued long after the war.
1943 - I injured my left knee during training requiring surgery and removal of my knee cap. This resulted in 12 months in hospital and convalescent homes. At the end of this I was posted to No 10 Hospital, Gibraltar via 3 weeks in a troop ship. After 2 or 3 weeks deep inside the Rock I and 40 others were seconded to the Colonial Hospital, a civilian establishment. All women and children had been evacuated to England and elsewhere. The Spanish Civil War had just ended and 20,000 Spaniards streamed across the frontier every day to work in the dock yards, garrison messes, hospitals, etc. They all had to be back in Spain by dusk.
I worked in Theatre and Outpatients, did all the sterilising and autoclaving, assisted at operations and helped with the various clinics. Out patients were Gibraltar Police Force, Merchant sailors and many Spaniards.
After two and a half years' there the war ended. I was demobbed and returned to England after 3 weeks on a Troop ship. I was summoned to Buckingham Palace to discuss my future by Sir Arthur Penn who offered me a post in his establishment. I realised that the war had destroyed the old social order so I declined. I wanted to make nursing my career.
1946 - Did my General Training at Lewisham Hospital London, obtaining my SRN after 3 years, then did 1 year as Staff Nurse.
1949 - Decided to train for my Psychiatric Certificate and trained at Maudsley and Royal Bethlem hospitals for a further 2 years. The Maudsley was the foremost teaching hospital in the country, high powered and teaching in all departments. With only about 250 patients there were over 200 Doctors, all qualified in General Medicine and studying for the Diploma in Psychiatric Medicine (DPM). The Royal Bethlem's history goes back almost 700 years to the times of the Crusaders and before Nationalisation owned vast tracts of land in Central London including Trafalgar Square and the Kent Coalfield.
1952 - Obtained my RMN and 3 or 4 months later, successfully applied for the post of Charge Nurse. This I held for about 3 years.
1955 - Coerced by Dame Katherine Watt to go to a Mission Hospital in the Lebanon situated on the Damascus Road on a plateau above the capital Beirut, as a Charge Nurse. The Mission Hospital was founded early in the century by a Swiss Quaker and funded by International charities. The grounds were extensive with spectacular views. Our 600 patients were drawn from the whole of the Middle East, Lebanon, Syria, Jordan, Kuwait, Saudi Arabia and the odd European. Our student nurses were recruited from the Lebanon plus a large number of Palestinians from the refugee camps of which there were several. Their training was modelled on the English General Nursing Council's syllabus and on completion many of the nurses found lucrative posts in the hospitals of the Gulf States, Kuwait and Saudi Arabia. I was later promoted to Assistant Matron.
The Civil War of the late 1950's made life very difficult, with almost daily curfew, vehicles set on fire, bombs going off and our water and electricity cut off. Looking after 800 or so people presented many major problems. We expatriate staff were told a British War ship was standing by to evacuate us if conditions worsened. We were told' No heroics and take only personal papers'.
After 7 years I finished my third contract and returned to England in January 1962. I was appointed Assistant Matron (later named Nursing Officer) to a London Hospital in East Dulwich, part of the Kings College Hospital Group and stayed there for 19 years until my retirement at the end of 1981 aged 64.
3 years ago I moved from London to the Aylesbury area where I now live. I had had no contact with Lacey Green since about 1933 and heard of your Millennium Reunion from my sister-in-law who lives in Risborough.
My nephew brought me to the school on the Friday evening. I was surprised to see the extensive light and airy class rooms behind the old school which looked progressive and modern. I was particularly interested in the old photographs especially the group photos but have no recollection of them being taken. Unfortunately many of them were placed too low on the display boards to be seen (unable to bend down). However I have ordered copies of 2 which will represent the only photograph of my childhood.
It was striking to compare the dress and appearance of the present children with those of the 20's and 30's. I wonder if they realise how fortunate they are. Their futures will be shaped very differently to ours, with the explosion of new information technology, the Internet, mobile phones and personal computers, the unravelling of DNA and exploration of space, they will have career opportunities undreamt of by my generation.
In conclusion at 82 years and 7 months I have rambled on wondering if this little effort will be of any interest. I hope the pupils of St John's School make full use of their educational facilities to equip themselves for the competitive work place of the future.
1958 by Joyce Delnevo
1958, hearing that a plot of land with the foundations of a bungalow already on it had been bought by Dell Bros builders in Kiln Lane, Lacey Green, John and Joyce Delnevo came to look at the site. It was snowing as their Vespa scooter struggled up from Wycombe. Nothing daunted they purchased the site and Dell Bros built their bungalow.
John had a printing business in Wycombe and the Vespa struggled with the steep hills.
In 1961 their daughter, Louise was born and they managed to get a car.
Kiln Lane was a very quiet road. Not many houses. A semi detached flint and brick pair at the top of the lane, a pair of farm workers houses further down on the other side built in 1937 next to `Malmesmead`one of the oldest houses in the village. There was a simple bungalow next door to the plot and a couple of bungalows right at the bottom and a house even further on.
The pair at the top of the lane were lived in by Mr and Mrs Toms and Mr and Mrs Williams and son Edwin. It was these two women that welcomed Joyce. Mrs Williams introduced her to the Womens` Institute with which she soon became involved. Mrs Toms had a large cottage garden from which she would gather a huge bunch for anyone who needed flowers. How much? Half a crown (12.5p). Their friendships would be for life.
Baby Louise was sixteen when Mrs Toms died, but she remembered her in her Will with a £100 bequest for being the first baby girl born in Kiln Lane for fifty years.
The village shop, with Bert and May Dell was the place to meet other villagers. Usually there would be someone in there with news to tell and if you had the time simply going for a loaf of bread could take absolutely ages.
1951 by Ted Janes
I had arrived home to Speen after 4 years in the Derbyshire Coal Fields, an indoctrinated socialist married to Jean with a baby, to the only home, a caravan, and later a one up and one down cottage.
Between Lacey Green and Speen there had traditionally been animosity and general unfriendliness and strong sporting rivalry, but when we were allocated a new council house any such thoughts were quickly dispelled with the thought of a new home.
Jean met Mrs. Gurney and Miss Jarvis to book our daughter into the school, and we soon discovered that as far back as 1951 Lacey Green was a very good school.
On her many visits back and forward she found the villagers welcoming and friendly, particularly Mr. Sid Janes (no relation) the baker, Mr. Lewis the retired paper man who had delivered the papers with a pony and trap. Mrs Chiltern the post lady, Bert at Hickman's stores, Mrs. Lacey at the little shop at the Crooked Chimney opposite Bitfield (now Westlands), Mr and Mrs Lawrence at their Loosley Row shop later to become the post office, to name but a few.
I was playing cricket for Speen but resigned and joined Lacey Green, playing in both first and second eleven teams, thinking "if you want to be accepted then you have to accept the village" But when both teams played one another you could easily imagine what prompted "The War of the Roses"
The Medicine Run by Gordon May
Some Early Memories
From the age of twelve until I left school, one of my jobs was known as the "Medicine Run". I had to miss a bit of school to carry out this job.
Every Thursday evening, after school, I would travel to some of the outlying districts of the village to collect empty medicine bottles. Some of the homes I visited were the Hickman family at Turnip End, Mr Redrup, a cripple, living at the bottom of Lacey Green, and two families in Portobello Row.
I had permission from the school to take time off on Friday mornings to catch the "Farmer's" bus, which ran from the Church end of Lacey Green to Princes Risborough, where I went to Dr Edward's surgery (Old Cross Keys). He always looked out for me, and took me straight in to fill the medicine bottles, as he knew I had to get the return bus back to school. Then on Friday evenings or Saturday mornings, I would have to go round to deliver the medicines to all the families concerned.
One day at the doctors, when I was collecting the medicine, I peeped through the curtains. It appeared to me that he took some grey powder, mixed it up with some water, and poured it into all the bottles. I thought it odd at the time, that they all had the same medicine!
I did this job until I left school. On the last morning, I said to the doctor, " This is my last run, as I am leaving school". He gave me half a crown (now equal to twelve and a half pence). A few years later, when I was taking a group of children to Sunday School, he came by in his car. He got out, wanted to know how I was, shook my hand and wished me well.
The Hickman family from Turnip End lived about 500 yards down a woody stony lane. The house had no electricity or gas. In the winter of 1947 I was detailed to go and sleep there. It was so cold that it froze the hot water bottle. I always had to get up very early to break the ice and feed the chickens and rabbits, before running home for breakfast and then on to school.
Mr Redrup, who lived at the bottom of the village was to me a little old man, bent double, who used two walking sticks. He used to tell me stories of the First World War, when he was detailed to go and find German snipers. He said how difficult it was to hit a man a mile away. I found him very interesting, as he had a number 3 garden gun, which he let me use to take pot shots. He also had a lovely apple tree in the corner of his garden, where the school is now. A lot of boys went scrumping there.
My grandparents lived in Portobello Row, near cottage number 4, where I used to deliver medicine. A few years later, when I was 20, I was also sent there to sleep. My grandmother was very ill, and if needed, I could run to the public telephone. The back room of that cottage was another place where my hot water bottle froze.
I enjoyed my schooldays during the war. Another job which some of us boys had was to go potato picking for any farmer who wanted us. We had a permit from the school for this. We were allowed 20 half days per year off. The only farmer brave enough to employ us was Mr Reg Tilbury, who lived at Parslows Hillock (down the lane from the Pink and Lily) We boys would cycle from Lacey Green to the farm, and had a very enjoyable afternoon away from school.
Another job, which I was landed with during school holidays in wartime, was to cycle to Hampden Woods, where the chair bodgers had turned thousands of chair legs over the years. My oldest brother and I would have to work one end of a cross cut saw, while a man was at the other end. This was hard work, which I did not enjoy very much. My brother, being older and stronger than me, was allowed to hold the handle of the saw, while I was a yard away, pulling on the end of a rope. 02.03.10
Parish Poors by Douglas Tilbury
My father, Reg Tilbury, was born in 1898, and lived down Lily Bottom Lane on the right. The land here is owned by the Princes Risborough Charities, and is known as Parish Poor's Land. It was given to the parish by the Marquis of Ely to allow people in Lacey Green to rent a one acre strip or plot on which to grow food for themselves, or cereals to feed to pigs or chickens.
The rents were collected at Michaelmas, and distributed to the poor of the parish who had children, especially widows with children. Each home would be given one cwt. (hundredweight) of coal to keep them warm over Christmas.
As a boy, Reg spent most of his summer holidays stone picking on that land. He was paid one pence per basket. The stones were emptied at the end of the field, and later loaded onto a horse and cart and taken to Cuddington for road building.
The money he earned was just enough to pay for a pair of new boots, which would have to last him a whole year, until the next summer. His father would walk him to a cobbler, who lived at Spring Coppice Lane in Speen on a Saturday night. To obtain the correct fit, he would stand on a piece of leather, and the cobbler would draw around his foot with a pencil, making an allowance for growth. They would return the next Saturday night to collect the new boots. 02.03.10