.
LACEY GREEN & LOOSLEY ROW VILLAGE HALL
HP27 0QT
Yes it is for hire, but is it suitable?
You may need to know where on Main Rd it is, its capacity, perhaps whether it has a bar, who provides tables and chairs, catering facilites, the fees and so on. These and many more questions are answered here.
Events
Events take place in the Meeting Room and Main Hall. The Meeting Room is for smaller gatherings of about 20 people but may be used as an anti-room for larger functions.
Although the Main Hall has regular events such as WI meetings, and childrens play group, there is still great scope for random events like...
Wedding Receptions
Anniversary Parties
Theatre Productions
Birthday Parties
Dinner Dances
Meetings / Conferences
...but the Hall is a popular venue so you need to book well in advance.
The pictures (click on them to enlarge) indicate how some users have been able to tailor the hall for their particular event. A marquee lining can be provided for special lighting effects.
160 square metres provide for a maximum of 150 people leaving room for a presenter with projector (not provided). Actual dimensions are 19.8 x 8 meters with headroom of 4.6 meters. The meeting room is 5.4 x 3.1 meters with a large oval table easily removed if required.
In fact we have an excellent venue and want you to have a good time but not at the expense of the hall and our neighbours and for this reason bookings are not done on line.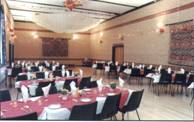 .
Conditions:
The small meeting room may be subject to conditional letting of the main hall Lighting and Heating ARE included in the hire rates. Additional charges MAY be levied for "Special Dates". The hire of the Kitchen always includes hot water for washing-up etc. Any deviations MUST be agreed by the Hall Committee.
Note:
We regret that due to our strict insurance criteria we no longer allow any birthday parties for 15 to 22 year olds as we have had some very bad experiences with un-welcome gatecrashers and serious damage to our hall. Village residents with young people within these age groups will need to apply to the committee for a special exemption. All cases are closely scrutinised.