Lacey Green Stores
in the Village Hall.
Now in its 10th year.
Open Monday to Friday from 08.30 to 12 noon.
Shopping
We hope you are making use of the Store which includes a Post Office Monday and Thursday morning and a Library Service - see below.
It is well stocked with items that are most needed on a day to day basis and prices are competitive. There is something for every one including milk, pet food, sweets, washing powder and biscuits.
You can order a paper and save a trip to Naphill or town.
If you think other items should be stocked, please let us know and we will do our best to include them.
We do not sell alcohol and cigarettes as these pose a security risk but most other non-perishable items are on display.
The shop is run by a team of volunteers under the control of the Lacey Green Community Planning Group and is also supported by the Village Hall Committee. We can always use more volunteers, so if you would like to help please e-mail: Angela Roberts
Library Service
The shop now includes a click and collect library service.
Not a library member - Join here (Register)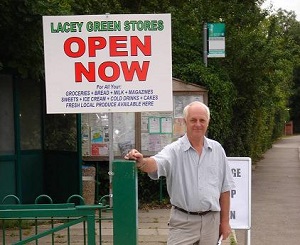 Order a Book:
Instructions:
On the Library site you can change 'Anywhere' to Author, Title or Subject and then enter details to search.
OK will produce a list of books. Click in the tiny box alongside a book to select it.
At the very top or bottom of the list click on Reserve Selections and then enter your library card details
Click OK and then click on Change pick-up location where you can select Lacey Green.
The shop has a computer for you to use if you don't, and they will guide you through the process. You also return your book to the shop.