So why have a Local History website?
In the last 50 years the population has expanded dramatically, but some village families are still here, and they have a tale to tell.
If you have an enquiring mind, have bought an old house or just love mysteries, there's a start. Three friends originally, now six, the members of the Village History Group - have long dreamed of preserving what is known of the history of Lacey Green and Loosley Row, before the old ways are completely forgotten.
They have been working on different aspects of this for a long time keeping in touch and sharing information, but not publishing their knowledge. Then came the Internet, so now here it is with absolutely no cost to the world for access!
A picture with many gaps is being painted. If you have information to add or can make corrections we would like to here from you!
Mail: History
2009
The aim in 2009 was that there has to be something that will interest you from the following areas we have (see Index in left column) or propose to write about:
Where it all began
the first houses, field boundaries and roads, to include Grym's Dyke, Crown land, Black Prince, Elizabeth 1, Stud farm, Stocken Farm, Enclosures, Church and Oxford College ownership.



Village Planning
Woods, ponds, roads, fields (Parish Poors) History of the older houses e.g. Stocken Farm, Malmsmead. Speen Farm, Lane Farm. Park Cottage etc.



Village Families
Those who most greatly influenced the development of the area (the movers and shakers), census returns, family trees, birth, death, illness, family events



Personal Stories
Ghosts & witches, Aspirin (Stone family), Forrests



Occupations
Brick making, lace making, shoe making, light industry, tennis court, farming, timber, chimney sweep, building, undertaking and laying out etc.



Shops and Pubs
Post offices, bakery, windmill



Utilities
Water, mains drainage, electricity, transport (bus, train, taxis).



Places of Worship
Anglican, Methodist, Baptist.



Schools
Notes from Millenium Reunion.



War-times



The hope is that anyone interested in the history of our villages will enjoy reading about the subjects in which we have taken an interest. We have been adding these articles since the beginning of 2009.
Questions we are having difficulty in answering are:
How did Lacey Green and Loosley Row get their names?
What was the purpose of the Grim's Ditch?
---
They talk of snow this year but this was 1963 when villagers were cut off from outside services for several days.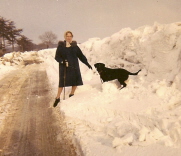 Has anyone got any memories they would like to share?
About a hundred million years ago what is now Lacey Green, along with the rest of the Chilterns and most of Britain, was lying on the bed of a shallow sea. In fact the chalk which makes up the body of the Chilterns was formed over a period of millions of years by the skeletons of microscopic sea creatures, which rained down on the sea bed. The inhabitants of this lost sea, including shells, sea urchins, sponges and sharks, can still be found locally today in the form of beautifully preserved fossils.
Pre 70,000BC

---

70,000BC

This caused deeply frozen ground which thawing surface ice could not penetrate.

Running water caused rapid erosion to form deep valleys - the well known Chiltern Bottoms.

---

10,000 BC

Trees began to colonise and new hunter gatherers came. They used flints for spearheads and axes to make clearings and for hunting.

Flints are still found in chalk hills left after the ice age. Nuts and fruit have also been found.

---

6600 BC

Separation from mainland Europe.

---

3500BC

Permanent settlements and cultivation was beginning. Farmers cleared scrub woodland, made and worked fields and kept animals.

Trace of their occupation is now to be found.

---

1000 BC

---

43 - 410 AD

A well ordered Romano British population

---

410 AD

So called because little was recorded.

Anglo-Saxon subsistance agriculture.

---

1066 AD

---
Earths ages expressed in millions of years:

4,500,000,000 +
Solar system formed.
While the earth cooled, as it is still doing today, a massive glancing impact led to the moon's formation.
Oceans developed and a poisonous atmosphere.
3,800,000,000
Earliest signs of life.
2,400,000,000
Oxygenated atmosphere formed.
1,700,000,000
Earliest multi-cellular organisms.
1,400,000,000
Earliest known fungi.
600,000,000
Earliest known Cnidarians.
550,000,000
Cambrian explosion.
450,000,000
Earliest land invertebrates and plants
350,000,000
Earliest land vertebrates.
240,000,000
Earliest known dinosaur.
50,000,000
Extinction of non-avian dinosaurs.
3,000,000
Homo habilis evolved able to make tools but were more ape than human.
2,000,000
Homo erectus evolves in Africa. Learnt to work together.
500,000
People migrate to Britain from Europe.
Palaeolithic
(old stone age)
700,000-12,000 BC
Mesolithic
(middle stone age)
12,000-5,000 BC
Neolithic
(new stone age)
5,000-2,500 BC
Bronze Age
2,500-600 BC
Iron age
650 BC-43 AD