Recent
Gerald Bedford 1932 - 2016 by Joan West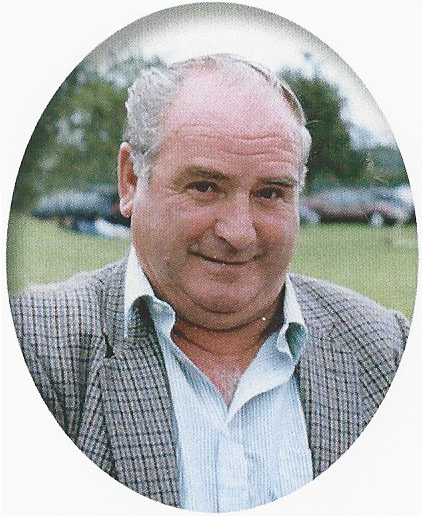 It is with great pleasure that I give this tribute to a man who was a thoroughly skilled countryman, admired by those who worked with him, and who enjoyed the company of loyal friends and a close-knit family.
Born at Holly Bush Farm, Walters Ash, later demolished for Bomber Command, Gerald grew up the second youngest of nine children. He started working aged fourteen for Dick West at Stocken Farm, Lacey Green. He retired fifty years later as farm foreman.
When I first met Gerald he was twenty-five and, with a characteristic smile, was already the head tractor driver.
Gerald has spoken of when he started and the various horses he worked with; the dairy bulls, which could be bad tempered; the corn cut with a binder and stood up in sheaves; the rick building; threshing, and the grain to be bagged in two and half hundredweight sacks.
He mastered the horse drawn implements to do the different field work. Then came the tractor and bigger implements until in 1956 the first combine was purchased. The corn had already been cut and made into sheaves, so to give it a trial they fed the sheaves into the cutter bar and let it thresh them into the grain and straw. 1957 saw Gerald on the combine all day all through harvest. There were no roll bars or cabs in those days. Safety was not an issue. No wonder at the end of the day that his face was black as soot from all the dust blown up off the corn. And not surprising that he usually had a cigarette on the go.
Gerald could lay a hedge to perfection and erect a fence strong and taut, both true skills. The students and part timers that worked on the farm hoped to be given a job with him for it would usually be an interesting one.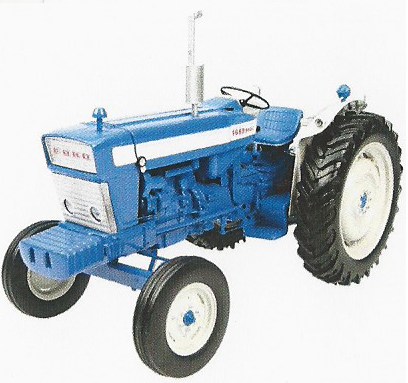 In the 1950's he lived in Louches Lane, Naphill, his parents' home. When the New Road was blocked with snow, a frequent occurrence in those winters, he went home on the tractor and next morning would open the road for others waiting to get through. He became quite well known for that.
In the mid 1960's he moved into 2 Stocken Cottages, a semi-detached house. John & I lived next door. The little kitchens were on opposite sides of the house but such were the rafters that in mine I could clearly hear him singing as he did his washing up in his. He had a lovely voice.
For relaxation he would go to the pub. When living in Naphill to The Wheel where he enjoyed a game of darts. He became great friends with Ken and Cis Fletcher, the landlords of Pink and Lily. He loved all pub games and he and his friends would always settle in the 'snug' there to spend the evening playing.
When the breathalyser was introduced he never drank and drove, his licence was vital. The police were fond of waiting on Pink Road for those leaving the pub. His friends would wait for him to leave. Sure enough the police would stop the first to go. His mates meanwhile drove by unhindered. He got a bit fed up with the police. Thought they should realise they were wasting their time, and his.
After the Fletchers retired he may have sometimes gone to the Whip. I believe they organised coach parties to go horse racing. In his retirement he watched racing on the TV daily. But his local was The Black Horse. Fifteen years ago the pub entered the dominoes league. He was much in demand for he was a strong player. It is said he liked to win. That is no surprise, his standards were always high. When he could no longer walk to the pub Lynne would fetch him, Mondays for dominoes but also Wednesdays and Sundays. She also took him to the hospital and doctors on several occasions. She was more than the pub landlady she was a friend. On his 70th birthday the pub presented him with his own pint handled beer mug. He always finished the evening with a scotch.
He regularly took his sister Margaret shopping and she lent a hand in his house. In 1991 his neighbour Philip hanging out his washing spotted Sandra, Gerald's niece, sunbathing. They were married in 1993 and were to have three boys. It must have been very nice to have this family next door, becoming especially important to him in his later years.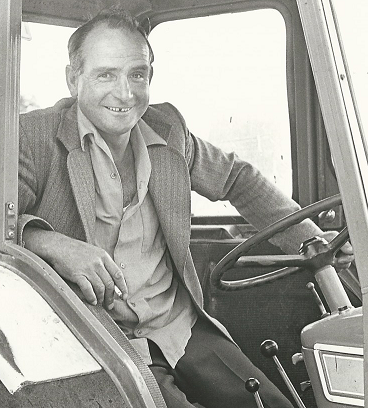 When he was due to retire he didn't want a fuss and reassured that he could stay in his farm cottage went into hospital to have new hips. While he was away two things were done. Firstly his house was extended and made into two flats so that he didn't have to cope with stairs. Secondly a secret lunch was arranged at the farm. His family, the farm family, farm staff old and new and all the old farm students were invited. His brother Stan was taking him to his sister Margaret for lunch. Stan was in on the secret so when Gerald was unexpectedly invited to drop in at the farm to see an old friend persuaded him to do so, on the way. The reason I mention this is because those former students and staff came hundreds of miles to be there. Only one, farming in Eire couldn't get away. He hated the phone but nevertheless rang Gerald to have a chat and wish him well. The effort they all made to be there must speak volumes - more than I can ever say.
In his retirement he still kept an eye on the farm, always noticed what was going on. I appreciated that he signed my Christmas card "with love". All those who knew him must be the richer for it.
My thanks go to all those who have briefed me on their friendships with Gerald - Lynne and her staff at the Black Horse. A chorus of "Of course we all knew Gerald" from there. The dominoes players, particularly Phil and Gordon. Memories from farm staff saying how much they learned from him and how he bailed them out if they got caught a bit short at the end of the week. Dozens who gave me tales, too many to mention but appreciated for adding to my picture.
.
Norman Tyler - 9th October 1928 to 20th June 2016 by Tony Smart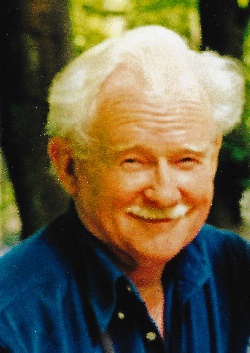 The funeral service took place at St John's Church on the 4th July for Norman Tyler, a much loved and respected member of our community. Norman was born in 1928 in Quebec Canada and he, with his family, returned to England in 1939 settling in Coventry.
Norman was always very precise, a perfectionist, so it is no surprise to learn that he trained as an engineer. He was apprenticed to an engineering company, Armstrong Whitman and attended Coventry Technical College. He later became a member of the Institute of Mechanical Engineers, the Institute of Production Engineers and was himself a Chartered Engineer.
His career shaped his life; everything had to be just right for Norman always the perfectionist. Norman married Bette in 1952, his lifelong partner and friend. Norman, with Bette's support, started his own company supplying high quality insert bits for machine tools. The successful company was bought out at a later date by Sumitomo Hardmetals Ltd and Norman continued working for the company as its Director till his retirement making many friends in Japan as a result.
Norman and Bette moved to Lacey Green in 1968 and since that time have been an integral part of the Community. Getting involved in many organisations and making deep and lasting friendships and this community has benefited tremendously as a result. Norman loved this area and the surrounding countryside and was a very active member of the Happy Wanderers Walking club. But apart from the countryside the walking club gave him the opportunity to indulge in his other passion; his love of good food. Whilst many of us were putting on our walking boots after stopping at a local pub you could hear the cry; "Where's Norman" and the reply was, "Oh he's finishing his pudding"! He loved London and would arrange walking tours in the Capital for his friends and Village organisations often ending up with a good meal in an Italian restaurant.
Norman was a founding member of the local history group, was the editor of Hallmark for some years and gave his full support to the fund raising and building of the new Village Hall.
He enjoyed visits to the Mill at Sonning for an evening with friends listening to jazz, the music he loved, and took up short mat bowling, an activity he enjoyed to quite recently.
Those of you that knew Norman will remember well that he embraced modern technology and would always do his research with the help of the "Which Magazine" to determine the best piece of equipment to purchase. He was one of the first to have a hand held computer, his famous Psion, or his "little baby" as Bette called it. Every bit of information went into his Psion and it became an extension of Norman's memory. He could instantly tell you anybody's phone number or such detail as the room number and cost of a Hotel that they stayed in five years earlier and even the view from the window!
Apart from technology Norman's main hobby was photography, from black and white film, colour slides, movies, videos and later digital photography Norman amassed a wealth of family and local history. As our Village photographer over the years he recorded all aspects of village life including the reconstruction of the Windmill, the building of the new village hall and events such as village day. Many of the photographs in Hallmark over the years were taken by Norman. The photographs, video's and the old movie films were shown at village days and other local events and taken to St John's schools where Norman was very popular with the children who were introduced to an original movie projector for the first time.
Norman was a great family man, he and Bette had two sons John and Robert. Norman was very proud of his family, their partners, Clare and Jackie and his Grandson Adam. He was delighted when Adam went to University to study Physics - a subject that encompassed his own passion for engineering and technology.
He loved to travel the world and with Bette visited many countries, meeting with friends old and new. Bette recalls the epic 11,000-mile journey across America, not in a hire car, but typical of Norman's resourcefulness, he purchased a car, registered it in California and on reaching their final destination in Washington he then sold it.
Normans had all his family around him for Father's day on the 19th June and sadly passed away on the 20th. He will be missed by all of us in the Village and further afield but most of all by his close family to whom we send our sincere condolences.
Norman enjoyed life to the full and was always there to help out and support family, friends and our Village organisations, and I would like to end this with a quote, which for me sums up Norman.
"Life is a journey and not a destination."
A journey from which all who knew Norman have benefited.
Bette Tyler 1928 - 2018
Bette would often dismiss any concerns with "Life's too short"....
Bette never knew her Mum who died very shortly after childbirth. With no help then available from the state, Dad - in order to work - arranged to move her, her older brother and himself in with Bette's Aunt and Uncle in Kenilworth in Warwickshire just on the edge of Coventry. There was a cousin, Roy and they all grew up together. Bette's memories were of the kettle never going cold and much laughter - she had a good family life.
The property was part of a saw-mill where they cut up trees and made - well anything made of wood. It was actually owned by her Granddad and he was a very kind man who would decline to send out a bill for a coffin to those who had little. I think Bette inherited that gene.
Bette like all kids got up to mischief and feared little. She and Roy would climb high in the rafters, without safety net, directly over the circular saw bench, and sit watching the logs cut up far below. Above all she remembered fun - a search for toffees game involved her uncle throwing a handful into the woods for her and Roy to run in and find. And how would she have done in the Tour-de-France I wonder - Bette was determined to be the last person to get off and walk when cycling up hill.
Bette was just 11 when her older brother died, it was his 21st birthday. He went down with the Royal Oak in the first year of the War. Her memories of war never went away, she would shudder today at the sound of sirens - she lived just outside Coventry where they built spitfires, a regular target, and she remembers hiding, her teeth chattering with fear, under the table. It was a time when nearly everyone was affected by loss and Bette maybe saw that they had to deal with it and she would have to do the same. Nevertheless a very early introduction to death for one so young.
Tragedy was never far away. Her Uncle and Father were digging a well, taking turns going down in a bucket and filling it with soil. One morning Dad was unwell and his brother - Bette's uncle, Roy's father, went down instead. He died within minutes from methane gas seeped in overnight. I suspect that it had started the day before and that's what had made her Dad ill.
Bette had a younger cousin, Bernard whom they called Bun. With 10 yrs difference Bette would have helped bring him up and Bun did get to see Bette at Stoke Mandeville two days before she died.
When Bette reached working age she got a job as a telephonist. It was on a bus home that she was spotted by Norman - they married in 1952. Their family is John and Robert; partners Claire and Jackie, and Bette's 'favourite' Grandson, Adam.
Bette also worked as a Methodist Sunday-school teacher - she actually retained a very strong belief to the end. Rob remembers following her around at her skirt tails. He was just 4 when Bette lost her father. She talked about her one real regret as not going to see him before she went on holiday - he was dead when she came home.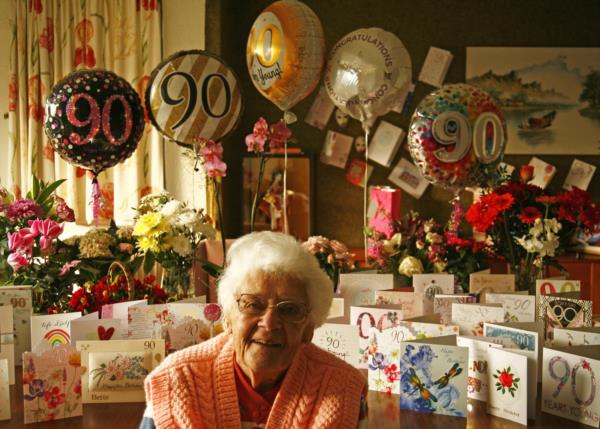 Bette was coping with all these tragedies, learning that life can indeed be too short but she remembered all the laughter she had growing up and realised life needs to be enjoyed while you can. She was likeable and kind, willing to make friends with anybody and everybody. She liked people, she was interested in them and loved their company. They responded in kind and on her 90th birthday just a few weeks before she died, so many visited that Bette exhausted herself giving them all a hug.
Norm changed jobs a couple of times which entailed moving and he and Bette somehow finally arrived in Lacey Green in 1968 - 50 years ago. He set up a business, Norman Tyler Sales in Risborough - it involved repairing, often re-grinding and setting worn tools and machinery. Norm then got involved with a Japanese company - Sumitomo - and became their sole agent for importing and distributing their machine tools. Bette looked after the Japanese liaison officers that came over, and went to Japan with Norman on several occasions. It gave them both a yen for travelling.
Back home they both got involved in Village life. Bette joined the Village Hall committee - this was the old hall. She would hold meetings at home and all went home absolutely stuffed with Lasagne.
Remember the miners strike - Bette organised beat the Gloom parties, again back at hers, and bring a candle.
Christmas, every Christmas, was the best excuse for a houseful although mainly family this time.
There was Bette's Art Group (the BAGS), although more talking then Art.
They got involved in everything:
Bette helped Norm stuff leaflets in each of 600 Hallmark magazines he edited and delivered them to post persons in every street.
Village Day; Strawberry Tea; she loved helping at Youth Club and the kids voted her the most scary witch at Halloween night.
She did meals on wheels but got the sack - they loved the lovely chats, but not cold dinner.
She helped fund raise for the building of the Village Hall and was involved in the Twinning of our Village with Hambye in France.
In between all this they started travelling and once travelled 11000 miles across America.
In 2008 Bette's beloved cousin Roy died. In 2016 it was Norman's turn. This was hard for Bette, it was a blessing that John had come home having retired from working in Kent to help her through it.
John introduced an exercise routine with them both walking daily down to the Forge at Foundry Lane and back. John worked out that for every 150 ascents of Loosley Hill they had climbed the height of Mount Everest, and at the age of 87 Bette reached the summit of Everest for the eleventh time - without oxygen, and just wearing her trainers. John also kept a tally of the distance they had travelled, and although age was against Bette she did get as far as Syria before her huge but failing heart couldn't take it.
Bette believed in supporting the local pub and John says she was prepared to do this single handed. And Bette was generous to a fault. After she stopped driving, she insisted on taking my wife and I to lunch more than once for running her everywhere- this required a lot of effort on my part - reversing all of 10 yards and taking her to the exact same place as we were going.
Bette and Norman's legacy.
This village has to be the most welcoming and friendliest in the country. Most villages you normally don't get spoken to for the first 5 years. But several people have said that the first people to say hello to them was either Bette or Norm. Indeed when we arrived at Meadow Rise around 2006, we were, while still unpacking, invited to an event at the Horses Rest Home. We sat at Bette and Normans' table. Bette made a point of talking to Yvonne and I, making us feel welcome and I think I may have made her laugh. We inevitably became friends.
I am pretty sure that with 50 years in which to do it, Bette must have been largely responsible for our Village Ethos - To be friendly and welcoming to newcomers and to continue to be so with each other ... because ...
Life's too short.
Remembering My Father - Brian Panter 1924-2018
My father was what you might call a larger than life character. I have only just begun to understand the meaning of that, now that his presence has passed out of our lives. Like most big personalities, he was a person of complexities, and many contradictions - dualities you might say - as a father, husband, son, friend, actor and artist. Recognising and celebrating those complexities is the best way I know to honour him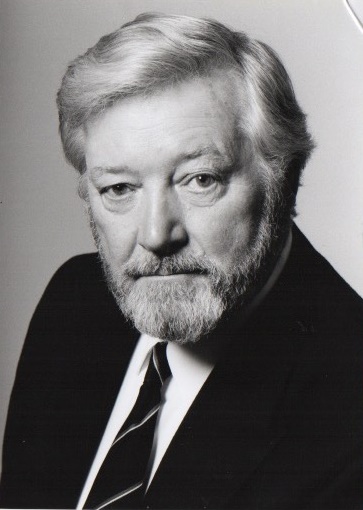 Whilst in his latter years he lived in his beloved Chiltern Hills, he also had an abiding love for the Vale of Aylesbury, spreading as it does towards North Bucks where he was born, in a cottage in 1924, into a farming family. Life was hard and when my father was four, his father had a mental health breakdown, due to the pressures of farming and what we'd nowadays call Post Traumatic Stress Disorder after his wartime experiences at Gallipolli. I believe my father inherited his father's depression and looking back, probably suffered from it much of his life, although he only received treatment for it in later years.
The family went to stay in London for a period whilst my grandfather got treatment. When he recovered enough to work, they lived in the house of a wealthy American family who employed both my father's parents, where he experienced something of the sophistication and luxury offered by middle class city life. Returning to the village, to hand-pumped water and an outside lavatory, must have highlighted at an early age, the basic nature of country life. Decades later, in a Lacey Green parish council meeting, he reportedly challenged an individual who cited the 'historical character of the village' as grounds for opposing a new housing development with: "what character would that be then? The days when you had to go to the end of the garden for a crap?"
When the family returned to Bucks, my grandfather took a job as a farm bailiff at 'the big house' at Lillingstone Darrel, and it was here that my father's love of horses and fox hunting grew. I admit - and this is a bit problematic for me these days, especially given the political company I keep - that as a child I shared his love of riding to hounds, going to a couple of meets a season which was all we could afford. My father's passion sprang from his experiences as a stable boy, riding out the master's second horse, always rooted in the countryside. At the Old Berkley Hunt down the road, he knew the terrier man, the hunt servant, the farmers, the fence menders. Indeed, Dad took the job of fence mender one season soon after we moved to Princes Risborough, and I have memories of riding with him in the ancient land-rover to help rebuild farmers' fences damaged by horses ridden to hounds.
He joined the Royal Navy at eighteen, and, like his father, his wartime experiences stayed with him for life. Sailing on warships in convoy with merchant navy vessels, mostly in the North Atlantic, he was twice torpedoed and rescued from the sea. He was part of the D Day Landings in 1944 and whilst he played down his role in the action, he was moored off Arramanche, in a ship full of ammunition and explosives, and had it been hit, all the crew would have perished. I'm sure most of you heard his navy stories at some time or another - possibly more than once - and it occurs to me that his desire to talk about his experiences was his way of dealing with traumatic events at such a young and formative age.
My father grew up speaking in a broad Bucks accent, which he didn't lose until he attended RADA in the late 40's. This is strange to imagine for all of us here, for whom his stage RP pronunciation and rich vowels are so dominant in our memory of him. It was part of his transition from country boy to actor and man about town.
When he met my Mother whilst in rep at Oxford Playhouse, the re-invention escalated. She was a middle class girl from South Bucks, he the son of a poor farmer from North Bucks. I think he fell doubly in love - with my mother who was glamorous, feisty and funny - but also with the family and the security of the big house in Beaconsfield. He adored and admired my maternal grandparents, and I have an abiding memory of my parents and grandparents singing Gilbert and Sullivan in four-part harmony while doing the washing up after Sunday dinner.
Rachel and I never knew either of my father's parents, they both died before we were born. I think my father felt guilty that he became distanced from his father after his mother's death, as his new life in the theatre developed, and as he grew closer to his in-laws.
My mother gave up acting when she started a family, but my father was still working in the theatre when I was born. He was at The Old Vic playing the Prince of Morocco in The Merchant of Venice and was apparently congratulated by Ralph Richardson on my birth. He continued his acting career a couple of years more, but gave up in 1958, walking away from the offer of a good part in the movie Ben Hur. And this remains one of the greatest mysteries of his life - why he gave up a profession he loved at what might have been the cusp of a breakthrough. It's a decision he never fully explained, but one which I have no doubt he came to regret. Throughout childhood, my memories of him are against a backdrop of a series of sales jobs he must have disliked, and a deep desire to revisit his past in the theatre. When he took early retirement in his late 50's, he returned to professional acting, and did some of his best work, notably in Blues for Mister Charlie at Sheffield Crucible and The Price and Hamlet at Wycombe Theatre Company. Of course his theatre passion also found outlet over many years in Lacey Green Productions as a director and performer, and who can forget his Cowardly Lion in The Wizard of Oz?
I suspect his reasons for leaving acting were, like everything, complex, but a strong driver was fatherhood - they were about to have a second child. In later years he said that he was a terrible father, but - like most parents - he did his best. He wasn't a perfect father by any means. He had a sudden and sometimes violent temper, and he and my mother had blazing rows. He was quite intolerant of opposing political views especially in the young. It was only in adulthood that I realised that not all family Sunday dinners were conducted at the volume and level of vitriolic debate which characterised the Panter table. But he was also a dedicated and imaginative father, with a sense of wonder and adventure, which he tried to create for us. I have a vivid image of one Guy Fawkes night - I must have been four. He was running around the garden setting off fireworks for us: me standing on the path in my wellies, and Rachel in my mother's arms behind the French windows. Decades later, on Guy Fawkes night at Woodway, Rory and Hamish performed an impromptu fire staff display for their aged Grandfather, outside his window, which brought back that memory full circle.
And a memory of the winter of 1962 when we'd just arrived in Princes Risborough, when Dad and I climbed the Whiteleaf Cross in two feet of snow. I've no idea why he led this expedition, apart from the sheer adventure and challenge of it.
And of course, the many, many hours spent together on horseback riding across hill and vale, through woods and field and looking after our horses in all weathers. I recognise now that my Mother and Rachel, being less horse obsessed, sacrificed other things to pay for the horses, and even then I was aware of heated discussions about money.
The other aspect of his life which runs back before my earliest memories, is Dad as an artist. There were always some of his paintings - horses or ships - on the walls of our houses. He painted and sketched all his life, and sculpted models of horses, including commissions. He also built a detailed scale model of HMS Clematis on which he served during the war, and this is now gifted to the Merseyside Maritime Museum. Drawing remained the chief joy in his later years, he always carried a small sketch pad in his pocket. It was a way for him to connect with the world, often spending hours in public places sketching the people he saw. He was never happier than at Sally's art classes at Phoenix Studios in Towersey which he managed to attend up until his stroke last year, which cruelly took away his ability to wield a drawing tool or pen.
He was, as many of you will have experienced, a pessimist, with an apparently Eyeore-like outlook upon the world, but here is another contradiction. He always maintained that he was in a strange way an optimist and adopted pessimism as a strategy to protect himself from disappointment.
My father was a romantic at heart. As a very young man during the war, he fell in love and became engaged. Tragically, his fiancé died and on the rebound from this, closely followed by the death of his mother, he got married at the end of the war to a woman in Hull. This first marriage did not survive his re-invention and move to London.
He was devastated by my mother's death in 1990, but not long afterwards he formed a relationship with Jeanette, in which he found great joy and comfort. Jeanette was an important person in helping him engage with his grandchildren, arranging outings and treats, and even after their romantic relationship had passed into companionship, she remained a close family friend until her death a few years ago.
In 2017 at the age of 93, he was asked to speak The Immortal Words at 11am on Remembrance Sunday in the library, where he spent many hours. I was visiting and helped him put on his medals and walk round the corner. There was a small group of friends there, some librarians and a few members of the public, and he spoke the words with resonance and great depth. 'They Shall not grow old as we who are left grow old' had a special significance to him. So many of his peers and the women he loved were dead, he was finding old age intolerable and knew he was approaching the end his life. I felt very proud of him. It was the last remembrance Sunday he spoke at. By the following year his stroke had taken away his power of speech and we'd lost access to his memories and the connection to the act of remembrance.
He loved all his grandchildren : Rory, Holly, Faye and Hamish, and he loved to hear them play music. On that theme of remembrance, we ask my son, Rory, to play The Last Post for his Grandad.
.
Terry Fendom - 17th May 1941 to 17th October 2011 by Michael G Hardy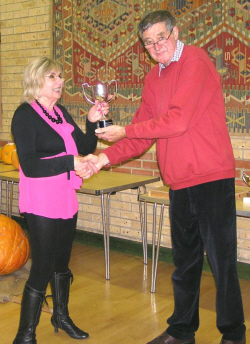 Terence Andrew Henry Fendom was born to Eva and Harry Fendom in 1941, with Terry's sister Janet being born 3 years later. They lived in Plumer Road, High Wycombe, and Terry attended schools at Green Street and Mill End Road, and High Wycombe Technical College. Terry lived the first 30 years of his life in High Wycombe, and he kept very strong ties to his home town for his whole life.
Terry's grandfather seems to have had quite an influence in Terry's early life. He took Terry to matches at Wycombe Wanderers Football Club, a passion that remained with Terry for the rest of his life. His grandfather also introduced Terry to the novels of Cecil Scott Forester, and apparently the books featuring Horatio Hornblower have always remained close companions for Terry.
Terry and Marcia were married at St Lawrence's Church in West Wycombe in September 1967. Around three years later, they started on their journey towards Lacey Green, by moving to Naphill. Their son and daughter, Duncan and Andrea were born in 1969 and 1974. In the late 1970s, Terry's nephew and niece were born, so children were then a strong feature of Terry's life. After 18 years in Naphill, the family moved to Lacey Green in 1987. Terry and Marcia's son and daughter both got married in the early 21st century. By 2009, Terry and Marcia had three grandsons and one granddaughter, which gave Terry much pleasure.
Terry's working life had started in the early 1960s by being articled to the Town Clerk's Department of High Wycombe Borough Council. In 1969 he qualified as a Solicitor, and on 1st July was presented with his Certificate by Lord Denning, Master of the Rolls. Terry soon started up as a sole practitioner in Castle Street, High Wycombe, but after some years went into partnership with Roger Towner, Keith Haines and Jeremy Dawson. Their practice at one time had four offices, and is now known as Fendom, Dawson & Towner. Terry was always a popular solicitor who had a relaxed but professional manner, and he came from a time when solicitors would handle most aspects of the law, rather than the trend in today's complicated world for solicitors to specialise in different fields. Terry was well known for working with his own filing system. I am told it probably started because he originally had a very small office, with no room for filing cabinets, so he kept his case files in stacks on the floor and his desk, and any other available space. This then became a habit for the rest of his career. Terry became popular with High Wycombe's Asian Community, possibly because they found they were able to open negotiations over his fees. In 2002 Terry retired as a Partner, continuing with some consultancy work until 2008, and is missed by many people who came into professional contact with him. The respect for Terry is clear by the fact that the Partnership's offices closed on 27th October 2011 so that all staff could attend Terry's funeral.
Terry has always been keen on charity work and was a highly valued member of the High Wycombe Lions Club for over 35 years. Individual Lions Clubs (such as the 8 clubs in Bucks) are all part of an international network (of 45,000 clubs) dedicated to helping communities and those who need help at all levels. The Club has told me that they were very grateful for Terry's help with the necessary legal advice concerning potential projects. One regular activity of the Wycombe Lions is preparing and distributing Christmas Hampers to the needy, and I know that Terry was able to persuade other local people to assist with that project, and he received justified praise from Wycombe Police Station for his commitment. At different times, Terry headed the 3 main committees in the Wycombe Lions, and has been the only person to serve as the President of the Club on three occasions. The final time was from June 2010 to June 2011. I have seen a remarkable collection of photos of events that Terry attended during that year, all part of gaining support for various local deserving causes. It would make a hectic schedule for anybody, let alone somebody undergoing treatment for cancer at the time. As well as a great camararderie spirit to the work they do, there is a social side to Lions Clubs, and at Terry's funeral service Malcolm Johnson gave an extensive account of some of the more light-hearted experiences of friends who had volunteered and socialised together for many years. One such friend of Terry's was John Crick who had long been Terry's companion as a fellow supporter and season ticket holder for Wycombe Wanderers, but sadly died less than three weeks before Terry.
Holidays were an important part of life for the Fendom family. A holiday each August was usually spent in France, staying under canvas for many years, before deciding to enjoy the luxuries of a caravan. Once their children had moved away, Terry and Marcia started to venture further afield, and have been to many diverse countries, including India, China, Cambodia, Thailand, Peru, New Zealand, Australia, America, Burma, South Africa and Zimbabwe. However they still enjoyed going back to France as well.
Having a long garden, there is really no choice but to get interested in gardening, so with their children growing up, Terry and Marcia must have decided to get more involved with one particular local organisation. The name Fendom first appears in the list of members of the Loosley Row and Lacey Green Horticultural Society in 1992. In March 2003 appeals were made (by Ginnie Brudenell and myself) for new Committee Members, and Terry was one of four who answered the call. Most importantly, the Society had no Chairman, but by October Terry had been appointed as Chairman. As most of us before him, he pleaded that he was no gardening expert, but I was able to assure him that we needed some-one to steer the ship, whilst having a good crew of volunteers doing the work. I was able to tell him that Committee Meetings had always been enjoyable sessions, and I am assured that they continued to be with Terry at the helm, always held in a committee member's house. Terry was keen to re-instate some social events which the society had run particularly well in the 1980s and early 1990s. They once again built a good reputation, thanks to Terry's skill in recruiting new and enthusiastic committee members who were pleased to tackle the challenge. The Annual Show also continued to be successful, again with new organisers being found when required. The Horticultural Society also used to run regular Plant Stalls, particularly at the fondly remembered Village Days. However it was difficult without a regular venue, so Terry suggested that the Plant Stall could be combined with National Mills Day, at the windmill, being at the most suitable time of year in the first half of May. With the necessary permissions, this has now become a regular feature and is of mutual benefit to the Windmill and the Horticultural Society (I can confidently say this as Hon Sec of one, and President of the other). During Terry's seven and a half years as Chairman, Terry and Marcia even hosted one demonstration meeting in their own back garden for the society.
Otherwise, and over many years, many local people in our villages will probably know Terry and Marcia best from seeing them walking their dogs. It was obvious that the dogs got their exercise along Pink Road at least twice every day of the year, whatever the weather would throw at them, and we all know that there cannot be a more extreme place to be out in bad weather than Pink Road. Incidentally, it was usually obvious that one of them found it easier to control their dogs, and it was not Terry.
An interest of Terry's from a young age was Motor Sport. He used to rally a 'frog-eyed' Sprite with Terry at the wheel and his friend Doug Tuckett navigating, until the car was somehow driven into the side of a Welsh mountain. Remarkably, this interest twice re-visited Terry during the last few weeks of his life. Terry and Doug had lost contact, but I was pleased to be able to put them back in touch so they could meet again at the beginning of October 2011. A week before then, Terry had made his last outing, to the Kop Hill Car Climb, where he was able to spend three hours sitting at the top of the hill watching the cars and motorbikes going past.
Terry was diagnosed with cancer in January 2011, but by May he decided to stop his chemotherapy treatment. In the same month Terry celebrated his 70th birthday, and in July he attended the Horticultural Society's 30th Anniversary event. Thanks to Iain Rennie Nurses, and Marcia's care, Terry was able to stay at home for most of the time until he died on 17th October.
Finally I would like to thank many people for their help in enabling me to write this, in particular Duncan Fendom, Keith Haines, Malcolm Johnson, Doug Nower, Roger Springall, and, of course, Marcia.
Terry has justifiably been described as an optimist, and not solely for his years of support for Wycombe Wanderers. I, and everybody I have spoken to over the last year who knew Terry and Marcia, have been been truly amazed at the optimistic approach they both managed throughout Terry's illness.
Marcia, Duncan and Andrea have asked me to thank everyone for their help and support during Terry's illness.
.
John Richard West
1937 - 2010
The early years by David Davies
I am very pleased to have been asked by Joan to say a few words about my friend John, whom I have known for over 50 years.
As a result of his condition in hospital I, like many of you here, missed the chance of visiting him there and probably talking over old times. I will take this chance to tell you some of the things John and I would have spoken about.
We first met in 1954 when we both attended, along with my parents, a dinner at the home of Miss Sampson, who lived in Kiln Lane adjacent to Stocken Farm. Miss Sampson had been a botany lecturer at Aberystwyth University and taught both my parents while there. Somehow she had heard I was to go to Harper Adams College in the next year, as John was, and thought we should meet. John survived the evening with the Davies's. My father, William Davies, enjoyed long debates with young people to test their convictions. John passed the test well.
John and I kept in touch even travelling by train and bus to Harper Adams in 1955 for our 1st term - few students had car in those days. We spent 2 years there among around 200 students in all, making a lot of good friends, many of whom John kept in touch, some of whom are here today. That was one of John's strengths - he enjoyed other peoples' company and made the effort to visit and keep in contact. For example, Ann Walker, a poultry student at Harper whom he met again in the 1990's at an Australian Airport, and later brought her to an Out to Grass dinner in Nottingham in order that I met her also.
Back to our time in Harper. I spent those 2 years sitting next to John cribbing lecture notes from each other, which was difficult in it's self as both of us had terrible hand-writing, but with Rod Jones and David Salmon at our desk we managed to understand and digest what we had written.
The students of our year were probably above average and John excelled by being awarded one of the 2 final year prizes awarded for the best student.
During our summer break in 1956, my Father persuaded John and I to attend a conference in Northern Ireland, with British Society for Animal Production. 4 days in Belfast. There a group of us were invited by a well known Irish agricultural journalist to visit Dublin farms. Catch the 10am train to Dublin was the instruction. 3 or 4 of us did but no journalist to be seen. 24 hours later we caught up with them in a central Dublin Hotel. He had changed the schedule and taken an earlier train with some of the party.
We visited several farms there and that evening at a reception we were invited by a west coast farmer/doctor to visit him. Nothing lost, John and I left for Limerick next morning and knocked on his door to find a very surprised farmer who kindly then organised a day out with an agricultural advisor, who introduced us to 1950's Irish farming. Next day we bussed to Galway and then trained back to Dublin, having seen a lot of very wet Irish farming. Was this an early version of the Grassland Society tours of later years.
After Harper John and I kept in touch through the YFCs. John at Princes Risborough Club and I at Henley on Thames Club, meeting mostly at social occasions such as dances, where we tried to boost the numbers at each others functions.
Our last holiday together was a visit to France in 1959.1 think this was a taster for John's famous holiday cruises and trips abroad. Joan tells me that, soon after they married, John announced he would like to retire at 40 and spend time touring the world. John partly had his wish when he started the trips in his late 40s but he never really retired. I believe the 1959 trip was the start of his craving for travel! We booked a flight from Lydd in Kent to Le Tourquet in northern France. No ordinary air line. We took our car with us on the plane. An ex military plane which carried 4 cars and about a dozen passengers. Our 2 week trip took us to Paris, of course, and down the Loire valley into Brittany, Mont St Michel and back to Le Tourquet. The last night in France we stayed with Professor Andre Voisan at his farm near Dieppe An eminent French scientist and farmer who practised the grassland farming methods that he preached. Ahead of his time, he was a pioneer of modem grassland management, ensuring soil plants and animals were working in harmony.
We were late to bed that night debating his methods and theories but later, as he was writing a French, German and English Agricultural Dictionary he needed help to supply some of the English words. The ones that he did not know were few but we both struggled to help him.
During our trip through rural France, we slept in an American Bivvi tent, usually borrowing sheaves of corn to sleep on and then re-stook them next morning before we were caught trespassing. Breakfast was provided from John's ample supply of bacon and eggs, these supplied from John's new venture - deep litter hens. We took so many that about 2 dozen were left over, which John hard boiled to stop them going off. They apparently accidentally found their way to the Farm shop and were sold by John's grandad Cook as fresh eggs. Did John start the production of ready prepared meals?
John was fortunate in his career that his father allowed him to start his own ventures in the business, egg production for farm sales, the Xmas turkey with their excellent flavour and grinding wheat, for extra income. Did the dusty conditions in the barn contribute to his later having a bad chest?
In March 1960, my family moved to nearby Hatches Farm and so our friendship continued. John and Joan came to my marriage that July to Ann. Our great regret is that, due to John's illness, neither of them were able to join us on the occasion of our Golden Wedding last July.
John was proud of his farm garden and the source of his flowers and vegies. Whereever he went visiting there was often a large bunch of Gladioli for the lady of the house. How John was never thumped by a jealous husband I will never know. In latter years, John took to visiting Tesco's and buying bargains at the end of trading. These again were given away on his house visits. John was a generous person. On visiting his house, the ladies often went away with flowers, even if it was from the vase that long suffering Joan had carefully arranged earlier. John was good, like his father earlier, at handing over the farming to Richard. It was probably made easier in the fact that John and Joan were always away on cruises. He had booked 2 more for this autumn. He was proud at the success Richard, Trisha and Caroline have made of their careers and proud of all his grandchildren.
John was a good listener and inquisitor He knew all about everyone but it was hard to find out his business and thoughts.
John, thank you for our friendship for all those years. I and many others will miss you and will remember you with our own happy memories and affection.
...By Jim Kent
I am delighted and honoured to have been asked by Joan to say a few words about John / the farmer, colleague and friend.
We first met John in 1960 when we arrived as townies to farm in West Wycombe. John and Dick came and leant on the proverbial five bar gate and watched us / advised us, laughed with us at our mistakes and even went off and tried some of our mad ideas (although they would never admit it!). John was fortunate in that he came from an established family farm whereas most of the other new members of the local farming community came from outside of the industry. Nonetheless he embraced these newcomers and their ways enthusiastically, even going as far as to borrow money to install a parlour and expand the business, much to the horror of his father who never borrowed, only spending money he had already earned.
John was a relatively retiring person but he was among the leaders of our generation of farmers who formed the Bucks Farmers Club and the Bucks Grassland Society. Both these organisations provided valuable technical assistance in the drive for production during the later part of the 20th century. The former still survives and, in keeping with the changed times, runs a more socially based series of meetings. Sadly the Grassland Society ran out of support and was wound up. In the early 60s a small group, which inevitably included John, started going round the British Isles, with the odd excursion into Europe, to learn first hand how other farmers were rising to the challenge of increased production. Nearly fifty years later, the nucleus of this group still meet up twice a year, firstly a winter lunch to discuss the possibility of another trip and then, later in the year, to go on a such a trip somewhere in the UK. We now call ourselves the "Out to Grass Society" and we are all so pleased that Joan plans to join us in the North Yorks Moors this autumn.
John was involved from the outset with Chesham Farmers, another organisation which had a profound effect on our lives. I well remember John and David Davies coming to Cookshall Farm to persuade us to join. For the
whole life of CF he was a very active member who gave much to the Group as a Director (who were basically unpaid executives) and supporter of its many initiatives, including the formation of commodity discussion groups. At these
meetings John was relatively quiet, but his brain was always working overtime taking in all the information he could. The only way to gauge what he had taken away from these meetings was to go on a farm walk to Stocken and see
for ourselves.
The Chiltem Hills Agricultural Association and the RABI were two other farming organisations to which John devoted many hours. He and Joan attended the former's ploughing match one year and decided it lacked in social atmosphere and as a result they volunteered to provide a lunch fitting for the occasion, which became a feature of the event for many years. He was a longstanding member of the Chiltern Hills committee, spent many hours ferrying judges round for the numerous competitions but, most importantly in his eyes, entering himself for as many classes as he could. The office at Stocken Farm bears testimony to their successes.
The RABI is the leading Agricultural charity to which John devoted a lot of time and energy. For years he took an active role in the main function run in Bucks - the annual dinner dance in Aylesbury. If John approached you with a ticket you knew you would be attending - Joan described him as the master salesman on these occasions. The barn dances at Stocking in the 70s were always very well supported and raised large sums of money for the RABI and some of the
other numerous Charities to which John and Joan have given so generously over the years.
John was a prominent member of the community in Lacey Green. For years he plied Joan with information for her "Views from the farm" thereby keeping the villagers informed of the activities on the farm. In doing this they have been
industry leaders, as farmers are notorious for their poor communications skills with the consumers. He has also supported many village initiatives and for decades he and Stocken Farm have been at the centre of village life.
To finish I would like to tell of an incident which typified the John we all held in such affection:
One evening, soon after John & Joan moved to Arcadia, we joined them for drinks prior to attending a "murder mystery" at the Lacey Green village hall. Always with a twinkle in his eye and an eye for a bargain, John drew back the curtains and put on the outside light to reveal his latest purchase. He had got a real bargain at Hildreths, a half sized statue of a beautiful proportioned lady in marble. "I have bought her for Joan's birthday" John informed us. At this point Joan came in from the kitchen with some nibbles, grinned broadly and informed us that in her opinion "She" was for Johns' gratification not hers.
As a family, we owe a massive thank you to John for the great kindness he showed towards our mother in her last few years and for the friendship we have enjoyed for fifty years. It goes without saying that we will all miss him.
...By John Leaman
Joan has asked me to restrict my contribution to this memorial slot to the family aspects of Johns life. I first met John at Slacken Farm in about 1952, when I started to work as farm student living in the farm house.
John's mother and father, Dick and Hilda, had started to farm at Lacey Green some years earlier when John's father had left the family farm at West Wycombe to farm on his own at what was a very difficult time financially in agriculture and it was not until John returned from Agricultural College in 1957 that significant changes started to take place, with Dick having the foresight to take John into Partnership and hand over the day to day management of the farming, unlike so many father and son arrangements.
John also broke with tradition by asking for a weekly wage rather than having to ask for some cash before going out and then embarked on his own breeding programme, in which I understand Joan played some significant part.
At this time Dick was enjoying national publicity for one Wessex Saddleback sow, Enstock Alice, who had the habit of producing large litter numbers.
Also living in the farm house was Hilda's father, who enjoyed helping the bookmaking fraternity, and Harry, a bachelor who had lived on his own in the village and some years previously the West's had taken in when he had the 'flu and was still recuperating,
The house appeared to be permanently full, especially at weekends, when relations and friends visited and gratefully accepted Hilda's hospitality. I think that most of those friends who visited will still remember, Iike myself, the large red leather three piece suite in the dining room.
These acts of generosity rubbed off on John and Joan, who in return extended friendship and hospitality to one and all.
Not long after John took over the running the business, his father very generously admitted that since John had returned home he and Hilda for the first time had money to spend on some of the niceties of life rather than the more basic necessities like tractor tyres or a new sieve for the hammer mill.
Johns love for travelling was evident when he left college and he encouraged me to join him on some of those earlier trips, his ability to engage almost anyone in conversation or find some distant friend or relative to visit was uncanny.
Two of those holidays featured Butlins at Brighton and a week in the Channel Isles, where he just happened to know the son of Jersey's Minister of Agriculture.
Two little gems that have not, as far as I know, been broadcast are our visit to a Convent in Aylesbury where he had a contact who entertained us to tea and cakes,
The other more recent incident was when he took two attractive East European young ladies, who had been doing domestic work in Lacey Green, to the station and while chatting to them was over attentive and the train departed with John still onboard in addition to the two young ladies and their suitcases.
Two further minor incidents that come to mind are when John ordered a taxi to take us to the PRYFC Dinner and used his OAP bus tokens to pay the fare.
The second event was not that long ago when we met up in Normandy and picnicked on an almost deserted beach, John, topped by a red baseball cap felt it his duty to improve Anglo-French relations by taking up position on a rock by a lone fisherman digging for lug worm. We just wondered if the fisherman had sought sanctuary away from his family on the deserted beach, only to have his peace invaded by Les Anglais.
In finishing, I must say how proud John was of his family Richard, Patricia and Caroline and their grandchildren and our sincerest and deepest condolences go out to all of the family.
John, you will be greatly missed.
...Appendix To Tributes
Local people may be very interested in the fact that the house in Kiln
Lane David Davies referred to in his 3rd paragraph was Malmsmead.
The "Harry" John Leaman referred to in his 5th paragraph was Harry
Floyd, who was still living and recuperating until the 1970s. He used
OAP taxi tokens - no free bus passes for old people in those days
.
Lady Margaret Bateman 1906 - 2008 by Ted Janes
When I heard of the death of Lady Margaret Bateman, aged 102, I got to thinking of the first time I met her and the years we worked together - a remarkable woman.
In the late 50s my wife and I ran the Village Youth Club and I attended the Village Hall AGM to repudiate criticism that the youth were causing damage to the Hall. I left the meeting having strongly made my point as the elected Chairman, proposed by a Mrs M Bateman (not yet a Lady).
I soon found, in this new position, that the job was not very easy. A quartet of ladies, namely Miss Fagge, Mrs Frederick, Miss Fletcher and Mrs Bateman has set themselves, very commendably, as custodians of the hall. I had to be very firm and made it plain that, if I was to remain Chairman, things would have to be conducted a little more democratically.
Like many organisations even today, the post of secretary fell vacant and no-one could be found until Mrs Bateman volunteered. As Chairman and Secretary, we worked harmoniously and happily for several years. I got to know what a kind, considerate and caring person she was, and of course very generous. The old hall benefited greatly from her generosity, as did the Sports Club, Lacey Green and Speen Schools and many other charities she supported. But it was never Margaret - always Mrs Bateman and never Ted - always Mr Janes.
About this time, I was also Chairman of the Parish Council and several times I pleaded with her to sell or give the field that is now Roundlands and Eastlands estates for a playing field, but to no avail. However, the fact that the estate includes some old people's bungalows was through her initiative and she did give a good strip of ground at the back of the old Hall without which it is doubtful the new Hall could be erected.
She retired with her husband to a village near Petworth in Sussex around 1970. I thought the village had lost a good friend but, almost to the end of her life, she retained an interest in Lacey Green and, I believe, a nostalgic affinity.
...By Robert Bateman (son)
Ted's words catch the essence of both of them. As I recall, their constructive relationship did include a few political debates. I am sure that my mother would have felt honoured that Ted was willing to record his generous thoughts. If the tables had been turned and she had outlived Ted - not very likely given the age difference - he is one of the people for whom she had sufficient regard to consider writing something in memoriam. If she had, she would have shown similar respect and would also have been conscious of the perceived social separation to which Ted alludes. This is now an anachronism and she was never really comfortable with it, as I am sure her remaining friends in Lacey Green realized.
However, she came from a well established Lancastrian family, which had owned and managed a mill in Rochdale since the late 18th century, and certain habits were inbred. Her family were founders of the Rochdale Methodist church and there are records of her great great Grandfather meeting John Wesley around 1800. Her attitude to supporting the community in which she lived also stemmed from this background. Her generation was the first to leave Rochdale, although she married a Rochdale born and bred man - her husband was the son of the family doctor.
When she died she had 15 grandchildren and 21 great grandchildren, living throughout England as well as in Australia and the United States. Two of her grandchildren went to the Lacey Green Village School.
The days of 'Mrs. Bateman and Mr. Janes' do seem a long time ago. She certainly did have a nostalgic affinity for Lacey Green until the day she died. She continued her community involvement in Graffham as the following article records.
...By Paula Burke
I first met Margaret Bateman very soon after I came to Graffham on Easter Sunday in Church, where she was a Church Warden, and I thought then what a welcoming and pleasant person she was, I can?t remember the date but it must have been well prior to 1981 because I have been told by one of her sons that she mentioned in her diary that we were good friends then.
We worked together over the Church Sale, which she used to organise and later I took over from her. She was full of energy and verve, knew everybody and was tactful and well-liked by all. When I was organising the Sale her husband, Sir Geoffrey, was the Treasurer, and we three used to get together in the evening after the Sale (it went on into the day much later then) and the three of us, strengthened by smoked salmon sandwiches (he was a fisherman) sorted out which stalls had made how much (interrupted constantly by anxious stall holders on the telephone wanting to know their totals). When she and I could not entirely agree over the arithmetic of the monies in the bags, Geoffrey put a placatory hand in his pocket.
To the end of her life she was always fun to be with, highly intelligent, and with a sharp but always kindly eye for other people, and a keen awareness of what was going on around her. Her generosity, sense of humour and gratitude for all that was done for her, and her true loving kindness made her greatly beloved.
...Addendum from Geoff Gomme
I believe I can now add a little to the story. I very much doubt if it would have been worth spending all the time and money on the cricket ground and its facilities if Lady Bateman had not purchased it for the village. When I first played there the pavilion was a small wooden hut with hardly room to turn round; the toilet facility was primitive to say the least, and the sheep had grazed the field the day before a match. Now it is a large, airy place with everything needed for players and supporters alike.
Thanks Lady Bateman - and let's not forget Sir Geoffrey, who I'm sure played a big part.
Apart from that, I've learned over the years of many other kindnesses the lady dispensed - not only in Lacey Green but in the surrounding villages as well. I'm not going to name any of them - I couldn't name them all, anyway - and I'm sure she wouldn't want that. She did it because she saw a need. Rest in peace.
.
Sir Geoffrey Bateman FRCS; KB 1906 - 1998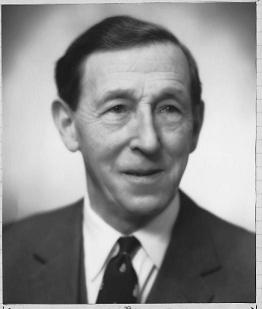 Born in Rochdale he qualified as a Doctor at Oxford Kings University in 1929.
At the start of the war he was consultant ear, nose, and throat surgeon at St Thomas's Hospital (1939-71). He served with the Royal Air Force during the war, reaching the rank of wing commander, before returning to the bomb damaged St Thomas's.
His department developed a popular training programme, which launched the careers of many British and foreign graduates. He was president of the Association of Otolaryngologists in 1970-1 and of the Visiting Association of Throat and Ear Surgeons of Great Britain in 1966. He was consultant surgeon to the army 1966-71 and consultant adviser in otolaryngology to the Department of Health and Social Security 1967-71.
For his contribution to the Nightingale School of Nursing he was one of the first men to be awarded a Nightingale badge. He was chairman of the rebuilding committee, which completed its work when he "topped out" the north wing in 1974.
His interests included tennis, golf, and fishing. He left a wife, daughter and three sons.
.
Madeleine Dorothy Cleaver 1929 - 2009 by sons Roland & Jeffrey
Our mother was born to Edith and Albert Currie on 26th May 1929 in Aston, Birmingham. During the Second World War she was evacuated to Hynham Court, the estate of Sir Hubert Parry - composer of "Jerusalem". Mother went to Rugeley School, but air-raids and doodle-bugs proved preferable to draughty dorms and over-cooked cabbage so she returned to Birmingham. Even so, she left an impression behind her - on a return visit to Hynham Court many years later, an ancient gardener still recognised the by-now grown-up evacuee.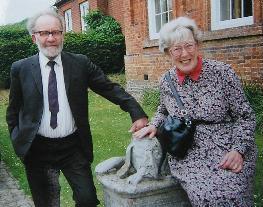 Mother was awarded a scholarship to Aston Commercial School in 1942. Rationing and home-made blazers made little impact on the girls who went fruit-picking for the war effort, sleeping in tents and sharing in-jokes as well as the once-weekly baths.
Rather than heading to one of the London music colleges to further her singing, piano and violin, Mother, now trained as a touch-typist and secretary, joined her sister working at an automotive engineering firm. She became the personal assistant to the eccentric MD, more-or-less running the company as he had a tendency to disappear on "minor" errands only to return having bought a car, piano or house instead.
Despite not going into music professionally, considering the times, she was daring in other directions - rather than holidaying, like their colleagues, in such sedate places as Bournemouth the girls went to rationing-free Ireland, went cycling in Holland and the South of France. Mother also joined the Birmingham Music Society - an amateur operatic society with semi-professional standards - she took a leading role in at least one production.
Through the Birmingham International Youth Hostel Group she met our father, Bill; they married in 1958 just before our father's posting to Cologne. That step led to a major change as life for an RAF officer's wife meant moving around not only this country but also Germany - where the French she learnt at school was often used in tandem with the German she picked up living there. Whilst on that first tour of duty her eldest son, Roland, was born in 1960. Four years later, back in England and stationed in Suffolk, her second son, Jeffrey, was born.
In 1970, our family finally settled in Lacey Green. As Roland started at Wycombe Grammar School and Jeffrey at Lacey Green's primary school, Mother's life revolved around her children and a growing involvement in village life.
Our father was always keener with a hoe and spade than a paint-brush and wall-paper scissors; so while her house remained stubbornly un-decorated, Mother was roped into watering and picking duties. This lead to the frequent challenge of just how to present the inevitable glut of vegetables in ways that might encourage her sons to eat courgettes for the 6th day in a row; the stove groaned regularly with bubbling preserving pans, what didn't end up as jam or juice filled the freezer instead? some is probably still there to this very day.
Having to describe Mother's occupation to someone recently, the term "house-wife" was suggested for her - but dusting, hovering and cooking were not at the core of our Mother's life despite her enthusiastic devotion to brown bread, brown rice and brown pasta. Mother was so much more than that. She helped raised funds for the new Village Hall; for Bucks Assoc for Blind she sorted through piles of jumble, often trawling antiques fairs with items she felt should raise more money; she raised awareness and money for research into the Reynaud's disease which so badly-affected our father; she joined the Women's Institute; helped start, run and sing in St. John's Church Choir; joined the Princes Risborough Music Society, Lacey Green Productions, Lacey Green Singers and, most recently, St. Mary's Singers. She found time to succeed in nominating her good friend Madeline Forrester for the MBE in recognition of her work with the blind; she encouraged and taught people to sing whilst also keeping up a voluminous correspondence with friends and family across the country and all around the world. She embraced modern technology and became an enthusiastic e-mailer as her disabilities increasingly confined her to her home.
When her life became a more constant struggle, she appreciated the invaluable help of many of her neighbours such as Freda Dormer, Mary Lawrence and Helen Titchen. She refused to move to a retirement flat and leave the house, the village and the community of friends she had known for so many years. She preferred to stay where she was and keep her spirits buoyant and her wit sharp and manage as best she could with her two sticks and a lot of dogged determination.
We will remember her as the mother who loved music and was always singing, who quietly made sacrifices to help us through college and life and who made us into the people we are today.
...By Rosemary Mortham
Madeline and I first met about 35 years ago. She and Julia Beaumont had decided to re-found the St. John's Church Choir, and I was asked to join them. Madeline already knew that I enjoyed singing, as I belonged to the Princes Risborough Music Society, of which she was already a member.
What neither Julia nor she realised was that I was completely ignorant about music. When it came to singing anthems, I was totally lost. Madeline had to give up a lot of her time to teach me. Her help was also essential to Julia, who was full of ideas, but lacked much background knowledge.
The church choir flourished and a number of young people joined, including Madeline's son Jeffrey. It was not long before Julia decided to branch out into musicals. The first was Jerusalem Joy, a cantata for Easter. In spite of the comparative inexperience of the choir, she arranged for us to visit our French twinned village of Hambye, to give a performance there.
It was a visit fraught with problems. Most of us spoke little French, and our hosts spoke no English. Madeline and Bill were able to help, as it turned out that Hambye had been occupied by the Germans during the war, and they could converse fluently in German, having lived and worked there for some time. On the way home, the coach broke down, and we spent the night parked on the edge of the road. Uncomfortable as this was, it proved to be a great bonding experience for the choir.
On our return, Julia and Madeline were encouraged to teach us another musical Joseph and the Amazing Technicolor Dreamcoat. This required a larger cast than the church choir could provide, so extra people were recruited locally. From this group was to develop both Lacey Green Productions and Lacey Green Singers, part of Madeline's legacy to our village. Madeline became a founder member of Lacey Green Singers and remained a member for most of our 26 years. It is nice to think that she was able to sing with us until the end, even though she was no longer able to stand.
I was one of the many people that she encouraged and coached. Although she was a very professional soloist herself, she was always generous in helping others to improve their singing, and attempt to sing solos themselves. Possibly one of her greatest successes was in teaching her husband Bill to sing bass. For many years they sang together to entertain groups, especially the local blind club, which was organised by her great friend Madeleine Forrester.
Bill had retired early, and for a long time he and Madeline became very active members of the community, participating in most village activities, and being founder members of the Horticultural Society. We often wondered if Bill had a premonition of the Raynaud's and Sjorgrens Syndromes which were to blight the end of his life. It was a bitter blow, but even so, they both faced this with a very positive attitude, throwing themselves into finding out as much as they could about the disease, and supporting fund raising into research into its causes and management.
My family was lucky to become friends of Bill and Madeline, and enjoyed many meals at their home. Madeline was a good cook, using the fresh produce from Bill's allotment. They were an intelligent couple, and one of them always won the quiz which we used to have after our New Year's Eve Party.
I was most grateful to Madeline when the time came for me to start singing alto. She seemed to sing this with ease, but I found it nearly impossible. She would sit beside me and sing the notes into my ear until I learned them. If I went wrong, she would give me a look which I will never forget! She was always patient and generous with her time and help, not only to me, but to many others. This is the thing that those of us who love to sing will remember about her. She knew what a joy it was to make music, and it easy to understand her request that Thank You for the Music should be sung at the service.
...By Jean Gabbitas
Newcomers to Lacey Green, seeing Madeline as she had become, would have been surprised to learn that this was the same lady, who most afternoons could be seen striding out on her constitutional along Main Road and Pink Road; and seeing her painfully crooked arthritic hands, would not have known that these same hands had for so many years played the piano to accompany the many friends to whom she gave singing lessons.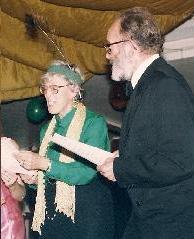 I myself benefited in this way; for, in the very civilised gap between sending my first three children off to school and being blessed with the fourth, I would go each Tuesday morning to Madeline's, and she would patiently rehearse me through the choral work Mozart's Requiem in preparation for the evening session with Princes Risborough Music Society.
I have been asked this afternoon to speak on behalf of the Women's Institute, and our appreciation of her as a lifelong member. Like myself, she joined as a young housewife with her two sons in attendance at the village school. She entered into all the usual activities, like baking scones and tea loaves when it came to her turn to prepare the refreshments.
She also enjoyed the intellectual pursuits, some of which remain on record. Her research into village history by interviewing elderly residents of Loosley Row and Lacey Green is recorded in the WI publication "The Chiltern Hundreds". She would speak to me about this with much glee, and seemed to me at that time an expert in the family trees and marital connections of the original village families.
Furthermore, together with Kathleen Turner, she volunteered to carry out a detailed survey of Lacey Green and Loosley Row, as far as Bradenham turn, as part of the "New Doomsday". Together, they explored, interviewed and recorded industrial and social activities. This nationwide survey was collected and recorded, and we have some of their findings in our WI photograph album.
Madeline would turn her hand to poetry, and write in support of the many campaigns carried out by the WI, for, as you all know, Madeline took a keen interest in current affairs, and held strong opinions.
Finally, two specially memorable contributions must be mentioned. A few years ago, while still in good voice, she entertained us at our Christmas lunch with Songs from the Shows, which she sang beautifully and with great expression.
And last, but not least, I must tell you that the WI will never be quite the same. For, once the Village Hall piano was abandoned, we had to sing unaccompanied and Madeline always gave us "the nte" for Jerusalem, which we all sang in memory of her at the service.
.
Elsie Chilton 1907 - 1993 by Joan West
Postwoman for 27 years.
with contributions from from Mary Lawrence, postmistress and Ian Kelloway, grandson.
Elsie was born at Redland End, the daughter of Rupert and Beatrice May Rixon, nee Charge. Rupert was a wood turner. In 1919 he was appointed head woodsman of the Hampden Estate. In 1917 he had taken the tenancy of Green Hailey Farm at the top of Kop Hill.
In 1925, 18 year old Elsie was a Red Cross first aider and attended the accident at The Kop Hill Climb, a competitive road race. From then on a ban on road racing was to lead to the formation of the Grand Prix. The climb was revived in 1999 but it is now run as a charitable non-competitive event.
Also in 1925 Elsie Rixon married Frank Chilton They moved into No 2 Belle Vue, Lacey Green in 1926 living there for the rest of their lives.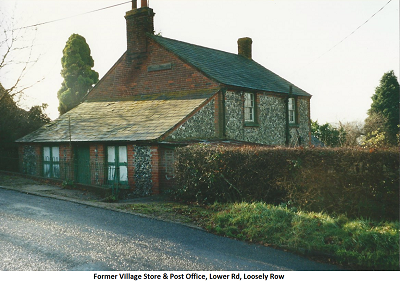 As a child she had attended Lacey Green School. It was a long walk especially when the family moved to Green Hailey and in order for her to walk with her one year younger sister was permitted to start and leave school one year later than was usual.
About 1950 she started work delivering the post for Mr Harvey of Harvey's Stores and P.O. Loosley Row, together with Mrs Dormer. Their rounds at that time are still to be researched.
The Post Office moved to the top of Loosley Hill in 1952 and Mr. Lawrence. The General Post Office (G.P.O.) issued a uniform, including shoes, expecting her to walk her round, but she used her own bicycle. It was many years later that the G.P.O. provided carriers on the front and back. She started at 7.30am at the P.O. with sorting the letters and then wearing a delivery bag across her shoulders laden with letters and parcels she often had to return to the post office to collect the remainder in order to finish her round.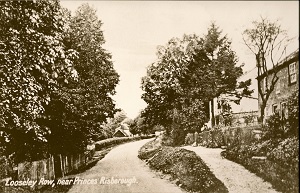 She was expected to finish at 10.45am after delivering down the south side of the Main Road, including the side roads as they were built, which added considerably to her round.
After the Black Horse she turned into Church Lane, back onto the Main Road to the 'old' vicarage, now Lacey House, and Grymsdyke. Then off to Smalldean Farm (a steep hill on that stretch) Holly Bush Farm, since demolished for the Air Force and a final call over at Speen Farm. She also collected the post.
She had two weeks holiday a year and a day off on the Queen's birthday, but from the 18th December to Christmas did two delivery rounds a day which meant the afternoon round was finished by torchlight.
This dedicated woman always delivered the post without fail even when there was very deep snow on the ground. There was a postal delivery on Christmas Day morning.
In addition to her postal duties was the cleaning of the telephone box at the top of Westlands Road. Every Friday armed with her broom, bucket and window leather she would sweep out the box, clean the windows and disinfect the telephone.
Ian Kelloway, a grandson, tells how his 'Nan' was an excellent source of stamps for his collection. She would ask customers who received letters from abroad to save the stamps for him. He quite often met her on his bike to deliver to the last three farms, remarking how getting back up Smalldean Lane was quite an effort.
He tells of her cooking for 'Bomber' Harris and how he complimented her on her pancakes. Also how much she loved the outdoors and wildlife and how every day would stop at the cattle grid at Grymsdyke to check if any hedghogs had fallen in overnight. If so she would get down on her hands and knees to scoop them out. Equally she had no problem with dispensing rabbits with myxomatosis, a horrible disease prevalent at the time. Others have said that at times she would carry water for the wild birds.
She retired 1n 1977 when the GPO vans took over.
Her husband Frank died in 1962. They had one daughter Joan born 1926.
17.11.16

Social Snapshots
.
The Medicine Run by Gordon May
Some Early Memories
From the age of twelve until I left school, one of my jobs was known as the "Medicine Run". I had to miss a bit of school to carry out this job.
Every Thursday evening, after school, I would travel to some of the outlying districts of the village to collect empty medicine bottles. Some of the homes I visited were the Hickman family at Turnip End, Mr Redrup, a cripple, living at the bottom of Lacey Green, and two families in Portobello Row.
I had permission from the school to take time off on Friday mornings to catch the "Farmer's " bus, which ran from the Church end of Lacey Green to Princes Risborough, where I went to Dr Edward's surgery (Old Cross Keys). He always looked out for me, and took me straight in to fill the medicine bottles, as he knew I had to get the return bus back to school. Then on Friday evenings or Saturday mornings, I would have to go round to deliver the medicines to all the families concerned.
One day at the doctors, when I was collecting the medicine, I peeped through the curtains. It appeared to me that he took some grey powder, mixed it up with some water, and poured it into all the bottles. I thought it odd at the time, that they all had the same medicine!
I did this job until I left school. On the last morning, I said to the doctor, " This is my last run, as I am leaving school". He gave me half a crown ( now equal to twelve and a half pence). A few years later, when I was taking a group of children to Sunday School, he came by in his car. He got out, wanted to know how I was, shook my hand and wished me well.
The Hickman family from Turnip End lived about 500 yards down a woody stony lane. The house had no electricity or gas. In the winter of 1947 I was detailed to go and sleep there. It was so cold that it froze the hot water bottle. I always had to get up very early to break the ice and feed the chickens and rabbits, before running home for breakfast and then on to school.
Mr Redrup, who lived at the bottom of the village was to me a little old man, bent double, who used two walking sticks. He used to tell me stories of the First World War, when he was detailed to go and find German snipers. He said how difficult it was to hit a man a mile away. I found him very interesting, as he had a number 3 garden gun, which he let me use to take pot shots. He also had a lovely apple tree in the corner of his garden, where the school is now. A lot of boys went scrumping there.
My grandparents lived in Portobello Row, near cottage number 4 , where I used to deliver medicine. A few years later, when I was 20, I was also sent there to sleep. My grandmother was very ill, and if needed, I could run to the public telephone. The back room of that cottage was another place where my hot water bottle froze.
I enjoyed my schooldays during the war. Another job which some of us boys had was to go potato picking for any farmer who wanted us. We had a permit from the school for this. We were allowed 20 half days per year off. The only farmer brave enough to employ us was Mr Reg Tilbury, who lived at Parslows Hillock (down the lane from the Pink and Lily) We boys would cycle from Lacey Green to the farm, and had a very enjoyable afternoon away from school.
Another job, which I was landed with during school holidays in wartime, was to cycle to Hampden Woods, where the chair bodgers had turned thousands of chair legs over the years. My oldest brother and I would have to work one end of a cross cut saw, while a man was at the other end. This was hard work, which I did not enjoy very much. My brother, being older and stronger than me, was allowed to hold the handle of the saw, while I was a yard away, pulling on the end of a rope. 02.03.10
.
Parish Poors by Douglas Tilbury
My father, Reg Tilbury, was born in 1898, and lived down Lily Bottom Lane on the right. The land here is owned by the Princes Risborough Charities, and is known as Parish Poor's Land. It was given to the parish by the Marquis of Ely to allow people in Lacey Green to rent a one acre strip or plot on which to grow food for themselves, or cereals to feed to pigs or chickens.
The rents were collected at Michaelmas, and distributed to the poor of the parish who had children, especially widows with children. Each home would be given one cwt. (hundredweight) of coal to keep them warm over Christmas.
As a boy, Reg spent most of his summer holidays stone picking on that land. He was paid one pence per basket. The stones were emptied at the end of the field, and later loaded onto a horse and cart and taken to Cuddington for road building.
The money he earned was just enough to pay for a pair of new boots, which would have to last him a whole year, until the next summer. His father would walk him to a cobbler, who lived at Spring Coppice Lane in Speen on a Saturday night. To obtain the correct fit, he would stand on a piece of leather, and the cobbler would draw around his foot with a pencil, making an allowance for growth. They would return the next Saturday night to collect the new boots. 02.03.10
.
Social Snapshot 1887-1987
By Joan West in conversation with Mabel Janes
Mabel Janes lived at Sunnybank, later to be called White House Farm in Highwood Bottom. Her parents were Boas and Caroline Janes. Boas was recorded as a poultry farmer.
Bounded to the north-east by a private bridleway and Grimsditch, to the south by Highwood Bottom - the old road from Speen to Loosley Row by-passing Lacey Green - and to the North and East by what had been Kings Wood, which was common woodland where people would go to pick up wood after high winds. Recently felled, she remembered people still going there to dig up the chucks (roots) for firewood.
Across the valley at the top of the opposite side was a footpath which ran from Speen to Loosley Row. People walked this path to collect the 'poor money' which was paid out at Loosley Row - 2/6d (12.5p) per week.
Mabel knew Emily Ginger who lived with her sister Ann who kept the Black Horse. Emily was a simple soul. She always curtsied to the big crab apple tree in the back meadow of Stocken Farm because it reminded her of Mr.Brown who had farmed there until 1885.
When William Saunders was farming at Stocken farm Mabel could sometimes hear shouting from Sunnybank, for he had a very loud voice. Life was hard, when asked "What did you're parents do if they had the toothache?" she answered "They just had to lump it."
Extra money was hard to come by. Stone picking in the fields was always welcome for some pin money for the women.
Mabel started school at Loosley Row where the 3 to 7 year olds went. Quite a walk for a three year old from Highwood Bottom. At 7 they moved up to Lacey Green. Minnie Brown, just one year younger was her friend throughout their long lives (See Minnie Brown). By 1904 all ages 3 to 13 were taken at both schools.
It was in 1904 that Mabel became a teacher at Lacey Green, where she was a schoolmistress for 45 years. The school then consisted of two rooms, a small one for the infants and a bigger one for the other grades. She thought there were between 70 - 100 pupils and at times three teachers and a headmaster.
The boys could take the labour exam at 11 years and then take a job, perhaps say, holding the head of a plough horse or such.
Edith Crook, who walked with a stick, (the daughter of John Crook, a superior type who was farm bailiff at Stocken Farm for Mr.Forrest) was a suplimentary teacher.
Connie Redding, daughter of another bailiff impaled her leg on the iron railings at the school.
She remembered Mr.Forrest having a pipeline laid from Stocken Farm down to Grymsdyke to take any overflow from the water tanks at Stocken. He then had a well dug a Grymsdyke. Mabel was told it was 303 feet deep, but when there was a drought, possibly 1893, it was taken down another 48 feet.
During the First world War the Royal Engineers were billeted in the village. They took the small schoolroom and the Home Meadow at Stocken Farm next to the school. The horses were stabled at the farm and exersizes were done in the field. The farm dining room was made into an army hospital and the grain store into their blacksmith`s workshop. Mabel recalled parties at Stocken Farm where I imagine they played cards.
In her old age Mabel lodged in the village and most days, sometimes twice a day, could be seen catching the bus to Risborough or Wycombe to do errands for anyone she was able to. She died just a few days off her 100th birthday.
.
Social Snapshot 1915ish
More Reminiscences of My Girlhood
By Con Baker - the oldest person in our village. Recorded in 2000, when Con was 91, for Dennis Claydon, our local historian and Parish Councillor.
When I was born in the cottage at Loosley House, my father was the chauffeur there and my mother a nurse maid. I had a very happy childhood there. Dad was driving the only car in the village at the time and I used to run up the back way to the front door. It was really great fun living there, when we used to care-take there. We used to go down this grassy bank on a tin tray down as far as to the tennis court at the bottom of the bank - great fun. There was a plantation we called the Wilderness, and there used to be grapes in the green house which I was never allowed to touch of course.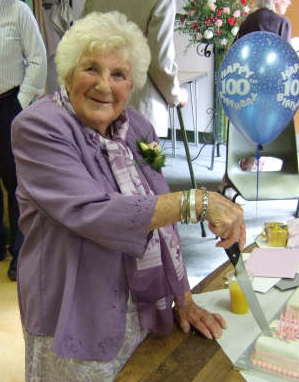 I am going to tell you about the Loosley Row Baptists Sunday School which was very enjoyable. At half past ten we had to be at our class dressed up in our best, after on a Saturday just wearing any old rubbish, so Sunday was the day for dressing up. Off we went to Sunday school and had our names called and put down in the register. You were given a little ticket with a text on it; you collected all these tickets and when you had so many you had a morning hymn book. Then we had a prayer and a hymn, which was nearly always "God sees the little sparrow fall, it meets his tender view". We had that with Mr Lacey playing the violin and another gentleman on the organ. Mr Albert Rixon would take the class of girls and have a reading from the bible and perhaps another prayer. By that time it got round to 12 o'clock, so off we went back home again.
We went home for Sunday dinner, which was quite an event: Roast beef and Yorkshire pudding with horseradish sauce, which my dad always made. It was so hot it made tears come in my eye - after that, apple pie. Then back to Sunday school for quarter to two. Name-call again, then a prayer or hymn. Then the congregation started coming in and we had to sit on the platform and the parson would come. My goodness the sermon went on for hours and hours. But it was only half past three and as a special treat we were allowed out before the parson. Then home for tea and then a walk with my Mum and Dad, sometimes to Speen Farm where my aunt lived and sometimes to Downley Common, where another aunt lived - which was quite a walk.
At school we had the scripture exam. That was always in November, freezing cold, and we used to go in the mornings. The minister used to come from Hamden, I don't know whether on a bicycle or not, but it was always freezing cold and he always had a dewdrop dripping from his nose, which made the children laugh, although we didn't dare let him see us. But woe betide, you didn't stand much chance of getting the Bishop's prize if you went to the Methodists' Sunday School or the Baptists Sunday School, which I went to. It was nearly always the Church children who would win the prize, but I don't know, perhaps some of the other children did win. After the scripture exam, those of us who had bicycles went to Hamden Glade to get chestnuts. The eating ones, which was quite a lot in those days, which was quite fun, but what I remember mostly is the freezing cold - in November!
We got this concert up in the Village Hall. There were a whole lot of us, and the men borrowed the top hats from Mr John Saunders who used them for funerals: we girls wore blue dresses, very very fashionable. Harry Church did the lighting and Cath played the piano. We used to have the rehearsal on Good Friday. Good Friday was a nice day, we used to take a picnic and have real good fun. Easter Monday was the big day, we were all so excited, the village hall was nearly full and we really enjoyed ourselves dressing up and singing. We had a jolly Easter Monday entertaining the people of the village
Just a few words about the foundry at Loosley Row, which has been going for 200 years. My great-great-grandfather started the business and my family has carried on ever since, with my father who ran it for some years and my husband the late Fred Baker. Now we are very lucky and have got Graham and Geoffrey Baker who run the foundry, my daughter Jennifer who runs the office and my grandson Jeremy who is the wrought iron man - what he can't do with a piece of iron nobody can. They still make the most beautiful things. They have just done a piece of commemorative wrought iron work for West Wycombe church on the hill which takes 30 candles. Graham has done some wonderful chandeliers, very large ones really. During the war I used to have to help in the foundry blowing the bellows, melting brass, and I had to help carry the crucibles after casting with the iron. Now it's aluminium casting because they stopped us making iron. After all those years the government or overseas trade stopped us doing iron which was our living but we couldn't afford to have the furnace done so away went our trade. But we're still busy most of the time making things that people want, like weather vanes with owls, ploughs, dogs and horses. At the moment Graham is making a racing car - so we continue. May God bless us and keep us going.
.
Lacey Green In The 1920's And The Years Beyond,
An "Old Boy" Remembers School Years At St John's School
My Name: Douglas Brett Born: 16 December 1917 Left School: 1931 Aged 14
I was born in Chiswick, London at the end of World War 1. The Zeppelin raids were causing chaos and my mother cared single handedly for my brother Stanley (2 years older than me) myself and my Grandmother who was totally blind and dying of cancer. We moved from London to Naphill when I was a baby largely to escape the air raids. My father had abandoned us, paid no maintenance and severed all contact. I saw him once when I was about 8 years old for a few minutes only. Life was hard and it was 12 years before Mother got a divorce.
I started school at Naphill at the age of 4 for 2or 3 years until we moved to Lacey Green. We lived in a thatched cottage opposite the famous Tennis Courts (now demolished) in Church Lane. Our house had been condemned but the law was not enforced. It was rented from Fred Floyd local farmer. It was very basic. One bedroom, living room and tiny kitchen. There was a public footpath right through our garden and a pond 100 yards away. Because of close proximity to a small farm we were often overrun with rats which ran riot under the thatch and floor boards and there were masses of cockroaches.
Mother obtained the job of Gardener at the Vicarage, a hard and poorly paid job for a woman and my brother Stanley and I started school at St Johns about 1923/4. I must have been 6 or 7 years old. There were only 3 classrooms and 3 teachers, each taking more than one class. Some, I believe had had little formal training. In the Infants class I had my first punishment metered out - I had to stay behind after school finished and write out 50 or 100 lines "I must not talk". After completion teacher asked if I would now tell her what I was talking about. Reluctantly I said "I was asking Miss if you were married". She smiled and sent me home. I was unaware at that early age that the title "Miss" signified an unmarried state.
In many ways life was simpler then. No mains water and electricity, no radio or television, no media hype brain-washing children to demand designer clothes, trainers, etc. and the computer hadn't been invented. In many ways though I think we were more contented with the simple things of life. In the early 20's there were no buses and only 3 or 4 cars in the whole village and many children walked long distances to school. Pocket money was unknown.
Harvest time was a source of great excitement for the boys when the corn was cut and brought to the farm for thrashing. The farm above the school was a favourite haunt and we would stand round in a circle with sticks, and as the sheaths of corn were pitch forked on to the thrashing machine out would tumble numerous rats and mice. These we attacked with great gusto. Sometimes we went in the dinner hour and put a few live mice in our pockets - these we took back to school to release in the classroom in mid-afternoon to the consternation of teacher and the girls who stood squealing on their seats.
Money was short. The recent World War I had left economic depression and the weekly wage was little more that £2. There were only 2 village shops and for clothing, shoes, etc., we walked to Princes Risborough.
Baker's Round - A Baker from Risborough used to deliver bread round the village by pony and trap. He would wait outside when school finished and together we would go round the surrounding villages - Speen Highwood Bottom, Flowers Bottom etc., delivering bread in a big wicker basket. At other time I went to Fred Floyd's Farm Dairy. A large wooden churn was filled with cream which I would turn until converted into butter. Sometimes I delivered milk. We were not so mercenary as today's children and either performed tasks freely or for a few coppers.
The absence of cars meant that the main traffic was from horses and carts. I remember when someone was very ill near the school, straw was spread across the road to muffle the sound of cart wheels. Although no one had private telephones news spread quickly when someone died. The Church was notified and the bell tolled slowly once for each year of the dead person's life.
My mother later became Cook Housekeeper to the Vicar (Rev. Richard Gee) and his wife. They had been Missionaries in India before coming to Lacey Green. It meant early rising especially in winter when it would be quite dark on leaving home. We would stumble round Church Lane, through a small spinney into the Vicarage grounds, our way lit by a candle in a lantern.
On arrival to the Vicarage my first job was to pump water from the well to fill the tank. The range would be lit and when hot enough I would take a long fork and make the toast for the Vicar's breakfast. Mother and I would then go to the dining room, kneel down and join the Vicar for prayers after which I had my own breakfast and then school. We didn't leave the Vicarage until after the evening meal.
Mother's health was not very good and Mrs Gee I believe was largely responsible for persuading her to allow my brother Stanley to go to Dr. Barnardo's Home which caused us considerable anguish. When he was 12 or 13 he came home for 2 or 3 weeks summer holiday and Barnardo's made the shock announcement that on his return to London they would be sending him to Australia. Mother refused to send him back in spite of threats of legal action. Stanley returned briefly to St John's School,
I believe. It is difficult to remember exact dates of 70 odd years ago.
Highlights and Dramas:
Society Wedding - A member of the Carter family from Grimsdyke House was married at St John's Church. The whole village was 'En Fete' and the school closed for the day. Many of the young girls formed a guard of honour as the bridal couple left the church. Each girl had a light dress and carried a basket of rose petals with which to shower the bride and groom. Marquees were set up in the field below Grimsdyke, the band played and refreshments and entertainment provided for the whole village. The revelry continued until the evening.
Severe winter - One winter the snow fall was so great that it filled the roads to the top of the hedgerows and the village was cut off for a week or so before the roads became passable again. We children had great fun walking on top of the hedges.
Firework damage - One Guy Fawkes Night a great friend of mine, Charlie Claydon, was foolishly holding a lighted Thunder Flash in his hand. The explosion damaged his hand and blinded one eye.
Boy's lower leg amputated - Henry Arthur son of Carter's groom, got too close to a farm machine cutting hay. The long blade severed his leg below the knee. He was later fitted with a wooden stump which seemed to do little to impede his mobility.
Epidemics - Seasonal outbreaks of measles, whooping cough, chicken pox, etc were common. Medication was limited and antibiotics hadn't been invented.
Departure - When the Reverend Gee left Lacey Green my family moved with him to Olney, North Bucks for 2 years or so. We then returned to our cottage in Church Lane. By this time Head mistress Grey had retired and succeeded by Mr Aldridge.
At the age of 12 my mother remarried and we left Lacey Green for Naphill. As I only had a further 18 months to go before leaving school I obtained permission to continue at St John's School and I cycled to and from Naphill every day until I left at the age of 14 years.
On leaving school, practically the only employment other than agricultural was in the furniture factories at High Wycombe. I started at Ellis's to learn French Polishing. Work 7.30am- 4.30pm every day. Wage 10 shillings (50p) per week.
I was made redundant at the age of 16 so I left home and moved to London. Most wealthy people had many servants particularly in Mayfair and Belgravia. The large houses often employed 20-30 staff. The hours were long and the pay poor, but board and lodging, laundry and uniform were provided and one could live well. In addition to this my salary was £28 per year. About 1935 I joined the household of Sir Arthur Penn a descendant of William Penn (who colonised Pennsylvania USA) as footman and valet.
Sir Arthur Penn was a great friend of the Duke and Duchess of York (later to become King George VI and Queen Elizabeth (after the abdication of Edward VIII). After their Coronation, Sir Arthur became Equerry to the King and throughout the War years Private Secretary to the Queen (the late Queen Mother). He was also Adjutant to the Grenadier Guards. He had been much decorated in the First World War.
Many of the leading politicians of the day and the inner circle of Palace Courtiers were frequent visitors to the house near Belgrave Square. Before a Palace function some of the guests would come to dinner in their designer long gowns, diamond tiaras and with white ostrich plumes in their hair. The men would be resplendent in their uniforms with medals and Orders and ceremonial swords. The Palace would sometimes send carriages to the house complete with postilion riders behind, to collect the guests and take them on to the Palace. Among the most frequent guests were the Ladies in Waiting, the Duchess of Devonshire (Mistress of the Queen's Robes) Harold Macmillan and his wife, Lady Dorothy, The Duke and Duchess of Buccleuch, Lady Astor, Lord Halifax (Foreign Secretary and former Ambassador to Russia), Lord and Lady Hamilton, etc. On the 80th birthday of Sir Arthur, the Queen came to tea, plus 200 guests throughout the afternoon.
On another occasion during the summer of 1938, the Hertfordshire residence of the Countess of Strathmore (Mother of the Queen Mother), had been leased to Sir Arthur for the summer. The London house was closed and the entire family and staff moved to the country - a welcome break from the London season.
On return to London, before we had unpacked the silver etc during the late afternoon, the telephone rang. I answered it and a voice said 'This is Buckingham Palace, the King will be coming to tea accompanied by 8 gentlemen friends'. Tea was a frantic scramble but somehow accomplished smoothly.
1939 Outbreak of World War II
In January 1940 I joined the Army (RAMC) and was posted to Guildford to an evacuated private boys' school. Facilities were abysmal. A sack of straw on the floor for a bed, no seats or tables so meals were taken standing up. It was a severe winter and we had to break the ice to wash and shave. Dunkirk was in progress and we were drafted to St Luke's Hospital. Train loads of casualties were carried by stretchers to the hospital. Many were terribly burnt and covered in oil after long exposure on the beaches and were wrapped in brown paper sheets. The operating theatre worked round the clock for days. As well as our own troops many of the casualties were Indian, French and Polish.
I was frequently posted to other Units one of which was to the Plastic Surgery Unit at East Grinstead. Many of our Fighter Pilots who had been shot down in flames were patients with horrific burns. Ears and eye lids destroyed which would require years of plastic surgery operations. It was noted that burns victims shot down in the sea for long periods healed better with less skin construction. This lead to the inception of the 'Continuous Saline Bath' treatment. The patients, mostly RAF were immersed in a warm bath of normal saline, temperature thermostatically controlled for periods of up to 24 hours. Mr McIndoe was the eminent Plastic Surgeon whose pioneering work transformed the lives of many casualties and continued long after the war.
1943 - I injured my left knee during training requiring surgery and removal of my knee cap. This resulted in 12 months in hospital and convalescent homes. At the end of this I was posted to No 10 Hospital, Gibraltar via 3 weeks in a troop ship. After 2 or 3 weeks deep inside the Rock I and 40 others were seconded to the Colonial Hospital, a civilian establishment. All women and children had been evacuated to England and elsewhere. The Spanish Civil War had just ended and 20,000 Spaniards streamed across the frontier every day to work in the dock yards, garrison messes, hospitals, etc. They all had to be back in Spain by dusk.
I worked in Theatre and Outpatients, did all the sterilising and autoclaving, assisted at operations and helped with the various clinics. Out patients were Gibraltar Police Force, Merchant sailors and many Spaniards.
After two and a half years' there the war ended. I was demobbed and returned to England after 3 weeks on a Troop ship. I was summoned to Buckingham Palace to discuss my future by Sir Arthur Penn who offered me a post in his establishment. I realised that the war had destroyed the old social order so I declined. I wanted to make nursing my career.
1946 - Did my General Training at Lewisham Hospital London, obtaining my SRN after 3 years, then did 1 year as Staff Nurse.
1949 - Decided to train for my Psychiatric Certificate and trained at Maudsley and Royal Bethlem hospitals for a further 2 years. The Maudsley was the foremost teaching hospital in the country, high powered and teaching in all departments. With only about 250 patients there were over 200 Doctors, all qualified in General Medicine and studying for the Diploma in Psychiatric Medicine (DPM). The Royal Bethlem's history goes back almost 700 years to the times of the Crusaders and before Nationalisation owned vast tracts of land in Central London including Trafalgar Square and the Kent Coalfield.
1952 - Obtained my RMN and 3 or 4 months later, successfully applied for the post of Charge Nurse. This I held for about 3 years.
1955 - Coerced by Dame Katherine Watt to go to a Mission Hospital in the Lebanon situated on the Damascus Road on a plateau above the capital Beirut, as a Charge Nurse. The Mission Hospital was founded early in the century by a Swiss Quaker and funded by International charities. The grounds were extensive with spectacular views. Our 600 patients were drawn from the whole of the Middle East, Lebanon, Syria, Jordan, Kuwait, Saudi Arabia and the odd European. Our student nurses were recruited from the Lebanon plus a large number of Palestinians from the refugee camps of which there were several. Their training was modelled on the English General Nursing Council's syllabus and on completion many of the nurses found lucrative posts in the hospitals of the Gulf States, Kuwait and Saudi Arabia. I was later promoted to Assistant Matron.
The Civil War of the late 1950's made life very difficult, with almost daily curfew, vehicles set on fire, bombs going off and our water and electricity cut off. Looking after 800 or so people presented many major problems. We expatriate staff were told a British War ship was standing by to evacuate us if conditions worsened. We were told' No heroics and take only personal papers'.
After 7 years I finished my third contract and returned to England in January 1962. I was appointed Assistant Matron (later named Nursing Officer) to a London Hospital in East Dulwich, part of the Kings College Hospital Group and stayed there for 19 years until my retirement at the end of 1981 aged 64.
3 years ago I moved from London to the Aylesbury area where I now live. I had had no contact with Lacey Green since about 1933 and heard of your Millennium Reunion from my sister-in-law who lives in Risborough.
My nephew brought me to the school on the Friday evening. I was surprised to see the extensive light and airy class rooms behind the old school which looked progressive and modern. I was particularly interested in the old photographs especially the group photos but have no recollection of them being taken. Unfortunately many of them were placed too low on the display boards to be seen (unable to bend down). However I have ordered copies of 2 which will represent the only photograph of my childhood.
It was striking to compare the dress and appearance of the present children with those of the 20's and 30's. I wonder if they realise how fortunate they are. Their futures will be shaped very differently to ours, with the explosion of new information technology, the Internet, mobile phones and personal computers, the unravelling of DNA and exploration of space, they will have career opportunities undreamt of by my generation.
In conclusion at 82 years and 7 months I have rambled on wondering if this little effort will be of any interest. I hope the pupils of St John's School make full use of their educational facilities to equip themselves for the competitive work place of the future.
Douglas W Brett
4 July 2000
.
Social Snapshot 1961 by Joan West
In September 1961 I married John West, who had been born and now worked with his father at Stocken farm in Lacey Green. We moved into no.1 Coronation Cottages, one of a pair of houses in Kiln Lane built for the farm workers by the landlord in 1937 - hence the name. I've no doubt it was modern for it's day. For instance, it had a bathroom. Mains water had only come to the village in 1934. There was a sink in the kitchen and a cesspool in the garden to take the waste. The main drains were not laid in the village until about 1970, so every house had to call in the cesspool emptying lorry from time to time.
In the front door, stairs up straight ahead, beside a short passage through to the kitchen and on the right a small sitting room and a living room. The kitchen was not big. Narrow with, on one side, a copper boiler to heat the water which had a fire underneath. Next, a sink and wooden draining board and an electric cooker. There was a cupboard under the sink and that was it.
Cooking must have been prepared in the living room, for there was a walk-in larder in there and room for a small table and chairs. A fireplace with a built in cupboard floor to ceiling beside it and room for some easy chairs. The bathroom and three bedrooms upstairs. The paintwork had not been changed much since it was built. All the woodwork was still the original, then fashionable, matt brown. The green painted walls had been livened up in places with a pink potato-cut pattern, or was it the other way round? Anyway we papered over it.
We took out the old fireplace in the living room and replaced it with a new one with a back-boiler to heat the water. This let us knock out the big copper boiler with its fire from the kitchen. We had been given a dated washing machine which just fitted in the space and put a worktop over it joining up with a new stainless steel sink and drainer and an up to date electric cooker. It was like a mini galley. There was no garage but that didn't matter because we didn't have a car.
I had worked full time in my father's business. Now I was a full time housewife and I had a lot to learn. John started work at 6am and came back at 8am for twenty minutes for a cooked breakfast. The main meal was at 12 o'clock when the farm stopped for lunch for an hour. Five o'clock brought John home for a quick, full, old-fashioned tea, or if anyone was working in the fields a picnic tea was taken to them. Supper, usually something hot, was eaten around 9pm. This gave me plenty of opportunity to practice my culinary skills which were very basic at first but increased rapidly - they needed to. I enjoyed needlework and changed from dressmaking to curtains and upholstery.
All that cooking needed ingredients but getting them was not difficult. The fish-man, Mr. Harper called on Tuesdays, so fish and chips was supper on Tuesdays. A butcher called twice a week from Stevens in Prestwood. I can't remember the man's name but he was very saucy. I had the time to cook the cheaper cuts that needed long slow cooking but asking him for a piece of skirt or a breast of lamb took a lot of bravery. Then there were Bert and May Dell at Hickman's Stores. They stocked all I needed and I collected my bread from them four times a week. They also sold petrol and paraffin which we needed for a convector heater that we stood in our hall in the winter. " Bert's" was a wonderful place to get to know people. At first it seemed that everyone in there knew everybody else. And they probably did. But Bert and May always had a word for everyone and all were included. They were first class village shopkeepers to my mind and a great help to me in feeling at home here.
The farm was just behind our house across the field. The cows were taken past the side of our garden into Kiln Lane, down as far as the cross tracks and left into a field, called Hillocks, to graze. Then they were brought back again at milking time. That was a daily occurrence, but less often cattle and the flock of sheep were driven around the village or along to Walters Ash on the New Road. There was not so much traffic then.
It was not unusual for the village to be cut off with snow in the winter. Gerald Bedford who worked at the farm lived in Naphill. He would go home on a tractor and in the morning clear stuck cars from the New Road on his way back. The snow would blow against the fences and hedges and drop the other side blocking the roads. Then the council took to erecting snow barriers some way in the fields so the snow dropped over them and thus it piled up in the fields. Side roads such as Slad Lane however could be filled to the top. It is already some years ago that the council no longer deemed it necessary to put up those snow barriers.
The bus from Wycombe only ever came as far as the RAF camp at Walters Ash. That was the Lacey Green stop. In snowy weather a snow plough cleared to there, turning and throwing a bank of extra snow across New Road just to make sure we were inaccessible.
The village was pretty self sufficient. The Stores, of course, and along at Loosley Row opposite the Whip was the Post Office. The district nurse, who delivered the babies, lived in Greenlands and a doctor held a weekly surgery in Bill and Phyllis Dell's house. The policeman lived in a house on the Main Road. There was a road sweeper, "Wido" Bowler, to keep it nice, scything the grass verges as well. If he got a little weary he would sit in his barrow and take a nap.
In 1961 Joyce Delnevo was just getting her baby Louise to walk to the village shop. Our daughters and Louise became good friends. Joyce was a great help to me and someone I could always turn to.
Many village schools were being closed down at that time but Lacey Green was chosen to stay. If it had closed Lacey green would be a very different place. As it was, our children made close friendships there and I met many more people.
In 1969 our son Richard was born. John's mother was not in good health and they built a bungalow for her and Dick. In January 1970 we moved to the farmhouse. I couldn't have had a better start in Lacey Green.
.
Social Snapshop 1958 by Joyce Delnevo
1958, hearing that a plot of land with the foundations of a bungalow already on it had been bought by Dell Bros builders in Kiln Lane, Lacey Green, John and Joyce Delnevo came to look at the site. It was snowing as their Vespa scooter struggled up from Wycombe. Nothing daunted they purchased the site and Dell Bros built their bungalow.
John had a printing business in Wycombe and the Vespa struggled with the steep hills.
In 1961 their daughter, Louise was born and they managed to get a car.
Kiln Lane was a very quiet road. Not many houses. A semi detached flint and brick pair at the top of the lane, a pair of farm workers houses further down on the other side built in 1937 next to `Malmesmead`one of the oldest houses in the village. There was a simple bungalow next door to the plot and a couple of bungalows right at the bottom and a house even further on.
The pair at the top of the lane were lived in by Mr and Mrs Toms and Mr and Mrs Williams and son Edwin. It was these two women that welcomed Joyce. Mrs Williams introduced her to the Womens` Institute with which she soon became involved. Mrs.Toms had a large cottage garden from which she would gather a huge bunch for anyone who needed flowers. How much? Half a crown (12.5p). Their friendships would be for life.
Baby Louise was sixteen when Mrs Toms died, but she remembered her in her will with a £100 bequest for being the first baby girl born in Kiln Lane for fifty years.
The village shop, with Bert and May Dell was the place to meet other villagers. Usually there would be someone in there with news to tell and if you had the time simply going for a loaf of bread could take absolutely ages.
.
Social Snapshot 1951 by Ted Janes
I had arrived home to Speen after 4 years in the Derbyshire Coal Fields, an indoctrinated socialist married to Jean with a baby, to the only home, a caravan, and later a one up and one down cottage.
Between Lacey Green and Speen there had traditionally been animosity and general unfriendliness and strong sporting rivalry, but when we were allocated a new council house any such thoughts were quickly dispelled with the thought of a new home.
Jean met Mrs. Gurney and Miss Jarvis to book our daughter into the school, and we soon discovered that as far back as 1951 Lacey Green was a very good school.
On her many visits back and forward she found the villagers welcoming and friendly, particularly Mr. Sid Janes (no relation) the baker, Mr. Lewis the retired paper man who had delivered the papers with a pony and trap. Mrs Chiltern the post lady, Bert at Hickman's stores, Mrs. Lacey at the little shop at the Crooked Chimney opposite Bitfield (now Westlands), Mr and Mrs Lawrence at their Loosley Row shop later to become the post office, to name but a few.
I was playing cricket for Speen but resigned and joined Lacey Green, playing in both first and second eleven teams, thinking "if you want to be accepted then you have to accept the village" But when both teams played one another you could easily imagine what prompted "The War of the Roses"
.
Social Snapshot 1950 by The History Group
Members of the History Group can remember what the villages were like and how the land was used in the 1950s, when they were at school..
There were far less houses. Most of them were cottages with a reasonable sized garden, where vegetables could be grown. Some people kept a few chickens, but the Victorian practice of keeping a pig at the end of the garden had ceased. Most of the cottages were still occupied by village families.
There were also a few larger houses with wealthy incomers, who employed a gardener, e.g. Lane Farm was occupied by the Wathens, and later the Abel Smiths and the Jordans, owners of Parker Knoll, lived at Gracefield. Rumer Godden, the novelist, was living in White House Farm, but it was no longer farmed.
A few, mainly spinster ladies, had lovely flower gardens. Miss Fagge lived at Bullabura (now Apple Acre) around Slad Lane, Miss Fletcher at Vine Cottage, and the Miss Samsons at Malsmead in Kiln Lane.
There were still a number of farms, the largest of which was Stocken Farm, owned by Dick West. The Batemans were at Grimsdyke, and their farm manager was Charlie Green, the Inns were at Promised Land, the Hawes at Woodbine Farm, and Harry Floyd at Floyds Farm. Windmill Farm belonged to the Smiths, and Kingswood Farm to Alan Armitage. Collins Farm (which belonged to the Garners) and College Farms were in Loosley Row. Along Pink Road was Widmer Farm, and there were three small farms at Parslows Hillock, Lillybottom Farm, Lillybank Farm, and one run by the Tilbury family. These were all general farms where a variety of animals and arable were cultivated. Only the odd person could afford to keep a pony for their children, and there were still a few working horses.
The Turneys had a smallholding on the Parish Poors land on Pink Road. The Olivers also had a smallholding - Tor Cottage (now Trillium) in Church Lane; They had previously farmed Sunny Bank Farm, which has been renamed White House Farm. They had mainly chickens.
There were allotments at the bottom of the Bitfield ( now Westlands). In earlier years there had been a number of orchards in the village, growing mainly apples and cherries. Some of these remained, at Sunny Bank and Hetts Loo (now Hetts Orchard), at Woodfield and at the Andersons Farm at Darvills Hill.
The only place for outdoor recreation was the Sports Field, which was also used for fetes and other festivities like the Coronation in 1953. Indoor entertainments were in the Village Hall or the Methodist Chapel room. There was no play ground. Children played in the fields and footpaths, and in the woods at Smalldean and Hampden.
There were no longer any woods in the villages. These had been cleared for chairmaking by the end of the 19th Century..
Thames Valley buses had just started running into the village, but already a number of people had cars, and this was leading to the decline of the small shops.
New houses were being built. There was a row of houses opposite Stocken Farm, on land which had been made into allotments during the First World War. The factory had replaced the tennis court built by the Rev. Robson between Main Road and Church Lane (now Hambye Close). The council houses (now known as Greenlands) were built. The windmill was no longer used, and was falling down. There was still a teacher's house and a policeman's house. There were caravans on some scrub land to the right of the crossroads on Kiln Lane.
Mains water and electricity had arrived, allowing farmers to keep animals, and their manure was being used to improve the fields. The clay soil was also broken down by burning, and stubble fields were often burned - a practice which is illegal now. There were still a few ponds in the village, but most of these have now gone. The area was not suitable for large arable production, and so most of the hedges were spared, although many were destroyed in other parts of the country.
Women mostly stayed at home looking after their families, and some foodstuffs were still rationed, so there was an emphasis on preserving all that could be gleaned from the fields and hedgerows like blackberries, mushrooms and rose hips. Home made wines were made from dandelions, elderberries, a and even cowslips. Rabbits, pigeons and nuts were eaten. There were a great deal more semi wild places. Pesticides and herbicides were not widely used.
Looking back, it seems an idyllic life for us as children, but things were beginning to change. There were no jobs for youngsters leaving school, and they had to leave their homes to make a living. The villages were soon to become pretty places mainly inhabited by commuters.
.
Social Snapshot 1944-1950 Phyllis Janes' Wartime Home.
Phyllis was born in 1944 and she spent all her childhood with her parents at "Homefield", Westlands Road. During the war, as with everyone else's, their home was very full. She had two brothers, but besides the family a woman with two children from London, whose home had been bombed, lived in the upstairs bedroom. With no home to go to they stayed on after the war had ended.
Sleeping in the scullery were two Irish navvies who were working at Bomber Command.
Causing Mrs.Janes the most problem were three Land Army Girls. They had the downstairs room. They also, stayed on for some years after the war ended. Once a week it was Phyllis's job to work the pump in the scullery so the girls could wash their hair under the running water. They were not supposed to have men in their room, but they used to push up the sash window to "talk" to the local lads who came up to their window. Phyllis remembers her mother banging on their door asking what was going on in there.
.
Social Snapshot 1945 by Trudy Saunders
Maurice ("Mosh") Sauders had been born and lived in Lacey Green but Trudy came from Wolverhampton.
On D Day plus two, Mosh had been injured and brought back to England where he was taken to a hospital outside Wolverhampton.
Trudy was one of the girls doing "war work". She was involved with fixing tappits for Merlin engines, also oil seals in crankshafts and gearbox work for tank engines. The girls were encouraged to make up baskets of food, fruit or even just a cigarette to take to the men at the hospital. Next a room was set aside where they could have family visitors and a rota was established for the girls to serve coffee for them. And it was there Mosh got to know Trudy.
One day he wasn`t there, he had been transferred to Stoke Mandeville. Trudy got a letter and they kept in touch until Mosh was better and at the end of 1944 he brought her to Lacey Green.
After the war the "war workers" had to either go into factories or on the buses. Mosh`s twin sister Millicent worked for Marconi in Sands and got a job for Trudy there, but she was obliged to be a conductress, taking the money on the buses in Wycombe because that had been her choice before she left Wolverhampton. She hated it. She lived in digs down Loudwater, High Wycombe near the then bus station.
Mosh`s father was William John Saunders.(see Saunders and Son) a builder. In 1935 he had built a house called Chorlton along Mill Road, now Main Road towards The Whip. Mosh joined the business and a little bungalow was built in the garden of Chorlton, and Mosh and Trudy got married and moved in.
Trudy had been welcomed into a truly sociable, very musical local family, so she was quickly feeling at home. She found Millicent a great friend although she had now married Bob Martin, son of the Speen baker.
Bob had been demobbed before Mosh and was back from South Africa where he had been doing training in the R.A.F. Bob joined his father at the bakery. Bob was a quiet man but Millicent made up for him. Not only was she most attractive but had a really bubbly personality. All the men seemed to fancy Millicent and the women couldn`t help liking her too. But she was truly Bob`s woman and when he died of cancer in his fifties she only lived a few months more herself despite her many friends trying to help her.
In 1947 Trudy and Mosh had a daughter, Kay. They were now very short of room and looked for somewhere to build. No land came available but in 1951 the council built the houses in Greenlands and they moved into one of them. It was a few years before they were able to buy a site heaped with rubble where an old cottage had been knocked down. Of course Mosh was a builder but Trudy recalls barrowing many loads of stones to clear the site and build the back up level, and helping to lay floorboards. They called the house "Dry Hillocks".
.
Social Snapshot 1940 By Winnie Rixon
I was a Londoner, born in 1923. In 1940 my home was bombed and my mother killed and I finished up in hospital with several minor injuries I was in a state of shock having lost both my home and my mother and my father suggested I visit my sister, Gladys for a week or two.
She had worked for Carters Merchants Ltd in the City of London, an import and export company. The Carter family had bought Grymsdyke House in 1922. They also owned the indoor tennis court built by ex Vicar William Robson in Church Lane. Mr Carter, the chairman of the company decided to transfer the business to Lacey Green for the duration of the war. He converted the indoor tennis court in Church Lane into staff accommodation and offices, dormitories either end for single men and single women, and offices in the middle, also a kitchen and dining room. It was the end of the building's prestigious life as a tennis court. Phyllis Adams also worked there and when I came to visit my sister accommodation was found for me with Phyllis's parents, Fred and Minnie Adams, who was a very friendly person and made me very welcome. I stayed there several weeks. At this time it was difficult for companies to get staff and I was offered a job with Carters. I decided to accept it never thinking that I would still be in Bucks 70 years later.
As you can imagine the tennis court had a very high roof. The source of heat was mainly electric and paraffin oil heaters so most of that rose and went out through the roof. A false ceiling was eventually put in and things improved a great deal. As time went on the married couples rented houses in the village or rooms in people's houses and the rest of us shared a cottage at the end of the drive. Every room was a bedroom and we still had our food cooked in the tennis court kitchen. Being the junior I was allocated the last room left which was originally a walk-in pantry, just room for a camp bed and it was quite damp. One of the older girls left soon after and I was able to share a room with my sister.
We joined in village activities whenever we could. Mrs.Lou Dell, mother of Bill, Jack and Bert, and her helpers organised a dance once a month in the village hall to raise money for the troops, Christmas parcels etc. Of course the girls went along and there I met Stan Rixon (known as Baldwin), my future husband. Public transport was in short supply, really non existent on a Saturday night, so we had to walk to wherever the entertainment was - Hampden, Princes Risborough, to name a few. Mr Farmer from Monks Risborough had the local bus service into High Wycombe, calling at Lacey Green, Hampden, Bryants Bottom, etc. He only had the one bus so the service was not very frequent, 2 or 3 trips a day and during the winter the last bus did not run at all. Very few people had cars and those that did were rationed for petrol. The village people used to cycle to Wycombe to work all weathers and must have kept them very fit. There wasn't a bus route from Lacey Green to Aylesbury at that time.
We did not find it difficult to fit in with the local people. All those I came in contact with were very friendly. It took me a time to get used to saying "hello" to everyone you met. The only people you acknowledged in London were people you knew. To speak to a stranger was a "no-no", especially if it were dark and a man to boot.
Stan Rixon lived with his parents Clara and Fred at No.4 Portobello Cottages. His brother Gerald was the father of Les Rixon and his sister Doris the mother of Gordon May. His father, Fred was a chair bodger. The chair legs and spindles were taken to Wycombe to a devout Methodist who got Stan a job with Allen Hanes. He hated it and so took evening classes until he could take a job with Leather and Stevenson, Princes Risborough solicitors in the Market square. One of the things he did was the legal work for the new cinema there where he also helped as a projectionist in his spare time. Stan and I married and shared a house with Ted and Ann Saunders in Princes Risborough for a time. It was easier for Stan to get to work from there to Aylesbury. Eventually we were lucky enough to get a house at Risborough in 1951 and there we stayed.
Once the boys were all de-mobbed the sports club got into full swing. They were all so dedicated and most of them hardly missed a game all season. Even our holiday had to start on a Sunday and we were up at the crack of dawn the following Saturday in order to be home in time for cricket at 2pm.
I have never regretted moving to Lacey Green. I think it one of the best things that ever happened to me. My in-laws were the best possible people to me and always welcomed any member of my family. They helped me through a very bad time when I first came to Lacey Green. I was so lucky. (May 2010)
.
Social Snapshot 1934
by Joan West in conversation with Dick and Hilda West.
Richard West (Dick) was a farmer's son from West Wycombe on the Oxford Road.
Hilda Crook was the daughter of Frederick Crook who had retired to Wheeler End because of ill health - Wheeler End being at the top of the hill above the Oxford Road - what better place to meet but at the blacksmiths. By 1934, aged 23 they decided to marry and sought a farm to rent for themselves.
At Stocken Farm in Lacey Green, William Saunders died. (See William Saunders) and the farm together with the field, Hillocks, was sold. It was bought by his son-in-law Ernest Smith, married to William's daughter Daisy, for £3,225. Ernest was running J. Smith and Sons, Road Contractors, so he put the farm up for rent.
The country was in deep depression, land was being abandoned. Few applied and those who did had to have guarantors to pay the rent if things did not work out. Hilda's stepmother stepped in to guarantee the rent and a contract was signed. It was traditional to take a farm at Michaelmas, the 29th September. This they did. But Hilda's stepmother believed in astrology and insisted they waited until into October to get married, when the stars would be more auspicious. Then they could move into the farmhouse.
The house was overrun with black beetles and probably other creatures, for it had been empty for a while. A considerable amount was done by the landlord to get the place in order. A bathroom was installed with the new mains water supply. Outside it was engulfed in massive laurel and there were great trees right up near the house. These were later cleared, but had already caused subsidence, for the old house had no foundations.
Dick and Hilda had their farm and little by little by sheer hard work they got on their feet. Dick was a careful man, certainly not a gambler, yet taking Stocken Farm when people were leaving the land wholesale was an unimaginable gamble. But of course Hilda and Dick were totally committed to their life together.
.
Social Snapshot 1924 by Alan Luxford (son)
William George Luxford, (George) was the nephew of Mrs.Rixon who lived at Redland End. He left his parents and younger siblings in Cranleigh, Surrey and came to lodge with his aunt, hopeful of finding work.
Did he find Redland End a bit out of the local activities? Whatever the reason, after a year or so he moved into lodgings with Leonard and Annie Janes in Portobello Cottages just opposite the shop. They made him feel at home treating him like a son. He also met Gladys Ing (grand-daughter of William Saunders)and they were married at Lacey Green on Christmas Eve 1930.
Until 1955 George and Gladys lived in "Windyridge" a cottage belonging to Harry Floyd, William Saunders grandson. Then George built a house "Cranleigh" next door. Their two sons Alan and Bernard lived in the cottage all their childhood. George, Gladys and the boys would visit Leonard and Annie Janes where they were always made most welcome. Out would come the cakes and biscuits as if they were their own family.
Alan met and married Pam Stallwood, from High Wycombe, and in 1956 they built a bungalow in the orchard of Cranleigh the other side from their childhood home. "Windyridge" was pulled down in 1972 but between that and "Cranleigh" where his parents lived Alan has built his own house "Westwinds"
.
Memories of Scouting Days in the 1940's By Gordon May
My brother and I joined the Scouts in 1941. The first thing I remember vividly was at the Scout hut which, at the time, was the Rev. Stewart's garage. (This was not being used as no-one had a car.) Your attention was immediately drawn to a painting on the chimney-breast which was of a head and shoulders of a Boy Scout complete with hat, woggle and neckerchief.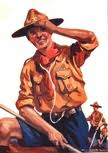 I found out later that the outline drawing was done by my late uncle, Mr Stanley Rixon, and the painting was done by a Mr Maurice Saunders, known to all as Mosh. Both these Scouts had moved on to service for their King and country. I have been back to that garage and the painting has been whitewashed over.
The Scout troop consisted of two patrols. I was in the Woodpeckers and the other was the Hawks. Scouting activity was treated quite seriously, with cooking, learning how to tie knots and map-reading, so that different boys could earn different badges. Many friendly war-like games were played, one patrol against the other. I was told in later years by two of the boys who were at the siege of Kohima that their tracking and scrumping in the Scouts came in very handy when they had to crawl into the Jap lines at night to get water.
The dark evenings always had plenty of fun and amusement. One evening the Hawks patrol was sent out to defend the cricket meadow. The Woodpeckers promptly disturbed a courting couple in a close clinch at the start when some of the Scouts rushed the old white cricket pavilion and some at the back disturbed the couple who were laid on the ground.
Another incident took place on what is now the main road when Scouts were told to look out for a person heavily disguised and probably limping and to "capture" him. The person happened to be old Mr John Saunders, limping his way down to the Crown pub for a pint. He had a few harsh words, wielding his walking stick and the boys retreated post haste.
A sad affair concerned an old lady with a wizened face and no teeth who always wore a beret and collected wood which she carried home on her back - one Mrs Rose Bowler. We had organised a game in the green meadow (now the new road passes through the middle of it) where she was wooding. She told us she had lost her brooch and we were on our hands and knees in line like a police force searching for it but sadly never found it.
Another activity took place at Turnip End. I personally had the experience of being pushed into the pond and another Scout came along and pushed the one who had pushed me in too - we both got out laughing.
Other activities included cross-country running and a large gathering of patrols met one Saturday afternoon for a cross-country challenge. I was called at only three days notice to replace someone who had dropped out and I think I came in 47th out of 50.
Another memory was attending a rather large jamboree at a park in Oxford where the Chief Scout, Lord Rowallan was present.
One incident took place with an amusing side. We went on an August Bank Holiday weekend camp in 1944 at Waterstock-cum-Ickford. We caught the train from Princes Risborough to Tiddington and had a long walk carrying our kitbags to camp near the River Thame.
It was at the time when the doodle-bugs were falling in the area. One of the farmer's cows got upset and got stuck in the river. The farmer came to the camp to ask for volunteers to help pull the cow out of the river. The bigger boys went to help and some of us were left to cook Sunday lunch. In the activities that followed the billy-cans got knocked over and only some of the food was saved. This was given to the Scout leaders. We never did tell them that most of us went without Sunday lunch.
Another area of great interest to the Scouts was a field leading from Lacey Green to Turnip End containing Nanny Cooper's pond. The pond itself was of great interest to the boys as they climbed along the branches over the water and some took great delight in falling into the pond. Sadly we lost the pond when the airfield came - the trees were cut down and the pond was filled in.
---