RECENT
Gerald BEDFORD 1932 - 2016

by Joan West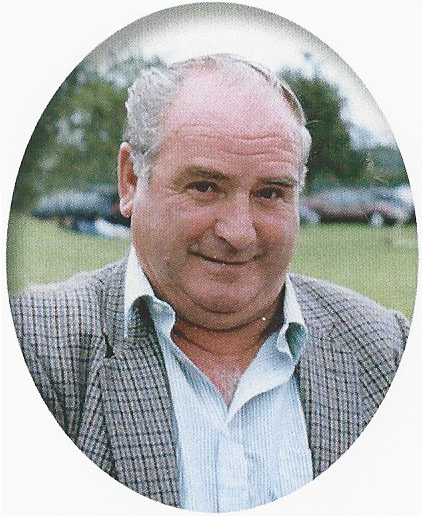 It is with great pleasure that I give this tribute to a man who was a thoroughly skilled countryman, admired by those who worked with him, and who enjoyed the company of loyal friends and a close-knit family.
Born at Holly Bush Farm, Walters Ash, later demolished for Bomber Command, Gerald grew up the second youngest of nine children. He started working aged fourteen for Dick West at Stocken Farm, Lacey Green. He retired fifty years later as farm foreman.
When I first met Gerald he was twenty-five and, with a characteristic smile, was already the head tractor driver.
Gerald has spoken of when he started and the various horses he worked with; the dairy bulls, which could be bad tempered; the corn cut with a binder and stood up in sheaves; the rick building; threshing, and the grain to be bagged in two and half hundredweight sacks.
He mastered the horse drawn implements to do the different field work. Then came the tractor and bigger implements until in 1956 the first combine was purchased. The corn had already been cut and made into sheaves, so to give it a trial they fed the sheaves into the cutter bar and let it thresh them into the grain and straw. 1957 saw Gerald on the combine all day all through harvest. There were no roll bars or cabs in those days. Safety was not an issue. No wonder at the end of the day that his face was black as soot from all the dust blown up off the corn. And not surprising that he usually had a cigarette on the go.
Gerald could lay a hedge to perfection and erect a fence strong and taut, both true skills. The students and part timers that worked on the farm hoped to be given a job with him for it would usually be an interesting one.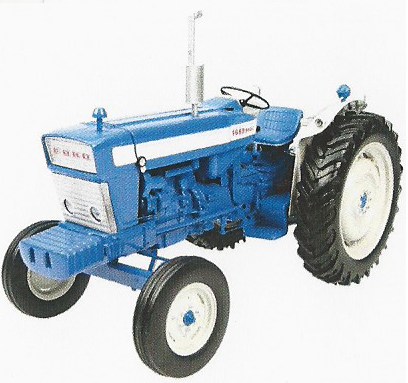 In the 1950's he lived in Louches Lane, Naphill, his parents' home. When the New Road was blocked with snow, a frequent occurrence in those winters, he went home on the tractor and next morning would open the road for others waiting to get through. He became quite well known for that.
In the mid 1960's he moved into 2 Stocken Cottages, a semi-detached house. John & I lived next door. The little kitchens were on opposite sides of the house but such were the rafters that in mine I could clearly hear him singing as he did his washing up in his. He had a lovely voice.
For relaxation he would go to the pub. When living in Naphill to The Wheel where he enjoyed a game of darts. He became great friends with Ken and Cis Fletcher, the landlords of Pink and Lily. He loved all pub games and he and his friends would always settle in the 'snug' there to spend the evening playing.
When the breathalyser was introduced he never drank and drove, his licence was vital. The police were fond of waiting on Pink Road for those leaving the pub. His friends would wait for him to leave. Sure enough the police would stop the first to go. His mates meanwhile drove by unhindered. He got a bit fed up with the police. Thought they should realise they were wasting their time, and his.
After the Fletchers retired he may have sometimes gone to the Whip. I believe they organised coach parties to go horse racing. In his retirement he watched racing on the TV daily. But his local was The Black Horse. Fifteen years ago the pub entered the dominoes league. He was much in demand for he was a strong player. It is said he liked to win. That is no surprise, his standards were always high. When he could no longer walk to the pub Lynne would fetch him, Mondays for dominoes but also Wednesdays and Sundays. She also took him to the hospital and doctors on several occasions. She was more than the pub landlady she was a friend. On his 70th birthday the pub presented him with his own pint handled beer mug. He always finished the evening with a scotch.
He regularly took his sister Margaret shopping and she lent a hand in his house. In 1991 his neighbour Philip hanging out his washing spotted Sandra, Gerald's niece, sunbathing. They were married in 1993 and were to have three boys. It must have been very nice to have this family next door, becoming especially important to him in his later years.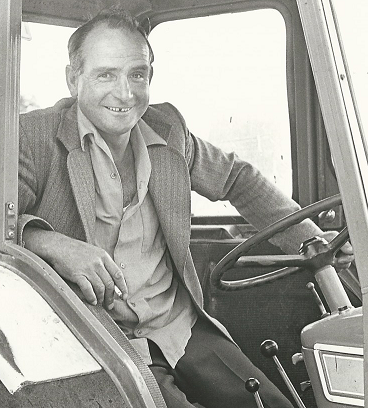 When he was due to retire he didn't want a fuss and reassured that he could stay in his farm cottage went into hospital to have new hips. While he was away two things were done. Firstly his house was extended and made into two flats so that he didn't have to cope with stairs. Secondly a secret lunch was arranged at the farm. His family, the farm family, farm staff old and new and all the old farm students were invited. His brother Stan was taking him to his sister Margaret for lunch. Stan was in on the secret so when Gerald was unexpectedly invited to drop in at the farm to see an old friend persuaded him to do so, on the way. The reason I mention this is because those former students and staff came hundreds of miles to be there. Only one, farming in Eire couldn't get away. He hated the phone but nevertheless rang Gerald to have a chat and wish him well. The effort they all made to be there must speak volumes - more than I can ever say.
In his retirement he still kept an eye on the farm, always noticed what was going on. I appreciated that he signed my Christmas card "with love". All those who knew him must be the richer for it.
My thanks go to all those who have briefed me on their friendships with Gerald - Lynne and her staff at the Black Horse. A chorus of "Of course we all knew Gerald" from there. The dominoes players, particularly Phil and Gordon. Memories from farm staff saying how much they learned from him and how he bailed them out if they got caught a bit short at the end of the week. Dozens who gave me tales, too many to mention but appreciated for adding to my picture.
Norman TYLER - 1928 to 2016

by Tony Smart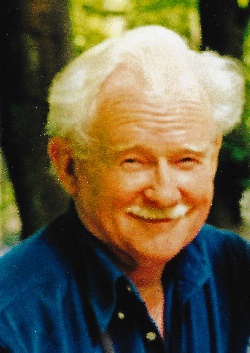 The funeral service took place at St John's Church on the 4th July for Norman Tyler, a much loved and respected member of our community. Norman was born 9th October 1928 in Quebec Canada and he, with his family, returned to England in 1939 settling in Coventry.
Norman was always very precise, a perfectionist, so it is no surprise to learn that he trained as an engineer. He was apprenticed to an engineering company, Armstrong Whitman and attended Coventry Technical College. He later became a member of the Institute of Mechanical Engineers, the Institute of Production Engineers and was himself a Chartered Engineer.
His career shaped his life; everything had to be just right for Norman always the perfectionist. Norman married Bette in 1952, his lifelong partner and friend. Norman, with Bette's support, started his own company supplying high quality insert bits for machine tools. The successful company was bought out at a later date by Sumitomo Hardmetals Ltd and Norman continued working for the company as its Director till his retirement making many friends in Japan as a result.
Norman and Bette moved to Lacey Green in 1968 and since that time have been an integral part of the Community. Getting involved in many organisations and making deep and lasting friendships and this community has benefited tremendously as a result. Norman loved this area and the surrounding countryside and was a very active member of the Happy Wanderers Walking club. But apart from the countryside the walking club gave him the opportunity to indulge in his other passion; his love of good food. Whilst many of us were putting on our walking boots after stopping at a local pub you could hear the cry; "Where's Norman" and the reply was, "Oh he's finishing his pudding"! He loved London and would arrange walking tours in the Capital for his friends and Village organisations often ending up with a good meal in an Italian restaurant.
Norman was a founding member of the local history group, was the editor of Hallmark for some years and gave his full support to the fund raising and building of the new Village Hall.
He enjoyed visits to the Mill at Sonning for an evening with friends listening to jazz, the music he loved, and took up short mat bowling, an activity he enjoyed to quite recently.
Those of you that knew Norman will remember well that he embraced modern technology and would always do his research with the help of the "Which Magazine" to determine the best piece of equipment to purchase. He was one of the first to have a hand held computer, his famous Psion, or his "little baby" as Bette called it. Every bit of information went into his Psion and it became an extension of Norman's memory. He could instantly tell you anybody's phone number or such detail as the room number and cost of a Hotel that they stayed in five years earlier and even the view from the window!
Apart from technology Norman's main hobby was photography, from black and white film, colour slides, movies, videos and later digital photography Norman amassed a wealth of family and local history. As our Village photographer over the years he recorded all aspects of village life including the reconstruction of the Windmill, the building of the new village hall and events such as village day. Many of the photographs in Hallmark over the years were taken by Norman. The photographs, video's and the old movie films were shown at village days and other local events and taken to St John's schools where Norman was very popular with the children who were introduced to an original movie projector for the first time.
Norman was a great family man, he and Bette had two sons John and Robert. Norman was very proud of his family, their partners, Clare and Jackie and his Grandson Adam. He was delighted when Adam went to University to study Physics - a subject that encompassed his own passion for engineering and technology.
He loved to travel the world and with Bette visited many countries, meeting with friends old and new. Bette recalls the epic 11,000-mile journey across America, not in a hire car, but typical of Norman's resourcefulness, he purchased a car, registered it in California and on reaching their final destination in Washington he then sold it.
Normans had all his family around him for Father's day on the 19th June and sadly passed away on the 20th. He will be missed by all of us in the Village and further afield but most of all by his close family to whom we send our sincere condolences.
Norman enjoyed life to the full and was always there to help out and support family, friends and our Village organisations, and I would like to end this with a quote, which for me sums up Norman.
"Life is a journey and not a destination."
A journey from which all who knew Norman have benefited.
Bette TYLER 1928 - 2018

by Leigh Axe
Bette would often dismiss any concerns with a "Life's too short"....
Bette never knew her Mum who died very shortly after childbirth. With no help then available from the state, Dad - in order to work - arranged to move her, her older brother and himself in with Bette's Aunt and Uncle in Kenilworth in Warwickshire just on the edge of Coventry. There was a cousin, Roy and they all grew up together. Bette's memories were of the kettle never going cold and much laughter - she had a good family life.
The property was part of a saw-mill where they cut up trees and made - well anything made of wood. It was actually owned by her Granddad and he was a very kind man who would decline to send out a bill for a coffin to those who had little. I think Bette inherited that gene.
Bette like all kids got up to mischief and feared little. She and Roy would climb high in the rafters, without safety net, directly over the circular saw bench, and sit watching the logs cut up far below. Above all she remembered fun - a search for toffees game involved her uncle throwing a handful into the woods for her and Roy to run in and find. And how would she have done in the Tour-de-France I wonder - Bette was determined to be the last person to get off and walk when cycling up hill.
Bette was just 11 when her older brother died, it was his 21st birthday. He went down with the Royal Oak in the first year of the War. Her memories of war never went away, she would shudder today at the sound of sirens - she lived just outside Coventry where they built spitfires, a regular target, and she remembers hiding, her teeth chattering with fear, under the table. It was a time when nearly everyone was affected by loss and Bette maybe saw that they had to deal with it and she would have to do the same. Nevertheless a very early introduction to death for one so young.
Tragedy was never far away. Her Uncle and Father were digging a well, taking turns going down in a bucket and filling it with soil. One morning Dad was unwell and his brother - Bette's uncle, Roy's father, went down instead. He died within minutes from methane gas seeped in overnight. I suspect that it had started the day before and that's what had made her Dad ill.
Bette had a younger cousin, Bernard whom they called Bun. With 10 yrs difference Bette would have helped bring him up and Bun did get to see Bette at Stoke Mandeville two days before she died.
When Bette reached working age she got a job as a telephonist. It was on a bus home that she was spotted by Norman - they married in 1952. Their family is John and Robert; partners Claire and Jackie, and Bette's 'favourite' Grandson, Adam.
Bette also worked as a Methodist Sunday-school teacher - she actually retained a very strong belief to the end. Rob remembers following her around at her skirt tails. He was just 4 when Bette lost her father. She talked about her one real regret as not going to see him before she went on holiday - he was dead when she came home.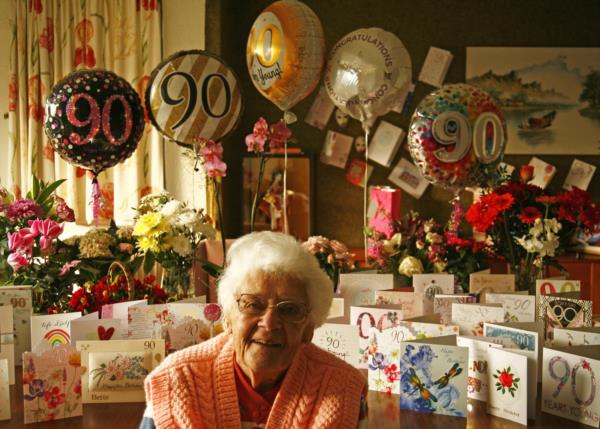 Bette was coping with all these tragedies, learning that life can indeed be too short but she remembered all the laughter she had growing up and realised life needs to be enjoyed while you can. She was likeable and kind, willing to make friends with anybody and everybody. She liked people, she was interested in them and loved their company. They responded in kind and on her 90th birthday just a few weeks before she died, so many visited that Bette exhausted herself giving them all a hug.
Norm changed jobs a couple of times which entailed moving and he and Bette somehow finally arrived in Lacey Green in 1968 - 50 years ago. He set up a business, Norman Tyler Sales in Risborough - it involved repairing, often re-grinding and setting worn tools and machinery. Norm then got involved with a Japanese company - Sumitomo - and became their sole agent for importing and distributing their machine tools. Bette looked after the Japanese liaison officers that came over, and went to Japan with Norman on several occasions. It gave them both a yen for travelling.
Back home they both got involved in Village life. Bette joined the Village Hall committee - this was the old hall. She would hold meetings at home and all went home absolutely stuffed with Lasagne.
Remember the miners strike - Bette organised beat the Gloom parties, again back at hers, and bring a candle.
Christmas, every Christmas, was the best excuse for a houseful although mainly family this time.
There was Bette's Art Group (the BAGS), although more talking then Art.
They got involved in everything:
Bette helped Norm stuff leaflets in each of 600 Hallmark magazines he edited and delivered them to post persons in every street.
Village Day; Strawberry Tea; she loved helping at Youth Club and the kids voted her the most scary witch at Halloween night.
She did meals on wheels but got the sack - they loved the lovely chats, but not cold dinner.
She helped fund raise for the building of the Village Hall and was involved in the Twinning of our Village with Hambye in France.
In between all this they started travelling and once travelled 11000 miles across America.
In 2008 Bette's beloved cousin Roy died. In 2016 it was Norman's turn. This was hard for Bette, it was a blessing that John had come home having retired from working in Kent to help her through it.
John introduced an exercise routine with them both walking daily down to the Forge at Foundry Lane and back. John worked out that for every 150 ascents of Loosley Hill they had climbed the height of Mount Everest, and at the age of 87 Bette reached the summit of Everest for the eleventh time - without oxygen, and just wearing her trainers. John also kept a tally of the distance they had travelled, and although age was against Bette she did get as far as Syria before her huge but failing heart couldn't take it.
Bette believed in supporting the local pub and John says she was prepared to do this single handed. And Bette was generous to a fault. After she stopped driving, she insisted on taking my wife and I to lunch more than once for running her everywhere- this required a lot of effort on my part - reversing all of 10 yards and taking her to the exact same place as we were going.
Bette and Norman's legacy.
This village has to be the most welcoming and friendliest in the country. Most villages you normally don't get spoken to for the first 5 years. But several people have said that the first people to say hello to them was either Bette or Norm. Indeed when we arrived at Meadow Rise around 2006, we were, while still unpacking, invited to an event at the Horses Rest Home. We sat at Bette and Normans' table. Bette made a point of talking to Yvonne and I, making us feel welcome and I think I may have made her laugh. We inevitably became friends.
I am pretty sure that with 50 years in which to do it, Bette must have been largely responsible for our Village Ethos - To be friendly and welcoming to newcomers and to continue to be so with each other ... because ...
Life's too short.
Remembering My Father -

Brian PANTER 1924-2018


by ...

My father was what you might call a larger than life character. I have only just begun to understand the meaning of that, now that his presence has passed out of our lives. Like most big personalities, he was a person of complexities, and many contradictions - dualities you might say - as a father, husband, son, friend, actor and artist. Recognising and celebrating those complexities is the best way I know to honour him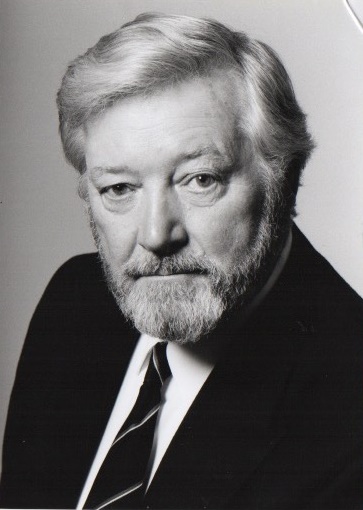 Whilst in his latter years he lived in his beloved Chiltern Hills, he also had an abiding love for the Vale of Aylesbury, spreading as it does towards North Bucks where he was born, in a cottage in 1924, into a farming family. Life was hard and when my father was four, his father had a mental health breakdown, due to the pressures of farming and what we'd nowadays call Post Traumatic Stress Disorder after his wartime experiences at Gallipolli. I believe my father inherited his father's depression and looking back, probably suffered from it much of his life, although he only received treatment for it in later years.
The family went to stay in London for a period whilst my grandfather got treatment. When he recovered enough to work, they lived in the house of a wealthy American family who employed both my father's parents, where he experienced something of the sophistication and luxury offered by middle class city life. Returning to the village, to hand-pumped water and an outside lavatory, must have highlighted at an early age, the basic nature of country life. Decades later, in a Lacey Green parish council meeting, he reportedly challenged an individual who cited the 'historical character of the village' as grounds for opposing a new housing development with: "what character would that be then? The days when you had to go to the end of the garden for a crap?"
When the family returned to Bucks, my grandfather took a job as a farm bailiff at 'the big house' at Lillingstone Darrel, and it was here that my father's love of horses and fox hunting grew. I admit - and this is a bit problematic for me these days, especially given the political company I keep - that as a child I shared his love of riding to hounds, going to a couple of meets a season which was all we could afford. My father's passion sprang from his experiences as a stable boy, riding out the master's second horse, always rooted in the countryside. At the Old Berkley Hunt down the road, he knew the terrier man, the hunt servant, the farmers, the fence menders. Indeed, Dad took the job of fence mender one season soon after we moved to Princes Risborough, and I have memories of riding with him in the ancient land-rover to help rebuild farmers' fences damaged by horses ridden to hounds.
He joined the Royal Navy at eighteen, and, like his father, his wartime experiences stayed with him for life. Sailing on warships in convoy with merchant navy vessels, mostly in the North Atlantic, he was twice torpedoed and rescued from the sea. He was part of the D Day Landings in 1944 and whilst he played down his role in the action, he was moored off Arramanche, in a ship full of ammunition and explosives, and had it been hit, all the crew would have perished. I'm sure most of you heard his navy stories at some time or another - possibly more than once - and it occurs to me that his desire to talk about his experiences was his way of dealing with traumatic events at such a young and formative age.
My father grew up speaking in a broad Bucks accent, which he didn't lose until he attended RADA in the late 40's. This is strange to imagine for all of us here, for whom his stage RP pronunciation and rich vowels are so dominant in our memory of him. It was part of his transition from country boy to actor and man about town.
When he met my Mother whilst in rep at Oxford Playhouse, the re-invention escalated. She was a middle class girl from South Bucks, he the son of a poor farmer from North Bucks. I think he fell doubly in love - with my mother who was glamorous, feisty and funny - but also with the family and the security of the big house in Beaconsfield. He adored and admired my maternal grandparents, and I have an abiding memory of my parents and grandparents singing Gilbert and Sullivan in four-part harmony while doing the washing up after Sunday dinner.
Rachel and I never knew either of my father's parents, they both died before we were born. I think my father felt guilty that he became distanced from his father after his mother's death, as his new life in the theatre developed, and as he grew closer to his in-laws.
My mother gave up acting when she started a family, but my father was still working in the theatre when I was born. He was at The Old Vic playing the Prince of Morocco in The Merchant of Venice and was apparently congratulated by Ralph Richardson on my birth. He continued his acting career a couple of years more, but gave up in 1958, walking away from the offer of a good part in the movie Ben Hur. And this remains one of the greatest mysteries of his life - why he gave up a profession he loved at what might have been the cusp of a breakthrough. It's a decision he never fully explained, but one which I have no doubt he came to regret. Throughout childhood, my memories of him are against a backdrop of a series of sales jobs he must have disliked, and a deep desire to revisit his past in the theatre. When he took early retirement in his late 50's, he returned to professional acting, and did some of his best work, notably in Blues for Mister Charlie at Sheffield Crucible and The Price and Hamlet at Wycombe Theatre Company. Of course his theatre passion also found outlet over many years in Lacey Green Productions as a director and performer, and who can forget his Cowardly Lion in The Wizard of Oz?
I suspect his reasons for leaving acting were, like everything, complex, but a strong driver was fatherhood - they were about to have a second child. In later years he said that he was a terrible father, but - like most parents - he did his best. He wasn't a perfect father by any means. He had a sudden and sometimes violent temper, and he and my mother had blazing rows. He was quite intolerant of opposing political views especially in the young. It was only in adulthood that I realised that not all family Sunday dinners were conducted at the volume and level of vitriolic debate which characterised the Panter table. But he was also a dedicated and imaginative father, with a sense of wonder and adventure, which he tried to create for us. I have a vivid image of one Guy Fawkes night - I must have been four. He was running around the garden setting off fireworks for us: me standing on the path in my wellies, and Rachel in my mother's arms behind the French windows. Decades later, on Guy Fawkes night at Woodway, Rory and Hamish performed an impromptu fire staff display for their aged Grandfather, outside his window, which brought back that memory full circle.
And a memory of the winter of 1962 when we'd just arrived in Princes Risborough, when Dad and I climbed the Whiteleaf Cross in two feet of snow. I've no idea why he led this expedition, apart from the sheer adventure and challenge of it.
And of course, the many, many hours spent together on horseback riding across hill and vale, through woods and field and looking after our horses in all weathers. I recognise now that my Mother and Rachel, being less horse obsessed, sacrificed other things to pay for the horses, and even then I was aware of heated discussions about money.
The other aspect of his life which runs back before my earliest memories, is Dad as an artist. There were always some of his paintings - horses or ships - on the walls of our houses. He painted and sketched all his life, and sculpted models of horses, including commissions. He also built a detailed scale model of HMS Clematis on which he served during the war, and this is now gifted to the Merseyside Maritime Museum. Drawing remained the chief joy in his later years, he always carried a small sketch pad in his pocket. It was a way for him to connect with the world, often spending hours in public places sketching the people he saw. He was never happier than at Sally's art classes at Phoenix Studios in Towersey which he managed to attend up until his stroke last year, which cruelly took away his ability to wield a drawing tool or pen.
He was, as many of you will have experienced, a pessimist, with an apparently Eyeore-like outlook upon the world, but here is another contradiction. He always maintained that he was in a strange way an optimist and adopted pessimism as a strategy to protect himself from disappointment.
My father was a romantic at heart. As a very young man during the war, he fell in love and became engaged. Tragically, his fiancé died and on the rebound from this, closely followed by the death of his mother, he got married at the end of the war to a woman in Hull. This first marriage did not survive his re-invention and move to London.
He was devastated by my mother's death in 1990, but not long afterwards he formed a relationship with Jeanette, in which he found great joy and comfort. Jeanette was an important person in helping him engage with his grandchildren, arranging outings and treats, and even after their romantic relationship had passed into companionship, she remained a close family friend until her death a few years ago.
In 2017 at the age of 93, he was asked to speak The Immortal Words at 11am on Remembrance Sunday in the library, where he spent many hours. I was visiting and helped him put on his medals and walk round the corner. There was a small group of friends there, some librarians and a few members of the public, and he spoke the words with resonance and great depth. 'They Shall not grow old as we who are left grow old' had a special significance to him. So many of his peers and the women he loved were dead, he was finding old age intolerable and knew he was approaching the end his life. I felt very proud of him. It was the last remembrance Sunday he spoke at. By the following year his stroke had taken away his power of speech and we'd lost access to his memories and the connection to the act of remembrance.
He loved all his grandchildren : Rory, Holly, Faye and Hamish, and he loved to hear them play music. On that theme of remembrance, we ask my son, Rory, to play The Last Post for his Grandad.
Terry FENDOM 1941 - 2011

by Michael G Hardy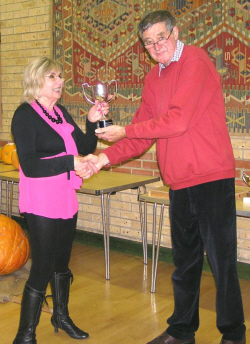 Terence Andrew Henry Fendom was born to Eva and Harry Fendom on 17th May 1941, with Terry's sister Janet being born 3 years later. They lived in Plumer Road, High Wycombe, and Terry attended schools at Green Street and Mill End Road, and High Wycombe Technical College. Terry lived the first 30 years of his life in High Wycombe, and he kept very strong ties to his home town for his whole life.
Terry's grandfather seems to have had quite an influence in Terry's early life. He took Terry to matches at Wycombe Wanderers Football Club, a passion that remained with Terry for the rest of his life. His grandfather also introduced Terry to the novels of Cecil Scott Forester, and apparently the books featuring Horatio Hornblower have always remained close companions for Terry.
Terry and Marcia were married at St Lawrence's Church in West Wycombe in September 1967. Around three years later, they started on their journey towards Lacey Green, by moving to Naphill. Their son and daughter, Duncan and Andrea were born in 1969 and 1974. In the late 1970s, Terry's nephew and niece were born, so children were then a strong feature of Terry's life. After 18 years in Naphill, the family moved to Lacey Green in 1987. Terry and Marcia's son and daughter both got married in the early 21st century. By 2009, Terry and Marcia had three grandsons and one granddaughter, which gave Terry much pleasure.
Terry's working life had started in the early 1960s by being articled to the Town Clerk's Department of High Wycombe Borough Council. In 1969 he qualified as a Solicitor, and on 1st July was presented with his Certificate by Lord Denning, Master of the Rolls. Terry soon started up as a sole practitioner in Castle Street, High Wycombe, but after some years went into partnership with Roger Towner, Keith Haines and Jeremy Dawson. Their practice at one time had four offices, and is now known as Fendom, Dawson & Towner. Terry was always a popular solicitor who had a relaxed but professional manner, and he came from a time when solicitors would handle most aspects of the law, rather than the trend in today's complicated world for solicitors to specialise in different fields. Terry was well known for working with his own filing system. I am told it probably started because he originally had a very small office, with no room for filing cabinets, so he kept his case files in stacks on the floor and his desk, and any other available space. This then became a habit for the rest of his career. Terry became popular with High Wycombe's Asian Community, possibly because they found they were able to open negotiations over his fees. In 2002 Terry retired as a Partner, continuing with some consultancy work until 2008, and is missed by many people who came into professional contact with him. The respect for Terry is clear by the fact that the Partnership's offices closed on 27th October 2011 so that all staff could attend Terry's funeral.
Terry has always been keen on charity work and was a highly valued member of the High Wycombe Lions Club for over 35 years. Individual Lions Clubs (such as the 8 clubs in Bucks) are all part of an international network (of 45,000 clubs) dedicated to helping communities and those who need help at all levels. The Club has told me that they were very grateful for Terry's help with the necessary legal advice concerning potential projects. One regular activity of the Wycombe Lions is preparing and distributing Christmas Hampers to the needy, and I know that Terry was able to persuade other local people to assist with that project, and he received justified praise from Wycombe Police Station for his commitment. At different times, Terry headed the 3 main committees in the Wycombe Lions, and has been the only person to serve as the President of the Club on three occasions. The final time was from June 2010 to June 2011. I have seen a remarkable collection of photos of events that Terry attended during that year, all part of gaining support for various local deserving causes. It would make a hectic schedule for anybody, let alone somebody undergoing treatment for cancer at the time. As well as a great camararderie spirit to the work they do, there is a social side to Lions Clubs, and at Terry's funeral service Malcolm Johnson gave an extensive account of some of the more light-hearted experiences of friends who had volunteered and socialised together for many years. One such friend of Terry's was John Crick who had long been Terry's companion as a fellow supporter and season ticket holder for Wycombe Wanderers, but sadly died less than three weeks before Terry.
Holidays were an important part of life for the Fendom family. A holiday each August was usually spent in France, staying under canvas for many years, before deciding to enjoy the luxuries of a caravan. Once their children had moved away, Terry and Marcia started to venture further afield, and have been to many diverse countries, including India, China, Cambodia, Thailand, Peru, New Zealand, Australia, America, Burma, South Africa and Zimbabwe. However they still enjoyed going back to France as well.
Having a long garden, there is really no choice but to get interested in gardening, so with their children growing up, Terry and Marcia must have decided to get more involved with one particular local organisation. The name Fendom first appears in the list of members of the Loosley Row and Lacey Green Horticultural Society in 1992. In March 2003 appeals were made (by Ginnie Brudenell and myself) for new Committee Members, and Terry was one of four who answered the call. Most importantly, the Society had no Chairman, but by October Terry had been appointed as Chairman. As most of us before him, he pleaded that he was no gardening expert, but I was able to assure him that we needed some-one to steer the ship, whilst having a good crew of volunteers doing the work. I was able to tell him that Committee Meetings had always been enjoyable sessions, and I am assured that they continued to be with Terry at the helm, always held in a committee member's house. Terry was keen to re-instate some social events which the society had run particularly well in the 1980s and early 1990s. They once again built a good reputation, thanks to Terry's skill in recruiting new and enthusiastic committee members who were pleased to tackle the challenge. The Annual Show also continued to be successful, again with new organisers being found when required. The Horticultural Society also used to run regular Plant Stalls, particularly at the fondly remembered Village Days. However it was difficult without a regular venue, so Terry suggested that the Plant Stall could be combined with National Mills Day, at the windmill, being at the most suitable time of year in the first half of May. With the necessary permissions, this has now become a regular feature and is of mutual benefit to the Windmill and the Horticultural Society (I can confidently say this as Hon Sec of one, and President of the other). During Terry's seven and a half years as Chairman, Terry and Marcia even hosted one demonstration meeting in their own back garden for the society.
Otherwise, and over many years, many local people in our villages will probably know Terry and Marcia best from seeing them walking their dogs. It was obvious that the dogs got their exercise along Pink Road at least twice every day of the year, whatever the weather would throw at them, and we all know that there cannot be a more extreme place to be out in bad weather than Pink Road. Incidentally, it was usually obvious that one of them found it easier to control their dogs, and it was not Terry.
An interest of Terry's from a young age was Motor Sport. He used to rally a 'frog-eyed' Sprite with Terry at the wheel and his friend Doug Tuckett navigating, until the car was somehow driven into the side of a Welsh mountain. Remarkably, this interest twice re-visited Terry during the last few weeks of his life. Terry and Doug had lost contact, but I was pleased to be able to put them back in touch so they could meet again at the beginning of October 2011. A week before then, Terry had made his last outing, to the Kop Hill Car Climb, where he was able to spend three hours sitting at the top of the hill watching the cars and motorbikes going past.
Terry was diagnosed with cancer in January 2011, but by May he decided to stop his chemotherapy treatment. In the same month Terry celebrated his 70th birthday, and in July he attended the Horticultural Society's 30th Anniversary event. Thanks to Iain Rennie Nurses, and Marcia's care, Terry was able to stay at home for most of the time until he died on 17th October.
Finally I would like to thank many people for their help in enabling me to write this, in particular Duncan Fendom, Keith Haines, Malcolm Johnson, Doug Nower, Roger Springall, and, of course, Marcia.
Terry has justifiably been described as an optimist, and not solely for his years of support for Wycombe Wanderers. I, and everybody I have spoken to over the last year who knew Terry and Marcia, have been been truly amazed at the optimistic approach they both managed throughout Terry's illness.
Marcia, Duncan and Andrea have asked me to thank everyone for their help and support during Terry's illness.
John Richard WEST 1937 - 2010
The early years by David Davies
I am very pleased to have been asked by Joan to say a few words about my friend John, whom I have known for over 50 years.
As a result of his condition in hospital I, like many of you here, missed the chance of visiting him there and probably talking over old times. I will take this chance to tell you some of the things John and I would have spoken about.
We first met in 1954 when we both attended, along with my parents, a dinner at the home of Miss Sampson, who lived in Kiln Lane adjacent to Stocken Farm. Miss Sampson had been a botany lecturer at Aberystwyth University and taught both my parents while there. Somehow she had heard I was to go to Harper Adams College in the next year, as John was, and thought we should meet. John survived the evening with the Davies's. My father, William Davies, enjoyed long debates with young people to test their convictions. John passed the test well.
John and I kept in touch even travelling by train and bus to Harper Adams in 1955 for our 1st term - few students had car in those days. We spent 2 years there among around 200 students in all, making a lot of good friends, many of whom John kept in touch, some of whom are here today. That was one of John's strengths - he enjoyed other peoples' company and made the effort to visit and keep in contact. For example, Ann Walker, a poultry student at Harper whom he met again in the 1990's at an Australian Airport, and later brought her to an Out to Grass dinner in Nottingham in order that I met her also.
Back to our time in Harper. I spent those 2 years sitting next to John cribbing lecture notes from each other, which was difficult in it's self as both of us had terrible hand-writing, but with Rod Jones and David Salmon at our desk we managed to understand and digest what we had written.
The students of our year were probably above average and John excelled by being awarded one of the 2 final year prizes awarded for the best student.
During our summer break in 1956, my Father persuaded John and I to attend a conference in Northern Ireland, with British Society for Animal Production. 4 days in Belfast. There a group of us were invited by a well known Irish agricultural journalist to visit Dublin farms. Catch the 10am train to Dublin was the instruction. 3 or 4 of us did but no journalist to be seen. 24 hours later we caught up with them in a central Dublin Hotel. He had changed the schedule and taken an earlier train with some of the party.
We visited several farms there and that evening at a reception we were invited by a west coast farmer/doctor to visit him. Nothing lost, John and I left for Limerick next morning and knocked on his door to find a very surprised farmer who kindly then organised a day out with an agricultural advisor, who introduced us to 1950's Irish farming. Next day we bussed to Galway and then trained back to Dublin, having seen a lot of very wet Irish farming. Was this an early version of the Grassland Society tours of later years.
After Harper John and I kept in touch through the YFCs. John at Princes Risborough Club and I at Henley on Thames Club, meeting mostly at social occasions such as dances, where we tried to boost the numbers at each others functions.
Our last holiday together was a visit to France in 1959.1 think this was a taster for John's famous holiday cruises and trips abroad. Joan tells me that, soon after they married, John announced he would like to retire at 40 and spend time touring the world. John partly had his wish when he started the trips in his late 40s but he never really retired. I believe the 1959 trip was the start of his craving for travel! We booked a flight from Lydd in Kent to Le Tourquet in northern France. No ordinary air line. We took our car with us on the plane. An ex military plane which carried 4 cars and about a dozen passengers. Our 2 week trip took us to Paris, of course, and down the Loire valley into Brittany, Mont St Michel and back to Le Tourquet. The last night in France we stayed with Professor Andre Voisan at his farm near Dieppe An eminent French scientist and farmer who practised the grassland farming methods that he preached. Ahead of his time, he was a pioneer of modem grassland management, ensuring soil plants and animals were working in harmony.
We were late to bed that night debating his methods and theories but later, as he was writing a French, German and English Agricultural Dictionary he needed help to supply some of the English words. The ones that he did not know were few but we both struggled to help him.
During our trip through rural France, we slept in an American Bivvi tent, usually borrowing sheaves of corn to sleep on and then re-stook them next morning before we were caught trespassing. Breakfast was provided from John's ample supply of bacon and eggs, these supplied from John's new venture - deep litter hens. We took so many that about 2 dozen were left over, which John hard boiled to stop them going off. They apparently accidentally found their way to the Farm shop and were sold by John's grandad Cook as fresh eggs. Did John start the production of ready prepared meals?
John was fortunate in his career that his father allowed him to start his own ventures in the business, egg production for farm sales, the Xmas turkey with their excellent flavour and grinding wheat, for extra income. Did the dusty conditions in the barn contribute to his later having a bad chest?
In March 1960, my family moved to nearby Hatches Farm and so our friendship continued. John and Joan came to my marriage that July to Ann. Our great regret is that, due to John's illness, neither of them were able to join us on the occasion of our Golden Wedding last July.
John was proud of his farm garden and the source of his flowers and vegies. Whereever he went visiting there was often a large bunch of Gladioli for the lady of the house. How John was never thumped by a jealous husband I will never know. In latter years, John took to visiting Tesco's and buying bargains at the end of trading. These again were given away on his house visits. John was a generous person. On visiting his house, the ladies often went away with flowers, even if it was from the vase that long suffering Joan had carefully arranged earlier. John was good, like his father earlier, at handing over the farming to Richard. It was probably made easier in the fact that John and Joan were always away on cruises. He had booked 2 more for this autumn. He was proud at the success Richard, Trisha and Caroline have made of their careers and proud of all his grandchildren.
John was a good listener and inquisitor He knew all about everyone but it was hard to find out his business and thoughts.
John, thank you for our friendship for all those years. I and many others will miss you and will remember you with our own happy memories and affection.
...By Jim Kent
I am delighted and honoured to have been asked by Joan to say a few words about John / the farmer, colleague and friend.
We first met John in 1960 when we arrived as townies to farm in West Wycombe. John and Dick came and leant on the proverbial five bar gate and watched us / advised us, laughed with us at our mistakes and even went off and tried some of our mad ideas (although they would never admit it!). John was fortunate in that he came from an established family farm whereas most of the other new members of the local farming community came from outside of the industry. Nonetheless he embraced these newcomers and their ways enthusiastically, even going as far as to borrow money to install a parlour and expand the business, much to the horror of his father who never borrowed, only spending money he had already earned.
John was a relatively retiring person but he was among the leaders of our generation of farmers who formed the Bucks Farmers Club and the Bucks Grassland Society. Both these organisations provided valuable technical assistance in the drive for production during the later part of the 20th century. The former still survives and, in keeping with the changed times, runs a more socially based series of meetings. Sadly the Grassland Society ran out of support and was wound up. In the early 60s a small group, which inevitably included John, started going round the British Isles, with the odd excursion into Europe, to learn first hand how other farmers were rising to the challenge of increased production. Nearly fifty years later, the nucleus of this group still meet up twice a year, firstly a winter lunch to discuss the possibility of another trip and then, later in the year, to go on a such a trip somewhere in the UK. We now call ourselves the "Out to Grass Society" and we are all so pleased that Joan plans to join us in the North Yorks Moors this autumn.
John was involved from the outset with Chesham Farmers, another organisation which had a profound effect on our lives. I well remember John and David Davies coming to Cookshall Farm to persuade us to join. For the
whole life of CF he was a very active member who gave much to the Group as a Director (who were basically unpaid executives) and supporter of its many initiatives, including the formation of commodity discussion groups. At these
meetings John was relatively quiet, but his brain was always working overtime taking in all the information he could. The only way to gauge what he had taken away from these meetings was to go on a farm walk to Stocken and see
for ourselves.
The Chiltem Hills Agricultural Association and the RABI were two other farming organisations to which John devoted many hours. He and Joan attended the former's ploughing match one year and decided it lacked in social atmosphere and as a result they volunteered to provide a lunch fitting for the occasion, which became a feature of the event for many years. He was a longstanding member of the Chiltern Hills committee, spent many hours ferrying judges round for the numerous competitions but, most importantly in his eyes, entering himself for as many classes as he could. The office at Stocken Farm bears testimony to their successes.
The RABI is the leading Agricultural charity to which John devoted a lot of time and energy. For years he took an active role in the main function run in Bucks - the annual dinner dance in Aylesbury. If John approached you with a ticket you knew you would be attending - Joan described him as the master salesman on these occasions. The barn dances at Stocking in the 70s were always very well supported and raised large sums of money for the RABI and some of the
other numerous Charities to which John and Joan have given so generously over the years.
John was a prominent member of the community in Lacey Green. For years he plied Joan with information for her "Views from the farm" thereby keeping the villagers informed of the activities on the farm. In doing this they have been
industry leaders, as farmers are notorious for their poor communications skills with the consumers. He has also supported many village initiatives and for decades he and Stocken Farm have been at the centre of village life.
To finish I would like to tell of an incident which typified the John we all held in such affection:
One evening, soon after John & Joan moved to Arcadia, we joined them for drinks prior to attending a "murder mystery" at the Lacey Green village hall. Always with a twinkle in his eye and an eye for a bargain, John drew back the curtains and put on the outside light to reveal his latest purchase. He had got a real bargain at Hildreths, a half sized statue of a beautiful proportioned lady in marble. "I have bought her for Joan's birthday" John informed us. At this point Joan came in from the kitchen with some nibbles, grinned broadly and informed us that in her opinion "She" was for Johns' gratification not hers.
As a family, we owe a massive thank you to John for the great kindness he showed towards our mother in her last few years and for the friendship we have enjoyed for fifty years. It goes without saying that we will all miss him.
...By John Leaman
Joan has asked me to restrict my contribution to this memorial slot to the family aspects of Johns life. I first met John at Stocken Farm in about 1952, when I started to work as farm student living in the farm house.
John's mother and father, Dick and Hilda, had started to farm at Lacey Green some years earlier when John's father had left the family farm at West Wycombe to farm on his own at what was a very difficult time financially in agriculture and it was not until John returned from Agricultural College in 1957 that significant changes started to take place, with Dick having the foresight to take John into Partnership and hand over the day to day management of the farming, unlike so many father and son arrangements.
John also broke with tradition by asking for a weekly wage rather than having to ask for some cash before going out and then embarked on his own breeding programme, in which I understand Joan played some significant part.
At this time Dick was enjoying national publicity for one Wessex Saddleback sow, Enstock Alice, who had the habit of producing large litter numbers.
Also living in the farm house was Hilda's father, who enjoyed helping the bookmaking fraternity, and Harry, a bachelor who had lived on his own in the village and some years previously the West's had taken in when he had the 'flu and was still recuperating,
The house appeared to be permanently full, especially at weekends, when relations and friends visited and gratefully accepted Hilda's hospitality. I think that most of those friends who visited will still remember, Iike myself, the large red leather three piece suite in the dining room.
These acts of generosity rubbed off on John and Joan, who in return extended friendship and hospitality to one and all.
Not long after John took over the running the business, his father very generously admitted that since John had returned home he and Hilda for the first time had money to spend on some of the niceties of life rather than the more basic necessities like tractor tyres or a new sieve for the hammer mill.
Johns love for travelling was evident when he left college and he encouraged me to join him on some of those earlier trips, his ability to engage almost anyone in conversation or find some distant friend or relative to visit was uncanny.
Two of those holidays featured Butlins at Brighton and a week in the Channel Isles, where he just happened to know the son of Jersey's Minister of Agriculture.
Two little gems that have not, as far as I know, been broadcast are our visit to a Convent in Aylesbury where he had a contact who entertained us to tea and cakes,
The other more recent incident was when he took two attractive East European young ladies, who had been doing domestic work in Lacey Green, to the station and while chatting to them was over attentive and the train departed with John still onboard in addition to the two young ladies and their suitcases.
Two further minor incidents that come to mind are when John ordered a taxi to take us to the PRYFC Dinner and used his OAP bus tokens to pay the fare.
The second event was not that long ago when we met up in Normandy and picnicked on an almost deserted beach, John, topped by a red baseball cap felt it his duty to improve Anglo-French relations by taking up position on a rock by a lone fisherman digging for lug worm. We just wondered if the fisherman had sought sanctuary away from his family on the deserted beach, only to have his peace invaded by Les Anglais.
In finishing, I must say how proud John was of his family Richard, Patricia and Caroline and their grandchildren and our sincerest and deepest condolences go out to all of the family.
John, you will be greatly missed.
...Appendix To Tributes
Local people may be very interested in the fact that the house in Kiln Lane, David Davies referred to in his 3rd paragraph, was Malmsmead.
The "Harry" John Leaman referred to in his 5th paragraph was Harry Floyd, who was still living and recuperating until the 1970s. He used OAP taxi tokens - no free bus passes for old people in those days
Lady Margaret BATEMAN 1906 - 2008

by Ted Janes
When I heard of the death of Lady Margaret Bateman, aged 102, I got to thinking of the first time I met her and the years we worked together - a remarkable woman.
In the late 50s my wife and I ran the Village Youth Club and I attended the Village Hall AGM to repudiate criticism that the youth were causing damage to the Hall. I left the meeting having strongly made my point as the elected Chairman, proposed by a Mrs M Bateman (not yet a Lady).
I soon found, in this new position, that the job was not very easy. A quartet of ladies, namely Miss Fagge, Mrs Frederick, Miss Fletcher and Mrs Bateman has set themselves, very commendably, as custodians of the hall. I had to be very firm and made it plain that, if I was to remain Chairman, things would have to be conducted a little more democratically.
Like many organisations even today, the post of secretary fell vacant and no-one could be found until Mrs Bateman volunteered. As Chairman and Secretary, we worked harmoniously and happily for several years. I got to know what a kind, considerate and caring person she was, and of course very generous. The old hall benefited greatly from her generosity, as did the Sports Club, Lacey Green and Speen Schools and many other charities she supported. But it was never Margaret - always Mrs Bateman and never Ted - always Mr Janes.
About this time, I was also Chairman of the Parish Council and several times I pleaded with her to sell or give the field that is now Roundlands and Eastlands estates for a playing field, but to no avail. However, the fact that the estate includes some old people's bungalows was through her initiative and she did give a good strip of ground at the back of the old Hall without which it is doubtful the new Hall could be erected.
She retired with her husband to a village near Petworth in Sussex around 1970. I thought the village had lost a good friend but, almost to the end of her life, she retained an interest in Lacey Green and, I believe, a nostalgic affinity.
...By Robert Bateman (son)
Ted's words catch the essence of both of them. As I recall, their constructive relationship did include a few political debates. I am sure that my mother would have felt honoured that Ted was willing to record his generous thoughts. If the tables had been turned and she had outlived Ted - not very likely given the age difference - he is one of the people for whom she had sufficient regard to consider writing something in memoriam. If she had, she would have shown similar respect and would also have been conscious of the perceived social separation to which Ted alludes. This is now an anachronism and she was never really comfortable with it, as I am sure her remaining friends in Lacey Green realized.
However, she came from a well established Lancastrian family, which had owned and managed a mill in Rochdale since the late 18th century, and certain habits were inbred. Her family were founders of the Rochdale Methodist church and there are records of her great great Grandfather meeting John Wesley around 1800. Her attitude to supporting the community in which she lived also stemmed from this background. Her generation was the first to leave Rochdale, although she married a Rochdale born and bred man - her husband was the son of the family doctor.
When she died she had 15 grandchildren and 21 great grandchildren, living throughout England as well as in Australia and the United States. Two of her grandchildren went to the Lacey Green Village School.
The days of 'Mrs. Bateman and Mr. Janes' do seem a long time ago. She certainly did have a nostalgic affinity for Lacey Green until the day she died. She continued her community involvement in Graffham as the following article records.
...By Paula Burke
I first met Margaret Bateman very soon after I came to Graffham on Easter Sunday in Church, where she was a Church Warden, and I thought then what a welcoming and pleasant person she was, I can?t remember the date but it must have been well prior to 1981 because I have been told by one of her sons that she mentioned in her diary that we were good friends then.
We worked together over the Church Sale, which she used to organise and later I took over from her. She was full of energy and verve, knew everybody and was tactful and well-liked by all. When I was organising the Sale her husband, Sir Geoffrey, was the Treasurer, and we three used to get together in the evening after the Sale (it went on into the day much later then) and the three of us, strengthened by smoked salmon sandwiches (he was a fisherman) sorted out which stalls had made how much (interrupted constantly by anxious stall holders on the telephone wanting to know their totals). When she and I could not entirely agree over the arithmetic of the monies in the bags, Geoffrey put a placatory hand in his pocket.
To the end of her life she was always fun to be with, highly intelligent, and with a sharp but always kindly eye for other people, and a keen awareness of what was going on around her. Her generosity, sense of humour and gratitude for all that was done for her, and her true loving kindness made her greatly beloved.
...Addendum from Geoff Gomme
I believe I can now add a little to the story. I very much doubt if it would have been worth spending all the time and money on the cricket ground and its facilities if Lady Bateman had not purchased it for the village. When I first played there the pavilion was a small wooden hut with hardly room to turn round; the toilet facility was primitive to say the least, and the sheep had grazed the field the day before a match. Now it is a large, airy place with everything needed for players and supporters alike.
Thanks Lady Bateman - and let's not forget Sir Geoffrey, who I'm sure played a big part.
Apart from that, I've learned over the years of many other kindnesses the lady dispensed - not only in Lacey Green but in the surrounding villages as well. I'm not going to name any of them - I couldn't name them all, anyway - and I'm sure she wouldn't want that. She did it because she saw a need. Rest in peace.
Sir Geoffrey BATEMAN FRCS; KB 1906 - 1998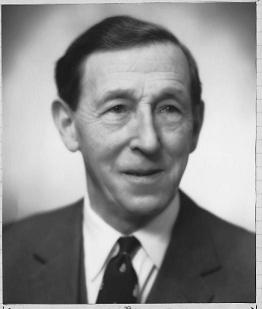 Born in Rochdale he qualified as a Doctor at Oxford Kings University in 1929.
At the start of the war he was consultant ear, nose, and throat surgeon at St Thomas's Hospital (1939-71). He served with the Royal Air Force during the war, reaching the rank of wing commander, before returning to the bomb damaged St Thomas's.
His department developed a popular training programme, which launched the careers of many British and foreign graduates. He was president of the Association of Otolaryngologists in 1970-1 and of the Visiting Association of Throat and Ear Surgeons of Great Britain in 1966. He was consultant surgeon to the army 1966-71 and consultant adviser in otolaryngology to the Department of Health and Social Security 1967-71.
For his contribution to the Nightingale School of Nursing he was one of the first men to be awarded a Nightingale badge. He was chairman of the rebuilding committee, which completed its work when he "topped out" the north wing in 1974.
His interests included tennis, golf, and fishing. He left a wife, daughter and three sons.
&nbsp
Madeleine Dorothy CLEAVER 1929 - 2009

by sons Roland and Jeffrey
Our mother was born to Edith and Albert Currie on 26th May 1929 in Aston, Birmingham. During the Second World War she was evacuated to Hynham Court, the estate of Sir Hubert Parry - composer of "Jerusalem". Mother went to Rugeley School, but air-raids and doodle-bugs proved preferable to draughty dorms and over-cooked cabbage so she returned to Birmingham. Even so, she left an impression behind her - on a return visit to Hynham Court many years later, an ancient gardener still recognised the by-now grown-up evacuee.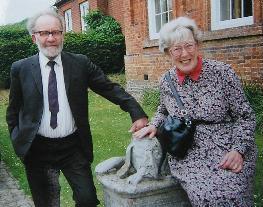 Mother was awarded a scholarship to Aston Commercial School in 1942. Rationing and home-made blazers made little impact on the girls who went fruit-picking for the war effort, sleeping in tents and sharing in-jokes as well as the once-weekly baths.
Rather than heading to one of the London music colleges to further her singing, piano and violin, Mother, now trained as a touch-typist and secretary, joined her sister working at an automotive engineering firm. She became the personal assistant to the eccentric MD, more-or-less running the company as he had a tendency to disappear on "minor" errands only to return having bought a car, piano or house instead.
Despite not going into music professionally, considering the times, she was daring in other directions - rather than holidaying, like their colleagues, in such sedate places as Bournemouth the girls went to rationing-free Ireland, went cycling in Holland and the South of France. Mother also joined the Birmingham Music Society - an amateur operatic society with semi-professional standards - she took a leading role in at least one production.
Through the Birmingham International Youth Hostel Group she met our father, Bill; they married in 1958 just before our father's posting to Cologne. That step led to a major change as life for an RAF officer's wife meant moving around not only this country but also Germany - where the French she learnt at school was often used in tandem with the German she picked up living there. Whilst on that first tour of duty her eldest son, Roland, was born in 1960. Four years later, back in England and stationed in Suffolk, her second son, Jeffrey, was born.
In 1970, our family finally settled in Lacey Green. As Roland started at Wycombe Grammar School and Jeffrey at Lacey Green's primary school, Mother's life revolved around her children and a growing involvement in village life.
Our father was always keener with a hoe and spade than a paint-brush and wall-paper scissors; so while her house remained stubbornly un-decorated, Mother was roped into watering and picking duties. This lead to the frequent challenge of just how to present the inevitable glut of vegetables in ways that might encourage her sons to eat courgettes for the 6th day in a row; the stove groaned regularly with bubbling preserving pans, what didn't end up as jam or juice filled the freezer instead? some is probably still there to this very day.
Having to describe Mother's occupation to someone recently, the term "house-wife" was suggested for her - but dusting, hovering and cooking were not at the core of our Mother's life despite her enthusiastic devotion to brown bread, brown rice and brown pasta. Mother was so much more than that. She helped raised funds for the new Village Hall; for Bucks Assoc for Blind she sorted through piles of jumble, often trawling antiques fairs with items she felt should raise more money; she raised awareness and money for research into the Reynaud's disease which so badly-affected our father; she joined the Women's Institute; helped start, run and sing in St. John's Church Choir; joined the Princes Risborough Music Society, Lacey Green Productions, Lacey Green Singers and, most recently, St. Mary's Singers. She found time to succeed in nominating her good friend Madeline Forrester for the MBE in recognition of her work with the blind; she encouraged and taught people to sing whilst also keeping up a voluminous correspondence with friends and family across the country and all around the world. She embraced modern technology and became an enthusiastic e-mailer as her disabilities increasingly confined her to her home.
When her life became a more constant struggle, she appreciated the invaluable help of many of her neighbours such as Freda Dormer, Mary Lawrence and Helen Titchen. She refused to move to a retirement flat and leave the house, the village and the community of friends she had known for so many years. She preferred to stay where she was and keep her spirits buoyant and her wit sharp and manage as best she could with her two sticks and a lot of dogged determination.
We will remember her as the mother who loved music and was always singing, who quietly made sacrifices to help us through college and life and who made us into the people we are today.
...By Rosemary Mortham
Madeline and I first met about 35 years ago. She and Julia Beaumont had decided to re-found the St. John's Church Choir, and I was asked to join them. Madeline already knew that I enjoyed singing, as I belonged to the Princes Risborough Music Society, of which she was already a member.
What neither Julia nor she realised was that I was completely ignorant about music. When it came to singing anthems, I was totally lost. Madeline had to give up a lot of her time to teach me. Her help was also essential to Julia, who was full of ideas, but lacked much background knowledge.
The church choir flourished and a number of young people joined, including Madeline's son Jeffrey. It was not long before Julia decided to branch out into musicals. The first was Jerusalem Joy, a cantata for Easter. In spite of the comparative inexperience of the choir, she arranged for us to visit our French twinned village of Hambye, to give a performance there.
It was a visit fraught with problems. Most of us spoke little French, and our hosts spoke no English. Madeline and Bill were able to help, as it turned out that Hambye had been occupied by the Germans during the war, and they could converse fluently in German, having lived and worked there for some time. On the way home, the coach broke down, and we spent the night parked on the edge of the road. Uncomfortable as this was, it proved to be a great bonding experience for the choir.
On our return, Julia and Madeline were encouraged to teach us another musical Joseph and the Amazing Technicolor Dreamcoat. This required a larger cast than the church choir could provide, so extra people were recruited locally. From this group was to develop both Lacey Green Productions and Lacey Green Singers, part of Madeline's legacy to our village. Madeline became a founder member of Lacey Green Singers and remained a member for most of our 26 years. It is nice to think that she was able to sing with us until the end, even though she was no longer able to stand.
I was one of the many people that she encouraged and coached. Although she was a very professional soloist herself, she was always generous in helping others to improve their singing, and attempt to sing solos themselves. Possibly one of her greatest successes was in teaching her husband Bill to sing bass. For many years they sang together to entertain groups, especially the local blind club, which was organised by her great friend Madeleine Forrester.
Bill had retired early, and for a long time he and Madeline became very active members of the community, participating in most village activities, and being founder members of the Horticultural Society. We often wondered if Bill had a premonition of the Raynaud's and Sjorgrens Syndromes which were to blight the end of his life. It was a bitter blow, but even so, they both faced this with a very positive attitude, throwing themselves into finding out as much as they could about the disease, and supporting fund raising into research into its causes and management.
My family was lucky to become friends of Bill and Madeline, and enjoyed many meals at their home. Madeline was a good cook, using the fresh produce from Bill's allotment. They were an intelligent couple, and one of them always won the quiz which we used to have after our New Year's Eve Party.
I was most grateful to Madeline when the time came for me to start singing alto. She seemed to sing this with ease, but I found it nearly impossible. She would sit beside me and sing the notes into my ear until I learned them. If I went wrong, she would give me a look which I will never forget! She was always patient and generous with her time and help, not only to me, but to many others. This is the thing that those of us who love to sing will remember about her. She knew what a joy it was to make music, and it easy to understand her request that Thank You for the Music should be sung at the service.
...By Jean Gabbitas
Newcomers to Lacey Green, seeing Madeline as she had become, would have been surprised to learn that this was the same lady, who most afternoons could be seen striding out on her constitutional along Main Road and Pink Road; and seeing her painfully crooked arthritic hands, would not have known that these same hands had for so many years played the piano to accompany the many friends to whom she gave singing lessons.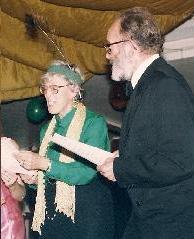 I myself benefited in this way; for, in the very civilised gap between sending my first three children off to school and being blessed with the fourth, I would go each Tuesday morning to Madeline's, and she would patiently rehearse me through the choral work Mozart's Requiem in preparation for the evening session with Princes Risborough Music Society.
I have been asked this afternoon to speak on behalf of the Women's Institute, and our appreciation of her as a lifelong member. Like myself, she joined as a young housewife with her two sons in attendance at the village school. She entered into all the usual activities, like baking scones and tea loaves when it came to her turn to prepare the refreshments.
She also enjoyed the intellectual pursuits, some of which remain on record. Her research into village history by interviewing elderly residents of Loosley Row and Lacey Green is recorded in the WI publication "The Chiltern Hundreds". She would speak to me about this with much glee, and seemed to me at that time an expert in the family trees and marital connections of the original village families.
Furthermore, together with Kathleen Turner, she volunteered to carry out a detailed survey of Lacey Green and Loosley Row, as far as Bradenham turn, as part of the "New Doomsday". Together, they explored, interviewed and recorded industrial and social activities. This nationwide survey was collected and recorded, and we have some of their findings in our WI photograph album.
Madeline would turn her hand to poetry, and write in support of the many campaigns carried out by the WI, for, as you all know, Madeline took a keen interest in current affairs, and held strong opinions.
Finally, two specially memorable contributions must be mentioned. A few years ago, while still in good voice, she entertained us at our Christmas lunch with Songs from the Shows, which she sang beautifully and with great expression.
And last, but not least, I must tell you that the WI will never be quite the same. For, once the Village Hall piano was abandoned, we had to sing unaccompanied and Madeline always gave us "the nte" for Jerusalem, which we all sang in memory of her at the service.
Elsie CHILTON 1907 - 1993

by Joan West
Postwoman for 27 years.
with contributions from Mary Lawrence, postmistress and Ian Kelloway, grandson.
Elsie was born at Redland End, the daughter of Rupert and Beatrice May Rixon, nee Charge. Rupert was a wood turner. In 1919 he was appointed head woodsman of the Hampden Estate. In 1917 he had taken the tenancy of Green Hailey Farm at the top of Kop Hill.
In 1925, 18 year old Elsie was a Red Cross first aider and attended the accident at The Kop Hill Climb, a competitive road race. From then on a ban on road racing was to lead to the formation of the Grand Prix. The climb was revived in 1999 but it is now run as a charitable non-competitive event.
Also in 1925 Elsie Rixon married Frank Chilton They moved into No 2 Belle Vue, Lacey Green in 1926 living there for the rest of their lives.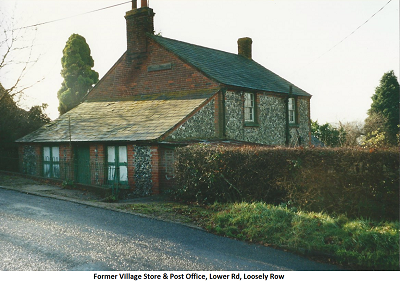 As a child she had attended Lacey Green School. It was a long walk especially when the family moved to Green Hailey and in order for her to walk with her one year younger sister was permitted to start and leave school one year later than was usual.
About 1950 she started work delivering the post for Mr Harvey of Harvey's Stores and P.O. Loosley Row, together with Mrs Dormer. Their rounds at that time are still to be researched.
The Post Office moved to the top of Loosley Hill in 1952 and Mr. Lawrence. The General Post Office (G.P.O.) issued a uniform, including shoes, expecting her to walk her round, but she used her own bicycle. It was many years later that the G.P.O. provided carriers on the front and back. She started at 7.30am at the P.O. with sorting the letters and then wearing a delivery bag across her shoulders laden with letters and parcels she often had to return to the post office to collect the remainder in order to finish her round.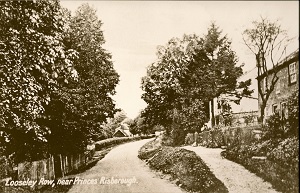 She was expected to finish at 10.45am after delivering down the south side of the Main Road, including the side roads as they were built, which added considerably to her round.
After the Black Horse she turned into Church Lane, back onto the Main Road to the 'old' vicarage, now Lacey House, and Grymsdyke. Then off to Smalldean Farm (a steep hill on that stretch) Holly Bush Farm, since demolished for the Air Force and a final call over at Speen Farm. She also collected the post.
She had two weeks holiday a year and a day off on the Queen's birthday, but from the 18th December to Christmas did two delivery rounds a day which meant the afternoon round was finished by torchlight.
This dedicated woman always delivered the post without fail even when there was very deep snow on the ground. There was a postal delivery on Christmas Day morning.
In addition to her postal duties was the cleaning of the telephone box at the top of Westlands Road. Every Friday armed with her broom, bucket and window leather she would sweep out the box, clean the windows and disinfect the telephone.
Ian Kelloway, a grandson, tells how his 'Nan' was an excellent source of stamps for his collection. She would ask customers who received letters from abroad to save the stamps for him. He quite often met her on his bike to deliver to the last three farms, remarking how getting back up Smalldean Lane was quite an effort.
He tells of her cooking for 'Bomber' Harris and how he complimented her on her pancakes. Also how much she loved the outdoors and wildlife and how every day would stop at the cattle grid at Grymsdyke to check if any hedghogs had fallen in overnight. If so she would get down on her hands and knees to scoop them out. Equally she had no problem with dispensing rabbits with myxomatosis, a horrible disease prevalent at the time. Others have said that at times she would carry water for the wild birds.
She retired 1n 1977 when the GPO vans took over.
Her husband Frank died in 1962. They had one daughter Joan born 1926.
17.11.16
Recognise Anyone ?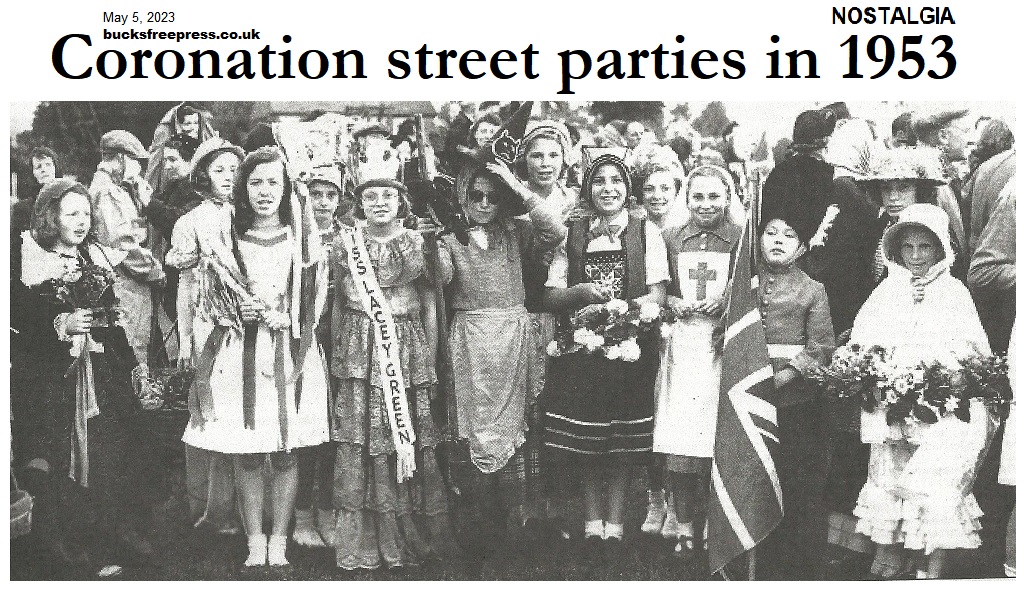 Miss Lacey Green (pictured) would like to know of anyone you recognise
Email: Rosemary direct with any information
Introduction
When travel was an ordeal due to lack of means and consequently its mode, together with the time it took, people were mostly content to live and die where they were born, only moving, out of necessity. Our public footpaths developed because people tended to walk everywhere.
Families, in the absence of modern contraception, tended to be large and there were a great number of marriages between different members of the same family. With such numbers it is not surprising that several of those families are still around today. You will come across their names time and again throughout the History pages.
1851 Census
A copy of the first census of 1851 denotes the name and age of each person who abode in each of the 63 houses on the night of the 30th March 1851 and their relationship to the head of the family. There were 307 residents, average age 23.
Note that houses were simply numbered and the first four related to the, now lost, village of Coombs. The only trace is in local names such as Coomb Hill. Loosley Row appears to be excluded from this list.
Name
Last Name
Relation
Age
Occupation
Where born
Notes
House No 1
William
Currell
head
86
agricultural labourer
Princes Risborough
Coombs
Henry
Dormer
son-in-law
50
sawyer
Princes Risborough
Coombs
Rhoda
Dormer
daughter
48
lacemaker
Princes Risborough
Coombs
House No 2
Daniel
Currell
head
45
agricultural labourer
Princes Risborough
Coombs
Catherine
Currell
wife
40
lacemaker
Princes Risborough
Coombs
John
Currell
son
19
agricultural labourer
Princes Risborough
Coombs
William
Currell
son
17
agricultural labourer
Princes Risborough
Coombs
Daniel
Currell
son
10
scholar
Princes Risborough
Coombs
Jabez
Currell
son
8
Princes Risborough
Coombs
Sarah
Currell
daughter
5
Princes Risborough
Coombs
Richard
Currell
son
2
Princes Risborough
Coombs
House No 3
John
Williams
head
30
agricultural labourer
Princes Risborough
Coombs
Elizabeth
Williams
wife
30
lacemaker
Ilmire
Coombs
Caroline
Williams
daughter
9
Coombs
Coombs
Joseph
Williams
son
6
Coombs
Coombs
Fanny
Williams
daughter
3
Coombs
Coombs
Ellen
Williams
daughter
10 mth
Coombs
Coombs
House No 4
James
Gomme
head
60
Ilmire
Coombs
Jesse
Gomme
son
25
Winnel
Coombs
House No.5
William
Lacey
Head
28
agricultural labourer
Lacey Green
Mary
Lacey
Wife
30
wife
Princes Risborough
Fanny
Lacey
Sister
14
lacemaker
Lacey Green
William
Lacey
Son
5
scholar
Lacey Green
Jabez
Lacey
Son
2
Lacey Green
George
Lacey
Son
8wks
Lacey Green
House No 6
William
Ginger
Head
50
agricultural labourer
Lacey Green
Elizabeth
Ginger
Wife
49
lacemaker
Longdown
Thomas
Ginger
Son
21
agricultural labourer
Old House
Susanah
Ginger
Daughter
16
lacemaker
Lacey Green
William
Ginger
Son
10
scholar
Lacey Green
House No 7
Thomas
West
Head
34
agricultural labourer
Loosley Row
Bethsheba
West
Wife
34
lacemaker
Loosley Row
John
West
Son
6
scholar
Loosley Row
Horatio
West
Son
2
Loosley Row
House No 8
John
Janes
Head
29
agricultural labourer
Lacey Green
Elizabeth
Janes
Wife
23
lacemaker
Lacey Green
Elizabeth
Janes
Mother
60
lacemaker
Lacey Green
House No 9
William
Saunders
Head
37
agricultural labourer
Lacey Green
Mary
Saunders
Wife
37
lacemaker
Worminghall
Richard
Saunders
Son
19
agricultural labourer
Turnip end
Henry
Saunders
Son
16
agricultural labourer
Turnip end
Sarah
Saunders
Daughter
10
lacemaker
Turnip end
John
Saunders
Son
8
scholar
Turnip end
William
Saunders
Son
6
Turnip end
House No 10
John
Hickman
Head
22
sawyer
Lacey Green
Jane
Hickman
Wife
22
wife
Speen
Frederick
Hickman
Son
1
Lacey Green
House No 11
Soloman
Randle
Head
33
agricultural labourer
Princes Risborough
Rhoda
Randle
Wife
31
lacemaker
Princes Risborough
Emma
Randle
Daughter
9
lacemaker
Princes Risborough
Ann
Randle
Daughter
7
lacemaker
Princes Risborough
Caroline
Randle
Daughter
2
Princes Risborough
House No 12
Levi
Lacey
Head
35
agricultural labourer
Lacey Green
Pheby
Lacey
Wife
27
lacemaker
Naphill Common
Ellen
Lacey
Daughter
3
Lacey Green
Thomas
Lacey
Father
60
agricultural labourer
Lacey Green
House No 13
Thomas
Bowler
Head
50
agricultural labourer
Unknown
Elizabeth
Bowler
Daughter
24
lacemaker
Lacey Green
William
Bowler
Brother
63
agricultural labourer
Lacey Green
Ellen
Bowler
Niece
17
lacemaker
Lacey Green
House No 14
Sarah
Janes
Head
50
lacemaker
Princes Risborough
Johnathan
Lacey
Son
18
Shepherd
Lacey Green
Henry
Janes
Son
14
agricultural labourer
Lacey Green
Mary
Janes
Daughter
9
lacemaker
Lacey Green
Elizabeth
Janes
Daughter
7
Lacey Green
House No 15
John
Janes
Head
34
agricultural labourer
Lacey Green
Emma
Janes
Wife
25
lacemaker
Lacey Green
Maria
Janes
Daughter
3
Lacey Green
House No 16
Levi
Parslow
Head
28
agricultural labourer
Lacey Green
Sarah
Dennis
Housekeeper
28
straw-plaiter
Missenden
George
Dennis
Illegitimate
4 mths
Missenden
Emma
Dennis
Visitor
22
straw-plaiter
Missenden
George
Clark
Visitor
20
agricultural labourer
Lacey Green
Sarah
Clark
Visitor
2
House No17
Levi
West
Head
39
agricultural labourer
Unknown
Elizabeth
West
Wife
39
lacemaker
Hampden
Fanny
West
Daughter
7
lacemaker
Hampden
Charlotte
West
Daughter
2
Lacey Green
House No 18
David Wooten
Wootten
Head
26
agricultural labourer
Owlswick
Esther Wooten
Wootten
Wife
26
lacemaker
Lacey Green
Sarah Wooten
Wootten
Daughter
11
lacemaker
Longwick
Fanny Wooten
Wootten
Daughter
9
Longwick
Susan Wooten
Wootten
Daughter
7
Lacey Green
Ellen Wooten
Wootten
Daughter
2 mths
Lacey Green
House No19
James
Gomme
Head
50
agricultural labourer
Princes Risborough
Louisa
Gomme
Wife
30
lacemaker
Loosley Row
Sally
Gomme
Daughter
21
lacemaker
Princes Risborough
Able
Gomme
Son
12
agricultural labourer
Princes Risborough
Sophia
Gomme
Daughter
1
Princes Risborough
William
Gomme
Grandson
2
Princes Risborough
House No 20
Thomas
Loosley
Head
33
agricultural labourer
Princes Risborough
Jane
Loosley
Wife
31
lacemaker
Princes Risborough
Susannah
Loosley
Daughter
11
lacemaker
Lacey Green
William
Loosley
Son
7
scholar
Lacey Green
Jessy
Loosley
Son
5
scholar
Lacey Green
George
Loosley
Son
3
Lacey Green
John
Loosley
Son
1 mth
Lacey Green
Rebecca
Hughes
Mother-in-law
54
lacemaker
Lacey Green
Jaber
Hughes
Brother-in-law
21
agricultural labourer
Lacey Green
House No21
John
Janes
Head
42
agricultural labourer
Lacey Green
Rhoda
Janes
Wife
38
wife
Walters Ash
Amos
Janes
Son
7
scholar
Lacey Green
Mary Ann
Janes
Daughter
4
Lacey Green
Enos
Janes
Son
3 mths
Lacey Green
Thomas
Ives
Father-in-law
83
agricultural labourer
Turnip End
House No 22
John
Floyd
Head
31
agricultural labourer
Lacey Green
Mary Ann
Floyd
Wife
36
schoolmistress
Devon, Thorncombe
Jane
Floyd
Daughter
9
scholar
Lacey Green
May Ann
Floyd
Daughter
6
scholar
Lacey Green
Albert Joseph
Floyd
Son
4
scholar
Lacey Green
House No23
Jacob
Dell
Head
46
shopkeeper
Speen farm
Rebekah
Dell
Wife
46
lacemaker
Speen
Uriah
Dell
Son
16
agricultural labourer
Speen
Miriam
Dell
Daughter
11
lacemaker
Speen
Mary Ann Aphia
Dell
Daughter
4
Speen
Charles Francis
Dell
Son
1
Speen
House No 24
Levi
Janes
Head
27
sawyer
Lacey Green
Martha
Janes
Wife
22
lacemaker
Hamden
Ann
Janes
Daughter
17
lacemaker
Lacey Green
Ruth
Janes
Daughter
8 mths
Lacey Green
House No 25
Sarah
Lane
Head
35
lacemaker
Walters Ash
Jejoy
Lane
Son
14
agricultural labourer
Lacey Green
William
Lane
Son
12
agricultural labourer
Lacey Green
Jabez
Lane
Son
10
scholar
Lacey Green
Emma
Lane
Daughter
10
lacemaker
Lacey Green
George
Lane
Son
4
scholar
Lacey Green
Ruben
Lane
Son
1
Lacey Green
House No 26
Joshua
Dell
Head
50
sawyer
Speen farm
Ann Claydon
Clayden
Sister
35
invalid
Speen farm
Jabez Claydon
Clayden
Nephew
13
postman
Lacey Green
Eliza Claydon
Clayden
Niece
10
Lace maker
Lacey Green
Mary Claydon
Clayden
Niece
7
Lace maker
Lacey Green
Sophia Claydon
Clayden
Visitor
19
Lace maker
Lacey Green
House No 27
John
Attarway
Head
26
sawyer
Lacey Green
Fanny
Attarway
Wife
20
lacemaker
Speen
Ellen
Attarway
Daughter
1 mth
Lacey Green
House No 28
Thomas
Janes
Head
54
agricultural labourer
Lacey Green
Rebecca
Janes
Wife
50
lacemaker
Lacey Green
Bethsheba
Janes
Daughter
18
lacemaker
Lacey Green
Daniel
Attarway
Nephew
23
sawyer
Lacey Green
House No 29
William
Janes
Head
46
agricultural labourer
Lacey Green
Sophia
Janes
Wife
44
lacemaker
Wycombe Heath
Jabez
Janes
Son
20
sawyer
Lacey Green
Ann
Janes
Daughter
18
lacemaker
Lacey Green
Caroline
Janes
Daughter
14
lacemaker
Lacey Green
House No 30
Charlotte
Parslow
Head
38
lacemaker
Lacey Green
Fanny
Parslow
Daughter
14
lacemaker
Lacey Green
Jane
Parslow
Daughter
12
lacemaker
Lacey Green
Jejoy
Parslow
Son
10
scholar
Lacey Green
Ann
Parslow
Daughter
4
Lacey Green
House No 31
Thomas
Janes
Head
52
agricultural labourer
Lacey Green
Sarah
Janes
Wife
50
lacemaker
Saunderton
Henry
Janes
Son
19
agricultural labourer
Lacey Green
Jane
Janes
Daughter
16
lacemaker
Lacey Green
Caroline
Janes
Daughter
10
lacemaker
Lacey Green
Charlotte
Janes
Daughter
9
lacemaker
Lacey Green
House No 32
John
Ginger
Head
45
farmer
Lacey Green
2 acres
Celia
Ginger
Wife
43
lacemaker
Loosley Row
George
Ginger
Son
19
carter
Lacey Green
Caroline
Ginger
Daughter
14
lacemaker
Lacey Green
Gains
Ginger
Son
12
carter
Lacey Green
Jane
Ginger
Daughter
10
lacemaker
Lacey Green
Emily
Ginger
Daughter
8
lacemaker
Lacey Green
Ellen
Ginger
Daughter
6
scholar
Lacey Green
Sarah
Ginger
Daughter
2
Lacey Green
House No 33
Joseph
Hawes
Head
43
sawyer
Lacey Green
Jane
Hawes
Wife
43
lacemaker
Saunderton
Jabez
Hawes
Son
16
turner
Lacey Green
John
Hawes
Son
13
agricultural labourer
Lacey Green
Dan
Hawes
Son
11
agricultural labourer
Lacey Green
Bethsheba
Hawes
Daughter
9
lacemaker
Lacey Green
Sarah Jane
Hawes
Daughter
7
lacemaker
Lacey Green
House No 34
Charles
Webster
Head
31
farmer
Princes Risborough
86 acres
Lucy
Webster
Wife
38
wife
Halton
Mary Ann
Webster
Daughter
6
Princes Risborough
Emma Ann
Webster
Daughter
3
Princes Risborough
Sarah
Webster
Daughter
1
Princes Risborough
Mary Ann
Barefoot
Servant
16
servant
Princes Risborough
live in
Daniel
Ginger
Servant
19
agricultural labourer
Princes Risborough
live in
House No 35
Ann
Dell
Head
31
lacemaker
Lacey Green
Sarah
Dell
Sister
26
lacemaker
Lacey Green
Rebekah
Dell
Sister
23
lacemaker
Lacey Green
Roschannah
Dell
Sister
19
lacemaker
Lacey Green
House No 36
William
Currell
Head
61
sawyer
Coombs
House No 37
Charles
Brown
Head
55
farmer
347 acres,18 labrs.
Sarah
Brown
Sister
66
annuitant
Kent
Frances
Powell
Niece
28
annuitant
Princes Risborough
Jane
Goodchild
Servant
18
house servant
Bledlow
live in
House No 38
Joseph
Bowler
Head
46
agricultural labourer
Lacey Green
Ruth
Bowler
Wife
36
wife
Lacey Green
Henry
Bowler
Son
19
agricultural labourer
Lacey Green
Emma
Bowler
Daughter
15
infirm
Lacey Green
James
Bowler
Son
11
agricultural labourer
Lacey Green
Isabella
Bowler
Daughter
9
lacemaker
Lacey Green
Sarah
Bowler
Daughter
7
scholar
Lacey Green
Fanny
Bowler
Daughter
4
Lacey Green
Martha
Bowler
Daughter
1
Lacey Green
twins
George
Bowler
Son
1
Lacey Green
House No 39
Benjamin
Lacey
Head
47
timber dealer
Lacey Green
Mary
Lacey
Wife
37
wife
Dorton
Peter
Lacey
Son
16
London carrier
Lacey Green
Emmily
Lacey
Daughter
14
lacemaker
Lacey Green
George
Lacey
Son
8
Scholar
Lacey Green
Sophia
Lacey
Daughter
5
Scholar
Lacey Green
House No 40
Joseph
Floyd
Head
56
Shopkeeper
Lacey Green
Jane
Floyd
Wife
51
Housekeeper
Lacey Green
Eliza
Floyd
Daughter
23
lacemaker
Lacey Green
Emma
Floyd
Daughter
19
lacemaker
Lacey Green
Dan
Floyd
Son
15
shoe maker
Lacey Green
Sarah Jane
Floyd
Daughter
12
scholar
Lacey Green
House No 41
Thomas
Hickman
Head
23
sawyer
Lacey Green
Eliza
Hickman
Wife
24
lacemaker
Saunderton
Thomas
Hickman
Son
3
Saunderton
George
Hickman
Son
1 week
Lacey Green
House No 42
Philips
Parker
Head
30
agricultural labourer
Stockenchurch
Harriett
Parker
Wife
28
lacemaker
Bradenham
Elizabett
Parker
Daughter
5
scholar
Lacey Green
George
Parker
Son
3
Lacey Green
House No 43
James
Hickman
Head
45
sawyer
Lacey Green
Sarah
Hickman
Wife
45
lacemaker
Lacey Green
Ann
Hickman
Daughter
17
lacemaker
Lacey Green
Simmion
Hickman
Son
12
agricultural labourer
Lacey Green
House No 44
John
Smith
Head
47
agricultural labourer
Saunderton
Thomas
Smith
Son
19
agricultural labourer
Lacey Green
Jeptha
Smith
Son
16
agricultural labourer
Lacey Green
House No 45
William
Smith
Head
42
agricultural labourer
Saunderton
Elizabeth
Smith
Wife
35
wife
Crowell
Benjamin
Smith
Son
11
work as odd boy
Saunderton
George
Smith
Son
9
Saunderton
Able
Smith
Son
6
Saunderton
Emma
Smith
Daughter
4
Bradenham
Ann
Smith
Daughter
1
Bradenham
Ann
Lacey
Lodger
39
pauper
Princes Risborough
House No 46
Benjamin
Loosley
Head
50
agricultural labourer
Princes Risborough
Elizabeth
Loosley
Wife
32
lacemaker
Elesborough
House No 47
Richard
Gomme
Head
24
agricultural labourer
Princes Risborough
Sarah
Gomme
Wife
27
lacemaker
Princes Risborough
Izac
Gomme
Son
5
scholar
Princes Risborough
House No 48
Joseph
Stone
Head
50
sawyer
Lacey Green
Sarah
Stone
Wife
49
lacemaker
Lacey Green
Caroline
Stone
Daughter
18
lacemaker
Lacey Green
House No 49
Joseph
Gomme
Head
32
agricultural labourer
Lockindon,Bucks
Mary
Gomme
Wife
30
lacemaker
Lacey Green
Miriam
Gomme
Daughter
7
scholar
Lacey Green
Eber
Gomme
Son
2
Lacey Green
twin
Fanny
Gomme
Daughter
2
Lacey Green
twin
Sarah
Gomme
Daughter
7 mths
Lacey Green
Two houses uninhabited
House No 50
George
Stone
Head
25
sawyer
Lacey Green
House No 51
Elizabeth
Lacey
Head
73
lacemaker
Lacey Green
House No 52
James
Smith
Head
30
agricultural labourer
Princes Risborough
Mary
Smith
Wife
28
lacemaker
Princes Risborough
George
Smith
Son
7
scholar
Princes Risborough
Joshua
Janes
Father-in-law
60
agricultural labourer
Lacey Green
House No 53
Benjamin Lovitt
Lovett
Head
27
agricultural labourer
Askett
Charlotte Lovitt
Lovett
Wife
28
lacemaker
Askett
William Lovitt
Lovett
Son
4
Lacey Green
Dan Lovitt
Lovett
Son
2
Lacey Green
Mary Ann Lovitt
Lovett
Daughter
1 Mth
Lacey Green
Hannah
Beckett
Sister-in-law
13
lacemaker
Stalybridge,Lincs
House No 54
William
Lovett
Head
24
agricultural labourer
Askett
Elizabeth
Lovett
Wife
19
lacemaker
Lacey Green
Mary Ann
Lovett
Daughter
4 mths
Lacey Green
House No 55
Henry
Bowler
Head
26
agricultural labourer
Lacey Green
Martha
Bowler
Wife
28
lacemaker
Hampden Row
House No 56
William
Floyd
Head
26
farmer
Lacey Green
20 acres
Sophia
Floyd
Wife
26
wife
Lacey Green
Lucinda
Floyd
Daughter
7
scholar
Lacey Green
Julia
Floyd
Daughter
3
Lacey Green
Cora
Floyd
Daughter
1
Lacey Green
Peter
Floyd
Cousin
19
shoe maker
Speen
Benjamin
Hawes
Cousin
22
shoe maker
Speen
House No 57
one house building
John
Hawes
Head
72
agricultural labourer
Hughenden
Hannah
Hawes
Wife
67
lacemaker
Lacey Green
House No 58
Jessy
Hawes
Head
39
shoe maker
Lacey Green
Elizabeth
Hawes
Wife
39
wife
Lacey Green
Moses
Hawes
Son
11
shoe maker
Lacey Green
Jessy
Hawes
Son
7
shoe maker
Lacey Green
Mary Ann
Hawes
Daughter
4
Lacey Green
House No 59
Thomas
Stone
Head
35
sawyer
Lacey Green
Caroline
Stone
Wife
33
lacemaker
Lacey Green
Free
Stone
Son
6
Lacey Green
House No 60
Thomas
Stone
Head
73
infirm
Lacey Green
John
Stone
Son
30
sawyer
Lacey Green
House No 61
Sarah
Shard
Head
80
land proprietor
Chipping Norton
Grymsdyke Lodge
Mary
Ruth
Visitor
67
Chipping Norton
Elizabeth
Ward
Servant
63
housekeeper
Chipping Norton
Elizabeth
Geaves
Servant
24
cook
Winkfield
Emma
Hawes
Servant
17
housemaid
Princes Risborough
John Claydon
Clayden
Servant
39
day labourer
Princes Risborough
House No 62
William
Paine
Head
49
farmer
Cheltenham
180 acres
Ann
Paine
Wife
47
wife
Willesdon Mddx
Charlotte Nicoll
Paine
Daughter
17
Chesham
Richard
Paine
Son
9
son
Saunderton
Ann
Paine
Daughter
4
daughter
Saunderton
Charles
Paine
Son
5
son
Saunderton
Sarah
Paine
Daughter
3
daughter
Princes Risborough
House No 63
Thomas
Tilbury
Head
70
farmer
North Dean
6 acres
James
Tilbury
Nephew
27
agricultural labourer
Walters Ash
Elizabeth
Tilbury
Niece
25
lacemaker
West Wycombe
Richard
Tilbury
Nephew
3
Lacey Green
House No 64
Jacob
Janes
Head
50
agricultural labourer
Lacey Green
Hannah
Janes
Wife
43
lacemaker
Lacey Green
Benjamin
Janes
Son
19
agricultural labourer
Lacey Green
Edith
Janes
Daughter
13
lacemaker
Lacey Green
Able
Janes
Son
10
agricultural labourer
Lacey Green
Sarah
Janes
Daughter
7
scholar
Lacey Green
Elizabeth
Janes
Daughter
1
Lacey Green
Movers and Shakers by Dennis and Joan
The Forrest Family In Lacey Green.
In 1877 John Forrest bought Stocken Farm, Lacey Green for £8,250 from Charles Brown. Charles Brown owned a considerable amount of land which he sold, keeping a property in which to retire. It may be that John Forrest purchased Brown's land too. Certainly before he died in 1910 he owned Grymsdyke Lodge (never a Manor, but certainly a very large house) which had been his original purchase from the executors of Mrs.Shard, Grymsdyke Farm, Lane Farm, Promised Land Farm, Stocken Farm and the Hamlet of Coombe (now disappeared) right across near the Loosley Hill Road, and 8 acres of woodland to the east of Grymsdyke known as Speen Firs. He employed managers in his farms - all the cottages and smallholdings were tenanted and he himself only appears in the census of Lacey Green once in 1901.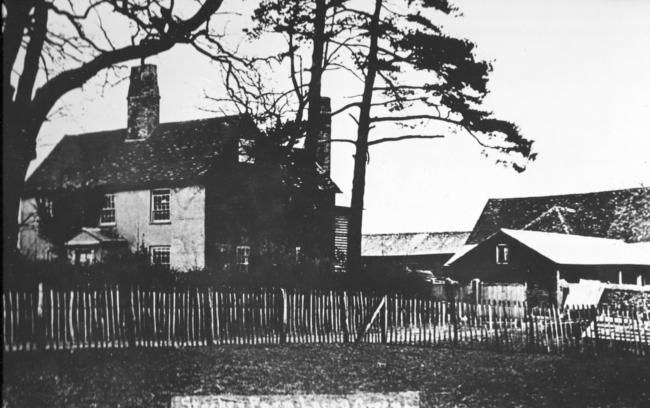 What prompted him to purchase all this property, the History Group has yet to discover. At that time John Forrest was 36 years old and his wife Eveline was 26. But It was his wife Eveline who worked most to help the villagers of Lacey Green.
John Forrest 1841-1910
Born Cape of Good Hope, South Africa. His father was a military surgeon, born in Stirling, Scotland. See below for John Forrest snr's illustrious career.
Young John's mother died when he was one year old so he and his two year old sister were sent back to England.
1851 he was at boarding school in the Isle of Man, aged 10; In 1865 at the time of his father's death he was in Java.
In 1873 at Cheltenham, he married EVELINE ROGERS, born 1851 at Shield Hall, Govan, Scotland. He was 32 years old, she was 22. She was from a wealthy family which moved to Cheltenham. Her father John Graham Roger, a landed proprietor, died in 1892 leaving £49,488-7-1. Her great grandfather was Charles Macintosh (before K was added) of Mackintosh fame. At the time of his marriage John Forrest was living at no.2 Kilchberg Villas, Cheltenham.
1881 census
living Rivershill, Cheltenham
John Forrest 39 retired merchant, born Cape Town 1841
John Graham 5 born Cheltenham Gloucestershire 1876
Charles Evelyn 4 born Lacey Green Buckinghamshire 1877
George Francis(Frank) 3 born Longdon Worcestershire 1878
Guy Archibald 1 born Lacey Green Buckinghamshire1880
1891 census
1 College Lane, Cheltenham. John and Eveline living with her parents
At least two of the boys were boarding at a small prep school at Upland House, Epson, Surrey. It was run by George Frederick Burgess, born 1856 at Lacey Green, one of the sons of the Reverend William Johnstone Burgess, vicar of Lacey Green from 1848 to 1888. It was opened in 1884. In 1891 there were 14 pupils aged 8 to 14(no Forrests), 1901 20 pupils aged 9-13. It offered a wide range of sporting activities including football, golf, cricket, swimming, diving, fives, gymnastics, boxing and shooting. The boys were not judged on what they achieved but on how they had done their best. From there all the boys moved on to a boarding school in Uppingham, Rutland
1901 census

Lacey Green. Both John 59, and Eveline 50
1905 Death of Eveline Forrest 27/1/1905 at Grymsdyke Cottage, Lacey Green, aged 55 (intestinal cancer, scirrhosis, exhaustia).
1910 Death of John Forrest in March at Cheltenham, aged 69 (Cirrhosis of the liver)
Eveline Forrest
Eveline Forrest worked hard for lacey green. She helped the village at a time when the rural agricultural communities were in dire financial distress. Eg. When John Forrest had purchased Stocken Farm in 1877 he had paid £8,250. He added two cottages but it was sold in 1911 for £3,400.
The Forrests might not have been Lord of the Manor but they were weathy and employed a lot of people. Certainly ones to whom to touch the cap or bob a curtsey. They expected the villagers to be in church on Sunday. John Forrest had a beautiful stained glass window installed in the church to her memory.
EVELINE heard singing and taught needlework in the school. A very important skill for all clothes would be handmade, materials often cut down and reused times over in these hard times. On rare occasions a girl could graduate to become a dressmaker if she could find a client, for all but the rich made their own. She was instrumental in keeping the homemade Bucks lace industry going at a time when machine made lace was killing the market. The pin money the women and children made from it could be critical for a family's survival when there was no agricultural work. She had a collection of ancient prickings(designs). She organised competitions, collected up the lace, then offered it for sale to gatherings of her wealthy friends. There is an article about Bucks lace and Mrs Forrest's involvement on this website giving more details of the craft. She took lace from the parish to exhibitions and sales. The following report is from the BUCKS FREE PRESS:
1892 ANNUAL EXHIBITION of pillow lace in Oxford Town Hall. Among the successful exhibitors from Lacey Green were 1st Division laces over 3" wide. 2nd Mrs. Moses Hawes with a copy of an ancient black silk lace, 3rd Mrs Simeon Smith with an art lace in coloured flax thread. 2nd Division laces over 1" wide, 1st. Mrs Moses Hawes with a lace design said to date back to the time of Queen Elizabeth, also a 1st. Mrs Denning, Loosley Row, with an old Bucks lace design, 3rd prizes Mrs Tomkins and Mrs Peter Gibbons, Speen, commended Mrs Loosley And Mrs John Adams. 3rd Division under 1" Mrs John Currell 1st and 2nd, Mrs Tomkins 3rd. From the above very satisfactory results as far as the cottagers of this parish are concerned it is hoped that the revival of lace making which has lately taken place to some extent here, may steadily improve and prosper.
Also among the Local History Group photographs are one of Eveline Forrest on her hunter, It was drag hunting locally, and one of the staff outside Grimsdyke Lodge. If anyone can identify these people from old family photos for us, we could probably date the pictures.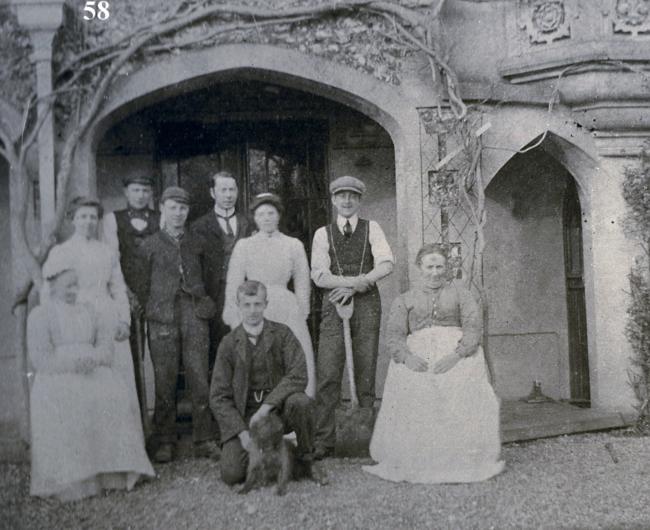 Probate for Eveline Forrest of Grymsdyke, Lacey Green, wife of John Forrest, d.1905. to executors John Forrest (husband), George Francis Forrest, son, stockbroker, and Jane Batton Winterbotham, leaving £2,442-15-1. Her mother's pearls to son John (an heirloom). Speen Farm which she owned in her own right to her husband. To Harriet Heath, housekeeper, Martha Hammond, maid, and George Timms, coachman, £50 each. Everything else to her 4 sons equally.
There is a beautiful memorial window in St. John's Church installed by her husband and sons. (Picture awaits)
Probate for John Forrest of Grymsdyke, Lacey Green, died 21/3/1910 at 29 Promenade, Cheltenham leaving £38,159-13-8.
WILL dated 20/2/1909 of John Forrest of Grymsdyke, Lacey Green, appointed his son George Francis Forrest, a member of the Stock Exchange, his friend Reginald John Winterbotham of Cheltenham, solicitor and Septimus Francis Beck of The Mount, Great Missenden, land agent as executors and trustees. In his WILL dated 1999 he left to the Reverend JOHN GRAHAM portraits of his maternal grandparents and Charles Macintosh, presented by the City of Glasgow, all silver and plated goods that bore the Forrest Crest of Arms or initials (heirlooms). To CHARLES EVELYN copies of portraits of Sir John and Sir Graham Moore, collections of medals and portrait of General Alexander Fisher Macintosh, his mother's great uncle, (heirlooms). All other silver and plate, pictures, watch and chain, personal ornaments, apparel and other chattels, without sale, equally between his 3 sons, John, Charles and George, at the discretion of his executors, notwithstanding one of the them (George) having benefit. If there be any doubt or differences between the executors they must settle by a majority vote but George to have 2 votes to the others 1. If any recipient declines his allocation the residue to be divided to the remaining of his 3 sons, John, Charles or George. All his land, properties and any other investments to be sold and the proceeds divided. And so long as his son John shall be under treatment for mental disability his share to be retained and the income applied for his maintenance, support and benefit as shall be advised.
Also under a marriage settlement dated 7/8/1873 and another of 1892 under the will of Charles Macintosh Roger (Evelines' brother) £2000 each to Evelines' children, John, Charles, George and Guy. There would have been some from the residue of Evelines' estate. This appears to be the only benefit Guy received from his parents. Certainly the other three died wealthy men in comparison to him.
In his WILL of 1999 he left to George Timms, his coachman, Martha Hammond, housemaid, and Edith Ellen Dimmock, cook and housekeeper £50 each. In a codicil 11/1/1910 he left in addition, annuities to George of £1-5-0 a week, to Martha 12 shillings a week and Edward Bryant, butler,£150.
He left Grymsdyke, Speen Farm (Inherited from his wife), Stocken Farm and any other property he might have to the executors. He is always quoted as John Forrest of Grymsdyke, Lacey Green, although he rarely seems to be there. Most often he is in or near Cheltenham, Gloucestershire and it was there he died. In most census he is at different addresses which suggests that those properties were rented.
Obituary in the Bucks Free Herald.

It is with much regret we have to record the death of Mr. John Forrest of Grymsdyke, Lacey Green, who passed away at Cheltenham on Monday after a protracted illness, at the age of 69. The late Mr.Forrest was a large landowner and a highly esteemed resident in the village, where he lived for over 30 years. He was greatly interested in the welfare of Lacey Green and District. And his establishment of the Cottage Garden Association, of which he was president was one of the evidences of this. He was a staunch Conservative and Unionist and a convinced Tariff Reformer. He was for many years president of the Princes Risborought branch of the Mid-bucks Conservative and Unionist Association. He was for a long time Ruling Councillor of The Primrose League in Lacey Green. He was J.P. for Bucks and chairman of the Risborough branch. A good and considerate employer.
The Primrose League was founded in 1883 for spreading Conservative principles in Great Britain. Named after Prime Minister Benjamin Disraeli's favourite flower. Disraeli lived at Hughenden Manor, having been born at Bradenham. An annual summer fete became established. Often held in the grounds of some stately home and addressed by a conservative parliamentary member. The members must support God, Queen and Country, encourage religion if possible, and forward the wellbeing, such as education, of the populace.

In 1886 he paid for and fitted out the Reading Room, next to the school in Lacey Green. A neat wooden structure, lined with varnished match-boarding, heated by a stove, fitted with chairs, tables, bookshelves and lamps. It was weekly supplied with the Graphic, Illustrated London News and the Illustrated Sporting and Dramatic News. Two daily and other papers also supplied by the committee. Abundant proof has been furnished that the members enjoy their evenings in a warm and comfortable room amidst their games and papers, much more fully that they would at street corners or public houses. It contains some volumes of useful books, an atlas, dictionary, map of England, etc. It is managed by a committee of six members who are mainly labourers. In 1891 following the death of George Adams, killed at the cricket match, the funds were such that voted to give a ton of coals to his widow. In 1899 the members numbered 30. In 1909 owing to growth in numbers Mr. Forrest had it enlarged.
On one occasion it is recorded that he paid for the schooling of the orphans boarded out in the village.
27/7/1891. The first show of the Lacey Green Cottage Garden Society was held in the grounds of Grimsdyke Lodge. There was a large marquee where the fruit, flowers, vegetables, lace and beadwork were judged. Lady Buckingham was to present the prizes later. There were side shows such as a beekeeping demonstration, the Speen Band attended, and cricket matches were in progress between, Lacey Green, Speen and Loosley Row. A shower mid-afternoon stopped play and players and others sheltered under a large cherry tree. A sudden vivid flash of lightning, terrific thunder and torrential rain left 12 people felled, 3 were unconscious and 3 were dead, one from each of the teams. After 20 minutes of great confusion, screaming and crying the rain stopped and out of respect the event was abandoned.
1900 John Forrest went to Southampton to meet his son Charles Evelyn, invalided home from South Africa after being injured in the leg while attempting to rescue a soldier in great danger. As their train approached Princes Risborough at 5.36 pm fifty fog signals that had been placed on the line exploded. Their carriage, the horses decked with red, white and blue rosettes was awaiting them. Their coachman, Mr. Timms looking very happy, shook hands with Charles and they were driven away amidst cheering, while a cannon was fired. They reached the windmill at Lacey Green where a huge crowd of men, women and children was assembled. The carriage was drawn up and vociferous cheers raised for Lieut. Forrest. The horses were taken out of the carriage. Then the traces were covered with red, white and blue material affixed to the equipage. It was subsequently pulled through the village to Grimsdyke Lodge by some of the villagers.
Prior to the start the Speen Brass Band played "See the conquering hero comes" and the bandmaster, Mr Plumridge, jnr. read a fulsome address. Lieut. Forrest gave a brief reply, thanked them for the kind address. He did not know that such preparations had been made to greet him. It was very kind of them all, the band, and those who were going to pull the carriage. They set off, the band playing "Soldiers of the Queen", "Home Sweet Home" and "God Save the Queen". At Grimsdyke the entrance displayed a line of flags and the words "Welcome Home" whilst along the drive were miniature flags. Bunting was also displayed at many houses in the village. There he was received by his mother and his brother John. Refreshments were provided in the coach house, cups bearing the photograph of Lord Roberts were presented to a number of people as a souvenir. The band played to terminate the proceedings. See full details of the career of CHARLES EVELYN FORREST below.
On the day of John Forrest's funeral the school turned out to watch the cortege, with black plumed horses, pass on it's way to the church. The wedding of Cecil James Dell and Louisa Saunders had been planned for that day but had to be postponed until later in the day. Their son Bill was told that this was typical of Mr. Forrest.
John And Evelines' Children As Adults
John Graham Forrest born 1875 at Cheltenham. After boarding school in Rutland he got a B.A.3rd class at Oxford in 1897; then M.A. in 1900. In 1901, aged 26 was curate at Rushden, Northamptonshire, Church of England. He was known to be hardworking and gave of his income to help others. A few days before his ordination he broke down, becoming depressed, questioning his own moral character and developed anxiety towards his father. Saw a number of doctors and for a year was a paying guest with Dr. C S Segunde in Gloucester Place, London. 3/2/1909 admitted to Chiswick House Asylum, Chiswick, Mddx. It was run by two brothers, the Tukes, more in the style of a country house. Not the usual idea of an asylum. After 11 years, although he had had the shock of the death of two of his brothers, he was able to go out to visit friends and family. The following year, in august 1921 he went to Cheltenham to visit Dr.Liddondale and in october a further month's leave was given him.

At 6pm 20/10/1921 the police found a body in the River Severn near Tewksbury which was identified as John Graham Forrest. He was 46 years old. In his WILL he appointed his brother GUY ARCHIBALD FORREST of Rowledge, nr. Farnham, Surrey, his sole executor. In his WILL he left Guy all his estate, including the heirloom pearls, originally his grandmother's, with a request to put crosses of holly at Christmas and flowers at Easter on his mother's grave at Lacey Green, the cost not to be more than one guinea. Himself not to be buried there but in a public churchyard near to where he might die. No memorial to be erected anywhere in his memory. PROBATE £31,504-13-3
Charles Evelyn Forrest born 1876 at Lacey Green.
After boarding school he joined the regular army . In 1901 he was a lieutenant in the Ox & Bucks Light Infantry living in Cowley barracks. He married 20/8/10, at Oxford, Ruth Mary Holmes, a Court 1885-1960. Her father was the Chief of Police in Oxfordshire. In 1911 Captain Charles Forrest and Ruth Mary Forrest lived at Cherry Orchard, Combe, Westbury on Trym, Gloucestershire.
Charles Evelyn fought with the 43rd Ox and Bucks, 1st battalion, mounted infantry from 1899-1902 in the Boer War, South Africa. He was slightly wounded at Elandsfontein; fought in 5 operations; Was awarded The Queen's Medal with 3 clasps; The King's Medal with 2 clasps; was mentioned in dispatches and awarded Distinguished Service Order (DSO). In India from 1910. 1914 WW1 Mesepotamia. In command of "S" Company throughout operations on the Tigris, battles of Es Sinn and Ctesiphon where he was killed in action 22/11/15. He was buried at Al Basrah, Iraq. He was a good all-round sportsman. A good shot and a keen and bold rider to hounds. He played polo for the 43rd when in India.
Probate. Major Charles Evelyn Forrest D.S.O. Executors Ruth Mary Forrest, widow and Reginald John Winterbotham, solicitor. £43,983-4-8
George Francis (Frank) Forrest born 1877 Longdon, Worcestershire. After boarding school by 1901 aged 23 he was clerk at Stock Exchange, boarding at Hampstead. In 1911 he was living at The Bungalow, Pegglesworth, near Andoversford, Gloucestershire, with private means. He was an executor of John Forrest's will in 1910. He died on 18/12/1914, unmarried, leaving £30,417-15-2.
Guy Archibald Forrest born 1879 at Lacey Green. In 1881 with his father and brothers at Cheltenham. Boarding school in Rutland in 1891. Spent 2 years in the South African constabulary. Married 1909 at Bromley, Kent, Ellen Dorothy Egerton. (Son Charles Evelyn Macintosh Forrest 1910- 1997 was the only grandchild of John and Eveline Forrest). 2/9/1914 Guy joined the Canadian Over-Seas Expeditionary Force in Patricia's Canada Light Infantry Imperial Flying Corps. 20/10/14 Medal with star. 19/12/14 promoted to Corporal. 20/12/14 embarked Southampton to Versaille,France. Promoted sergeant 17/3/1915. Taken as casualty to Sheffield hospital where he stayed for two months. 9/11/1915 discharged from Canadian army to join new army in England. He then appears to have travelled a lot. Mansfield to Sanfransisco USA 1925. Sydney Australia to Liverpool, England 1933. His home was Rowledge, nr. Farnham, Surrey when he reported his father's death in Cheltenham 1910.
Died 1934 at Harrich Villas, St Minver, Cornwall, of stomach cancer. His Will dated 30/11/1933 names son Charles Evelyn Macintosh, a director, sole executor. Leaves everything to his son. Probare £3,500-4-8.
His widow Ellen Dorothy died 30/9/1964 at Westgate on Sea, Margate, Kent.
It seems that Guy inherited £2000 from his mother but nothing from his father. However he was left £31,500 from brother John. Did this money go on Guy's travels, possibly a divorce, money already given to son Charles or somewhere else? Another mystery for The History Group.
John Forrest's Parents. Father. John Forrest Esq. M.D., C.B., Hon. Order of the Bath, born 1804 in Stirling, Scotland. In 1823 he was outlawed from Stirling, convicted of grave robbing, but pardoned the following year (1824). In 1825 he joined the military 41st regiment of foot as hospital assistant to the forces. 1826 20th reg. of foot, assistant surgeon. 1827 India military service Expedition against the Rajah of Kalapore, assistant surgeon. 1831, 8th West India reg. of foot, military assistant surgeon. 1832, 22nd reg.of foot, military staff assistant surgeon.
1839 Marriage to Ann Mclachlan born 1810 at St.Ninian's Scotland
1840 Mary Ann Forrest born Cape Town, South Africa. Mother died 1842. Sent to England. Married Augustus Philip Chesshyre. Died at Bath, Somerset 1891
1841 John Forrest born Cape of Good Hope,South Africa. Mother died 1842. Sent to England. For life history see above. .
1841 John Forrest 75th reg. foot. military surgeon, 1842, Staff Surgeon 2nd class, 1846, Kaffir War. S. Africa, 1846, Expedition beyond the Orange River against Insurgent Boers. 1847, 91st reg. of foot, military Staff Surgeon 2nd class. 1850 Military Staff Surgeon, 1st class. 1854 Deputy Inspector of hospitals, medals awarded 1856 & 1858. 1858 Inspector general of hospitals.
1859 Resident in U.K. 1859-1861 Hon. Physician to Her Majesty Queen Victoria.
1865 Died Landown, Bath disease of the spinal chord (3 years)
Saunders
William Saunders and Louisa Lacey
William Saunders, born 1813, and Louisa Lacey, born 1821, were to play a significant role in this parish. Both were born in Saunderton parish which encompassed Bottom Field where they started their married life at the Rose and Crown public house in 1839. (The parish of Saunderton still does run part way up Little Lane to Loosley Row and Lacey Green.)
They were married at West Wycombe and had twelve children:

1841 Ellen.
1843 Emma.
1845 George. Born at Speen Farm, married Sarah Ginger - See George and Sarah Saunders
1847 Benjamin. Born at Speen Farm, became a labourer, married Jane Ginger, later hung himself.
1851 Ruth died 1851
1851 William. Born Speen Farm, married Bethia Janes. See William and Bethia Saunders.
1854 Jabez. Born Speen Farm, there a labourer but drowned in Dirty Wood pond Hampden Bottom, married Susan Hickman
1856 Ruth. Born at Speen Farm, married Anderson. Lived Woodway, became postlady.
1856 Johnnie, married Corah Ginger.
1860 Thomas, married ? Seward
1862 Albert, married 1st Sally Montague, 2nd Polly Montague.
1864 Mary Ann, married Arthur Tilbury from Naphill
Louisa died in 1870 aged 49. At some point she had had an accident with a trap but we do not know if this was a part cause of her early death.
(Speen Farm is now known as The Home of Rest for Horses).
Suicide was not unusual. Life was hard with little prospects. Farmer`s sons were, as a rule, expected to labour on the farms for their keep only. The stronger characters who had made it were not easy to live with or to follow. This could be daunting for son number one and hopeless for the others. Older daughters often found themselves stuck looking after younger children as more babies came along.
William and George were both to carry the Saunders name forward. For more details see their own profiles.
William Saunders and Bethia Janes
William Saunders was born at the "Rose and Crown" public house in 1851. The area was then called "Bottom Field", Saunderton. He married Bethia Janes, the daughter of Henry and Mary Janes. Henry was a shop keeper and kept "The Spratt" public house and was a shopkeeper in Loosley Row. He was also a baker, his descendants keeping up the tradition in Lacey Green; he built a bake-house in Lacey Green at the top of Goodacres Lane.
William's parents, also William, born 1814, farmer and publican and Louisa, born 1822, had 12 children. They were both from Saunderton parish which runs from Risborough right through to Saunderton station.
William and Bethia started their married life at the "Rose and Crown" but he too was also a farmer. For many years Pound Farm nearby at Saunderton Lee was in the family (rented?) so that may have been where his land was. He supplied hay and straw to London and went to London on the train from Princes Risborough to collect his money. One night on his return he was robbed in Risborough, so after that Bethia would go to the bottom of the garden to the railway line which ran behind the house and he would throw the money out to her.
They moved next to Smalldean Farm, in Smalldean Lane. They had 7 children. He was still also farming Pound Farm at Saunderton Lee when he bought Stocken Farm in Lacey Green in 1911, for £3,400, 167 acres, 1 rood, 24 poles or thereabouts, including the farmhouse and two cottages (Graham Cottages built on the main road by the previous owner Mr.Forrest in 1885) It was a sign of the difficult farming times that Mr Forrest had paid £8,250 for it in 1877. There had been terrible weather starting in 1870 right through the first world war. (See "weather conditions").
William produced hay and straw for which there was a ready market in London. There were still a great many horses in London and small dairy herds of a few cows for fresh milk consumption. He did have a team of horses taken from his wagon at Holtspur on the A40 during the First World War for the army, leaving him stranded with a loaded wagon at the top of White Hill.
He always went to Thame market on Tuesdays and Wycombe market on Fridays. He did a lot of dealing, often buying and selling on without taking the stock home. William couldn't read or write and Bethia went with him to do the writing. He bought young horses from John Baillie, Theobalds Road, London, usually keeping them in the field behind Hillcrest House where he had built a barn, sadly no longer there.
The field grew a lot of mushrooms and he kept a little pony and trap so he could rush across it to stop people mushrooming. He had purchased the field below Goodacres Lane, called "Hillocks" and gated it across so that he could drive the horses across the lane into their field. This would block the way into the other field down there - "Glebe Field" - causing considerable inconvenience and a lot of mud. Many bad words were exchanged. It is said that on one lane he met another trap and being unable to pass, the two sat there best part of the day. He would never change his clocks for summertime, calling it "Fool's Time".
Sometimes the families would be asked for Sunday lunch; they often arrived an hour early or late having forgotten this. And he was remembered swotting flies which particularly annoyed him. He also had a donkey and trap and a horse and trap.
William continued to farm Pound Farm and would shout instructions down to them from near Lacey Green windmill. He had a very loud voice and so had the donkey which would bray loudly if he left it. William was very much the boss of his family. He did not work on Sundays.
Bethia was remembered as a quiet, gentle woman and a good wife and mother. They had 7 children:
1879 Mary Bethia (Bessie) born at the Rose and Crown, married Sydney Ing. Sidney worked for William Saunders at Smalldean Farm, and formed an attachment with Bessie. They were married at Hughenden church and set up home in Smalldean Farm Cottage, where their daughter Gladys was born in 1909.

When William wanted Sydney to work at Stocken Farm the young family moved to "Windyridge" another Saunders property, on Mill Road (now Main Road) Lacey Green. "Windyridge" was a little old cottage pulled down in 1972.

1880 Emma Caroline married 1905 Frederick William Floyd, son of Peter. They had one son Harry who was born at Pound Farm. Caroline died when he was two, so his grandparents brought him up with the other children

1883 Ethel married 1912 Ralph Dell, carpenter, g. g. grandson of Thomas and Ann Dell (see Thomas and Ann Dell). William gave Ethel, "Graham Cottages". They were a semi detached pair of houses on the Main Road and have been replaced by three houses, 1,2,and 3 Graham Cottages.

1885 Louisa married 1918 William George Wilkins, soldier. Was he local or billeted here in the war?

1887 Alice married Philip Sidney Pitcher, farmer. When their farm failed they moved into "Hillcrest".

1889 Harry was the only son. He would have been expected to work for his father. The enterprise that William had built was huge and daunting. His father was very strong willed and no doubt difficult and certainly unlikely to retire, although he had built "Hillcrest House", Goodacres Lane for his retirement.

Life was not easy for Harry. However he made a very happy marriage with Pamela (Pammie) Saunders from Bradenham. They had four daughters, themselves happily married, when Harry was devastated by the death of his wife in a car crash, tragically driven by his son-in-law.

1893 Annie Daisy married Ernest Smith from Walters Ash Farm. (See Marriage at St.John`s Church Lacey Green, 1919)
Bethia died in 1932 aged 78, and William in 1934 aged 83. Even then he managed to be controversial as his name was mentioned when the uproar about the poisonous water in the villages hit the headlines. (See "When Fleet Street Sentenced Lacey Green to Death"
George Saunders and Sarah Ginger
1845 George Saunders, born at Speen Farm, son of William and Louisa, married Sarah Ginger, born 1847, daughter of John and Celia Ginger, farmer of 2 acres and publican (The Black Horse). George and Sarah had three children:
1878 Louisa (Lou), married 1910 Cecil James Dell, born 1873, son of Jabez Dell. Cecil was a bricklayer by trade. They had three children. William (Bill), Jack and Bert. (See Dell Bros. and Hickmans Stores)
1880 Emily, married Harold Hickman. (See Hickman's Stores)
1873 John William (Johnnie), born at Speen Farm, married 1896 Elizabeth Daisy Dell, born 1876, daughter of Jabez Dell.
Johnnie was a carpenter at Speen Farm in 1896, but in 1930 started his own building business. (See J Saunders And Son)
Johnnie inherited The Black Horse public house from Ann and Emily Ginger. The latter were spinsters. Ann was the landlady. Emily was sweet but a bit simple. Johnnie and Daisy had four children:
William John (Will), born at The Black Horse, married in 1920 Florrie Bertha Smith, daughter of Owen Smith from The Hillock. Will worked with his father. When they married they lived at Kingswood Farm in Highwood Bottom, but soon moved to a cottage at Idle Corner, then called The Black Horse Yard, opposite the pub. They had three children: Edward (Ted) and twins Millicent and Maurice (Mosh) (See Trudy and Mosh Saunders).

Their little cottage was very small and when The Reading Room came up for sale they bought it and Will converted it into a bungalow. In 1935 they let it when they built the house "Chorlton" on some land bought from Sid Ing further along the main Road on the opposite side from Woodbyne farm. Will took over the business in 1951.

(The Main Road from the Whip pub to Goodacres Lane was then called Mill Road. The Reading Room was beside the school and the men went there to read the newspapers.)

Cecil Jabez, born 1904, married 1930 Margaret (Maggie) Goodey from West Hendred. They had three children: Sheila,Ann and David.

Cecil trained to be a teacher at Culham College, specializing in music then taught at Mill End School in High Wycombe. He formed a dance band and played the organ at Chinnor church for years in his spare time.

Maggie and the children were very musical. David was at New College Oxford choir school from 6 to 12 years old but then came home to go to the Wycombe Grammer School.

A son, name being ascertained, died of Dipthieria when he was 4 years old.

Ralph, a lad good at training horses, was killed in the first world war.
George Hawes 1860
By Joan West in conversation with Harry Hawes (son)
George Hawes was the son of John and Sarah Hawes, who married in 1859. His grandfather was Joseph, 1808-1872, a sawyer and later farmer. George's parents and probably grandparents lived in cottages behind the Black Horse - Ye Olde Cottage.
They had a smallholding on a plot of land across the track going to the cottage and barn now known as Floyd`s Farm. This became known as `Em`s Piece` as George`s sister Emma had a *shepherd`s hut there in which she lived. When George moved house, Emma and her hut moved with him. (Legend has it that Lacey Green got it`s name from a Lacey that lived there, but no proof has come to light.)
George married a girl from Staffordshire who was in service at Loosley House. He built Woodbine Farm when he got married. Unfortunately they forgot to allow for the stairs, which had to be squeezed in afterwards making them very narrow and steep. They had eight children, 6 girls and 2 boys.
Approximately 1905 Kingswood in Highwood Bottom, now cleared of its trees, was sold and George bought it. They moved there for a year or two and Harry their youngest was born.
Finding it inconvenient for the school they came back to Woodbine Farm in the village. He part time rented The Glebe lands, which stretch from behind the bottom of Goodacres Lane across to Windmill Road (now Pink Road). He still farmed Kingswood and rented Hawk Hill. He bought the field behind Woodbine in 1934 when Stocken Farm owned by William Saunders was sold up.
Their youngest son Harry inherited Woodbine and with his wife Minnie proved to be a very good farmer. They had two daughters and a son.
When Harry died, Minnie rented the land to R.M.West and Son, who ultimately bought it from Minnie's daughters on her death. The West's only wanted to keep farming the land and intended to sell the house, however at that time Paul and Trisha Johnstone (John and Joan West`s daughter and son-in-law) were wanting to move into the country so they took over the house with the intention of doing it up and modernising it. This proving impossible they applied to pull it down and replace it with a house that looked exactly the same from the front.
Permission granted they built their new house themselves with the help of family and friends and the farm buildings became Woodbyne Fitness Gym.
*A shepherd`s hut is a small wooden caravan on wheels (metal) which could be moved around for a shepherd to live in. Especially useful at lambing time. They were beautifully made, with an iron wood-burning stove for cooking and warmth.
The Reverend William Robson
Vicar of the church of St. John the Evangelist 1897-1922
compiled by Joan West
William Robson and his wife moved into Lacey Green Vicarage in 1897. He was the chaplain of the newly formed Church Boys' Brigade. As vicar he was a trustee and one of the managers of St. John's School.
This Article consists of 4 reports
Extract from the autobiography of Charles Ede, living at Parslows Hillock 1900-1909
The Later Life of William Robson researched by Miles Marshall
The Life History of William Robson researched by Lawrence Rostron
The Properties of William Robson researched by Joan West
Report 1 - In The Beginning
Extract from the autobiography of Charles Ede, living at Parslows Hillock 1900-1909
"Now my father wanted to find a church to go to. He also wanted me to see the school that I was to go to. He had heard they were nearby. Father and I walked a mile, when we turned left and commenced to go down the village of Lacey Green.
Old Tin Ribs
"A single bell rang - it sounded like one that sheep have round their necks. We got to the church and the service began. Certainly a nice organ and expert player, but when the long thin parson began to speak, his voice was so cracked we could hardly understand him. It was said he had been thrown off a tram that had tipped over. My father was most particular when speaking of him or any other parson. It was always 'His Reverent'. I preferred 'Old Tin Ribs' as we named him".
Report 2 - Lost Congregation
Extract from research completed by Miles Marshall in 1986
"The story of William Robson is a sad one. Some say that it was due to an accident of some kind that first he lost his health and then his wife, who left him to return to Cheltenham. He seems too, to have lost his congregation which dwindled away to almost nothing.
Nancy Hawes Cares
He was still tall but a thin nervous old man who had developed a terrible stutter. He lived alone in the big kitchen of the old vicarage, ministered to solely out of the kindness of her heart by Miss Nancy Hawes who had been a much-loved teacher at the school. A gifted musician, she taught the piano and was the Church organist for 46 years. She is reputed to have made the old Samuel Green organ sing as no-one else before or since. She alone took pity on the old man and helped him.
Report 3 - His Life Story
Researched by Laurence Rostron
William Robson was the son of James and Margaret Robson of Binchester Hall Farm in
Byers Green near Bishop Auckland, Durham. They had three children - the other two being:
1. Elizabeth Jane Robson - born in l861 and who remained a spinster until she died in 1938.
2. James Robson - born in 1862, educated at Durham University, married with 2 children and became the Vicar of All Saints Church in South Shields. He died in 1938.
William Robson was born in 1866 and the records show that his father died one year later in 1867. After this traumatic start to his life the census records show that by 1881 the remaining family had moved from the farm to Bishop Auckland and William Robson is listed as a scholar aged 15.
Although details of his early education are not known, Crockford's Clerical Directory shows that he subsequently went to Durham University where he gained a Bachelor of Arts degree in 1886, a Licentiate of Theology in 1888 and a Master of Arts degree in 1890.
He appears to have been Curate in Harton I888 - 90, in Brighouse l890 - 92 and High Wycombe 1893 - 96 before becoming the Vicar of St John's in Lacey Green in 1897.
The 1891 census shows him, aged 25, working as a Curate in Brighouse and living as a lodger in the town with a family of four where the father was an architect and surveyor.
However, things were about to change because in 1893 he married Frances Anne Beatrice Craven, born near Manchester but then living in Ashford, Derbyshire. She was the daughter of Frederick Craven who was a wealthy owner of a calico printing business and who lived in Thornbridge House near Ashford.
By the time of the 1901 census William Robson and his new wife had settled into the vicarage at Lacey Green and it is thought that it was at about this time that they started to plan and subsequently build the indoor tennis court in Church Lane.
Whilst it is clear that the Robson family were not poor, it is also clear that they were not Wealthy. At this time Margaret Robson - William's mother - was living with her daughter at Malton colliery in Durham. Whilst his mother was living on her 'private means,' his sister was working as a housekeeper for the colliery owner.
It is possible to speculate that the finance for the new indoor tennis court was probably provided by his wife's family. Her father had died in 1894, a year a?er she married 'William Robson and it appears that he left over £60,000 which today would probably be worth over £3million and whilst it is unknown how this was shared out among the family it is probable that part of it was spent on the tennis court.
Additionally, apart from purchasing the site for the Indoor Tennis Court, he made significant investments in property in Lacey Green including, amongst others, Lane Farm and Wimble End in Church Lane.
The I911 census shows them still living at the Vicarage in Lacey Green with 2 servants but no children. He continued to live there until he retired in 1922 although it is rumoured that his wife moved to Cheltenham some years before he retired but there is no hard evidence to support this.
William Robson appears to have joined his wife at 6 Imperial Square, Cheltenham in 1922 and stayed there until he died in 1931. His wife died there in 1935.
Report 4 - The properties of the Reverend William Robson.
Research by Joan West
He acquired an orchard now belonging to Mary Grace adjacent to the north-west end of Church Lane. Here he built an indoor tennis court. There was a foot path that led to it from the Vicarage. Jesse Hawes shoemaker's work-shed across Church Lane from the church was removed from near the path to the new tennis court.
Purchases
The following properties, purchased by William Robson were all in Lacey Green:
December 9th 1901. Lane Cottage, Church Lane, conveyed to Wm. Robson by Mrs. Sarah West for £60
December 9th 1901. Park Cottage, Church Lane, conveyed to Wm. Robson by Mrs. Sarah West for £60
December 23rd 1901. Orchard, Church Lane, conveyed to Wm. Robson, by Mary Grace(site of tennis court)
December 23rd 1901. The middle cottage of Wimble End conveyed to Wm. Robson by exec of John Payne.
December 23rd.1901. The west cottage of Wimble End conveyed to Wm. Robson by Dan Floyd.
September 11th 1909. Lieu de Repos (Ardengrove) conveyed to Wm.Robson by execs.of Uriah Dell
September 11th 1909. Wayside, Main Road, conveyed to Wm. Robson by execs. of Uriah Dell
1910 1,Belle Vue Cottages, Main Rd, conveyed to Wm Robson by execs, Rebecca Carter Dell
1910 2,Belle Vue Cottages, Main Rd, conveyed to Wm.Robson by execs, Rebecca Carter Dell
September 9th 1911. Lane Farm, Church Lane, conveyed to Wm. Robson, from execs John Forrest £1640
September 9th 1911. Land & hereditament adjoining Lane Farm
September 9th 1911. Land on the Main Road. 3 acres
SALES. (The Reverend William Robson left Lacey Green in 1922).
February 26th 1921 Wimblehurst (Wimble End), Wm. Robson sold to G.F. Luther, for £1000
December 14th 1921 No 1 Belle Vue, Wm. Robson sold to James Lacey
December 14th 1921 No 2 Belle Vue, Wm. Robson sold to James Lacey
November 26th 1924. Lane Farm, Wm. Robson sold to Albert Stevens for £1350
October 21st 1926. 2 pieces of Land, Wm. Robson sold to The Lacey Green Allotment Society for £200
---
Ishbel Allan MacDonald 1903 1982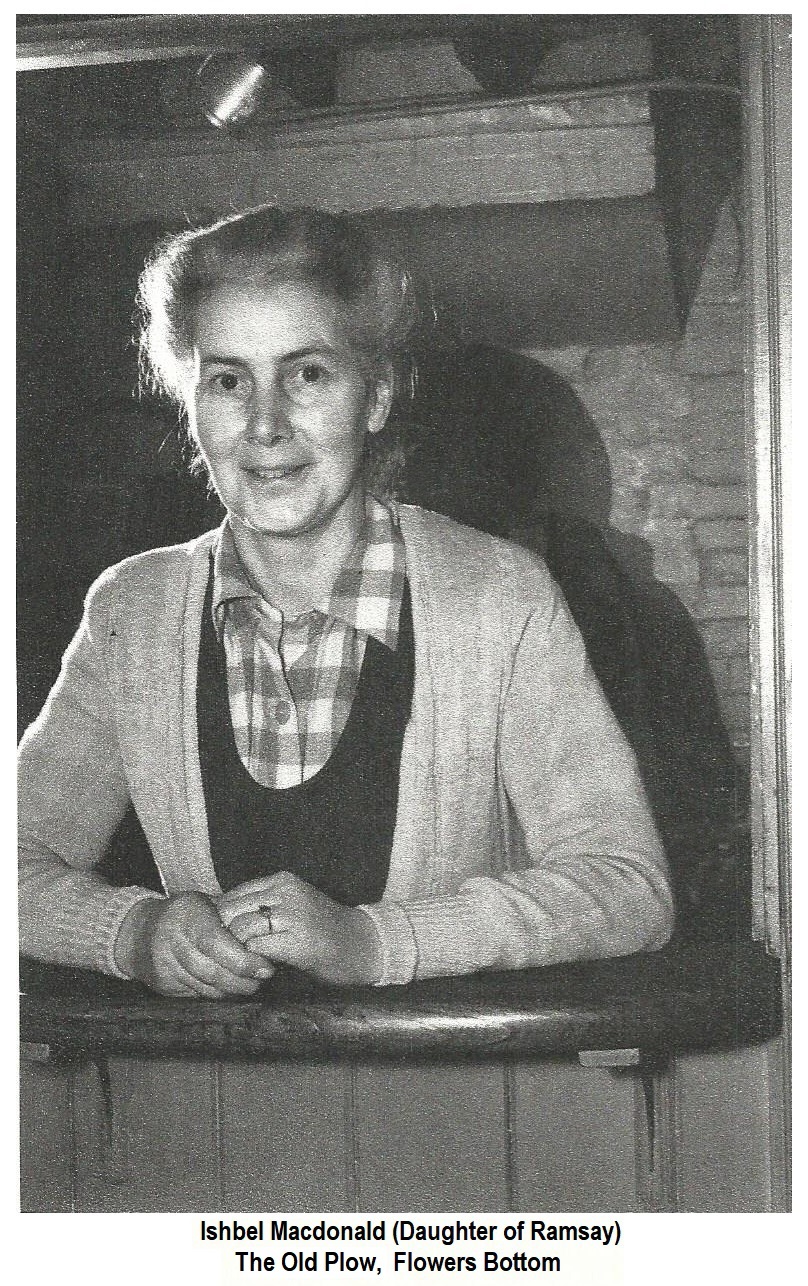 Those who drank there know her from her days at the Plow in Speen.
She was the daughter of the Prime Minister Ramsay MacDonald and his wife Margaret MacDonald née Gladstone. In 1924 Ramsay came to power as Prime Minister of the country's first Labour Government, it was Ishbel, as the eldest daughter, who her father decided should be his hostess at 10 Downing Street. At just 20 she became the youngest person ever to take on the role.
Ishbel Allan MacDonald attended the City of London School for Girls followed by North London Collegiate School studying social sciences.
They were a poor family when her father became premier. She stayed at his side through three terms in office and three in opposition (he died in 1937). She became very well known.
1928 elected to London County Council as Labour Party member for Poplar.
1931 elected to the London County Council as Labour Party member for Bow and Bromley.
1935 she bought a country pub - The Old Plow, at Speen and ran it for 17 years.
1938 married Norman Ridgley. He died in 1950.
1953 married James Peterkin. He died in 1956, just three years later.
She had no children.
She retired to the family home in Lossiemouth, Scotland, near to where her father had been born.
1982 aged 79 she was buried at her family plot under the name of Ishbel Allan Peterkin.

The Plow Inn